Stories about...K–6 STEM Outreach
(Note: Web articles are organized in descending order from the newest to the oldest articles.)
If good people who know a concept well don't pass that knowledge on to the next generation, then that knowledge could be lost. – Jie Feng's Princeton PhD advisor, Professor Howard Stone
iRobotics Uses Robots to Get Local Youngsters Interested in STEM
Cena y Ciencias Exposes Hispanic Elementary School Students to Materials Science at MRL
Next Generation School's New-Look Science and Engineering Fair Imparts the Same Old In-Depth Learning and Life-Long Skills
STEAM Studio AstroTech Unit Focuses on Telescopes Courtesy of Astronomy's Wong
Uni High Students Bolster Local African-American Boys' Journey on the College Pipeline
Polímeros! Cena y Ciencias Program Teaches About Materials Through a Supper & Science Night
Dr. Howard Fourth Graders Learn Engineering, Problem-Solving, While Building Solar Cars
MakerGirl Seeks to Expand the STEM Pipeline by Getting Middle School Girls Interested in STEM
At the 2017 NGS Science & Engineering Fair, Every Student Is a Winner!
Student Spotlight: Hani Awni–Engineering for Social Justice Scholar
Wai-Tat Fu's Lab Partners with STEAM Studio To Make STEM, Spatial Reasoning Fun
Lots of Local Kids (and Parents) Have Fun with Math at Math Carnival: Gathering for Gardner
Next Generation Preschool's Grazi Murad Imparts Love of Science, Animals to Students
Math Carnival: Gathering for Gardner to Show Kids—Math Is Play…and Fun!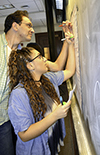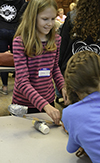 Mommy, Me, & SWE: Middle School Girls Find Out About Engineering While Finding Dory
Illinois Students Help Youngsters Learn Science, Have Fun at Orpheum's Spooktacular
Illinois' Chris Barkan and RailTEC Convey the Message: "Trains—They Run on 'STEAM' and They're Terrific!"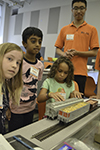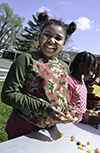 ---
MechSE Grads Milner & Armstrong Trade in Sports Outreach for STEM Via ENVISION
NGS Students on the Ball Teaching BTW Kindergarteners About Polymers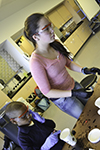 2016 NGS Science & Engineering Fair Fosters to Research/Presenting to Experts
ChiSE Program Exposes Chicago Public Schools Students to STEM...and Illinois
Mommy, Me and SWE Strives to Convince Girls That They Can Be Engineers Too
MakerGirl Uses 3D Printing to Get Girls Interested in STEM
Suarez & Josek Use Insects & Robots to Teach Bioinspiration at STEAM Studio
Leal Kindergarteners Are "Engineers-in-Training" Thanks to SWE's FKO Outreach
SWE Outreach Seeks to Interest Kids in Engineering and Say, "You Can Do It Too!"
Chicago Youth Experience College, Fun STEM Activities at Illinois
Cena Y Ciencias: Supper and Science…and Role Models, Courtesy of SACNAS
Leal Science Night Exposes Local Youngsters to STEM, Role Models
2015 NGS Science & Engineering Fair Called the "Most Successful" Ever
Grand Opening of Orpheum's Air Maze Celebrates Fluid Mechanics, Rheology
NanoSTRuCT Introduces BTW 3rd Graders to Nanoscience and Nanotechnology
MechSE's Benjamin Sohn Gives Local Kids a Taste of Engineering
Next Gen's STEAM Studio: An After-School STEM Program With a Dab of Creativity
Consilience Project Teaches Technology by Capturing Students' Motion...and Attention
Local Youngsters Experience Unity East's First-Ever Engineering Night
Next Generation School's Science and Engineering Fair: Every Student Is a Winner
Brady STEM Academy Provides Role Models for Local African-American Boys
Illinois Students Expose Youngsters to Engineering in BTW's After-School Club
iRobotics Engages Kids in the Sport to Pique Interest in Engineering
Danville Teacher Partners with Illinois To Expose Students to STEM
MechSE's Dostart Hopes to Influence Local Youngsters to Choose Engineering
Next Generation School Pilots Project Lead the Way Elementary Curriculum
REACT: Reaching and Educating Tomorrow's Chemists Today
Physics Van: A Whole Lot of Fun… Plus, You Get to Blow Stuff Up
BTW Kindergarteners Have a Ball Learning About Polymers, Manufacturing
Next Generation School Fair: Tomorrow's Scientists & Engineers Meet Today's
GIRRRLS Camp Exposes Local Middle School Girls to Engineering
Campers Experience Ooey-Gooey Science
Father-Son Team Helps Youngsters Discover—Engineering Is Cool
Local Scouts Discover Chemistry is Fun!
Outreach-Minded Engineering Students Hope to Steer Local Youth into STEM
Booker T. Washington Students Down on the Prairie Fruits Farm
Booker T. Washington and Illinois:
Partnering to Improve STEM Education
Uni High Outreach Focuses on Diversity