Student Spotlight: Hani Awni–Engineering for Social Justice Scholar
March 1, 2017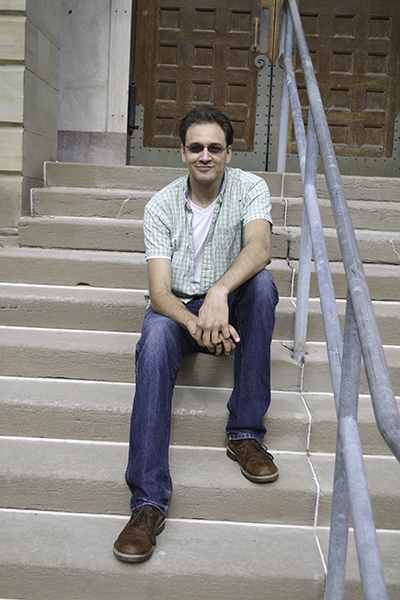 Illinois
Engineering for Social Justice Scholar, Hani Awni
Hani Awni was not always interested in the role engineering should play in regards to social justice, but after venturing into the real world, he realized there was more.
Hani is an engineering student who studied what he found "technically interesting" during his undergraduate years, but following two years working in Silicon Valley, he was left looking for more. Hani feels his undergraduate degree left him without a major theoretical component, the connection between engineering and social justice, which he is now gaining in the Engineering for Social Justice Scholars (ESJ) program at the University of Illinois at Urbana-Champaign. This program is designed with two goals, first to encourage engineering students to "rethink the role that engineers play in social justice" and second, to give students an opportunity to participate in outreach programs that get CPS students involved in STEM.
Hani had an interest in STEM from a very young age. As a child, he wanted to be an "inventor doctor," which later changed to engineer. His creativity and passion for STEM continued throughout his life as he fondly remembers middle school activities where he worked in groups on challenging projects where he was required to problem-solve. Flash forward a number of years, and Hani is now helping other students create their own fond STEM memories in middle school. Hani shares: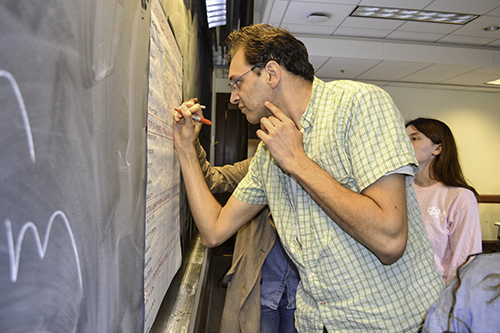 ESJ scholar Hani Awni records data related to the health of his group's character during "The Last Straw" game.
"When I was with the eighth grade group, I was working with four kids, and I was very impressed with how they took to it really quickly. I realized they wanted to explore."
Participating in the ESJ program has not only broadened his awareness of the influence engineering can have on social justice, but it also allows him to help younger students gain an interest in STEM. Students in the Engineering for Social Justice Scholars Program participate in outreach events on Saturdays for several consecutive weekends during the school year, where they engage with CPS middle school students on a number of fun STEM activities. During one activity that Hani particularly enjoyed, he showed students a programing language called Net Logo, which allows students to create a simulation of ant colonies using simple algorithms. Students were excited to be able to program these interesting simulations, and he remembers one student specifically being interested in the intersection of programming and biology that this activity demonstrated.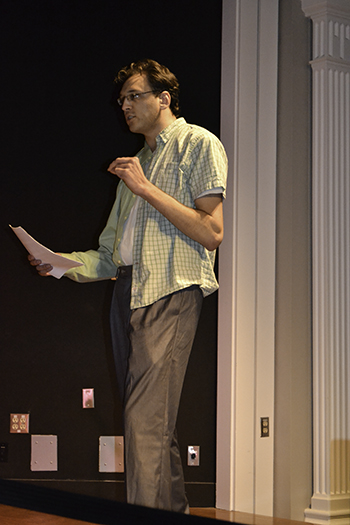 Hani Awni presents a spoken word during the final session of the class called STEMposium, a collection of skits and spoken words related to engineering social justice which was presented at the Illini Union courtyard café.
When asked about his own role in social justice, Hani says, "I really think I need to do more service time. More service projects…I'm an upper-class white male, and there are ways I am more privileged…It's one thing to recognize that conceptually, it's another thing to know that there are literally problems I am blind to."
In engineering education, he found that there's a big focus to teach "design thinking" and a belief that there's isn't much of a connection between STEM and the humanities. Hani shared, "If we're not also teaching students these models that come from critical theory, then they'll be using design thinking, but they'll just be more effective at doing the wrong thing."
Engineering for Social Justice Scholars was created with the intent to get engineering students both involved and interested in the role they play as engineers when it comes to social justice. Students like Hani are a perfect example of how STEM and the humanities can intersect, and have a positive impact on the community around them.
---
For additional related I-STEM web articles, see:
Story by Ericka Hamm, Undergraduate Evaluation Assistant, I-STEM Education Initiative. Photos by Elizabeth Innes, unless noted otherwise.
More: K-6 Outreach, 6-8 Outreach, Chicago Public Schools, Underserved Minorities, Student Spotlight, 2017