HML 2021 Health Make-a-Thon Orientation Prepares Finalists for Competition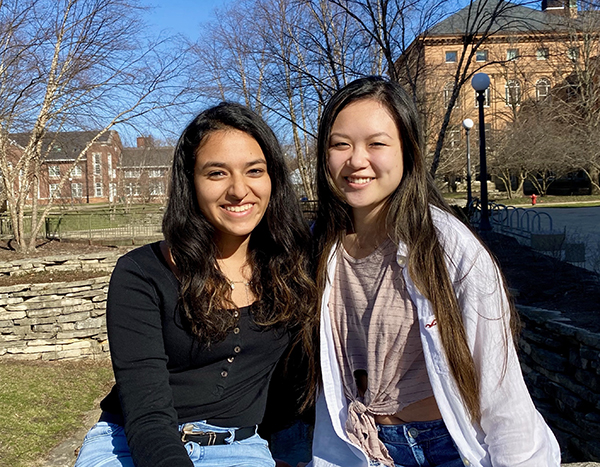 2021 Health Make-a-Thon contestants Bhavika Kagathi and Lindsay Kwok, creators of: "OUCH—Optimizing Understanding of Critical Health." (Image courtesy of Bhavika Kagathi and Lindsay Kwok.)
March 31, 2021
Hopeful that "the next big idea in healthcare" could be theirs, on March 25th, the 20 finalists for the virtual Health Make-a-Thon competition to be held later in the spring (April 17, 2021) participated in an orientation session. Sponsored by the Carle Illinois College of Medicine (CI MED) and Illinois' Health Maker Lab (HML), the Make-a-Thon Orientation familiarized the 20 teams of "citizen scientists" with key personnel, resources, and competition logistics. Plus, three special speakers provided contestants with relevant information that would come in handy during the Make-a-Thon, as well as their journey toward entrepreneurship.
Entering the competition were teams comprised of students, educators, healthcare workers, entrepreneurs, members of the community, and other professionals from across the state. Judges determined the 20 finalists from the original pool of 95 people who had submitted their ideas for innovations that might help improve health. Of course, the participants' ultimate goal is the chance to give a two-minute pitch explaining their ideas at the April Make-a-Thon. There, the 20 finalists will be narrowed down to ten winning teams, who will each receive an Innovation Coin worth $10,000 in resources, materials, and mentorship. An integral part of this prize is access to the Illinois' network of 20 design and making facilities—the Health Maker Lab nodes—where winners will be able to develop prototypes of their ideas.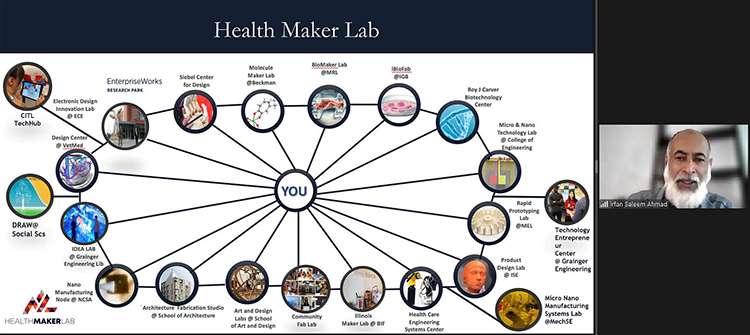 Ahmad is displaying a slide of the Health Maker Lab architecture during the Zoom orientation.
Submissions to this year's competition ranged from artificial intelligence (AI for social workers who work with the homeless); to apps (a STEM vocabulary app for deaf students, an automated nutrition assistant, also an app that aids in generalizability and inclusion in phase iii clinical trials); to devices (an attachable device to prevent severe hormone-related psychiatric disorders, a wire-free ekg, a nano-hyperbaric delivery system
for chronic wound care, even an ecg shirt); to training (hologram medical training); to several entries with intriguing names (Music to My Ears, a Blam from Bronzeville; and one with a very apropos health-related acronym: OUCH—Optimizing Understanding of Critical Health). Another finalist was the team who won 1st place in last fall's Student-Centered Health Make-A-Thon with "ProteCKD: Earlier Detection of Chronic Kidney Disease among Underrepresented Patient Populations."
In preparation for the Make-a-Thon, the orientation introduced finalists to the HML leadership team: Marty Burke, Illinois Chemistry Professor and CI MED Associate Dean for Research; Irfan Ahmad, HML Executive Director and CI MED Assistant Dean for Research; Ruby Mendenhall, Sociology Professor and Assistant Dean for Diversity and Democratization of Health Innovation at CI MED; and Lisa Goodpaster, Associate Director for Project Management at CI MED and a member of the HML Executive Team. During the Welcome, What to Expect, and Dolphin Tank 101 portions of the orientation, the team explained the rules and resources provided during the Make-a-Thon.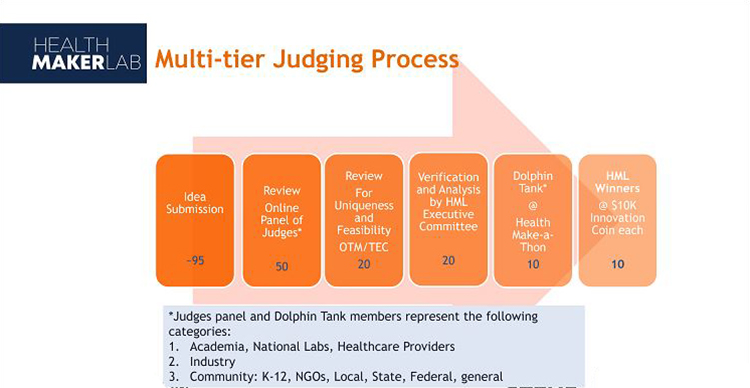 A slide Ahmad displayed on the multi-tiered judging approach.
Next, Ahmad shared about the HML as well as the Make-a-Thon's multi-tier judging process, which, after a review by an online panel of judges, had narrowed the 95 submission ideas down to 50, which was followed by a review for uniqueness and feasibility by Illinois' Office of Technology Management and the Technology Entrepreneur Center, narrowing the 50 down to the final 20 ideas, which were then analyzed and verified by the HML Executive Committee. Finally, during the Make-a-Thon, the Dolphin Tank will narrow the 20 down to the 10 winners.
Also sharing their expertise were several guest speakers: Harlee Sorkin, co-founder and Managing Director of Common Place Holdings, LLC, a health tech venture, who shared on Innovation and Entrepreneurship. Rachel Switzkey, Director for the Siebel Center for Design, and Technology Entrepreneurship Assistant Professor gave a presentation, "Telling Your Story," which encouraged contestants to embrace Human-Centered Design. The final speaker was Charlie Simpson, CI MED Executive Director of Marketing and Communications, whose talk, "Share Your Pitch," gave contestants pointers about how to present successfully during the Make-a-Thon.
Following are some of the citizen scientists who submitted entries to the competition, their innovations, and the health-related issues they hope to address.
For example, Amy Minas, currently a lab assistant at Carle and previously a nurse's aide for 7 ½ years, submitted the PediPressure monitor. Regarding her innovation, she reports, "The idea is to make 'smart orthotics' to measure the pressure on feet, to gauge potential damage to tissue due to neurological impairment or impaired peripheral circulation."
Indicating that many of her diabetic patients had lost toes or feet due to non-healing wounds and infection (and also that she'd just had non-diabetes-related foot surgery a few months ago), Minas hopes to: "provide a means to detect damage to the foot before visible manifestations occur."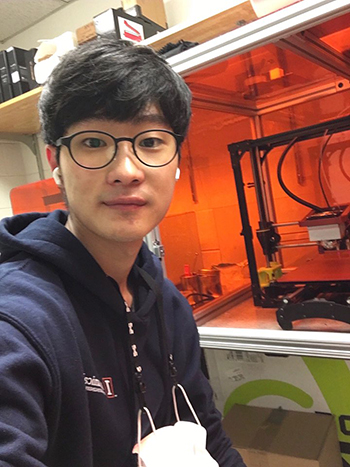 Jonghyun Hwang, Illinois Mechanical Engineering student, who developed an "Artificial-Muscle-Based Exoskeleton as Shock-Absorbing Assistive Device." (Image courtesy of Jonghyun Hwang.)
Jonghyun Hwang, an Illinois senior in Mechanical Engineering studying biomimetic robotics and soft actuators, came up with an "Artificial-Muscle-Based Exoskeleton as Shock-Absorbing Assistive Device." Regarding his innovation, he says, "I applied some novel smart materials, such as polymer-based artificial muscle, to enhance stress relief, and motion assistance. My solution incorporated other various kinds of soft actuators inside the prosthetics."
He adds that "focused on the biocompatibility of the materials and the natural motion assistance."
Hwang explains why he decided to participate in the competition. "As my interest in bioinspired design and the use of novel materials increased, I started to find a way to merge mechanical engineering and bioengineering. So, I wanted to give some of my mechanical engineering knowledge as input in this competition." For example, based on his background knowledge from an elastomer 3D printing project, he proposed 3D printing small-scale air channels for heat regulation.
Another of the 20 finalists was Mehreen Ali, a UIC Biomedical Engineering student. The aspiring medical innovator calls her idea "FaceIt: A Wearable Medical Device to Measure and Monitor Facial Tension as a Biomarker of Related Complications and Stress," which she claims will noninvasively measure and monitor facial tension in a discreet manner.
She came up with the idea for her innovation after learning of tension headaches and how common they are. "I researched possible causes and how the frequency of these headaches could be decreased," she explains. "This led me to learn more about facial tension and how if facial tension could be monitored and preventative measures could be taken to alleviate it, it could lead to decreased tension headaches." She is hopeful it will also prevent other complications like TMJ (temporomandibular joint disorder).
Interested in innovation in medicine and healthcare, Ali had actually come up with her idea prior to entering the Make-A-Thon, calling the competition "a perfect next step to pitch my idea and try to turn it into a reality. I thought this was a great opportunity to further develop my idea and become involved with the community of innovators at HML and Carle Illinois."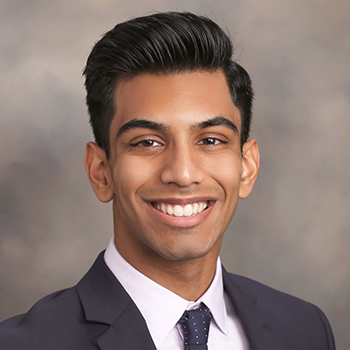 Romir Singla, Illinois Bioengineering student. (Image courtesy of Romir Singla.)
Romir Singla, Sohom Dash, and Chris George, three Illinois Bioengineering students, submitted an image recognition tool to help dermatologists gain insights into their patients' skin conditions, called "ScreenAI: Using Image Recognition to Drive Patient-Centered Dermatology." Singla explains that their algorithm "will be trained to quantify the malignancy and type of the condition in order to offer more personalized treatment options." Indicating that while the incidence rate for various skin diseases has increased over the years, the supply of dermatologists has not met the demand. Thus, they believe "ScreenAI will fill the current gaps in dermatology consultation by offering a technology that is accessible for both patients and their physicians."
Singla and his teammates chose to take part in the Make-a-Thon because they anticipate it will be "the perfect platform to present our business plan, receive physician-oriented feedback, and obtain the support necessary to build a nascent idea into a true opportunity for innovation."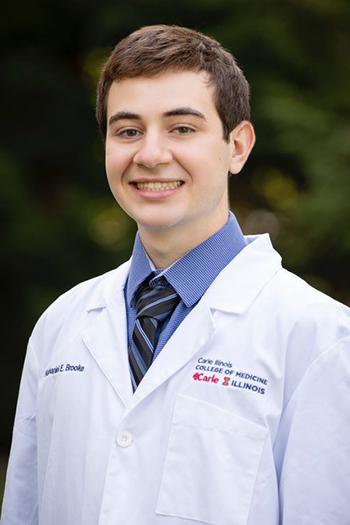 Carle Illinois medical student Nathaniel Brooke. (Image courtesy of Nathaniel Brooke.)
A CI MED student in his first year of medical school, Nathaniel Brooke and his teammate, Ariana Barreau, developed, "Preventing Acute Renal Failure after Crush Injury," which focuses on a way to use the haptoglobin protein to prevent myoglobin released after a crush injury from causing renal damage to the kidneys.
"Acute renal failure after a crush injury is relatively common," he asserts, "especially after a disaster such as a building collapse or an earthquake. For example, after an earthquake in China in 2008, approximately 40% of patients hospitalized with crush injuries after the earthquake suffered from acute renal failure, and of those patients, half required dialysis." Indicating that this complication could be avoided by preventing kidney injury before extracting someone crushed in a building collapse, he continues, "But that is, right now, difficult to do. This technology could make that significantly easier."
Brooke acknowledges that participating in the Make-a-thon "was a good opportunity to develop this idea into something that could help people and potentially save lives down the line."
A team comprised of two Communication grad students, Victoria Fields and Sarah Bencivenga, and two Communication Professors, Mardia Bishop and Charee Thompson, came up with "Using VR and Cultural Competence Training to Promote Health and Equity Among BIPOC Patients."
Fields claims their project is "an application that will use virtual reality to educate and assist medical students in practicing various communication strategies to improve their comfort and success working with BIPOC [Black, Indigenous, and People of Color] patients."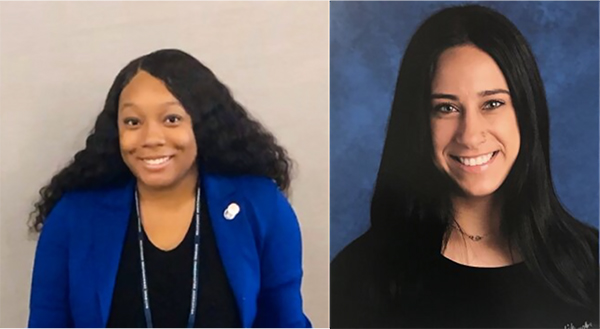 Above (left to right): Victoria Fields and Sarah Bencivenga. (Images courtesy of Victoria Fields and Sarah Bencivenga.)
Below (left to right): Mardia Bishop and Charee Thompson. (Images courtesy of Mardia Bishop and Charee Thompson.)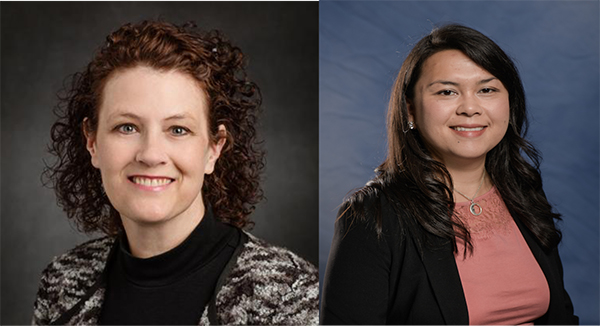 Ahmad is displaying a slide of the Health Maker Lab architecture during the Zoom orientation.
Fields shares the need her team seeks to address through their application: "The majority of medical residents feel uncomfortable treating BIPOC patients," she claims, "which contributes to tremendous healthcare disparities regarding BIPOC patients. Our project will improve the healthcare of BIPOC patients by training medical students to be better communicators." According to Fields, this idea is an offshoot of Thompson's work in health communication with CIMED, and her and the others' work on inclusion/addressing microaggression training.
Reporting why her team decided to participate in the competition, Fields says, "We feel passionately about transforming the healthcare situation of BIPOC patients. With our expertise in communication and experience in developing training programs for organization on cultural competencies, the Health Make-A-Thon is a great opportunity to spread our passion and improve the healthcare of marginalized populations."
Gerry Derksen, a Winthrop University Professor of Interactive Media and Illinois PhD student, and Illinois Art & Design Professor Stan Ruecker dreamed up "A Smart Toy: Aiding Cognitive Development in Children with Autism."
"Children with autism have difficulty transitioning concepts from one subject to another, making learning difficult. This toy uses sensor data to help predict a child's emotional state and their readiness to change topics" Derksen explains. He says that, from this data, "The toy both decides what the next question should be and customizes the lesson by predicting how ready students are to learn."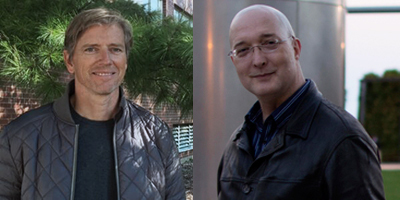 Gerry Derksen and Stan Rueker, creators of
"A Smart Toy: Aiding Cognitive Development in Children with Autism."
.
Admitting that helping children with learning disabilities is challenging, he explains how their creation improves with use: "This toy uses machine learning to process and map learning patterns. The more playing sessions with the toy, the better it gets at making predictions and the more efficient learning becomes." The toy both takes advantage of times the children are engaged in learning and supports them when they're less confident, thus improving their educational experience.
Derksen shares why he got involved with the Make-a-Thon. "I am passionate about helping disadvantaged children," he explains, "Sand believe the combination of design and technology can help improve their education. Entering this competition is a way of bringing this project to people that need it."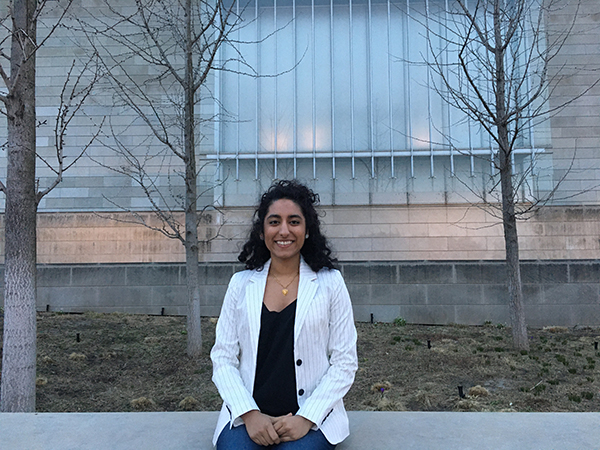 Bioengineering undergrad Tayyaba Ali, creator of "KordoFan: A Wearable Thermoregulation Device," (Image courtesy of Bhavika Kagathi and Lindsay Kwok.)
Another participant was Tayyaba Ali, a Bioengineering undergrad and serial entrepreneur who innovates hardware-based solutions in the medtech, biotech, energy, and defense industries. Her team's idea, "KordoFan: A Wearable Thermoregulation Device," is an adjustable, two-piece thermoelectric device that targets spinal heat points to provide steroid-like capabilities and relief from heat stress. Its built-in biometric sensor array monitors vitals such as core temperature, peripheral oxygen saturation, heart rate, respiratory rate, and blood pressure to predict and prevent heat injuries.
Ali stumbled upon this idea after reading about the rising heat injury and death statistics within the military due to global warming. So, she conducted customer discovery interviews in multiple industries. "I was able to narrow the need for this device to two main categories, first responders (emergency medical technicians, paramedics, firefighters, and military members) and industrial workers (telecommunication equipment installers and repairers, highway maintenance workers, laborers and freight/stock/material handlers, and miners)," she reports, suggesting that many of these need "viable, long-term solutions that can monitor their health during their shifts while also improving their performance."
Ali claims, "Health Make-A-Thon seemed like an incredible opportunity to turn our vision into a reality that could save countless lives. Qualifying as a finalist would put us one step forward to ensuring that we take care of the individuals that risk their safety for us every single day to keep our society running. We owe that to our first responders and essential workers."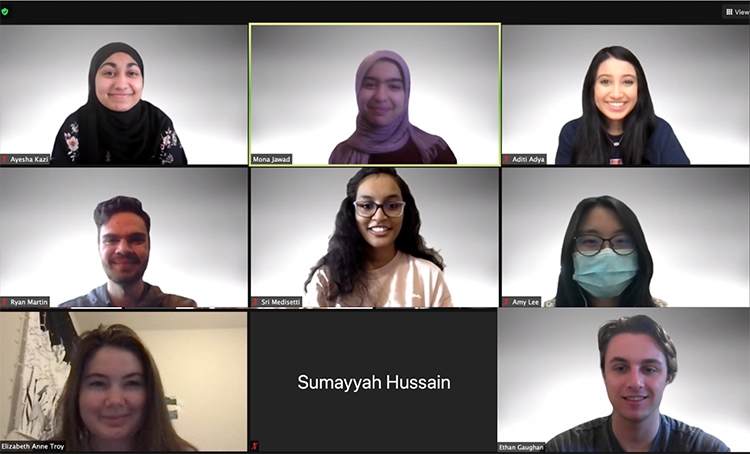 Ahmad is displaying a slide of the Health Maker Lab architecture during the Zoom orientation.
Mona Jawad, a sophomore in bioengineering at Illinois, indicates that her goal is to use the Make-a-Thon project to break down barriers of accessibility in education.
The project she and her teammates, Ayesha Kazi, Aditi Adya, Ryan Martin, Sri Medisetti, Amy Lee, Elizabeth Troy, Sumayyah Hussain, and Ethan Gaughan came up with was "STEM Vocabulary App for Deaf Students," an app designed to help young deaf and hard of hearing (DHH) students learn emerging ASL (American Sign Language) STEM vocabulary.
"Since newly created ASL signs often are only restricted to professionals in the field," Jawad explains, "this app would make science more accessible to students. Instructors can assign mini games to their students that help them track their progress through a curated vocabulary curriculum."
After interviewing deaf and hard of hearing interpreters, educators, and students, she and her teammates noticed a common theme: almost unanimously, they identified vocabulary as the biggest barrier young DHH students face when learning STEM. "A strong foundation in STEM vocabulary would help DHH students enter medical and scientific fields with confidence," she asserts."
Acknowledging that she believes all students deserve equal access to education, regardless of ability, Jawad continues, "Deaf and hard of hearing students have a beautiful and unique culture, so I wanted to create a tool that would respect and promote their language, while also encouraging greater representation in the STEM field."
Another team, comprised of Bhavika Kagathi and Lindsay Kwok, Illinois Bioengineering sophomores with a focus in medical devices, came up with "OUCH—Optimizing Understanding of Critical Health." The wearable device will quantitatively measure pain through high blood pressure, temperature rise, increased perspiration, accelerated heart rate, and excessive positive ion movement in nerves through current measurement in synapsis. The two feel their device is needed because in hospital settings, the subjective measurement of pain can be misinterpreted, leading to poor quality healthcare. "We decided to combat this problem by creating a device that measures pain objectively so that misdiagnosis and improper administration of drugs decrease," they report.
Kagathi shares why the two decided to participate in the competition: "Being incredibly interested in medical devices," she explains, "the Health Make-a-thon seemed like the perfect opportunity to solve a problem we are passionate about. Seeing the great amount of social injustice occurring in the world, and specifically the medical field, being able to make an impact in this area through our knowledge in the bioengineering field enticed us."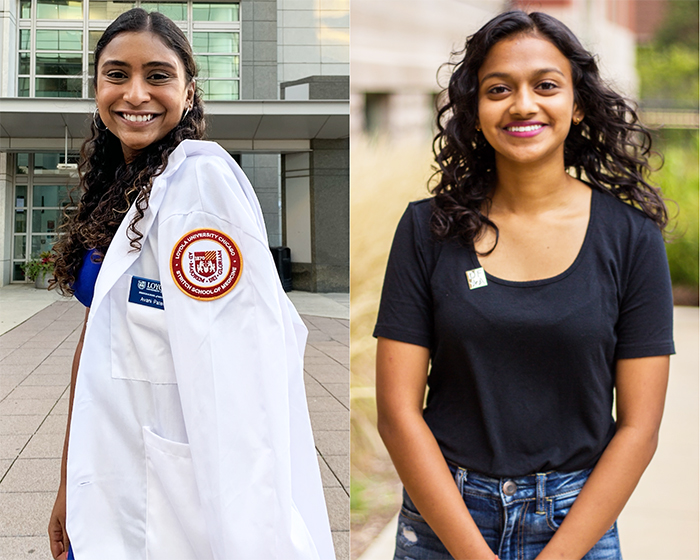 Avani Patel, a 1st-year Medical Student at Loyola University's Stritch School of Medicine, and Sneha Subramanian, a Design Fellow at the Siebel Center for Design. (Images courtesy of Avani Patel and Sneha Subramanian.)
Avani Patel, a 1st-year Medical Student at Loyola University's Stritch School of Medicine, and Sneha Subramanian, a Design Fellow at the Siebel Center for Design dreamed up "Izzii" an app that will offer BIPOC (Black, indigenous, and people of color) information and access to phase III clinical trials. Subramanian says, "The app will also offer these individuals a community where they can connect with other individuals with the same identity and diagnosis."
Explaining that minorities are underrepresented in phase III clinical trials, she says trials give participants a health benefit and pave the way for creating effective medicine: "If there are more minorities in these trials, medicine and treatments can be generalizable to the population."
The two share why they decided to participate in the competition: "Being a medical student comes with the incredible privilege to advocate for my patients and to listen to their concerns," reports Patel. "This competition gave me an outlet to find creative ways to try and combat these problems that patients often face in healthcare."Subramanian shares: "I decided to participate in this competition so that I could apply my design skills to an idea that will improve the quality of life for BIPOC."
---
Story by Elizabeth Innes, Communications Specialist, I-STEM Education Initiative. Photos by Elizabeth Innes unless otherwise noted..
For more related stories, see: Carle Illinois, 2021
For an additional I-STEM articles about Carle Illinois College of Medicine, see: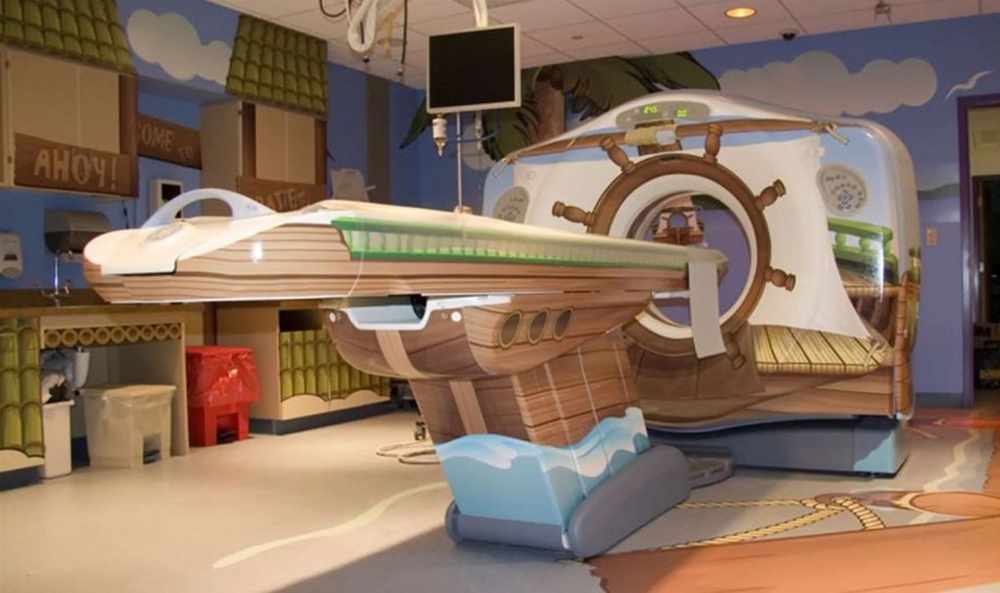 One of Switzkey's slides illustrating Human-Centered Design in her presentation "Telling Your Story." The above MRI designed for children was conceived after children were afraid of using an adult MRI, so the team went back to the drawing board and came up with this child-friendly version.