Illinois Undergrads Encourage ChiS&E CPS Students Toward Possible Careers in Engineering
January 19, 2021
"This is an opportunity to contribute to the narrowing of the opportunity gaps." – Lara Hebert.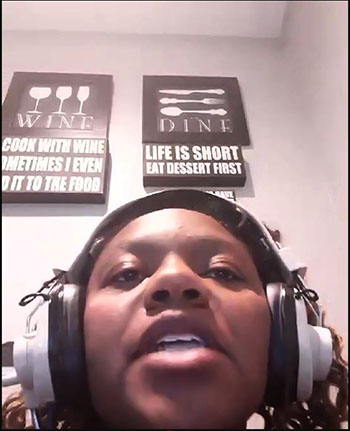 A CPS student shares during the December 5th session.
Instead of sleeping in or vegging out on Saturday mornings during fall, 2020, Lara Hebert and around 16 or so engineering undergrads in the WYSE LEADers program, along with several others, exposed around 80 Chicago Public School (CPS) students to engineering. Devoting their mornings to virtual classes, the volunteers led the middle and high schoolers in some fun, hands-on activities ranging from Scratch to circuits to Arduinos. Have no idea what those are, what they do, and/or how they work? Well, about 80 CPS students now do, thanks to Hebert and her cohorts. Plus, students learned about engineering careers, tips on how to apply to Illinois, and what being a student at Illinois might be like.
To help with the outreach, which took place on four Saturdays in fall 2020—November 7th, 14th, and 21st, and December 5th, Lara Hebert, Grainger College of Engineering's Outreach & Public Engagement Coordinator, recruited student volunteers from the WYSE (Worldwide Youth in Science and Engineering) LEADers program. She also tapped a group of ready-made volunteers from among the six students enrolled in her ENG 298 STEM Education Practicum course, where she and the enrollees discuss STEM identity development and instructional practices that offer an equitable and inclusive environment.
The grades 7, 8, and 11–12 students involved were from the long-standing Chicago Pre-College Science and Engineering Program (ChiS&E). For Chicago kindergarten through 12th grade students, the program, which meets on Saturdays, primarily focuses on helping students obtain algebra skills before eighth grade and calculus skills before high school; its secondary focus is science and engineering. Participating students are mostly from the south and west sides of Chicago. Plus, some students, who started the program in kindergarten or first grade then moved, keep coming back into the city to participate (in non-COVID years, of course; during 2020, they did so remotely).
Just a bit of ChiS&E's history: begun in January 2008 by Kenneth Hill, it has grown in a quite structured way since its inception. The program began with a group of kindergarteners; the following year, ChiS&E added the next grade level for them, then brought in a new batch of kindergarteners, and so on, until now, there's a class for each grade level, and students in the original cohort are seniors.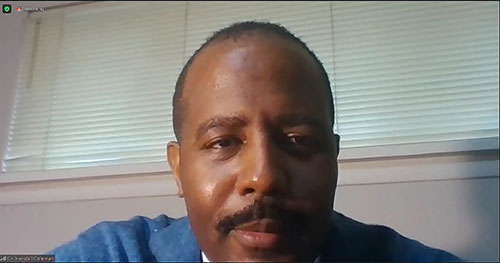 Dr. Kendall E. Coleman, a CS instructor at Richard T, Crane Medical Preparatory Academy in Chicago, who is also employed by ChiS&E.
No doubt, some of these students in the original cohort were among the 80+ CPS students who participated in the online classes Hebert and company taught. And on a given Saturday, usually at least 75% of those registered for the classes showed up, making the classes fairly large. The three different classes taught addressed a range of STEM topics. For instance, a big, targeted outcome for the seventh-grade physics and algebra class, comprised of around 25 students, was that they do different labs where they are graphing data and looking at linear relationships. Then they generated algebraic functions that reflect that linear graphing. "Then we also introduce them to doing that using the graphing calculators that they'll need for their algebra work in the future grade levels," Hebert adds.
The eighth-grade class, which had 35 registered students (which Hebert says is quite large for an online class) was about computer programming and computer science (CS). To introduce that, eighth graders learned to do Scratch programming. (Scratch is a free programming language and online community where users can create their own interactive stories, games, and animations.)
The new class that Hebert claims to be "finding our way through" is an electrical and computer engineering class for 11th and 12th graders, which had 23 participants. Calling it a "very hands-on class," she says, "They all have electric circuits and electric circuitry components, and they're building different circuits, and using different sensors." Plus, they programmed an Arduino controller and had several different components that they used the Arduino to control flashing LED lights, or using a light sensor to be the switch to turn the light on and off.
In addition to teaching students specific engineering-related skills, the four sessions also involved presentations to help them learn more about engineering. For example, ECE (Electrical and Computer Engineering) Associate Professor Eric Chitamber shared about his quantum mechanics research with 11th graders.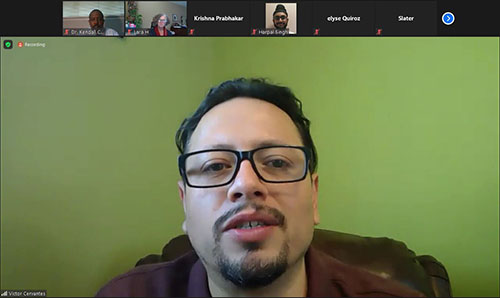 Victor Cervantes, Assistant Director of Recruitment and Retention of the Morrill Engineering Program.
Also, presenting on December 5th was Victor Cervantes, Assistant Director of Recruitment and Retention of the Morrill Engineering Program, which seeks to empower and support African American, Hispanic, and Native American engineering students at Illinois. During his presentation, he provided important information about how to apply to Illinois, giving students some specific tips. For example, he cautioned seniors that applications were due January 5, 2021, and told them what to concentrate on. "Your grades are your grades," he told them, indicating that it was too late to worry about their transcripts. However, he informed them that one big area they still had control over was their essay.
"Make sure you write an essay that differentiates you from someone else. It's that point of view where we want to start," he exhorted. For instance, he told them to mention if they had loved taking apart the toaster when they were a kid. Plus, he encouraged them to mention how studying a specific engineering major at Illinois would help them to become a professional engineer, answering in their essay, "How is Illinois going to help me to do that?" he said. He encouraged students to google UIUC, Grainger, majors, even check out course electives. He also held an informal Q&A over the Zoom chat, answering students' questions and giving them helpful Illinois links.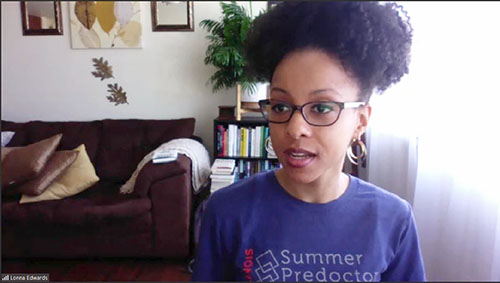 ECE PhD student Lonna Edwards
Also presenting on December 5th was ECE PhD student Lonna Edwards, who shared with participants what studying at Illinois has been like for her, both as an undergrad and a graduate student. She not only shared about her undergraduate capstone project, but her Master's research in Microfluidic Cell Capture, and her current research as a PhD student in Optical Imaging.
Of course, the fall 2020 program for ChiS&E was quite different than previous years, in that it was entirely online, with no in-person, face-to-face interaction with the Chicago students. This presented a significant number of logistical and pedagogical challenges. One big challenge was hooking students up with the equipment they'd need for the various activities. For example, in a non-COVID world, the group has a bunch of graphing calculators they loan out to seventh graders for the class period; however, because they weren't in Chicago, teaching in person, that obviously wouldn't work. Fortunately, a gift from an alum enabled them to buy graphing calculators to give to the students. Thus, the students now have graphing calculators that they can keep…and keep using through college.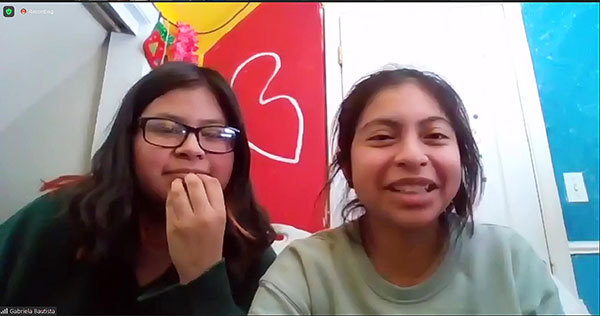 Above: Gabriela Bautista and her sister during the December 5th final ChiS&E session.
Below: A slide from the girls' presentation showing what they did and what they learned during ChiS&E.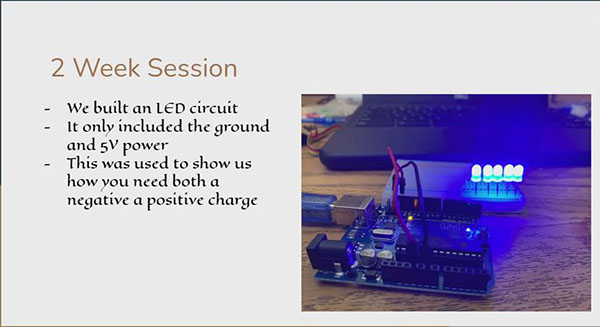 As might be expected, the eighth grade CS/Scratch class was a little bit easier to move online—"other than the fact that we can't look over their shoulders while they're working to see where they are and if they're stuck," Hebert admits, acknowledging that being able to troubleshoot via Zoom is a little bit harder. Plus, Hebert acknowledges that a handful of students were moving more quickly through the process, so they divided them up into different breakout rooms so that Damien Edwards, an Illinois Computer Science alum, could take the group of more advanced students and work with them through more advanced concepts while the other mentors worked with students just beginning their programming with Scratch. One challenge, of course, was that, when in person, they had a bunch of Scratch programming books they'd load out during class, reusing them year after year. But this year, they we provided all the students their own Scratch programming books.
And, as with the other classes, the 11th and 12th graders couldn't use the electric circuit kits they had used during their past, face-to-face learning classes, so circuitry components and Arduino controllers were purchased for the 11th and 12th graders, "So they can keep exploring those as well," says Hebert, crediting Grainger College with providing some of the funding for materials, while some came from her regular program funding previously allocated to bussing participants to Chicago and back.
In addition, because both the teaching and the outreach all happened online, another big difference for Hebert and her 16 or so volunteers was that the activities, meant to be collaborative, obviously couldn't happen as in previous years, since both the Chicago students participating and Hebert's volunteers were all working from home and couldn't be together in the same room. So, one challenge was "figuring out how to adjust that collaborative piece." She reports that students in her class worked together ahead of time on activities they planned to do with the students to determine, "Okay, here are the places where we think the middle schoolers are going to struggle or where they might have a misunderstanding that we need to adjust."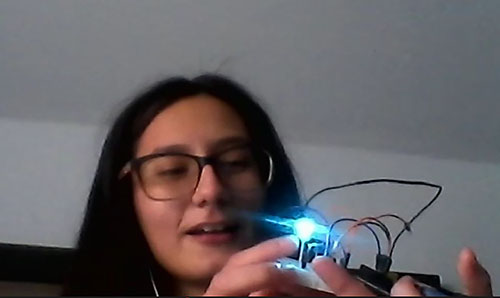 Kelly Acosta shows the Arduino and LED light she did.
Another online-related issue was that she and her team didn't have the ability to make adjustments on the fly. "It's kind of on them [the Chicago students] to do the activity themselves…We can talk about it, which isn't the same, right?...When we're doing it in the classroom, I can walk around and see where the misconceptions are happening."
She admits that another frustrating challenge of the online scenario was that their ability to interact with the younger students was dependent on who was willing to share their information. "That's what the students are bumping up against when they do their outreach—the reluctance to share a video." She explains that they couldn't require that, "because we know there's a number of issues with that," she explains. Another challenge they encountered was that some students had school-provided computers which have locked down certain features. So, when they were looking for interaction, some students couldn't do it because of security protocols established on their school computers.
Other tech issues involved unexpected updates in software: students would log on, but something different would happen compared to their previous session. They also had issues when trying go into breakout rooms so STEM mentors could interact with smaller groups, "because teaching 25 online is impossible!" she acknowledges. If students logged on in a certain way, they couldn't be moved into a breakout room. "It doesn't register that they're even present," Hebert complains.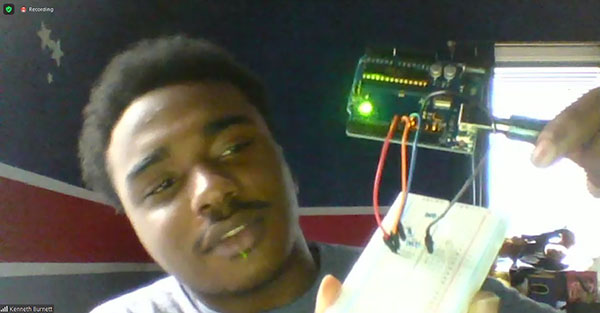 Kenneth Burnett shows off his LED made as part of the hands-on activity his class did.
Another obstacle they encountered was the differences in participants' computer skills. "We have younger students who have not had the experience or just aren't as familiar with the different tools, who will give up really easily, compared to others who are just flying around on the computer," she admits.
Because the oldest group of ChiS&E students began as kindergarteners and had been doing the program for such a long time—13 years now—ostensibly, they should pretty much have it down. Hebert agrees that those kids had gotten adept and were pretty good at STEM.

"They are," she agrees. "Yeah, they are. It has been fun to see." In her fourth year with ChiS&E, she says students she first met as eighth graders are now applying to college. "So, I met them in eighth grade when they came to campus…My first summer here, they came to campus for their week of camp…It's fun knowing them four years later and seeing them grow from all those eighth graders."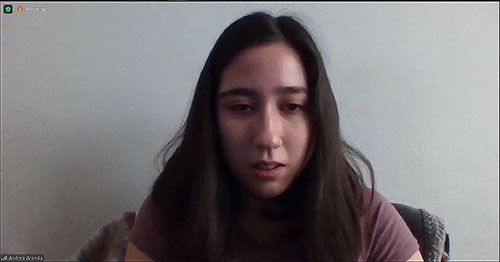 Above: CPS student Andrea Aranda.
Below: Aranda shares her code during the ChiS&E final session on December 5th.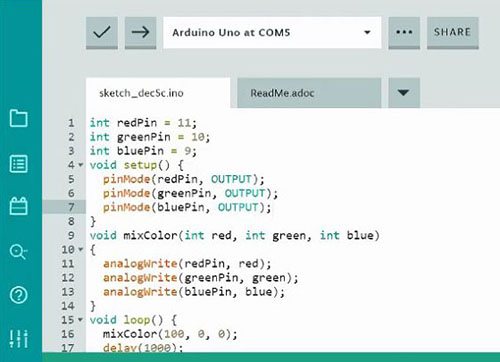 Of course, that's her dream come true—that they're planning on going to college: they're checking schools out, applying to colleges.
"They are," Hebert admits. "They're applying, and hopefully we get some of them here." She adds that this is just the first batch of kids who started in kindergarten and moved their way up to 12th grade, and that it'll be interesting to see what they're majoring in. "This is the first year, so they're just applying to college. Wow! So, we'll see what happens in the spring. It'll be fun to see what happens with them—acceptances. That's amazing!"
Regarding discovering what happens college-wise with some of the seniors, Hebert will get an additional chance to find out when she and her volunteers hold a family event for ChiS&E in February, then teach the next set of lessons to the same grade levels (building on the fall content) for 3–4 weeks in April 2021.
Regarding the amount of time and energy invested in this group of kids, Hebert acknowledges the program's creator. "Kudos to Mr. Kenneth Hill and LaTina Taylor who run the program. It's just been fun while also watching that grow and change over time," she admits, admiring Hill and company's efforts "to make sure that students are getting opportunities outside of the school day to grow their STEM skills."
Another group she is grateful for is her team of undergrads—her "volunteer ambassadors" as she calls them—who ensure that the organization of the outreach isn't all on Hebert. They help coordinate the volunteer experiences, recruit volunteers, and communicate with the volunteers running social media and taking care of web pages.
Hebert shares why she and her undergrad volunteers devote so much time, energy, and several Saturdays to the program. "This is an opportunity to contribute to the narrowing of the opportunity gaps," she acknowledges. "So often, students in low-income areas are under served by the schools that they're in. That's a part of the society that we're in, and the systemic racism that's been built up over time that makes it harder to achieve." Regarding their efforts to provide these students access to these out-of-school learning opportunities, she continues: "So ChiS&E stepped in to meet the needs of their communities. And this is a way that the university can serve its mission to contribute to that goal of narrowing those opportunity gaps."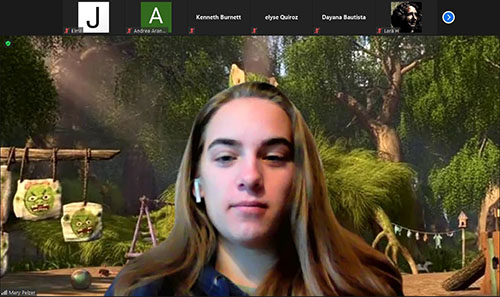 MechSE sophomore Mary Pelzer shares with Chicago students during a ChiS&E session.
Mary Pelzer a Mechanical Science and Engineering (MechSE) sophomore, shares why she got involved with the program. "I participated in programs similar to ChiS&E when I was in middle and high school, and that's what originally made me interested in engineering." she says. "I hope that by sharing my fascination with engineering, perhaps some of these kids will be inspired to pursue a career in STEM. It's really rewarding to see a student have that "lightbulb moment" where they discover something cool."
Explaining why programs like Chis&E are important, Pelzer says, "They expose kids to careers in engineering that they might not otherwise be familiar with. The activities and speakers can help them realize if they're interested in any STEM disciplines."
Of course, Chicago students weren't the only ones to benefit. Hebert indicates that the Illinois students also profited from the endeavor: "It's also a service-learning opportunity for the undergraduate students who are providing that mentorship," she claims. "They are giving back to the community. They are learning intercultural communication skills. And they're learning about some of the inequities and that exist and thinking about how they can do something about it."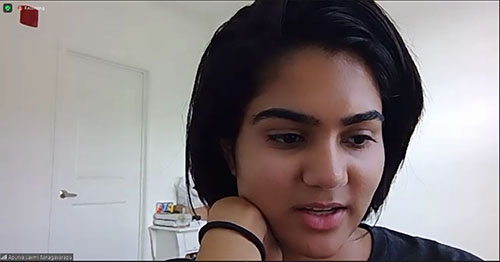 Computer Engineering junior Apurva Sanagavarapu interacts with the Chicago students during the December 5th session.
For instance, one Illinois student who was impacted while serving as a volunteer in ChiS&E was Apurva Sanagavarapu, a junior in Computer Engineering. She took ENG 298 with Lara Hebert in Fall 2020. "I took this class because I really wanted to know how I can make STEM more accessible to all high school students and because I am passionate about teaching," she reports.
Indicating that she found the program quite rewarding, she believes the program also impacted the younger students.
"It was very rewarding to see them become very interested in their projects and feel proud about what they created," Sanagavarapu indicates: "I feel that this program impacted them positively by exposing them to technical skills that are in high demand."
Regarding the importance of programs like ChiS&E overall, she believes they are very important "because they allow students to explore the vast world of STEM, develop critical thinking skills, and stir up the passion to make a positive difference in the world."
Hebert also envisions some long-term impacts."Ultimately, I hope that the students who are going through these programs as middle schoolers and high schoolers—that we get to see them back in the doors here at Illinois, and that we get to watch them grow and graduate from an engineering program." And not only that, but she dreams of the program becoming self-perpetuating, with some of the ChiS&E students: "Maybe even being some of those volunteers here, going back and working in the schools."
Brooklyn, Kenneth Burnett, Gabriela Bautista, Kelly Acosta,
---
Story and photographs by Elizabeth Innes, Communications Specialist, I-STEM Education Initiative.
Additional I-STEM web articles about ChiS&E:
More: 6-8 Outreach, 8-12 Outreach, Chicago Public Schools, ChiS&E, Underserved Minorities, 2021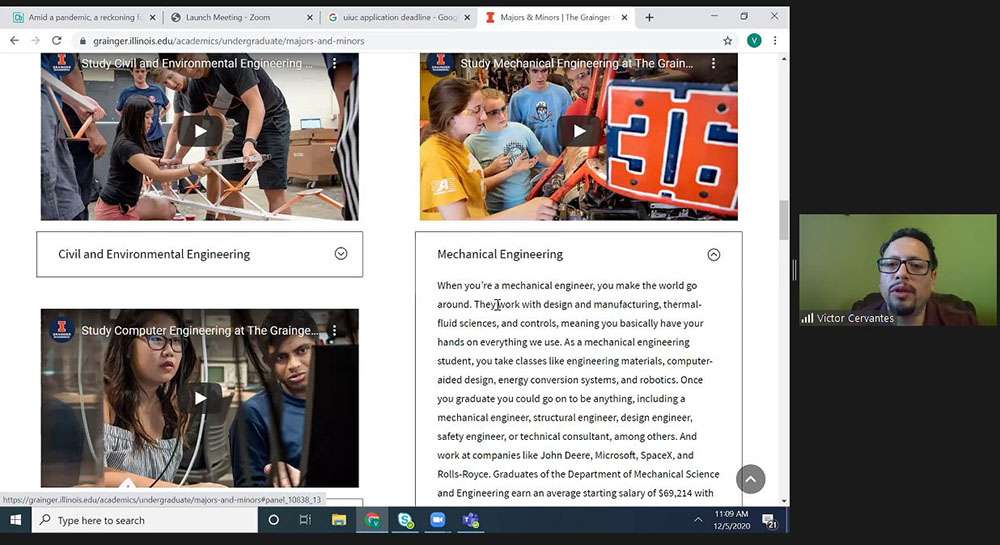 During the December 5th ChiS&E session, Victor Cervantes shares about some of the engineering disciplines offered at Illinois and what an engineer in that discipline might do.