2015 NGS Science & Engineering Fair Called the "Most Successful" Ever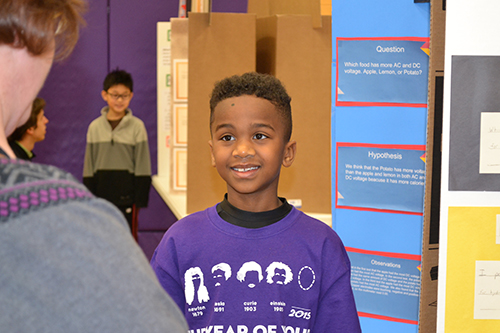 An NGS student presents his research project to local expert, Judy Miller, Environmental Program Manager for the Urbana Park District.
February 18, 2015
Like a swarm of bees, a noticeable buzz of anticipation was in the air as students waited to present their science projects during Next Generation School's (NGS) Science and Engineering Fair. After weeks of prep both at home and in the classroom—it was finally the big day! The students would get to present their research to one of the local experts who had gathered for the event. The hope of the organizers was that these students would not only gain valuable feedback about their specific project, but that ultimately they would have gained a better understanding of the scientific process and possibly even a new passion to explore STEM fields when they grow up.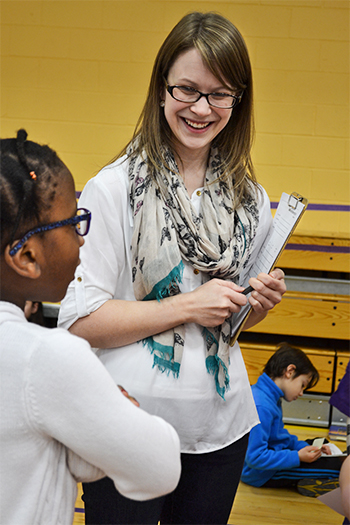 An
Illinois
researcher (center) interacts with an NGS student describing her science and engineering fair project.
Educators generally believe that the hands-on process produces the ultimate excitement in learning. However, Next Generation School educators believe that their emphasis on the thought process involved in the projects is a true indicator of a child's understanding. The children had navigated through weeks of preparation involving design, materials procurement, testing, research, then more testing and research. The hope of NGS educators was that during the process, the children not only gained knowledge, but confidence.
Head of the School Chris Bronowski believes that this year's fair was different from previous fairs in that it had an improved approach. Along with the students, the staff and organizers are constantly researching their own efforts for methods of improvement.
"I think overall, we were able to focus a little more on student preparation. We reintroduced some things, letting middle schoolers work with partners again. I think the teachers were able to probably do a lot more teaching about the scientific process than perhaps they had in years past.  So I think every year we have continued to improve and change, and already this year we're thinking about things that we'll do differently next year."
Bryant Fritz, NGS's middle school science teacher, admits that an incredible amount of work is involved with producing the fair, which he finds well worth it when he sees the way the kids delve into their projects.
"The enthusiasm that they have, you can just tell they're so unbelievably excited, and they're proud of themselves for doing this, and they feel like real scientists—like real engineers—when they're standing there formally presenting; so it's exciting for everyone."
Regarding his expectations for the kids this year, Fritz proudly states; "I have been doing this for 5 years now, and I think that this is going to be maybe the most successful fair that we've had. I think the kids did a really excellent job, and it's very evident with their excitement the last few days we've been down here practicing. It's a good combination of nervousness and the excitement for when they actually get to come down and talk to this person." The chance that this person actually studies what their project focus was adds to their level of anticipation."
Did any of the kids build on what they had done last year? Fritz says several did and were really excited about that.  They "almost couldn't wait until the next year when they would have this chance to come up with these new questions based on what they did last year and take it a step further. So that's exciting!"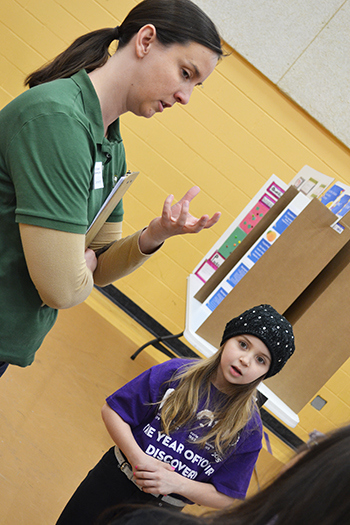 Stacey Clements, the Champaign County Forest Preserve's Education Program Specialist, discusses their science fair project with a couple of NGS students.
Entering the fair scene this year as a community expert was zoologist Stacey Clements, who works for the Champaign County Forest Preserve as an Education Program Specialist. In charge of the Natural History school programs and summer camps for the CCFP, Clements works with kids from preschool up to high school. Having an enjoyable place to go to work every day allows her to combine her love of nature and love for teaching. She chuckles with enthusiasm, "It's one of those jobs that you are happy to go to work every day, and I get to do stuff like this and be a science fair expert at Next Generation."
Clements believes that the fair could have a positive impact on children and their direction in life. "It's very important, and this [fair project] gives them that passion to maybe pursue it in their careers; and this gives them a little taste of that, which is really great."
Regarding one of her favorite things about the fair, Bronowski, who has experienced a number of them, comments on how neat it has been to watch the progression as young kindergarteners who are just starting to wrap their brains around the entire thing become older students who really start to own their own project through thought-provoking methods.
Does Bryant Fritz spot any future scientists and engineers in the group? Fritz boldly responds, "Of course! I think some of them know it, and part of our job as science teachers is maybe to try to convince some of the others that they might have a possible future in a STEM field; so that's very exciting for us."
The fact that Next Generation believes strongly in promoting science and engineering is evidenced by the amount of time devoted to developing these projects in their curriculum. Bronowski adds her thoughts to the purpose and goals of the fair.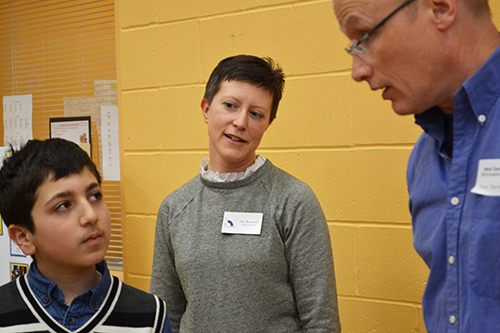 Next Generation Head of School Chris Bronowski (center) looks on as one of her students presents his project to
Illinois
Microbiology Professor Steven Blanke (right).
"It's a lot of work, but there are so many different components about the fair that are so valuable for our students even beyond the science and engineering aspects of it. What we really want our students to be able to do is to have a conversation about their learning, and that's a back and forth.  It's not a presentation that they memorize and give it to someone, because ultimately that's not what we want for them in life. It's to be able to have those types of academic and intellectual conversations where they learn just as much as the person that they're talking to."
Bronowski eagerly shares how much they appreciate the community experts that donate of themselves to make the fair what it is.
"They give up so much of their time to come in and spend with those students. The way that has an impact on our students is just indescribable. I mean, they remember fairs from years back and will remember this for years to come." She reiterates how incredible it is for the students, with no price tag to be put on it.
Story by Cindy Kay Kallembach, I-STEM Office Assistant; photographs by Elizabeth Innes, Communications Specialist, I-STEM Education Initiative.
More: 6-8 Outreach, K-6 Outreach, Next Generation School, Science Fair, 2015
For further information regarding Next Generation School's partnership with the University of Illinois, see these additional I-STEM articles: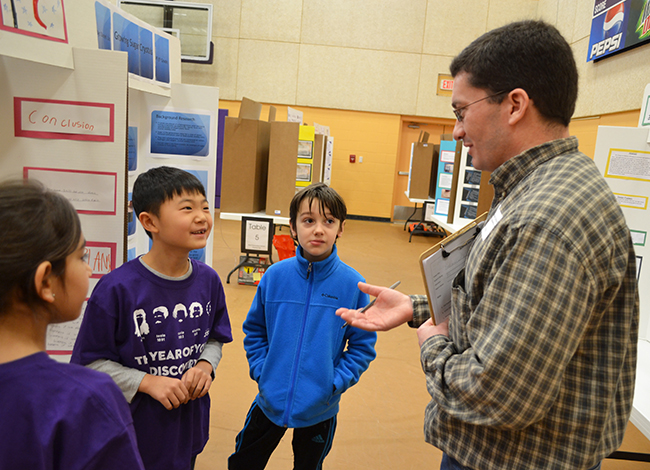 Three NGS students discuss their project with a community expert.