Top STEM Education Stories
Our vision for Illinois as a land-grant institution is to foster accessible, effective STEM teaching and learning—from preschool through graduate education—
at local, state, and national levels, thereby preparing a highly able citizenry and diverse STEM workforce to tackle pressing global challenges.
Current STEM Ed Highlights
Feburary 14, 2019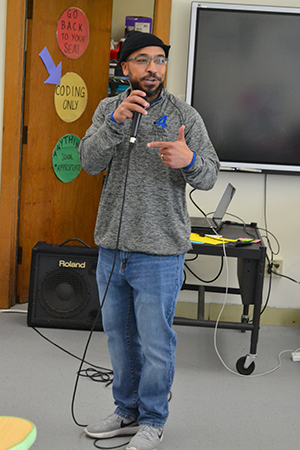 Jamie Roundtree rapping for students at Franklin STEAM Academy.
"So if you can find value and show value for what students value, then they are going to find value in the things you are asking them to value." – Jamie Roundtree
While some folks might insist that Hip Hop or rap doesn't belong in the classroom, some of those involved with I-MRSEC's Musical Magnetism curriculum, including Champaign Unit 4's Director of Elementary Teaching and Learning, Jamie Roundtree, would disagree. They're using the medium as a way to teach the students at Franklin STEAM Academy about, and get them engaged with, science—specifically magnetism. As part of the multidisciplinary curriculum, students are creating a rap song about one of a number of principles related to magnetism..
---
Feburary 12, 2019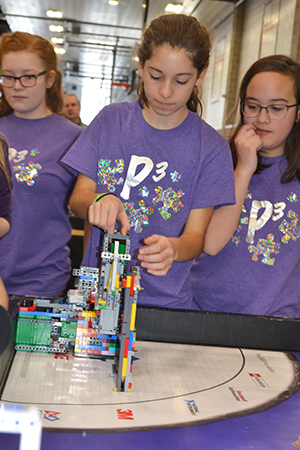 Members of the P cubed team work on their lego robot at the FIRST Lego Champtionship.
After working for months to build then program their Lego Mindstorm robots to do space-related activities, 48 teams of 4th–8th graders (9–14-year-olds), including four local teams, showed up at the ARC on Saturday, January 26th, to compete in the FIRST Lego Championship for central and southern Illinois. The competition is sponsored by FIRST (For Inspiration and Recognition of Science and Technology) Robotics, and its partner Lego, (a foundation supporter), with support from its local partner, Engineering at Illinois. Along with robotics, the youth learned a bit about space; gained leadership, teambuilding, and communication skills; plus gained some core, life-long values.