Top STEM Education Stories
Our vision for Illinois as a land-grant institution is to foster accessible, effective STEM teaching and learning—from preschool through graduate education—
at local, state, and national levels, thereby preparing a highly able citizenry and diverse STEM workforce to tackle pressing global challenges.
Current STEM Ed Highlights
April 10, 2019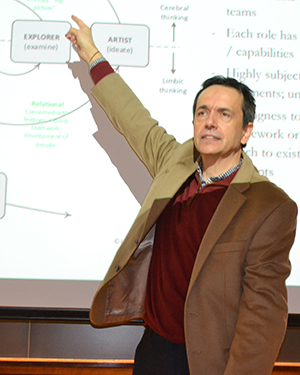 Leon Liebenberg presenting about his adventures with playful pedagogies during the recent Playful by Design Symposium.
While Illinois students receive a good education and become highly sought after once they graduate, a group of Illinois faculty and educators believe faculty can do an even better job of engaging students. So a multidisciplinary team of educators with similar goals of improving education are collaborating in a new program called ENGINE: ENGagment In eNgineering Education, whose focus is for not just engineering faculty but all Illinois faculty to move beyond traditional teaching methods to explore a number of engaging new pedagogical strategies. A key objective, along with engaging students, is to share their passion for playful learning with other educators by developing resources then assessing the impact of these new teaching pedagogies to share with other faculty, both on campus and beyond.
---
April 3, 2019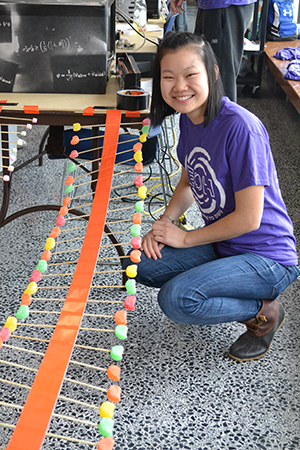 An
Illinois
Engineering student with a wave demo made of candy.
On March 8–9, thousands of visitors, including children and their parents, school field trips, and presenters, such as current Illinois engineering students and even alumni showed up to participate in Dare to Defy, the 2019 Engineering Open House. For the elementary and middle-school-aged visitors, it was a chance to learn more about science and engineering. (And let's admit it, for students and even teachers, a day away from school is always fun.) For many high school students, it was a chance to discover what being an engineering student at Illinois might be like and possibly narrow down their career choices. For the many alumni and their industry colleagues who presented exhibits, it was a chance to display their products, share their experiences in engineering, and possibly get some young students interested in their field and maybe even their company. For all participants, it was a chance to celebrate engineering at Illinois.