Top STEM Education Stories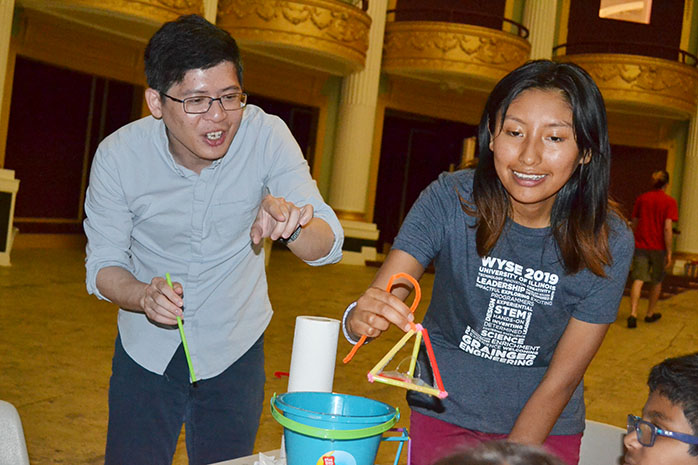 MechSE Assistant Professor Jie Feng and NCSA Assistant Project Coordinator Adriana Coariti expose youngsters at the Orpheum to bubble theory.
Feng article;
Coariti article.
---
Current STEM Ed Highlights
"I love multidisciplinary work. I think that brings the best of every world together. It's like cooking. You get all of your best ingredients, and if you know some type of cuisine and you can combine it with another, you can cook something great." – Adriana Coariti
August 8, 2019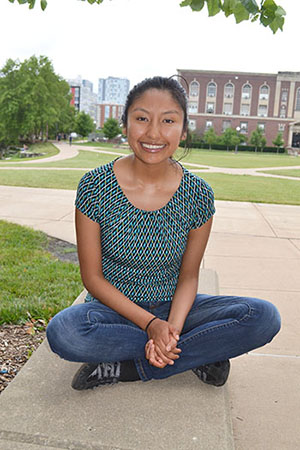 Adriana Carola Salazar Coariti
When high schoolers in the WYSE (Worldwide Youth in Science and Engineering) camp were struggling with how to insert a bubble inside another bubble, Adriana Coariti was there to help the students trouble shoot. And when youngsters at the Orpheum Children's Science Museum's Creative Science Camp couldn't get the wand they'd designed to make rectangular bubbles, she was by their side, effervescently encouraging them to follow their intuition. Extremely passionate about multidisciplinary engineering, Coariti is just as passionate about STEM outreach. So she got involved with the two summer 2019 outreach opportunities in hopes of helping the youth build their scientific intuition.
---
If good people who know a concept well don't pass that knowledge on to the next generation, then that knowledge could be lost. – Jie Feng's Princeton PhD advisor, Professor Howard Stone
August 9, 2019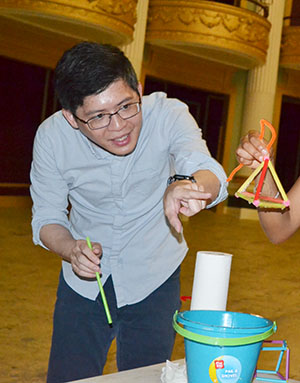 MechSE Assistant Professor Jie Feng teaches kids at the Orpheum about bubble dynamics.
The above paradigm, which (Mechanical Science and Engineering (MechSE) Assistant Professor Jie Feng picked up from his Princeton Ph.D. advisor, has helped to fuel his love of STEM education outreach. So, lest some of his knowledge about bubbles be lost, this summer, Feng and some assistants, including Adriana Coariti, a research assistant and project assistant coordinator at NCSA's Nano Manufacturing Node, shared concepts about his research with some young people. The students ranged in ages from high schoolers participating in the MechSE portion of the WYSE (Worldwide Youth in Science and Engineering) camp on July 12, down to early primary school students at the Creative Science Camp of the Orpheum Children's Science Museum on July 15th.
---
Our vision for Illinois as a land-grant institution is to foster accessible, effective STEM teaching and learning—from preschool through graduate education—at local, state, and national levels, thereby preparing a highly able citizenry and diverse STEM workforce to tackle pressing global challenges.
STEM Ed News