Top STEM Education Stories
Our vision for Illinois as a land-grant institution is to foster accessible, effective STEM teaching and learning—from preschool through graduate education—
at local, state, and national levels, thereby preparing a highly able citizenry and diverse STEM workforce to tackle pressing global challenges.
Current STEM Ed Highlights
December 6, 2018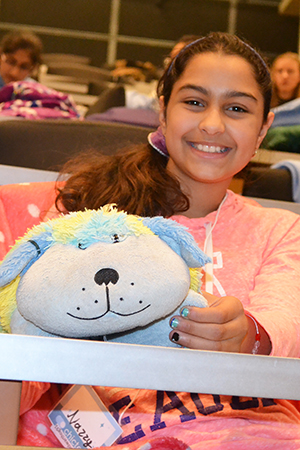 A Chic Tech participant gets cozy with her stuffed animal during Girls' Night.
Excited to interact with other girls (and women) interested in computer science, high school girls from all over the state showed up at ChicTech, a two-day event designed to expose girls to computer science (CS), some possible careers in CS, and to show them that they would have a ready-made community, the WCS (Women in Computer Science) group, should they matriculate to Illinois. And more importantly, during the workshops, they learned that, yes, indeed, they can do computer science.
One of the main goals of Chic Tech was to give participants a chance to learn that they can do computer science. The event featured three different workshops designed for girls with different levels of expertise...
---
December 3, 2018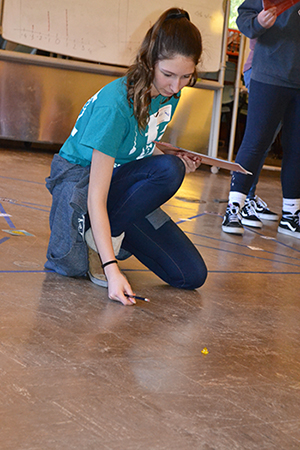 During Sonia Math Day, a participant writes down data as they participate in the "random walk" activity.
On Saturday, November 10, 2018, during Sonia Math Day, a number of math grad students from the Association of Women in Mathematics (AWM) put into practice the "Say what you know" idea, taken from the life philosophy of Sonya Kovalevsky. The annual event celebrates the life of Kovalesvsky, the greatest female mathematician prior to the twentieth century, and her impact—that women can succeed in and contribute to the field of mathematics. Benefitting from the AWM women's wisdom (and that of some male students who support women in math), were five local girls who did some unique, math-related activities probably quite different from what they normally are exposed to in school. Plus, they not only met other local girls also interested in math, but networked with some role models during the event, women who are currently on a trajectory to careers in math.