HackIllinois 2021 "Rekindled Connections" With The Tech Community
May 5, 2021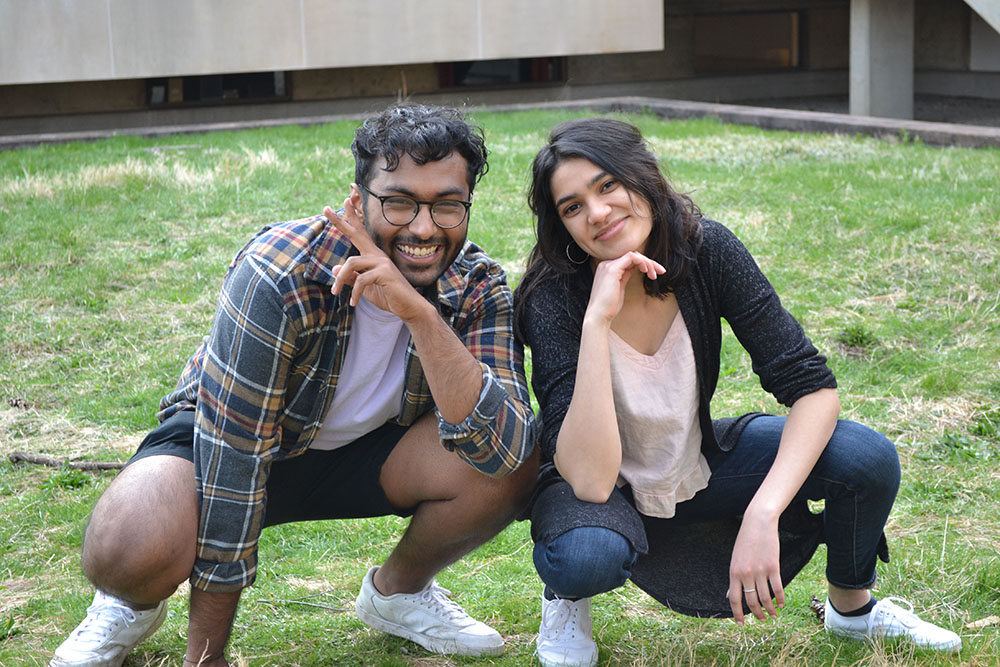 Megha Mattikalli and Rishin Pandit, sophomores at the University of Illinois Urbana-Champaign and co-directors of HackIllinois 2021: Rekindling Connections.
What exactly is HackIllinois? A student-run hackathon event developed to empower computer science students to produce technological solutions to problems society is facing, all within one weekend. So, from April 9th to April 11th, students at the University of Illinois Urbana-Champaign organized the annual student hackathon HackIllinois with the aim of developing projects on current problems facing society. Focusing on "Rekindling Connections," hundreds of participants from Illinois and beyond were able to network with industry professionals, mentors, and companies, while learning new skills through the workshops provided. HackIllinois staff as well learned how to adjust the once-in-person event to a virtual event while maintaining the original mission of HackIllinois.
In previous years, HackIllinois participants were greeted with a wide variety of distinct features, one after another. Companies had rooms to themselves for participants to attend and network, while those same students took over the Siebel Center for Computer Science and the Electrical and Computer Engineering building. Last year even boasted having an area full of Android plushies for students to jump in. A year later, HackIllinois had to design an event that aimed to be accessible to all, while still serving as a way for students to learn about a wide variety of fields. In a time of separation, co-director and sophomore at the University of Illinois, Megha Mattikalli, expresses that, "students wanting to be able to connect with one another once again" served as a motivation behind the main theme of the event: Rekindling Connections.
Rishin Pandit, sophomore at the University of Illinois and co-director of HackIllinois describes hackathons as "a popular event in the computer science student community where students come together with a team and build a software solution to a popular problem all within a weekend! Hackathons provide resources to make this as easy as possible for attendees, such as industry mentorship and workshops highlighting technical tools."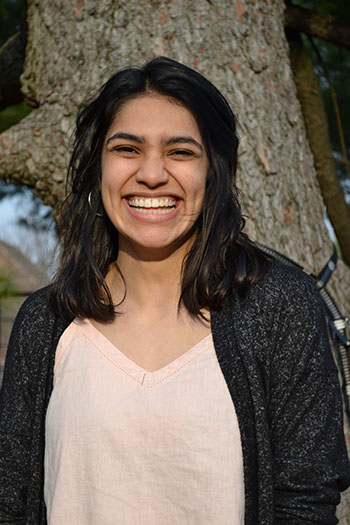 Megha Mattikalli, codirector of HackIllinois and a Computer Science major, states that "students wanting to be able to connect with one another once again" served as the main inspiration behind the theme of the event: Rekindling Connections.
Fast forward to April 9, 2021, where Pandit and Mattikalli stream the opening ceremony from the HackIllinois YouTube channel, transitioning from a Zoom recording to an in-person recording with Pandit and Mattikalli sitting together discussing the infrastructure for the event (both were vaccinated and tested negative leading to the recording). To account for the absence of in person interactions, HackIllinois decided to develop a similar system on Discord, where students would be able to form teams, reach out to mentors, and to network with company sponsors of the event, in addition to a mobile application for students to use throughout the event. Mattikalli went in depth regarding the infranstructure, stating that "Implementing Discord on the staff side went smoothly, primarily due to our incredible systems team who was somewhat familiar with the application but also worked hard to understand how it could be easily integrated for our event. It was a lot of trial and error, and I noticed that over time we got more accustomed to using bots through discord such as the jeopardy bot or experimenting with the queue bot for mentor help and information. The mobile application was harder to work with just because in a virtual environment, the need for a mobile app is reduced. The point system helped alleviate this issue and made people more inclined to go to events, which was an incredible use of the mobile application."
With the Discord and mobile application working smoothly, as the hours passed the night progressed towards a major highlight of HackIllinois and hackathons in general: the workshops. Hosted by Tiffany Duong, co-director of UIUC's chapter of Hack4Impact, and Chaeeun Park, director of design at Bits for Good and a student from Georgia Institute of Technology, both students introduced the first workshop of the night, which was on the basics of Product Design. Duong and Park first went through the design process and introduced the "double-diamond method" which is a structured approach to identifying the design goals. The "double-diamond method" helps find the intersection between designing the right thing and designing things right, and use those intersections to produce your design. Soon after, Duong began the process of highlighting the aspects of product design, introducing the differences between User Interface and User Experience, both of which serve different aspects of serving a consumer and the stages of testing, from low to high fidelity testing. The workshop soon shifted towards the application of Figma, a web application where users can design each iteration of an application, whether it be a webpage or a mobile app. Park began introducing live demonstrations of applications of Figma, teaching participants how to use Figma towards developing layouts for products. Duong and Park ended the presentation with a description on the connection with Product Design and other aspects of Engineering, as well as resources to develop an online portfolio.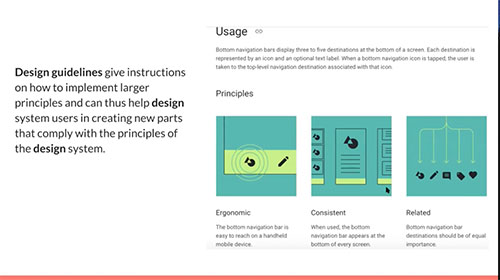 HackIllinois' first workshop of the night regarding Product Design.
Later into the night, Alice Fang and Rem Yang, students at the University of Illinois (former in the case of Fang) began diving into the world of Web Development and Databases. Fang spent the presentation touching on the three main aspects of Web Stacks and from there went into API's (Application Programming Interfaces) and their role within Web Stacks. Fang also dove into the implementation of databases and how databases collect structured information within data in a computer system. Fang was able to introduce two main approaches towards databases and the correct way to use the approaches in the general code. The presentation then transitions to Yang, who provides a live demonstration of utilizing a Backend API towards affecting a live database. With his screen shared, Yang was able to actively display to participants how lines of code can quite frankly play a role in the manipulation of the live applications in daily life.
The first day of workshops ended with a presentation by HackIllinois staff itself on the implementation of Git, a software used to track file changes, while serving as a major method in which users can contribute, share, and edit content within one another. Staff members were able to directly answer participants questions while also providing a sense of connection with staff and participants similarly to in person events.
Beyond running an event the day of, HackIllinois staff spent months of planning and organizing leading up to this event. Typically, staff is selected at the beginning of the fall semester, and from there, meet on a weekly basis building off work done the week before. Ranging from system to workshop design, countless staff members devoted their time and effort towards the event, focusing on each specific portion of the event. For instance, for workshops, Mattikalli says, "our Experience team brainstorming topics that could be taught during the hackathon. The team was deliberate in picking topics that were very distinct, as well as being interesting for a large group of people." Adding on, Pandit expresses, "when Covid-19 first reached America, we were first excited about having an extended Spring break and were confident that we'd back to planning an in-person event in no time. However, that quickly changed as case numbers rose and the nation went into lockdown. During this time, we were also getting our first taste of virtual learning. It was a jarring experience for us as students and it was apparent that professors were also having trouble adjusting. So, to test drive the virtual format, we decided to host an event to address the issues we as students were facing in virtual education. It was half a distraction during scary times and half a way to test drive what could be the future of our event, but it went so well."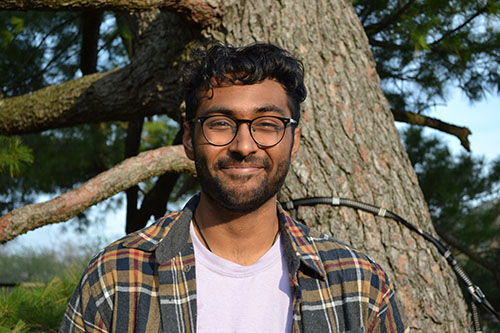 Rishin Pandit, co-director of HackIllinois and Computer Science + Economics major exclaimed that they had test-driven virtual format of events, explaining, "We decided to host an event to address the issues we as students were facing in virtual education" with positive results!
However, there are a wide variety of struggles that come with hosting a virtual event, Pandit explains. "It was definitely a bit scary at first as we had absolutely no experience running virtual events and weren't sure what to expect in terms of our ability to deliver in-person-like value and also attendee interest" Pandit emphasizes. To curb this issue, HackIllinois came up with the points system. The points system encouraged students to actively participate in the workshops while also providing a sense of interaction and connection with company leaders, staff members, and fellow participants. Mattikalli proclaimed, "In order to have participants be involved with our workshops and motivated to attend, we created a points system where attendees could redeem points for prizes! This helped quite a bit and workshop participation was relatively good."
Pandit remarked the lack of an in-person interaction with the team as "what I miss most about an in person HackIllinois. By-chance encounters and side conversations were a huge part of how I bonded with the team in previous years." But Mattikalli and Pandit, as well as other members of leadership attempted to curb this issue, with "many meeting formats and even different meeting platforms. One thing we did was start Hack Houses for staff to meet other staff outside of their sub-teams."
The second day of hacking shifted the focus from student-led events towards those by companies and HackIllinois mentors. Beginning with an introduction to Bioinformatics, biopharmaceutical company AbbVie discussed the applications of algorithms towards biology and introduced the first corporate challenge of the day: to apply previous computing skills towards bioinformatics and to identify potential viruses in a soil sample, develop a code for the vaccine, and finally to visualize the results. With this challenge in mind, challenge participants were able to focus on developing their own projects to submit to the HackIllinois gallery, but also to participate in corporate events and winning sponsor-based prizes.
Professor Wade Fagen-Ulmschneider, Teaching Associate Professor at the University of Illinois soon led the next workshop of the day (sponsored by oil gas company BP) on data visualization and the process of using data towards producing content, in this case being pre-filled survey responses by HackIllinois participants prior to the event. Professor Wade began the workshop discussing the principles of data visualization before touching upon Dataset exploration and data analysis using the coding language Python. He soon began providing a live demonstration in which he utilized survey responses filled only moments before producing material that was able to provide a visually clear and aesthetic regarding the main reasons why participants participated in HackIllinois in the first place.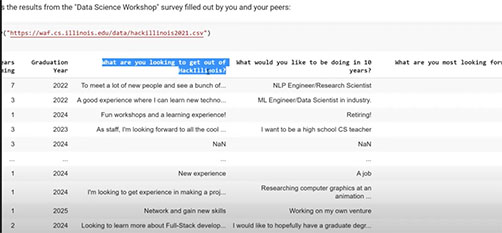 Professor Wade Fagen-Ulmschneider leading students on a workshop on data visualization, using data from the event itself.
HackIllinois sponsor Facebook contributed towards the career and networking aspects of the event, describing how to best prepare for technical interviews, as well as tips and tricks for networking and interacting with recruiters. Pooja Kankani and Shivansh Chandnani, both Software Engineers at Facebook as well as alumni of the University of Illinois began walking through the process of the coding interview, emphasizing the purpose of such interviews were to understand how the interviewee would "think and tackle hard problems" as well as "how to communicate technical problems" with other team members. Kakani discussed the main goals of the coding interview, emphasizing that effective communication can help in addressing potential struggles faced. Chandnani also began describing the format of the coding interviews, from introduction to the completion of coding questions. In the presentation, Chandnani explains that each coding interview can have unique aspects, such as multiple components of a single question.  After a brief demonstration, Chandnani and Kankani ended the presentation with advice about projects in technical interviews, leaving participants feeling well prepared for the future interview advice and for their future career.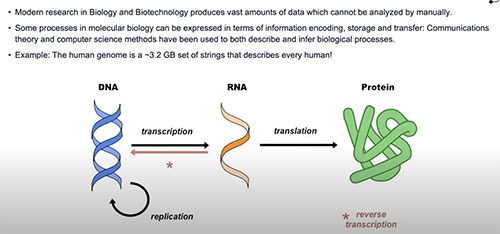 AbbVie, a sponsor of HackIllinois, discussing biotechnology and bioinformatics.
Besides workshops and the final submission, participants were additionally encouraged to participate in challenges designed to help them apply skills from the workshops into their coding lifestyle. For instance, after the workshop on web development, HackIllinois introduced the Web Development challenge that encouraged participants to create webpages for their final project, as well as the Data Science challenge which allowed students to use creativity to effectively visualize datasets provided. AbbVie and Caterpillar contributed as well, with AbbVie hosting a challenge and Caterpillar hosting a mini event. Silicon Labs even hosted a Cyber-Security Workshop before diving into their challenge, helping students learn more about the world of cybersecurity as beginners.
Sponsors also began devoting time towards answering questions about company lifestyles and potential career paths students could take. Optum, Capital One, IMC Financial, Caterpillar, Grainger Company, and Schlumberger Company all took the stage to answer questions from company culture, current internship and full-time job offers, towards descriptions of company's roles and impacts in modern day society. Overall, company question and answer events were designed to introduce students to the inside look at companies that produce products that many individuals use, and how to play a role in furthering their own skills and career paths.
The final portion of the workshops in HackIllinois were based out of the University of Illinois clubs and registered student organizations. Founders, UIUC's entrepreneurship registered student organization dove into entrepreneurship and how to come up with effective pitches, leading up to the Shark Tank event hosted later in the night by Cargill. Founders members began discussing the development of pitching, from the traditional elevator pitch to storyboarding to business plans and demos.
SIGPWNY, the largest chapter of UIUC's Association of Computing Machinery, was also a key contributor to the workshop events, working with Silicon Labs to produce a workshop on Cyber-Security and how to effectively hack into a vulnerable computer system to best produce active security measures. In Pandit's case "Cybersecurity as a field has always been a bit of a black box to me and they [SIGPWNY and Silicon Labs] managed to present it in a very digestible and realistic manner." This could be seen with the demonstrations provided in which SIGPWNY introduced a demonstration in which the objective was to break into the Siebel Center for Computer Science in order to introduce the adversarial mindset or "What would an adversary do" and from there how to break certain assumptions.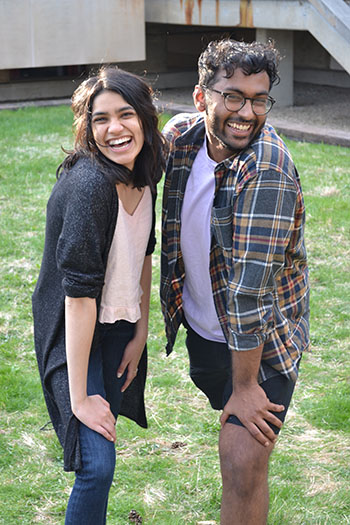 Megha Mattikalli and Rishin Pandit.
Transitioning to the final day of the event, students began fine-tuning their projects, reaching out to mentors and HackIllinois staff via Discord for help, technically and motivationally. With the final workshop of the event being a Research Park sponsored event on the concepts of machine learning and image classification, the hacking soon ended. Participants quickly submitted their videos and demos online and relaxed before the final event of HackIllinois, the Shark Tank hosted by Cargill.
HackIllinois' decision to go virtual was at first glance unfortunate however it was anything but. Mattikalli explains that the virtual side of the event "made HackIllinois so much more accessible! Champaign, IL is not the easiest of cities to get to so often our attendees are limited to the Midwest. With virtual events, however, we are accessible to attendees around the world! It was super cool seeing students from 30+ states and 10+ countries attend our event. We had winners from Thailand, Nigeria, India, and more!" Pandit agreed, and professed that through HackIllinois, "the virtual format opened up so many possibilities for us to test drive new event ideas and connected us to so many new cool mentors and sponsors" with Mattikalli adding to mention the ability to experiment and go above and beyond, with little financial burden and little risk.
Throughout the event, students, professors, and industry professionals united towards one goal, which was to effectively play a role in solving issues in modern day society. Immediately after the opening ceremony, students were quick to message in the Discord server, introducing themselves to their fellow participants, forming teams in the designated team-formation section of the server. HackIllinois Staff at the same time was also present in the discord server, answering questions participants were asking within seconds. Mentors as well were providing introductions, with many staying to help students with their code as well as career-oriented questions. Within this aim to help others, a community was formed. One that was based on innovation and collaboration, which was able to "rekindle connections" individuals had with each other, their mentors, and with their love for technology.
---
Story and photos by Garima Sharma, Undergraduate Intern, I-STEM Education Initiative.
More: Computer Science, 2021, Undergraduates, Graduates
For more I-STEM web articles about CS outreach events, see:
---

Facebook, another sponsor at HackIllinois, dived into the technical coding interviews, and the tips and tricks behind them.