Mommy, Me, and SWE Strives to Convince Girls That They Can Be Engineers Too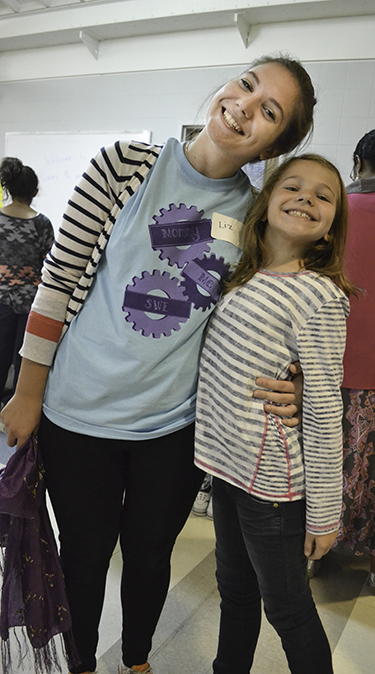 Liz Gacek with her little sister, Mary, who participated in the event.
November 13, 2015
Twenty-six 4th–6th grade girls and their mothers (plus one dad) visited campus this past Saturday (November 7th, 2015) as guests of SWE (the Society of Women Engineers) to participate in the group's fall outreach event, Mommy, Me, and SWE. The goal of the dozens of female engineering students who participated in the event was to pique the girls' interest in engineering and show them that, like their "big sisters," they too have what it takes to become engineers.
According to Lara Flasch, one of SWE's Outreach Committee Directors, "The whole outreach committee is all about just extending our passion for engineering to kids so that they're exposed to it, they understand how it can change the world, and they are confident in it as a career option for themselves."
Liz Gacek, Mommy, Me, & SWE event chair, reports that she had added incentive to participate in SWE's outreach: "Well, my sister is actually here at the event, and I just like to see her have her mind blown along with all the other girls!"
One highlight of the day's activities consisted of an interactive round robin, where participants visited eight different stations, each representing an engineering discipline at Illinois. There the girls participated in a variety of hands-on activities designed to give them a taste of what each discipline is about. "Manning" the stations were female engineering students studying those fields who guided the girls in how to do the activity, asked questions designed to get the girls to think, plus served as role models.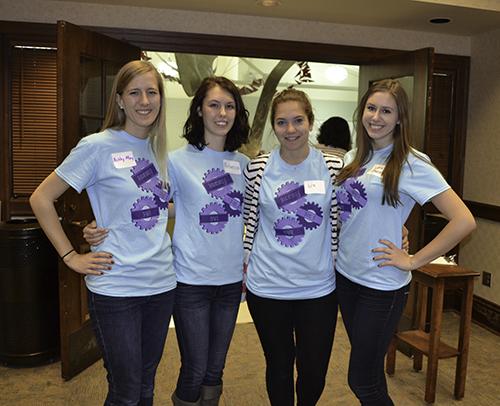 Mommy, Me, and SWE organizers: Ashley May, SWE Outreach Committee Director; Rebecca Boehning, Mommy, Me, & SWE event chair; Liz Gacek,Mommy, Me, & SWE event chair; and Lara Flasch, SWE Outreach Committee Director.
In the afternoon, the girls participated in an egg-drop competition, where they learned about the engineering process as they designed contrivances intended to protect a real egg as their aparatus rolled down a ramp and rammed into a "wall" in order to test their design skills. There was something for the moms too: a session designed to challenge the mothers to have conversations with their daughters, encouraging them that they can be whatever they want to be...including engineers.
Outreach Committee Co-Director Ashley May reports that the event went well. "Everyone seems to be enjoying themselves. The girls are really engaged with all of the activities, and the moms are really happy to be there to support their daughters."
According Rebecca Boehning, a Mommy, Me, & SWE event chair, it appears that the moms appreciated it too. She reports that several moms had approached her and said, "Thank you for doing this! This is such a great event. How long have you guys been doing this?" She indicates that they all had seemed very happy with the event and happy to be there to support their daughters.
Left to right: a Champaign girl, Lucia Pritchard, and her mother, Ana; Lucia is demonstrating a structure she made at the civil engineering table.
So why did the moms take time out from their usual Saturday routine (most likely doing all the things they didn't get done during the week) to bring their daughters to Mommy, Me, and SWE?
Ana Pritchard, from Lima, Peru, but who currently lives in Champaign, wanted to foster her daughter's interest in STEM.
"First, because my daughter seems like she's interested in some engineering things," she admits. "She mentions that she wants to be in computer engineering, but maybe that will change by next year, I don't know. So I wanted her to be exposed a little bit."
In fact, Pritchard appreciated the exposure to the different types of engineering herself: "So far it's a great experience, even for me," she explains, "because I was exposed before, but not in a diverse way. So yeah, it's very cool!"
Also from Champaign, Tiffany Armas, reported that she participated in order to encourage her daughter to discover her strengths and also to explore her options career-wise:
"I brought my daughter here because I just wanted to expose her to different types of activities and different opportunities for the future," says Armas. "What I don't want is for her to ever think that she can't do something, and I don't want to prevent her from being exposed to something that she is actually good at and has a passion for. So it's just to expose her to something and make sure that she explores that as a potential opportunity for her for the future."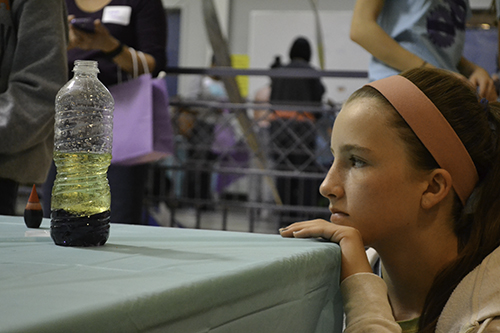 A young Mommy, Me, and SWE participant at the Chemical Engineering station patiently watches her experiment bubble.
Armas described the event as "Very well organized," and also appreciated the girls getting exposed to the different engineering disciplines.
"Great activities for the girls to interact with a lot of different role models from different engineering functions so that they can see the application of that type of engineering in different areas."
She also appreciated the activities geared toward the parents. She found especially helpful the portion of the day that gave parents tips about having "the right conversations and discussion with our girls so that we encourage them to pursue different opportunities and pursue their passions."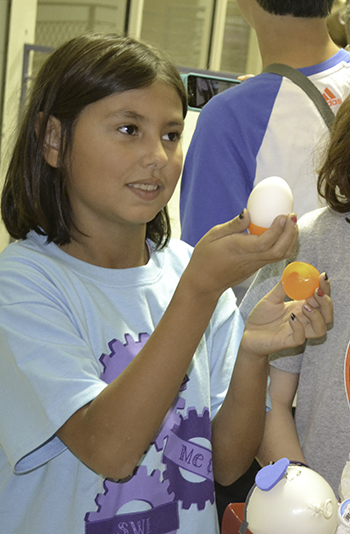 A young participant showing that her team's apparatus was designed well; their egg made it through the egg drop contest unscathed.
Marlah McDuffie, Associate Dean in the College of Media, who brought her daughter Amaya to Mommy, Me, and SWE, indicated that this was their 3rd time participating in the event. They started when she was in fourth grade. "This is our last go-round," she explains.
McDuffie acknowledges that she brought her daughter to the event to expose her to STEM, as well as the female role models at the outreach.
"We all have an interest in science and technology and engineering, and we just want to be able to show her all the opportunities that are available, and hopefully maybe have her want to go into a STEM field," she explains. "I mean, if she doesn't, that's fine too, but just so she knows that this is an option for her, and it's a very realistic option, and she's surrounded by so many women and people in the field so she can get the information."
Is there a chance Amaya will end up in STEM? While McDuffie says her daughter is very interested in Bio-engineering, she's also interested in the arts and theatre and music.
"But I definitely think that this is the time to expose them to everything—as many possible options as possible," she continues. "So the sky's the limit."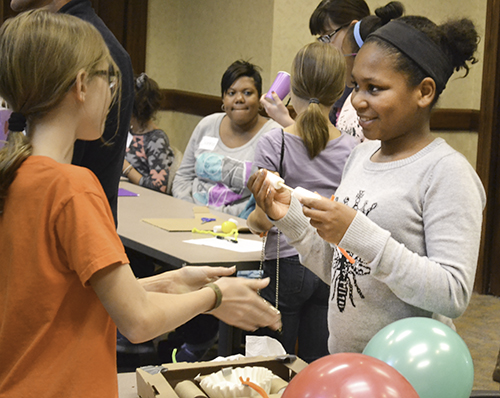 Amaya McDuffie (right) and her teammate (left) discuss the design of their apparatus for the egg-drop competition.
Her daughter, Amaya McDuffie, confirms that her mom's assessment she's intrigued by Bioengineering is spot on:
"Because I have a very big interest in engineering," reports Amaya, "and I want to expose myself even more to it because I want to be either a bioengineer or mechanical engineer when I grow up."
When it comes to SWE's commitment to increasing the number of women in engineering, they're preaching to the choir when it comes to Amaya. Even at her young age, she recognizes not only the shortage of women in STEM, but the unique contribution they can provide:
"We need to have more women in engineering," she claims, "so we have a more diverse opinion about different things and different outputs on things."
For additional I-STEM web articles about SWE, see:
Story and photos by Elizabeth Innes, Communications Specialist, I-STEM Education Initiative
More: K-6 Outreach , SWE, Women in STEM, 2015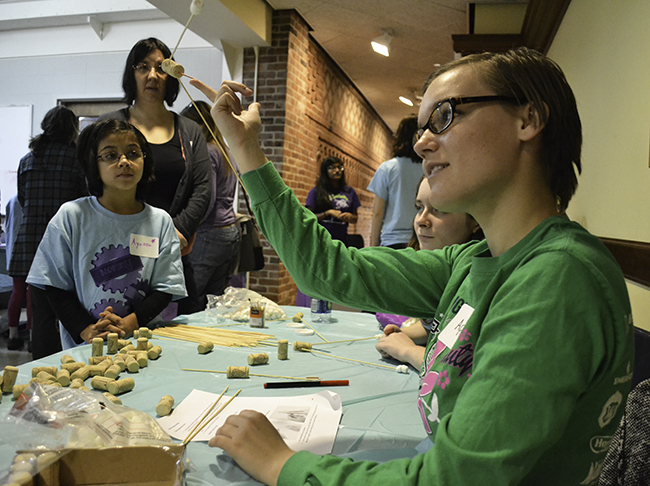 A mother and daughter (left) visiting the Civil Engineering table during the Mommy, Me, and SWE outreach learn about structures.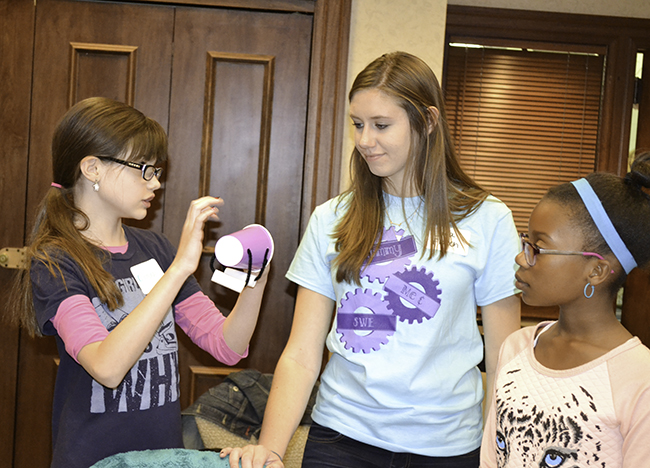 Lara Flasch (center), works with a couple of girls who are designing an apparatus to protect a real egg when they compete in the "Egg Drop" competition.