Physics Van Uses Exciting Demos to Pique Students' Interest in Science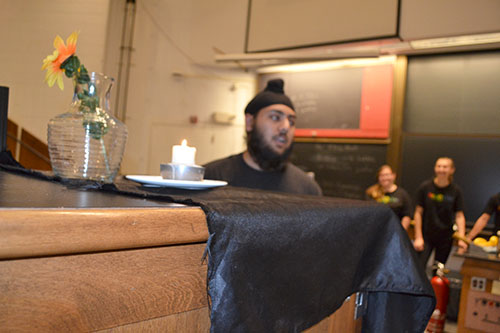 Above: Physics Van Co-Coordinator Japneet Singh has a table set with a flower vase and burning candle.
Below: he has jerked the table cloth off and the items remain in place: an illustration of Inertia, Newton's first Law of Motion.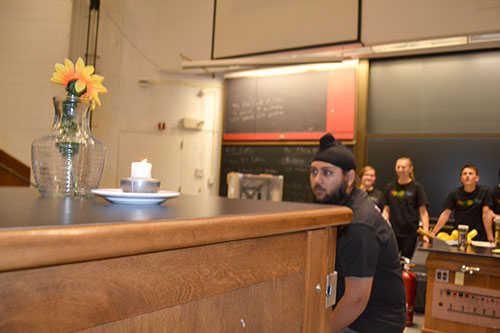 February 5, 2020
When seeking to attract youngsters to STEM and entice them into a journey along the STEM pipeline, there's no campus group that does a better job of helping get kids moving in the right direction than the Physics Van. Playing the benevolent Pied Piper of Physics, this long-time campus group, practically the grandfather of campus STEM outreach groups, pulls out all the stops year after year, using its unique brand of fun, engaging, often spectacular demonstrations about science, particularly physics, interspersed with humorous banter bordering on slapstick comedy, to show kids just how fun and exciting science can be.
What is Physics Van? It's a group of mostly engineering and physics students (and even a few non-engineering students) who do demos featuring explosions, lots of noise, light shows, and, of course, that make liberal use of liquid nitrogen. Physics Van was begun by Physics teaching guru Professor Mats Selen over 25 years ago. Since the van's first performance at the University Primary School in the spring of 1994, hundreds of Illinois undergraduate students—part physicist, part teacher, part actor, and part stand-up comedian—have done 800+ shows helping around 150,000 children discover the wonders of science.
What are their demos like? In one, a miniature cannon filled with liquid nitrogen is plugged with a cork; then as the liquid nitrogen warms up, it expands, causing the cork to "shoot" across the room. In another, a volunteer further demonstrates liquid nitrogen's fun properties by, after bouncing a room-temperature ball, immersing it briefly in liquid nitrogen, then attempting to "bounce" it again, only to have it shatter because it's become brittle. Another demo illustrates Bernoulli's principle: a student levitates a soccer ball by blowing air over its top.
The Van currently has two coordinators: Spencer Hulsey, a senior in Physics, and Japneet Singh, a junior majoring in Computer Science and Astronomy with a minor in Physics. While Singh plans on working in the software industry, he says he'd love to somehow incorporate science and education into his work. Singh has been a part of Physics Van since his freshman year, but this is his first year as coordinator. He shares why he got involved with the outreach.
"I love working with children," he admits, "and I have a passion for sharing my love of science. I remember watching Bill Nye in the classroom, and watching MythBusters at home, and I wanted to bring that same awe to others."
Also, Singh feels that being able to interact with people outside of the University, especially with people of different ages, is a nice break from everyday life at school. Plus, it gives students an idea of what people off campus are like, and allows them to give back. "The interaction allows us to get closer to the communities surrounding UIUC, and lets us give back in a way that promotes education and curiosity."
In addition to the two coordinators, there are currently about 20 active members; however, the team changes annually as students graduate and new kids come in. Another unique aspect of Physics Van is that it's not an RSO (Registered Student Organization), but an official Physics Department outreach. Its two co-coordinators are actually departmental employees and the volunteers involved work for them.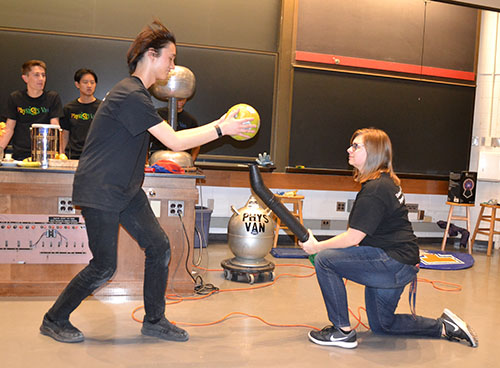 Physics Van co-coordinator Spencer Hulsey and a volunteer do a demo illustrating Bernoulli's principle.
The number of shows the group does varies from two a month to three a week. These are mostly local gigs, but when they can find volunteers, they do trips that are further afield. For instance, July 19th this past summer, they accompanied the Illinois Marching Illini to present at the I Am Fest in Chicago. The van has also traveled out of state: while Hulsey says she's personally driven as far as St Louis, the Van has also been to New Mexico and to Florida.
Local schools are Physics Van's main bread and butter. "We go for free," admits Hulsey. "Like, 'Hey, free show!'" They visit classrooms, assemblies, and also a lot of STEM nights. "Pretty much everybody has a STEM night now," Hulsey claims, "which I love."
The Van also does a variety of community events, including at the library, where they can reach kids like homeschoolers and downtown Urbana's First Friday event held from 4–11 p.m. the first Friday of every month, which features local artists. The Van also does events fairly regularly with the Cub Scouts. Some more out of the ordinary events, such as at parks, they try to make happen if it works out with students' schedules. Hulsey has also helped Physics Professor Paul Kwiat landscape the science escape room hall. Plus, they've presented at the local Farmer's Market in Urbana. "But we don't do birthday parties," she emphasizes.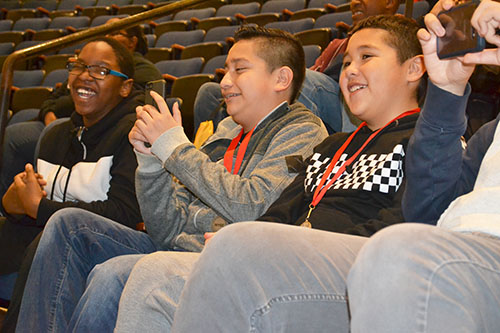 Chicago ChiS&E students enjoying the Physics Van show on December 7, 2019.
And of course, the van participates in campus visits, such as the group of Chicago Public School students who visited in December as part of the ChiS&E program. After doing numerous hands-on activities throughout the morning, the got to experience the Physics Van, which would hopefully stick in their memories for a long time to come, reminding them of their visit and how fun science can be.
In another big event where students and their parents visit campus, Engineering Open House, Physics Van does a completely different show, incorporating some of the demos done in the different physics classes. "We show off!" Hulsey says.
Since the outreach is called Physics Van, and they have lots of cumbersome equipment to haul from place to place, sometimes over great distances, one would assume that they have one…a van, that is. Actually, it's not; it's a suburban. Hulsey claims the aging vehicle, a 1999 or 2000 model, is "Just about as old as I am." It hit 112,000 miles this year.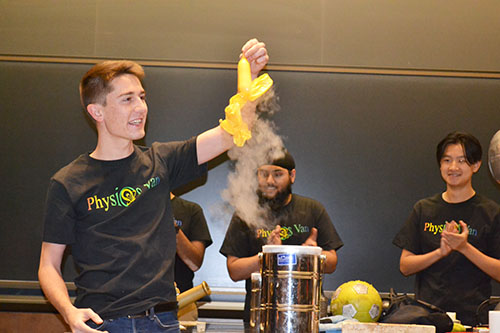 A Physics Van volunteer shows the visitors how a balloon animal immersed into a vat of liquid nitrogen shrivels up because the air molecules inside the balloons have condensed, then expands again as it reaches room temberature.
As far as the nuts and bolts of how Physics Van works, Hulsey admits that although they sometimes change up the script or the order, many demos haven't changed much since the van was begun: "It still works with demos that are probably 20 years old," she admits. Which makes sense.  Physics is physics; it's made up of laws that aren't going to change.
Regarding the coordinators' duties, Hulsey says training newbies is the "coolest, the best thing about Physics Van, man, hands down," and also the easiest. "It's all science that we learned in middle school or high school." They train new members about 10 minutes before the show starts, explaining how the demo is done, then suggesting a couple of jokes. "And it's never not worked like that," she brags. Every volunteer she's ever worked with "just clicks right on and is ready to go." Even undergrads who are "really shy." (Hulsey concedes that: "Engineers are not known for their extroversion and public speaking enjoyment.") Plus, van members often tell stories to make demos engaging and funny (Hulsey says one of their goals is to make kids laugh.) Regarding newcomers, she says sometimes theyl even come up with their own unique story to go with their demo.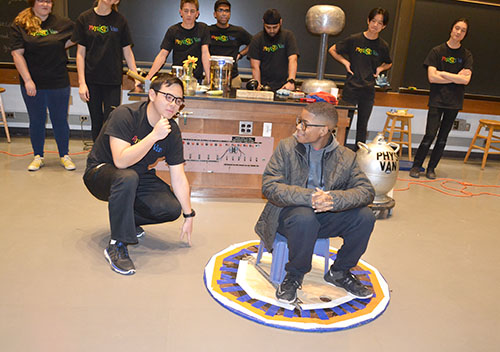 Above: A Physics Van volunteer interacts with a Chicago student who is helping out with a demo which involves making the whole pad his stool is on move...with him seated on it.
Below: They've attached a high-powered blower to the mat his seat is on, which is now floating on a cushion of air, and can be shoved back and forth.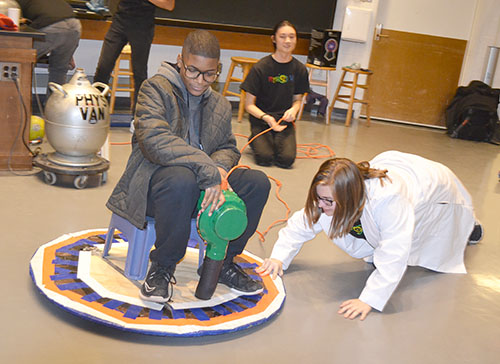 During the demo briefing, new participants also receive descriptions explaining the physics. (Volunteers are not all engineering majors, but might be from, say, political science or biology, and not well-versed in physics.) "Because we're teaching some of our volunteers concepts I didn't even know," she acknowledges. In her opinion, teaching physics not just to youngsters, but to fellow college students, is "a nice double whammy." She calls their show very basic, also very relaxed. For instance, should someone forget something, a coordinator or another volunteer jumps in and explains, "Oh, yeah, by the way..."
Regarding how the two co-coordinators share the workload, Hulsey says they've realized that they each have different skills and talents, so they divide up the work accordingly. "Like I love to public speak, so I will take on more shows," she admits. "But the other coordinator may take on more responding to emails and keeping things straight."
According to Hulsey, one of Physics Van's goals is to be a resource for schools. "My school would never have funding for any of these demos, right?" she explains. "The schools that we visit, would never have the opportunity to show kids liquid nitrogen and explosions. So we can do that. We can do things schools can't."
Summing up the benefits of the outreach, Hulsey says Physics Van students learn to take complicated scientific principles and make them simple enough so kids can understand: "So definitely public speaking and interacting with people, communicating science is something the coordinators learn a lot and volunteers get a benefit from. Anybody can learn how to speak complicated science things to small children. That's a cool skill to have."
Of course, the most important benefit of Physics Van is its impact on the kids. "Our show gets kids excited about science," shares Singh. "While regular science class in school can be fun, nothing quite beats an in-school assembly where a trash can explodes at the end!"
According to Singh, the Van's greatest impact is convincing kids that they too can become scientists. "We use our demonstrations and explanations to engage the kids in the wonders of science, and teach them that anyone can be a scientist, not just adults. We have had children approach us after the show telling us how much fun they had and saying that they want to become scientists when they grow up."
Story and photographs by Elizabeth Innes, Communications Specialist, I-STEM Education Initiative.
More: K-6 Outreach, Physics, 2020
For more on the Physics Van, see the I-STEM articles: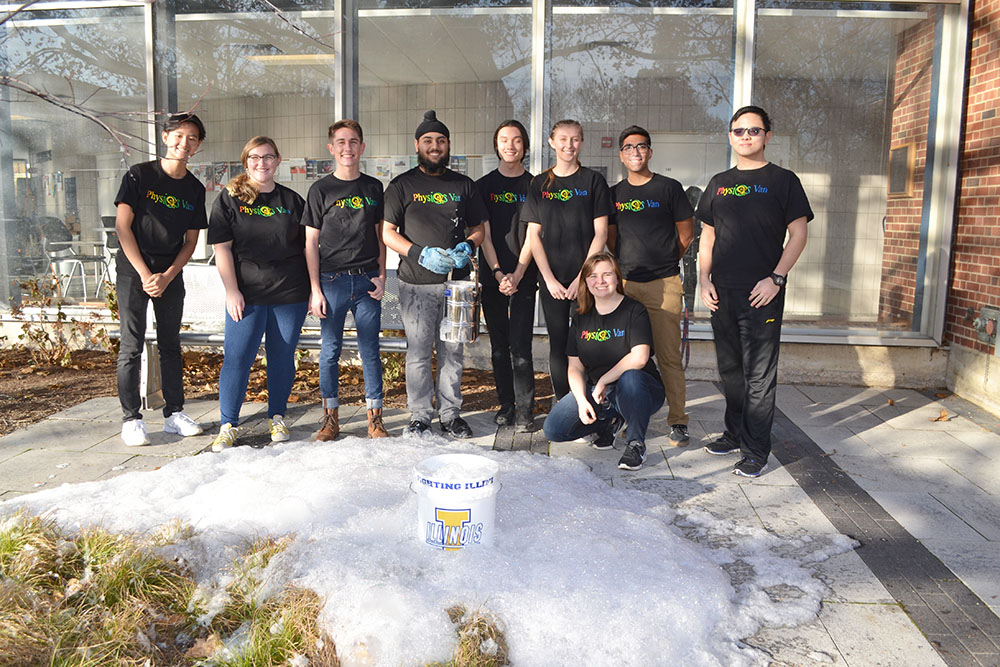 Physics Van volunteers outside Loomis Lab in the aftermath of their soapsuds explosion.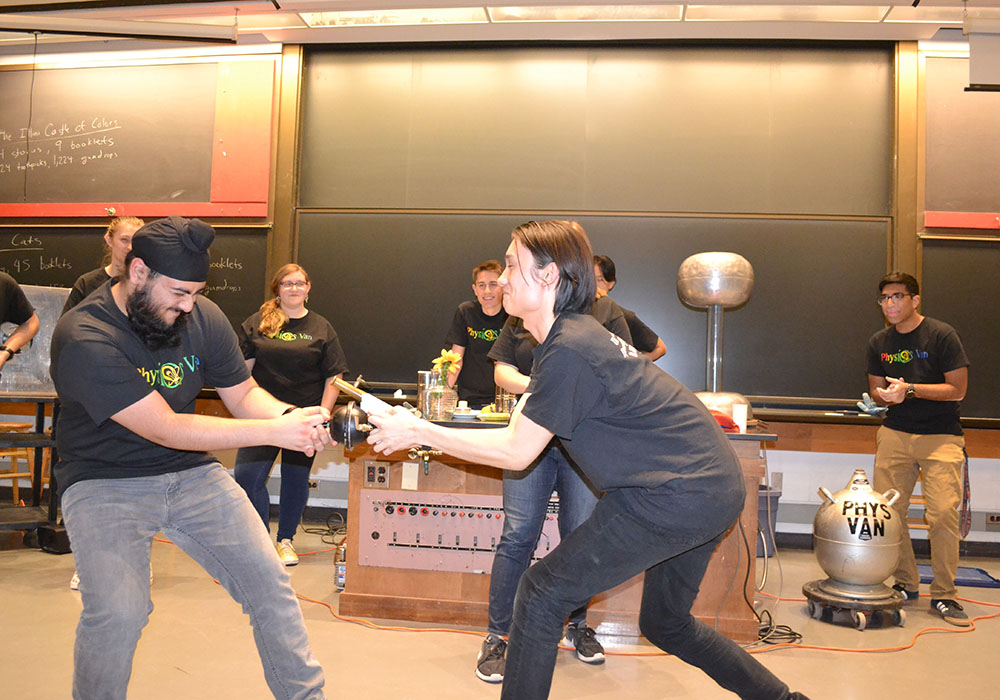 Physics Van Co-Coordinator Japneet Singh and a volunteer struggle to pull apart a pair of evacuated Magdeburg hemispheres from which the air has been sucked out, causing a vacuum. They couldn't.