Illinois Art-Science Festival: Illuminating the Universe...from the Quantum World to the Cosmos
A Shane Mayer-Gawlik image of the Bridger Aurora, part of his Night Skies photography collection exhibited at the Art-Science Festival. (Image courtesy of Shane Mayer-Gawlik.)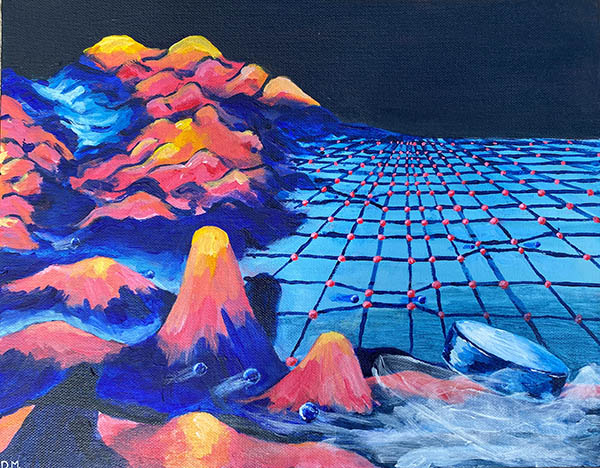 A painting by Danielle Markovich, which she completed when getting her Bachelor's Degree in Physics at Illinois; the painting depicts the atomic world, and shows how superconductivity comes about. (Image courtesy of Danielle Markovich.)
April 26, 2021
"The Art-Science Festival organizers invite you to celebrate the mysteries of the universe. From the quantum building blocks of matter to the elements of life on Earth to supernovae in faraway galaxies, our presenters will explore some of the biggest ideas in science. Through a dynamic mix of dance, music, fine arts, storytelling, and discussion, we will blur classical boundaries and take you on a journey through the cosmos." – Festival organizers
The convergence of STEM (Science, Technology, Engineering, and Mathematics) and the Arts has made STEAM a buzzword over the last several years, especially in educational circles. However, to many scientists, researchers, and artists, art is not just an educational tool, but a viable means of expressing science. Enter a new buzzword: SciArt. So, during Illinois Physics' first-ever Art-Science Festival @ Illinois 2021: The Illuminated Universe on April 23rd–25th, 34 presenters—artists, scientists, and sometimes a hybrid of the two—joined forces to present SciArt via a virtual "celebration of Nature, Humanity, and the Universe, explored through a confluence of the arts and sciences."
Of this recent phenomenon—SciArt—one of the festival planners, Lindsay Olson, an artist with a science-based practice, indicates that there's actually a continuum out there: "Art that is in the service of science, we call that scientific illustration. On the other end of the continuum is art that's inspired by science. It's a teeny bit of science, but a lot of art—a lot of expression. What I'm trying to do is right in the middle: one hundred percent accurate science, with the expressive possibilities of being a human being, all put into the art."
Addressing the breadth of the SciArt continuum, the Festival focused on four main themes, presented during four sessions:
Friday April 23, 6:00 PM – Cosmic Flights
Saturday April 24, 11:00 AM – When Art and Science Collide
Saturday April 24, 2:00 PM – Quantum Enchantment
Sunday April 25, 12:00 PM – Art of Life
The pieces in Cosmic Flights, When Art and Science Collide, and Quantum Enchantment themes were mostly related to physics, while the Art of Life theme addressed biology. A major driving force behind the Festival, Illinois Physics Professor Smitha Vishveshwara was unapologetic about the emphasis on her field. "We are the Department of Physics," she explains. "We saw that what we can offer best is through a physics lens," she states, qualifying that they're also "interested in all of science."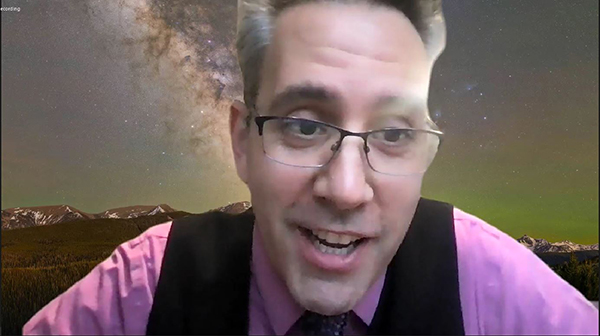 Illinois Physics Professor Nicolas Yunes, MC for the Cosmos segment.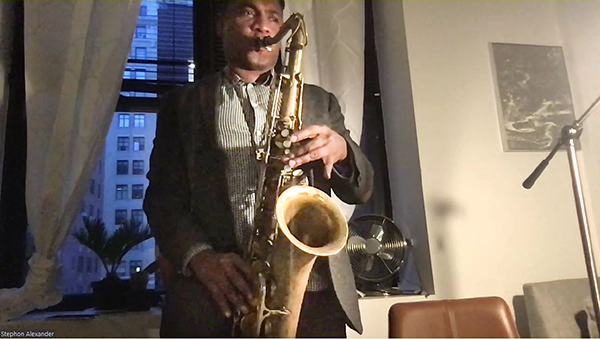 Brown University Theoretical Physics Professor Sephon Alexander performs a jazz composition he wrote related to Physics.
With support from the Excellence in Physics fund (comprised of donations from Illinois Physics friends and alumni), the festival was organized by folks both on and off campus: Lindsay Olson; Physics Instructor Jessica Raley; Patrick Snyder, Physics' Coordinator of Undergraduate Recruiting, Research, and Placement and organizer of "Saturday Physics for Everyone"; Taiya Tkachuk, Grainger Engineering's Social Media Specialist; Smitha Vishveshwara; and Rebecca Wiltfong, Physics' Director of Information Management.
Plus, the festival drew collaborators from every corner of campus. Contributing to offerings were folks from Aerospace Engineering, Astronomy at Illinois, Beckman Institute, the Center for the Physics of Living Cells (CPLC), English at Illinois; Illinois Center for Advanced Studies of the Universe (ICASU); the Institute for Condensed Matter Theory (ICMT); the Carl R. Woese Institute for Genomic Biology (IGB), Illinois Materials Research Science and Engineering Center (I-MRSEC), Illinois Physics, the Illinois Graduate College, the Illinois Library; Illinois Quantum Information Science and Technology Center (IQUIST); Music at Illinois, and the National Center for Supercomputer Applications (NCSA).
Also involved were folks from across the country, including off-campus groups, such as the Dance Your Science company, whose goal is to educate and communicate science to non-scientific, diverse audiences using movement and dance, while representing the science as accurately as possible; Fermilab, a U.S. Department of Energy national laboratory specializing in high-energy particle physics, and the International Centre for Advanced Materials (ICAM) in London. Funded by British Petroleum, the Centre is a partnership between the University of Manchester, the University of Cambridge, Imperial College London, and the University of Illinois at Urbana-Champaign. Another contributor was M.A.D.D. (Making A Difference Dancing) Rhythms, the Chicago-based dance company that specializes in tap dancing..
(Vishveshwara particularly wished to express her thanks to the six fellow organizers and many others, for example, Nic Morse,the videographer who made much of the festival happen, as well as Shyam Hari, a student who took Vishveshwara's Where the Art Meets Physics class.)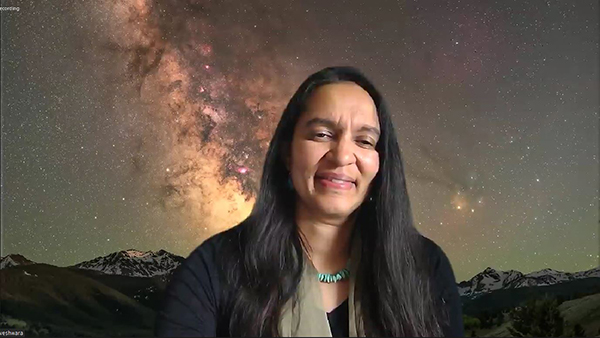 Illinois Physics Professor Smitha Vishveshwara, a major driving force behind the festival, who also served as MC for the Quantum Enchantment segment of thet festival.
Sharing how the festival came about, Vishveshwara recalls that she and a few others who are a part of the Physics family told each other, "Why not offer something for these times? This is what we're passionate about. Why not bring together people from both campus and beyond, and just dream of how we can bring nature and the universe to life, and the sort of quantum that lives within us and is the building blocks of who we are—everything from that smallest scale to the scale of the cosmos and in between."
The initial conversation occurred in October, then conversations grew as they reached out to the various people they're connected with—scientific practitioners also interested in art—and collaborations sprang up. "Slowly this came together, and we wouldn't have imagined how so many wonderful science-artists-communicators actually responded to us," Vishveshwara reports.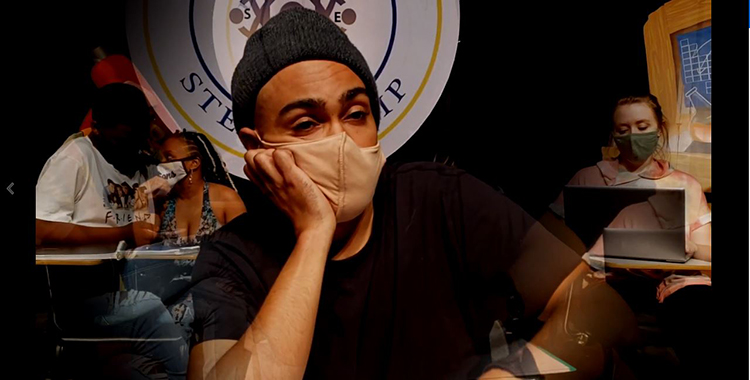 Above: The scenario behind Momentary Magnetism is that a student in a Physics lecture drifts off to sleep and dreams the experience into the quantum world.
Below: Paquette and the MADD Rhythms dancers express the draw of magnetism.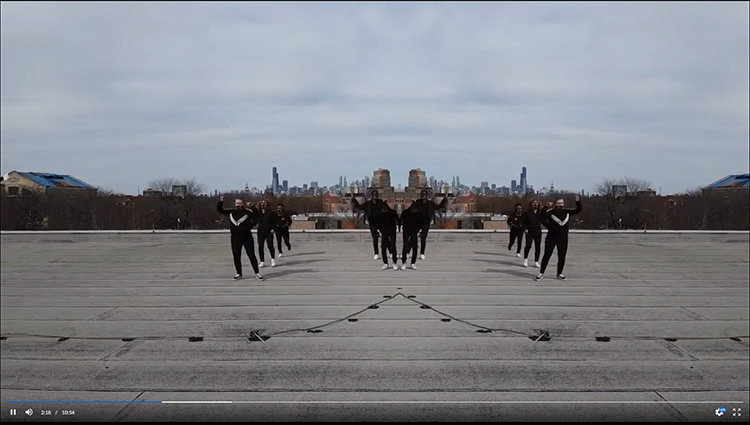 Many video pieces being showcased hadn't necessarily been created for the festival; however, several brand new works had been completed in time to be premiered at the festival, with their creators reporting that the invitation to participate had provided the incentive to finish them. "So we're very fortunate that there are pieces that will happen that have never been shown before," admits Vishveshwara. Plus, also new to the festival were videos the planners encouraged the creators to record explaining how their pieces came about and the science they're trying to communicate.
One brand new piece that premiered during the festival was "Momentary Magnetism," a tap dance routine by Carmen Paquette which she describes as "a communication of physics concepts through the unconventional medium of tap dance." In fact, Paquette had gotten the idea for the dance during an Illinois summer research experience in I-MRSEC's Research Experience for Undergraduates in 2019. After learning about magnetism while researching the synthesis of antiferromagnetic materials in Physics Professor Daniel Shoemaker's lab, she created a dance about it. Following is her description of the thought processes she went through while choreographing it. "I took the entire process, from the heat gradient being the music and then the magnetic moments being the rhythm…and I took it all and translated it into a piece."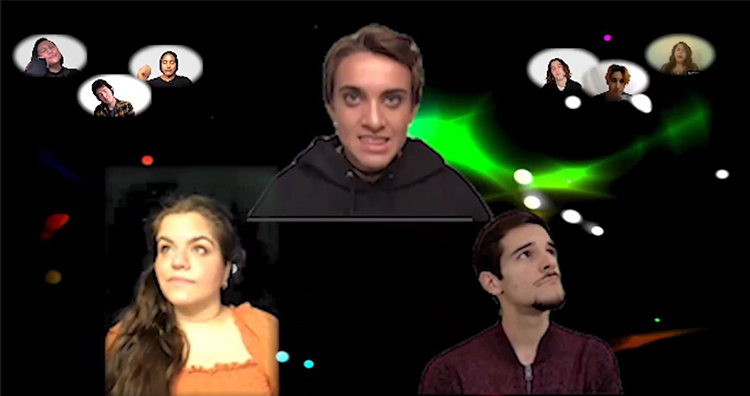 Vishveshwara and Latrelle Bright's Quantum Voyages, a live theater piece created in 2018 that they morphed into an online virtual production for the festival.
Also unique to the festival were several pieces that had previously been presented in a different format, such as an essay that its creator had morphed into a performance. In addition, to adapt to the virtual format, many of these pieces changed genres.
One such piece was Quantum Voyages, a theater piece Vishveshwara and Latrelle Bright, a theatre maker and Illinois Professor of Theatre had created in 2018. In the pre-pandemic era, it had been a live performance, but was transformed for the festival's virtual setting. The piece is about two voyagers guided by the spirit of wisdom and supported by a quantum ensemble. The session takes the viewer through the quantum voyagers' interpretation of light, then looks into themes the quantum world explores: magnetism, superconductivity, and the strangeness of quantum physics.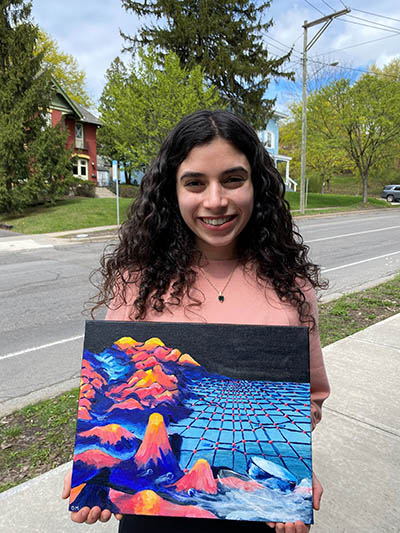 Danielle Markovich with her painting of the atomic world. (Image courtesy of Danielle Markovich.)
Quantum Rhapsodies is piece about the quantum world's role in the Universe and our lives, told through narration, music, and visuals. Created by Smitha Vishveshwara in collaboration with the Jupiter String Quartet and a visuals team of Beckman Institute experts, film-maker Nic Morse, and the Phys498-ART group, it first premiered at Beckman in 2019.
While performance art was prevalent during the festival, other genres were featured, including a painting by Danielle Markovich. Currently a grad student at Cornell, Markovich, who got her Bachelor's in Physics from Illinois, presented a painting she did of the atomic world showing how superconductivity comes about, led the audience through the painting, and explained some of its secrets. Her painting was also used as the backdrop for one of the scenes in Quantum Weirdness. Of the opportunity to present her work at the Festival, Markovich reports, "I am honored to have the opportunity to participate in this project combining art with physics, two major parts of my life, in a way everyone can enjoy."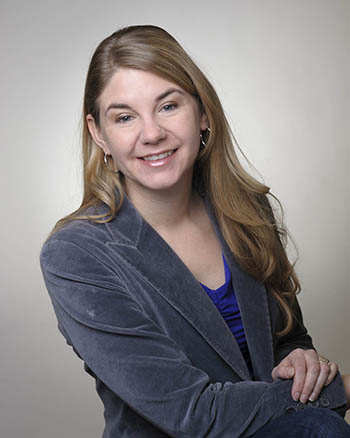 Jessica Raley, ICASU Outreach Coordinator. (Image courtesy of Jessica Raley.)
Cameos included some noted physicists, including Tony Leggett, who presented "Pondering Quantum Physics." A world leader in the theory of low-temperature physics, Legget received the Nobel Prize in Physics in 2003 for his pioneering work on superfluidity.
Helping to organize the Flight/Cosmos theme was Jessica Raley. The ICASU Outreach Coordinator and part of Physics' communications team, Raley claims her primary focus is helping members of ICASU communicate their science to the broader public. She calls the Festival exactly the type of public outreach event she hoped to be involved in when she accepted the position with ICASU. Passionate about both communicating science and expressing it via art, Raley has previously organized/helped organize several art and science events.
"I think artists and scientists have a lot in common," she asserts. "They question assumptions. They ask us to see the world differently than we have in the past. Many scientists are artists, including some of our presenters."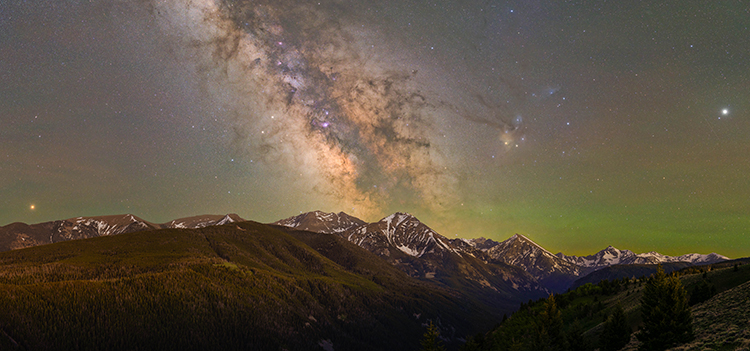 A Shane Mayer-Gawlik image, part of his Night Skies photography collection exhibited at the Art-Science Festival on April 23rd–25th. (Image courtesy of Shane Mayer-Gawlik.)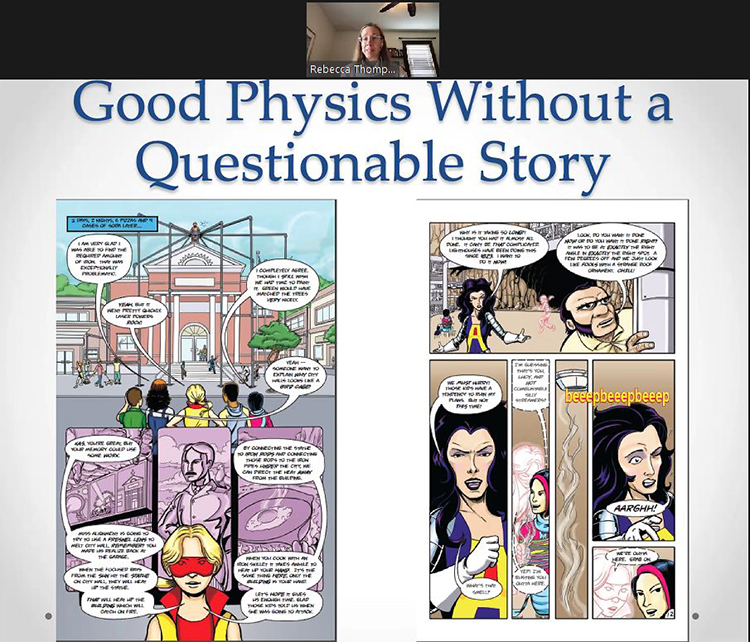 During the "When Art and Science Collide" session on Saturday, Rebecca Thompson shares about her journey in creating comic books useful as Physics instructional materials during her presentation, "Teaching Physics Through Sequential Art."
One presenter in the Flight/Cosmos theme whose work particularly resonates with Raley is Shane Mayer-Gawlik's night sky photography. "In fact, I have one of his photographs hanging in my home," she admits. "He has a beautiful way of showing that you don't need a big, expensive telescope to appreciate the cosmos."
Of his photography featuring the night skies, Mayer-Gawlik says, "Communicating about science visually through nightscape photography is important to me because it is my connection to our Milky Way galaxy. It also allows anyone with the drive to go out and start exploring our Milky Way galaxy at a reasonable cost with tools such as a camera and a tripod, mobile phone cameras, binoculars, or simple telescopes. As cities expand and dark skies get harder and harder to find, we are beginning to lose our connection with the stars and our Milky Way Galaxy, and I think my nightscape photography is a nice reminder of what is out there, and that dark skies should be preserved to help us retain our place in the cosmos."
Organizing "When Art and Science Collide" was Lindsay Olson, who also served as the theme's MC along with Physics' Patrick Snyder. In addition, she gave a live presentation, "Art and the Elegant Universe."
Olson defines herself as an artist with a science-based practice. Ironically, growing up, she eschewed math and science. "I just was totally not into math and science at all!" she proclaims. How'd she get from avoiding science to embracing it wholeheartedly, to the point that she even based her career on it? She had an epiphany of sorts. Following she describes her paradigm shift: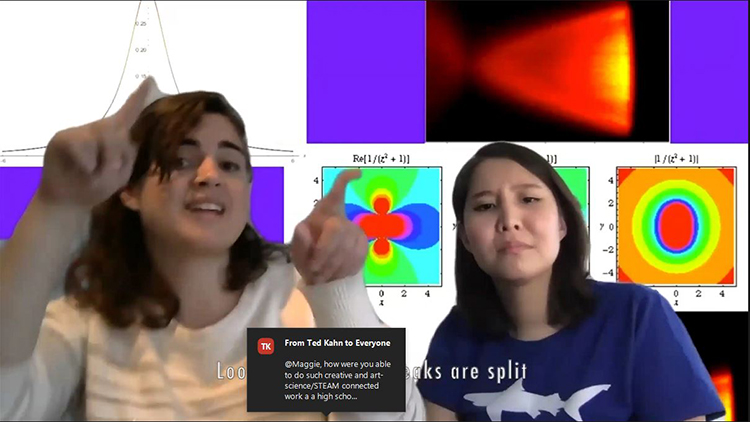 Above and below: Images from Maggie Mahmood's music video presented during Fahad and Maggie Mahmnood's presentation: "Persevering in the Pandemic: Research in the MRL."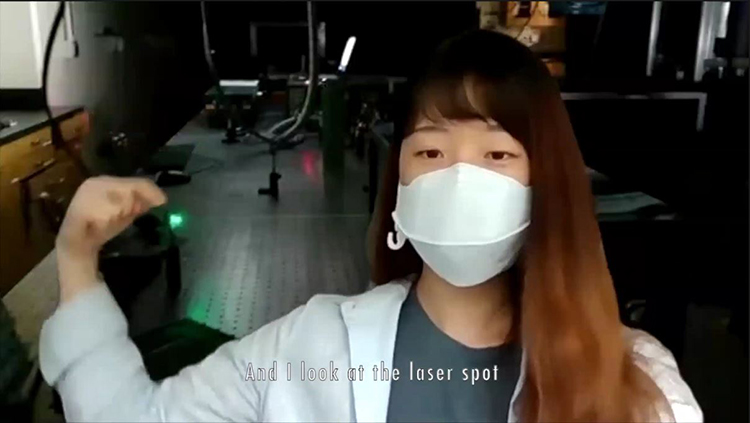 After graduating from art school, she'd been making idealized oil paintings of Chicago waterways, editing out modern edifices and eyesores like bridges and parking lots: "I was kind of harkening back to an older waterscape," she explains. Around that time, she and her husband bought a canoe, and what regularly ensued would be a fitting scene for a Van Gogh painting. "As often as I could convince him to, he'd be paddling in the back; I'd be doing watercolors in the bow, sketching, or whatever," she recalls. Then, one day they passed an engineered waterfall. She thought, "Wow, this is a very weird, expensive, man-made waterfall in the middle of nowhere. Who built this, and why?"Discovering the answer to that question led her to the largest wastewater treatment plan in the world, the Metropolitan Water Reclamation District at Stickney, Illinois, and an abrupt shift in her disinclination toward science.
After 18 months of "patient pestering," she got inside. Once she'd interviewed microbiologists and spent time in the pump house, she told herself: "If I use my training as an artist, I could learn the real story of water in a dense urban area, and how much more interesting would that be than idealized oil paintings!" Plus, she confesses, "I really hated washing brushes!" So she switched to textiles and works on paper. Her two favorite subjects: water conservation and high-energy physics!
A SciArt aficionado, Olson puts together projects that interest her. "Usually what I do is I find a topic that I'm interested in, and I pull in the experts that I need to help educate me about this project…For me, I have to make sure the science is accurate, and that's why I partner with scientists; I could not do my work without these scientific partners. And then I create art about it, and then I work on the outreach end of it." Regarding using her work as educational tools, she adds, "I try to set up my projects as a full immersion experience, and that just is missing from the traditional kinds of school situations."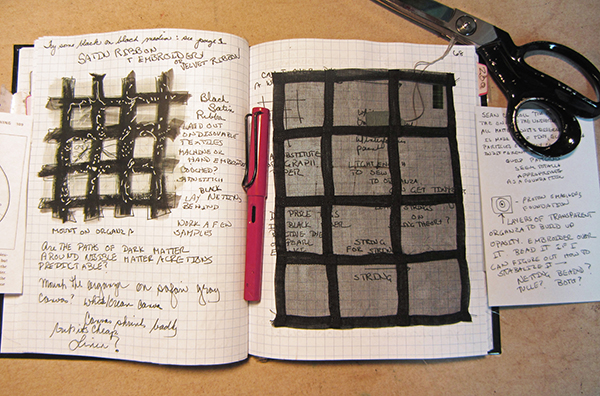 Lindsay Olson's sketchbook ideas for her 2015 "Dark Glamour: Neutrinos II" piece. (Image courtesy of Lindsay Olson.)
For example, her stint as the first artist-in-residence at Fermilab for a couple years resulted in a number of the pieces she exhibited during her talk at the Festival. A project she's currently working on which has no finished pieces as yet is called Land and Sea. "That project connects the anoxic zone in the Gulf of Mexico with land use practices in the Mississippi river basin," she explains.
One of Olson's favorite pieces, which she discussed at the festival, was "Dark Glamour: Neutrinos II." The science behind the piece is neutrino research, a big emphasis at Fermilab. "Neutrinos are one of the most abundant fundamental particles in the universe," she explains. "As matter of fact, while we are speaking here, trillions of neutrinos are streaming through our bodies."Fermilab has several large experiments that shoot a beam of neutrinos all the way across the country to a far-away detector. Olson explains that the neutrinos in the beam don't interact with many things—they just hit the target. However, "Sometimes, but rarely," she explains, "those particles will actually interact with something, and hopefully the far detector will capture those interactions."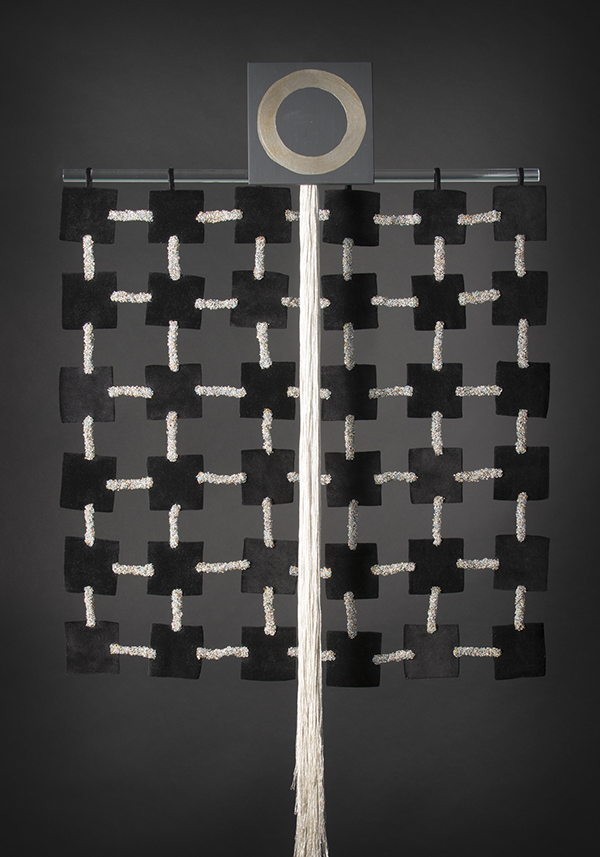 Lindsay Olson's "Dark Glamour: Neutrinos II" piece. (Image courtesy of Reidar Hahn for Fermilab.)
According to Olson, such a giant, expensive experiment is needed because "Naturally-occurring neutrinos interact so rarely that you could not really study them in one person's lifetime; it's just the interactions are so scarce, so they have to set up this experiment—this giant neutrino factory, which, by the way, begins with a really tiny bottle of hydrogen. It's amazing!"
Olson explains her "Dark Glamour" piece (to the right); she designed it to look like a detector's grid, but also to look like a theatrical curtain. The piece highlights these mysterious particles; its velvet squares of three separate colors represent neutrinos' oscillating nature, and she connected the squares with tiny seed beads. Down the center of the piece, a stream of metallic floss represents the beam made of particles traveling at near the speed of light, controlled by superconducting magnets.
Re the opportunity to be involved with the festival, and the plethora of new scientists and kindred spirits at Illinois who have a similar interest in expressing science via art, Olson claims, "The University of Illinois is a hotbed—I mean the Physics Department, particularly—it's a hotbed of SciArt!"
Concerning her collaboration with Physics, Olson states, "I have to say I am so impressed by my colleagues on this Festival Planning Committee. They are smart; they have great skill sets; they're creative, but they're a lot of fun. Being on this committee has been a really big eye opener, because normally I just participate in these sorts of science festivals and outreach activities as an invited speaker. But to kind of be involved and see what happens behind the scenes and who's pulling the levers, it's really been a lot of fun!"
Of Olson's journey from not liking math and science as a youngster, to passionately expressing science via her art, to being an "expert" on high-energy physics and helping put on a festival, her signature closing line says it all: "You don't need a PhD to fall in love with physics!"
---
Story by Elizabeth Innes, Communications Specialist, I-STEM Education Initiative. Photos by Elizabeth Innes, unless noted otherwise.
For more I-STEM web articles about SciArt, see:
More: Physics, STEAM/SciArt, 2021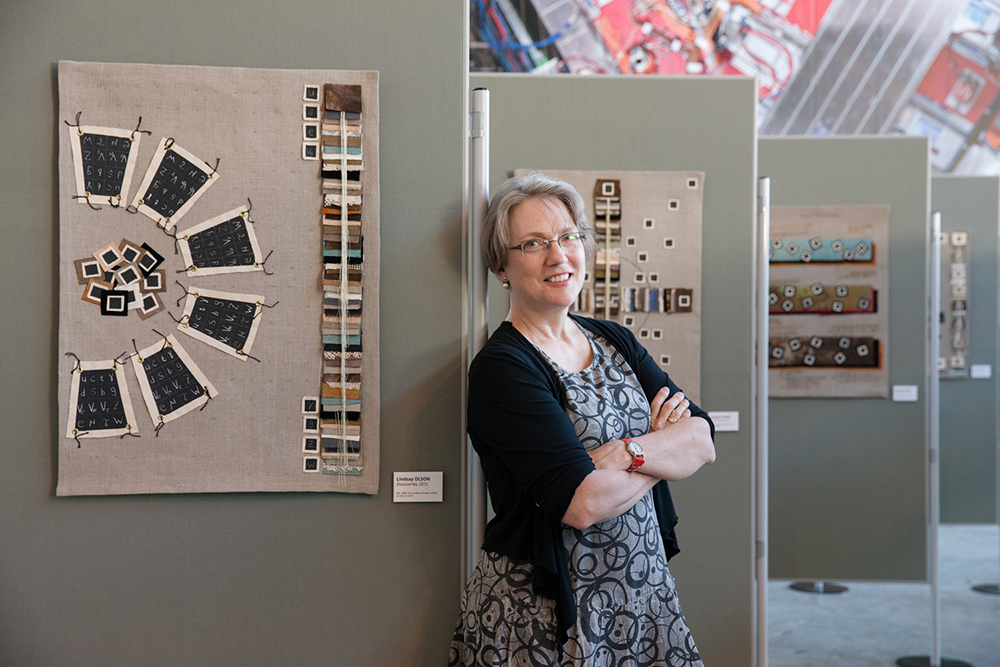 Lindsay Olson at CERN in 2015 during an exhibit of her SciArt. (Image courtesy of Bree Corn.)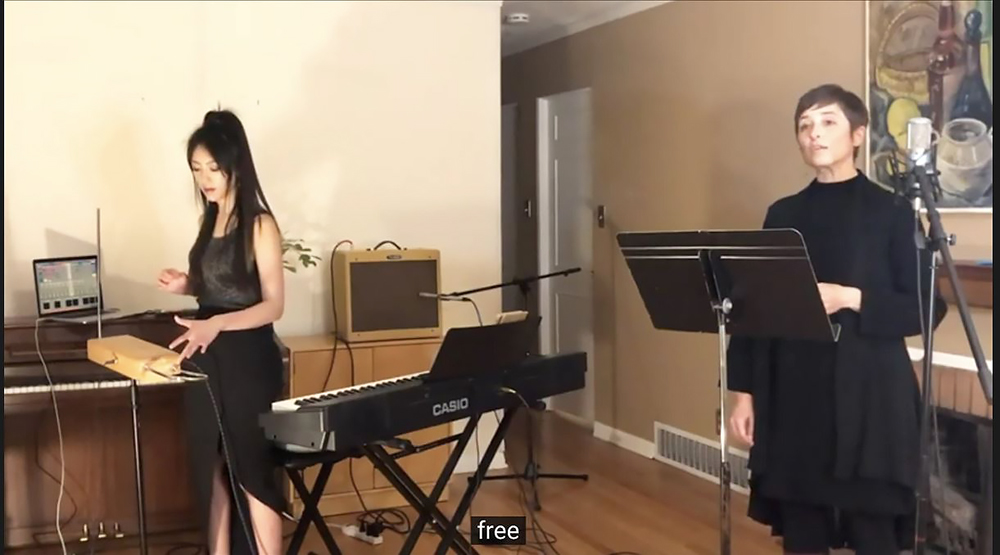 Joy Yang (left) and Amy Hassinger) share a piece called, "To See Clearly" during the Flight segment on Saturday.