I-MRSEC's Music Video for EOH '21 Plugs Graphene, 2D Materials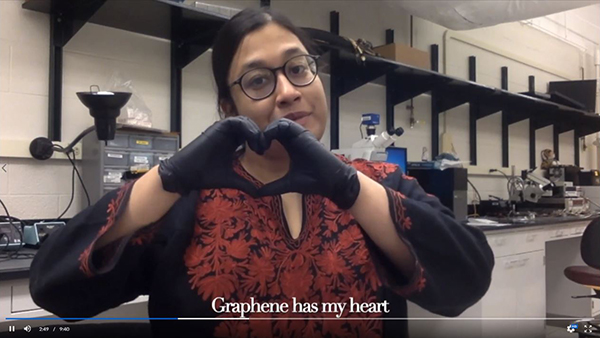 Preetha Sarkar singing the bridge of "Graphene Has My Heart" during the video.
April 7, 2021
Although 2021's Engineering Open House (EOH) was not the traditional live, on-campus event but virtual due to COVID-19, I-MRSEC researchers who are passionate about STEM outreach didn't let that stop them. Unable to engage in person with the public, specifically the numerous children who usually attend, they figured out how to meet with them face to face anyway—via a music video. Their goals? To communicate about 2D materials research, to show the public how tax dollars are being spent, and to share benefits to be gained from scientific research. They also hoped youngsters watching might be intrigued and eventually pursue careers in research. Along with inspiring the public, they hoped to rekindle their own excitement by reminding themselves why they'd chosen science careers.
For EOH '21, some I-MRSEC (Illinois Materials Research Science and Engineering Center) professors, PhD students, and postdocs committed to STEM outreach got together and made a video featuring graphene. Their video, "Graphene Has My Heart!" was a parody of Dua Lipa's "Break My Heart," and featured Kisung Kang, Juyoung Leem, Azel Murzobekova, Nadya Mason, Preetha Sarkar, and Onur Tosun. The participants wrote the lyrics themselves (with the exception of a few phrases borrowed from the original video), which described what the discovery of graphene and other 2D materials has meant to the research community and products it can be used in. Following are the lyrics the team came up with: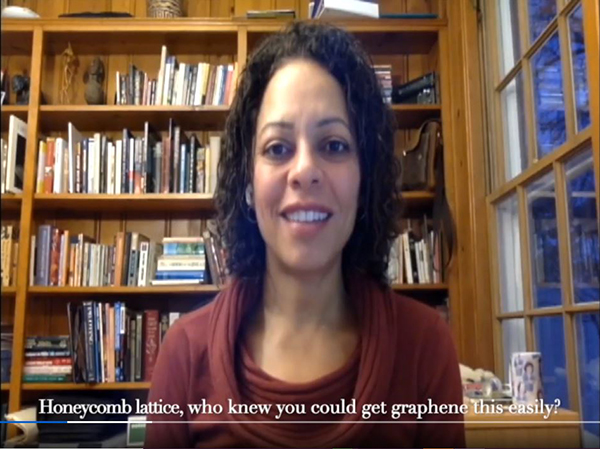 I-MRSEC PI Nadya Mason sings about graphene's honeycomb lattice.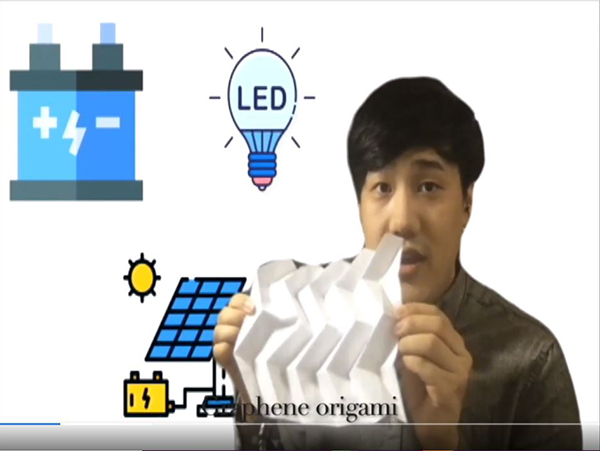 I-MRSEC PhD student Kisung Kang illustrates "graphene origami" while singing about 2-D materials to inspire younger students to pursue research.
Graphene Has My Heart!
Verses 1 & 2:
Everyone was busy studying graphite—
Carbon atoms layered up a hundred million times.
Now we know what a single layer looks like:
It is graphene!
This is a method I have never heard before.
Scotch tape can move me apart easily for sure.
They hope to get a single layer from it all…
Now it's graphene!
Pre-chorus:
Honeycomb lattice—who knew you could get graphene this easily?
Whenever you want it, baby!
Strongest material, where current flows through so very easily—
Can you imagine it, baby?
Chorus:
We kept graphite as whole,
But was it really better alone?
Now graphene has said, "Hello!"
It's the beginning of a whole new world!
We have new properties to explore,
2D materials there are more.
Am I falling in love with materials that fall apart?
Oh no! Graphite wasn't better as whole!
Now that graphene has come,
We have new properties to explore,
2D materials there are more.
New functionalities galore.
Am I falling in love with materials that fall apart?
Verse 3:
I wonder if we can use graphene in real life?
Two dimensional, flexible, and transparent to light
Graphene batteries, LEDs, and solar cells have come with time—
Graphene origami!
Bridge:
Graphene has my heart!
Graphene has my heart!
Now I think it's graphene and materials 2D who have my heart!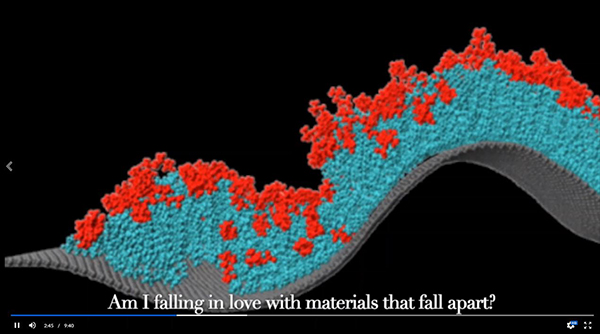 One of Schleife's visual depictions of graphene.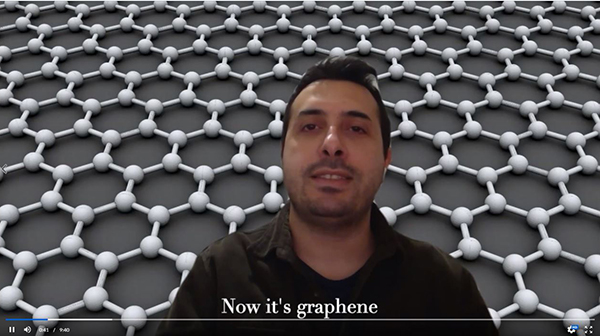 Onur Tosun, an I-MRSEC postdoc,, sings a verse during the video in front of one of Schleife's visualizations of graphene's honeycomb form.
Prominently displayed throughout video were colorful graphics provided by Materials Science and Engineering (MatSE) Associate Professor Andre Schleife, whose research "uses computational techniques and supercomputers to understand materials." Explaining his graphics, he says, "So what you see—these renderings in this video—those are essentially visualizations of our simulation data; those are taken from real simulations."
Following the video itself were brief spots by participants, who shared about their materials research, even gave students advice about some next steps. For instance, Nadya Mason, Physics Professor and I-MRSEC PI, described the Center's research: "The goal of I-MRSEC is to perform fundamental materials research that is of benefit to society. And if you think about it, materials underpin everything—from what our houses are made of, to what our phones are made of, even what our bodies are made of. So, if we can engineer better materials for all these things, make them stronger, safter, more environmentally friendly, then we can improve our lives in many ways."
Mason participated in the video hoping it might: "inspire people to become excited about and learn more about materials research." Her advice for students interested in materials research is to watch videos, like I-MRSEC's Magnetic Fields video, read articles, participate in programs like EOH or internships, and to keep up their math skills.
In Schleife's video spot, he described material science as a field where researchers with interdisciplinary backgrounds come together to solve materials problems. "I mean the development of novel materials that can do something better that we're currently doing, right? So maybe you want to make a metal lighter without giving up any of its strength, or you want to make a material cheaper or maybe less poisonous, maybe more available, right? So, it covers any case where you want to develop new materials to do something better or to do something that we cannot do right now."
Schleife participated in the EOH project because one of his group's educational goals is to visualize material science results in a fun, tangible way that makes them accessible for very young students, middle school, and high school students, even the general public. "That makes the science tangible and more understandable," he explains. "So, it's the goal of my group to use three dimensional visualization that you can see here on this video, but also virtual reality and holographic displays to simply make this data more accessible." Schleife's main advice for students is: "Reach out. Reach out early," and also to make contact with the university by attending lectures on a weekend, or participating in research projects. "It's a great opportunity…Explore those options…explore what you're curious about…and do that early, because the earlier you do it, the more you can make up your mind if this is a career that you want to pursue in the future."
Besides just plain having fun as "video stars," the I-MRSEC students/postdocs had numerous reasons for helping with the EOH video, from combatting the COVID-19-social-distancing blues, to touting 2D materials research, to inspiring the next generation of materials researchers.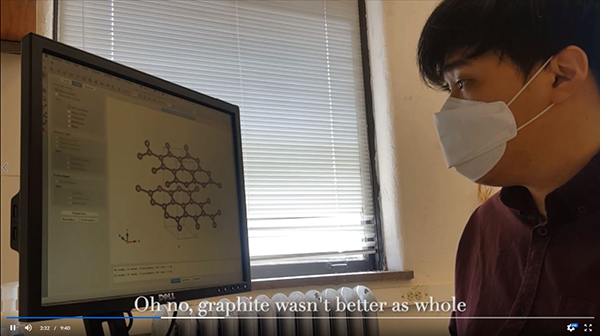 A shot of Kisung Kang checking out graphene's honeycomb pattern during the video, illustrating some of the 2D materials research taking place at MRL.
For example, motivated by all of the above was Kisung Kang, a fifth-year MatSE PhD student, whose research focuses on metallic antiferromagnetic materials used in magnetic memory devices and storage devices. For one, he hoped EOH and their video would help counteract the isolation everyone feels due to COVID:
"I proposed the music video for this EOH because I want to make people feel we are together. The pandemic makes people isolated and separated. Even though our bodies are separated, we can feel each other by singing a song together. I hope students and families also have a similar experience we got with this video during EOH events."
Kang says the video is "designed to introduce an interesting two-dimensional material, graphene, in a casual way," showing how graphene is obtained from graphite, how it's used in real life, and some of its interesting properties. The group chose graphene because one of I-MRSEC's areas of research is folded 2D materials:"We want to make the public familiar with 2D materials and how people get benefits from our research."
Kang isn't currently researching graphene, but as an undergrad, investigated phosphorene, a 2D material similar to graphene which can also be folded in a zigzag shape or twisted in a ribbon shape to make it more useful. In fact, other 2D materials have properties and applications similar to those of graphene: "Thus, I hope this video can draw the interest of the public to overall 2D material research."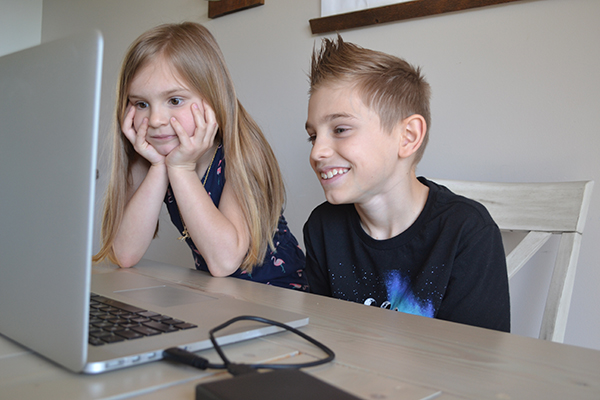 Two local students enjoy the video remotely.
His third time participating in EOH, Kang hoped to do more than just combat isolation: "EOH is organized to make an interface between the public and the university," he reports. "Children and their families come to the event and have a chance to communicate with students, researchers, and faculty. The public can learn how their tax dollars are used for scientific research, and what kinds of benefits they can anticipate. Children can learn how academia contributes to society and might be triggered to pursue a research career."
Besides what the public gains from EOH, Kang and his cohorts reap some benefits too. "Exhibitors can be inspired by the public and remind themselves of how their research is meaningful," he says. In fact, he participates in outreach "in order to get inspired." While many outreach programs have not continued due to the pandemic, he adds, "Fortunately, EOH will open virtually, and I hope we can have a similar experience online."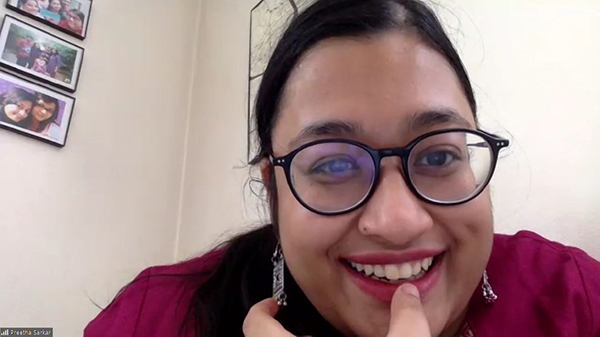 Preetha Sarkar interacts with the other participants during a video planning session.
Another video "star" was Preetha Sarkar, a Physics PhD student and part of I-MRSEC, who shares why she got involved. "So, I love science, and I love music. And I loved the idea of telling everyone about cool science through music. And that is why I participated in this video."
Reporting that 2D materials are one atomic layer thick and stacked in multiple layers, she claims "each of those single layers can be separated pretty easily. And the material properties of the single layer are vastly different from the original material." She adds that I-MRSEC researchers study how 2D materials' properties change and can be used to develop a new class of electronics or find applications in the world of medicine.
Her advice to students participating in EOH? "Be really curious about the world around you and ask lots of why questions. For example, why do our hands hurt when we have been out in the cold for a long time? Why do cut fruits and vegetables turn brown after a while? Why does your hair get really frizzy and staticky in winter?'" She advises students to try finding answers to these questions using resources around them—books, the internet, teachers at school, and scientists, when they attend events like Engineering Open House.
Also involved with the video from long distance was Juyoung Leem, currently a Stanford postdoc who got her Ph.D. in Mechanical Engineering at Illinois, where she conducted research in SungWoo Nam's group as part of the I-MRSEC IRG-2. Leem creates 3D structures of the world's thinnest materials. At Illinois, she used graphene because its atomic thinness "made it a great material system to study various quantum effects and associated material properties of graphene."
Leem reports that from the music video, viewers can find answers to the questions: "What is graphene?" and "Why is it cool?" Also appearing in the video in a brief cameo was a cartoon character, Gene the Graphene (below to the right), a co-creation of Neem, along with Tatiana Stine, an instructional coach at Robeson Elementary School in Champaign.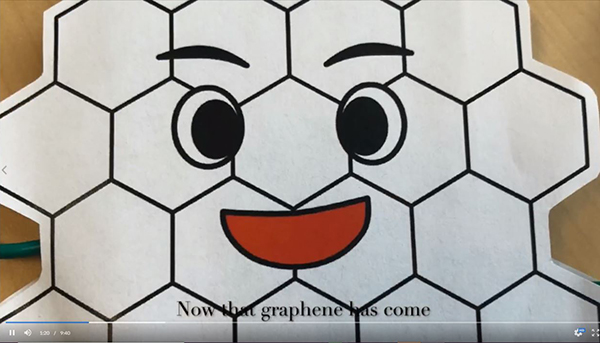 Gene the Graphene makes a cameo appearance in the video.
Leem connected with the educator when Stine participated in the nano@illinois RET in summer 2016. "We found that current science education for younger (K–3) students is missing materials/activities related to nanoscience and nanotechnology. More importantly, we know cool things about nanomaterials, which are hidden in our daily life, in smartphones, TVs, computers, cars, etc., and we wanted to introduce these cool materials to younger students." So, the two decided to write a storybook which can be used in classroom settings, libraries, or homes, "with characters children and their guardians or parents can feel are friendly. That's how our nanokid—Gene—was born." Of his brief cameo in the video, Leem says, "Before the book comes out, Gene got to meet new friends through EOH!"
Leem's participation in the EOH video is related to one of her passions—STEM outreach.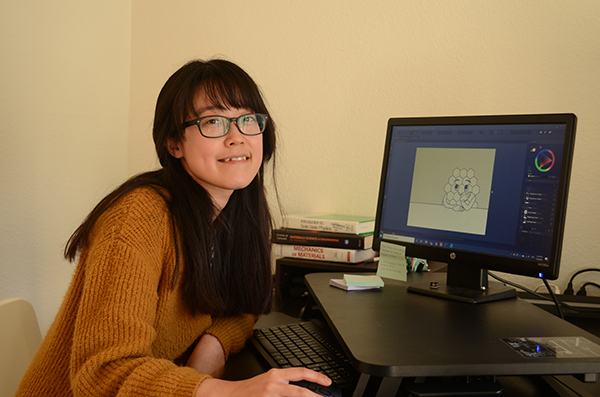 Juyoung Leem exhibits her creation, Gene the Graphene, on her monitor.
"I have been always interested in transferring scientific knowledge and experience I learned from my research to broader audiences," she admits, "especially to younger audiences, as I believe that is a way to inspire our next generation."
Like Kang,she had also participated in EOH as a student when it was still happening in person and wanted to continue contributing. "EOH plays an important role, I believe, in terms of bringing science and engineering to the public and letting them experience and learn as EOH showcases science and engineering in various levels and types from fundamental concepts to state-of-the-art research topics."
Of EOH's virtual format, Leem declares, "It's too bad audiences could not have hands-on activities during EOH. However, the virtual event also opened up new possibilities; for example, people like me, who live thousands of miles away from UIUC, could participate in the event." She also believes the new types of virtual exhibitions enriched experiences in EOH.
So when will Gene make his appearance in the world of scientific children's literature? Sometime this year or next, perhaps. "We are still working on our storybook," she declares, "and hope it will be published soon. I hope we can share good news with MRSEC and I-STEM soon!"
---
Below are links to the "Graphene Has My Heart" video, as well as the "Behind the Video" segment.
---
Story by Elizabeth Innes, Communications Specialist, I-STEM Education Initiative. Photos by Elizabeth Innes, unless noted otherwise.
For more I-STEM web articles about I-MRSEC, see:
More: 6-8 Outreach, 8-12 Outreach, I-MRSEC,Champaign-Urbana Community, EOH, 2021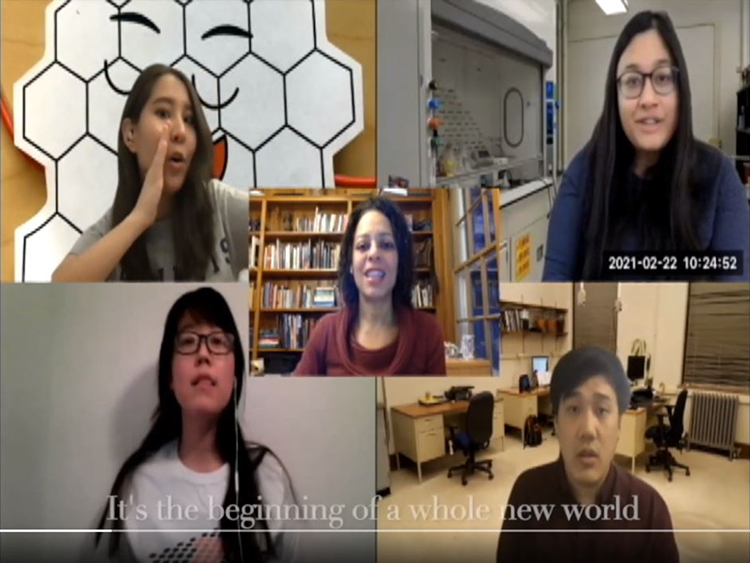 All of the video participants singing during the big finish.