Local Youngsters Experience Unity East's First-Ever Engineering Night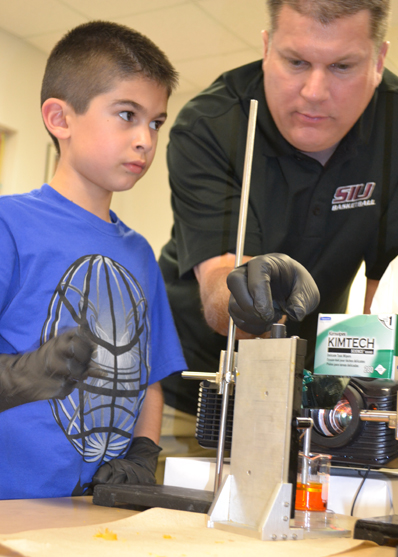 A Unity East student and his father do a 3D printing activity.
April 22, 2014
On Tuesday, April 8, many Unity East students headed back to school in the evening…with their families in tow. Participants at the school's first-ever Engineering Night had an opportunity to learn about engineering via a variety of fun, hands-on activities.
The night's activities were structured around four main events, which took around 30–45 minutes each. For instance, students (and their families) could dabble in 3D printing (see image to the left).
They could also learn some mechanical engineering while designing a hot chocolate machine: for example, they could stack a pyramid of cups with hot chocolate mix in each, and holes in all but those on the bottom, then add hot water to the top cup, and—presto—hot chocolate! (see image below).
While waiting for a main event, students could participate in mini-events which took around 5–10 minutes each. For example, one "warm-up" activity most students got to do while waiting was making silver mirrors.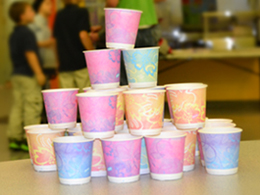 A hot chocolate machine.
Families could team up to build a tower; and/or design a helmet that would protect an egg when dropped. (Kids were given a zip-lock bag and common materials to protect the egg inside the zip lock. Then they tested their design by dropping it to see if their design would keep the egg from breaking.)
Although most of the Illinois students who served as proctors for the different stations were from Mechanical Science and Engineering, the night's activities addressed a range of engineering disciplines: civil, mechanical, even physics.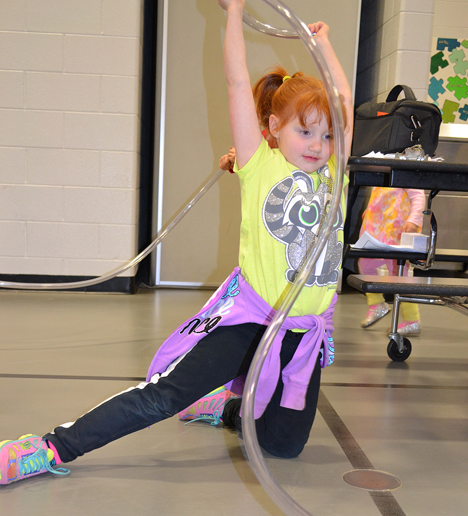 A student learns Physics while making a ball roll down the roller coaster.
For example, one physics-related activity, the Roller Coaster, had to do with potential and kinetic energy and energy loss due to friction. After placing a tiny ball into an extremely long plastic tube, students then performed numerous machinations, trying to get it to roll down the length of the tube. Arsalan Aslam, iRobotics' Outreach Coordinator explains the concept:
"You get this tube, and you realize that once you start putting loops in, your loops cannot be higher than your initial position where you start, because that would require you to start off with more energy to get up to a higher level."
Another activity in the "waiting room" was building two bridge designs to see which would hold the most weight (rubber erasers).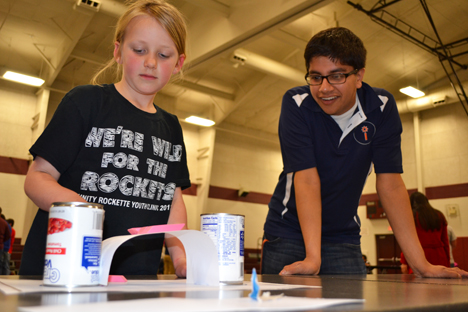 iRobotics' Athrey Nadhan (right) encourages a Unity student as she learns about civil engineering while building a bridge.
Using a piece of paper and two aluminum cans, students could 1) keep the paper flat to span from the top of one can to the top or another, or 2) arch the paper between the bottoms of the two cans. Most children immediately discovered that the arch would hold a larger number of erasers. Aslam explains the civil engineering principle:
"The way the arc works is, that the more you press down on it, the more it resists, just the way the geometry works out, and how the force is applied." Adds Aslam: "Arches go back thousands of years in design."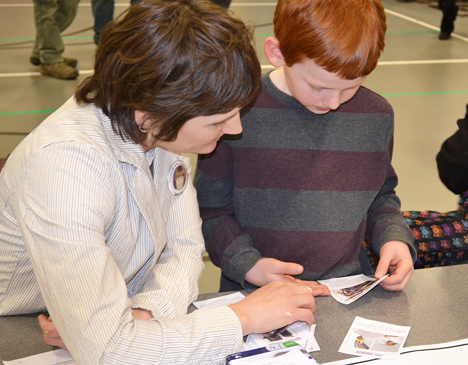 While waiting for one of the main events, a mother and son discover how many engineers from different disciplines are involved in common things we use everyday.
Aslam himself supervised the "Who Engineered It?" activity, which introduced participants to the many jobs engineers do.
"That was to get the kids to think about how many different types of engineers have to work together to make everyday items that they use," says Aslam. "Like a cell phone, a computer."
Which item had the kids the most baffled? Water.
"How many engineers are behind just getting clean water to a community? I think that was the most surprising to the kids," Aslam admits.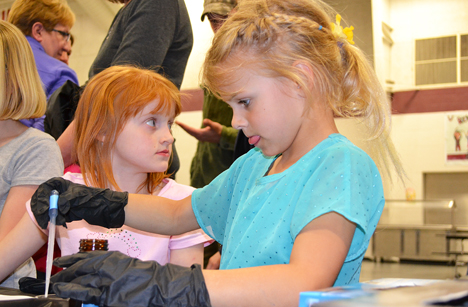 Above: a Unity East student concentrates as she makes a mirror during a hands-on activity.
A number of people helped to organize the event: iRobotics' Arsalan Aslam, Matt Birkel, and Athrey Nadhan; Pi Tau Sigma's Service Chair, Julia Huynh; and MechSE's Education Outreach Coordinator, Joe Muskin. Engineering Night was staffed by members of the iRobotics student organization and Pi Tau Sigma, a mechanical engineering honor society.
According to Muskin, Aslam had expressed an interest in reaching out to a rural school in the area because they are often overlooked, and their students short-changed.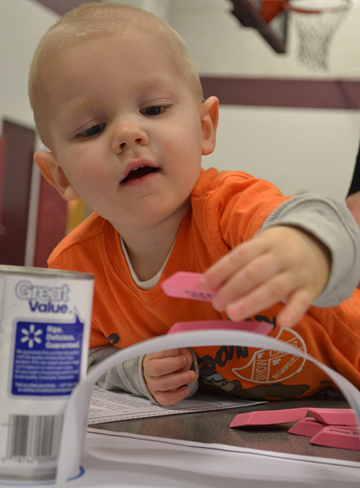 A younger brother who tagged along to Engineering Night discovers a civil engineering principle first-hand: an arch holds more erasers.
"In our discussion, we figured that they don't really have a lot of exposure to engineering, typically," explains Aslam. "If you're in an urban school you have more exposure to that type of STEM topic, but we figured that was the best use of our time."
"We wanted to make efforts to fix that problem," agrees Muskin.
How did the two decide which rural school? According to Aslam, "We went through a list of schools where we could have the most impact, and ended up choosing Unity East." Then Muskin contacted the principal, Janah Sudduth.
"We didn't actually know about Engineering night," says Sudduth, who is in her first year as principal of the school. "Once they contacted us, we thought it'd be an awesome activity and a great way to get our students and families involved and here participating in science activities. Anything we can do to build on the curriculum we're teaching here, we are definitely open to that."
A former special ed teacher, Sudduth was particularly pleased by the different learning approaches used during Engineering Night.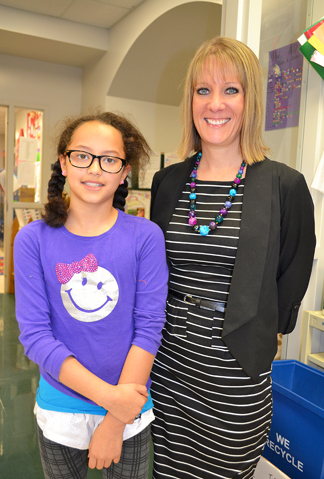 Principal Janah Sudduth (right) with a student during Engineering Night.
"I really believe that all students can learn, says Sudduth. "It's just finding the way in which they learn. So as teachers, it's our job to put that puzzle together—to really work to meet the needs of all of our students as individuals."
Does Sudduth believe the early exposure to engineering will steer any Unity East students into STEM?
"Most of our students are going to be looking to go on to a two-year or four-year university, "says Sudduth. "So I definitely think whatever we can do to lay those foundational skills even at the elementary level is helpful."
A win-win for all participants, the event not only challenged Unity students with hands-on engineering, but allowed Illinois engineering students to give back to the community.
For instance, Sam Zschack, Pi Tau Sigma secretary, supervised team tower-building. During the activity, he threw teams some curve balls...just like real engineers face. To simulate a shortage of resources, he took away some pipe cleaners.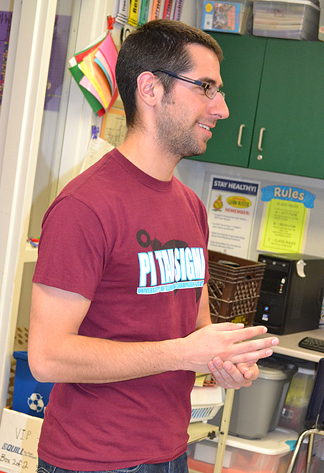 Sam Zschack supervising the Team Tower-Building activity.
Then, to illustrate difficulties engineers encounter communicating with team members (sometimes they're from different disciplines or speak different languages), he told them not to talk until they finished the project.
Zschack says he enjoys sharing what he's learned about engineering with others: "I think that the engineering nights and other engineering clubs that Pi Tau Sigma is involved in are really unique. It allows us (the volunteers) to really engage the students, and since we're all engineers volunteering, we get to contribute our own knowledge to the students. That makes the experience a lot more enjoyable for me personally."
Why did busy engineering students take a break from their studies to travel to a country school for the event?
"I think the goal is just to get young kids interested in and excited about topics in STEM," says Zschack. "Lots of the activities we do bring up topics or challenges that the kids haven't seen before, and this helps spark new excitement and curiosity."
Regarding the event's impact on the kids, Zschack believes they piqued the kids' interest: "I think that we succeeded in exciting the kids about exploring engineering topics."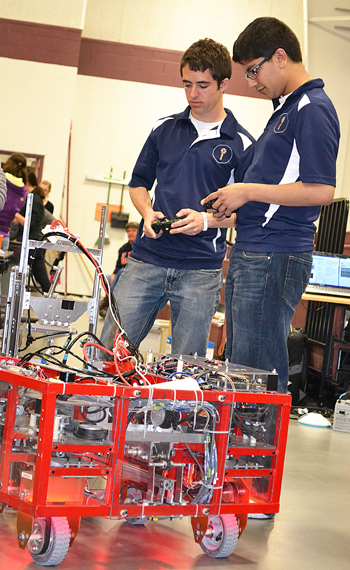 Matt Birkel (left) and iRobotics Projects Team Captain, Athrey Nadhan, demonstrate a big robot in action.
Matt Birkel, Founder and President of iRobotics, shared why he likes to be a part of iRobotics' outreach events:
"To me, there is real value in giving back to the community. The whole reason I became interested in engineering was because of outreach programs and events like this, and it's exciting for me to be able to give that same opportunity to more students. Even the smaller events like Family Engineering Night that can have a very real impact."
What's Birkel's goal when he does events like this? Get kids interested in STEM? In Robotics?
Birkel says his goal is "first and foremost, to expose kids to the world of science and engineering. Nowadays, young kids tend to turn their attention to sports and music and video games, but there are many other exciting things out there that these kids can do when they grow up! We are trying to open up a whole new realm of possibility for these kids; by showing them the excitement of engineering, we hope to inspire them to dig deeper."
Birkel called the event "a huge success!" He estimates that around 100 people attended, and were engaged in all sorts of different activities. He reports that one student asked if he could come to this event again next year.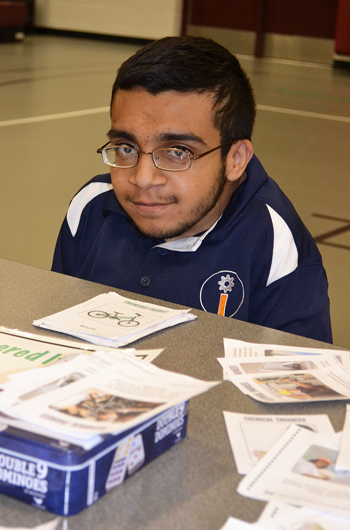 iRobotics' Arlalan Aslam manning the "Who Engineered It?" activity.
"From what I could see," says Birkel, "we were really able to give these students a great glimpse into the exciting world of engineering, and by the sounds of it, they're hungry for more!"
Aslam Agrees that the event was a huge success.
"It was wonderful. Because Athrey and I were in the main waiting area, and that was just packed all the way from 6:00 to 7:30. So it was a good feeling, because you put something together, and there are people waiting in line. There were people waiting in line for the waiting activities, so that was kind of cool."
Aslam reports that they got great feedback from the school, and are excited about doing the event again: ""The school really liked it, and they've asked us when we could do it again. So we're definitely looking to do one again next semester."
Aslam sums up the experience: "Putting the smiles on the kids' faces when they learned something new or found something cool, that made us feel like we did our job right."
Story and photographs by Elizabeth Innes, Communications Specialist, I-STEM Education Initiative.
More: K-6 Outreach, Unity East, 2014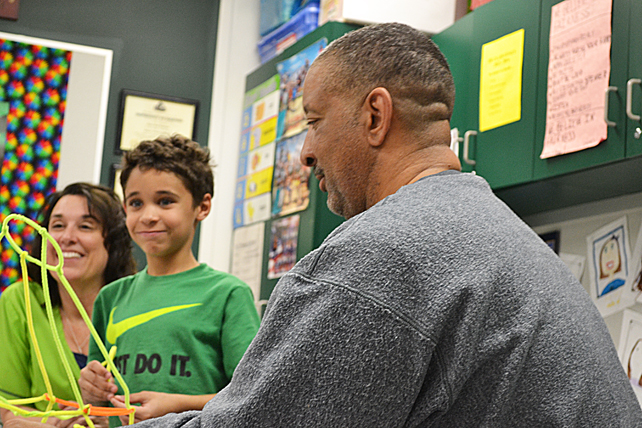 Family members of a Unity East student team up to build a tower out of pipe cleaners.