Orpheum Launches New Astronomy Kids' Corner With Help from Community Friends
June 19, 2018
"My overall philosophy is that the museum is here really as an educational resource for the community. So that's what you elevate. That's what you focus on, and that's what we raise the bar on." – Doug Brauer, Orpheum Children's Science Museum Executive Director
A local 4-year-old operates the Astroid Mine at the Orpheum Astronomy Kids' Corner grand opening..
Kids who dream of exploring "a galaxy far, far away," are intrigued with "launching" rockets, or who long to do astronaut stuff like mining asteroid rocks or climbing into a lunar lander, might want to visit the Orpheum Children's Science Museum's new Astronomy Kids' Corner. With some help from Busey Bank and a number of Mechanical Science and Engineering (MechSE) seniors who designed two space-related exhibits, the Orpheum in downtown Champaign launched the first stage of its new astronomy exhibit at a grand opening on Thursday, June 7th. The exhibit is part of Executive Director Doug Brauer's efforts to expand the museum's role as an educational resource for the community.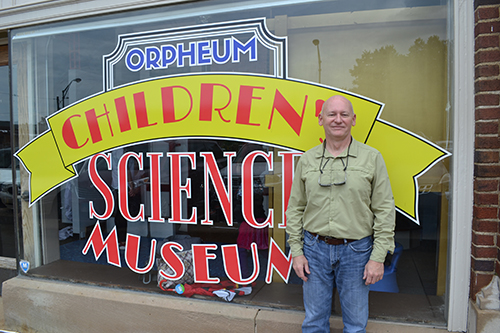 Orpheum Executive Director Doug Brauer.
According to Brauer, the exhibit is one step toward his goal of fostering more collaboration with community partners. "One of the things we haven't done well, historically, is community engagement and collaborative outreach, and we want to do a lot more of that," he acknowledges. "So we're trying to develop collaborations and partnerships that will really advance the museum—take it to a place where it hasn't been before."
One of those partners is Busey Bank, who helped to fund the Astronomy Kids' Corner exhibit and will continue sponsoring it over the next ten years. According to Colin DeCair, Busey's Associate Development Manager, who also helps with community relations efforts, Busey has been involved with the Orpheum for quite a while.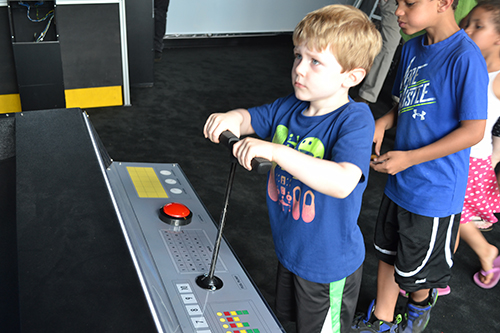 The son of Busey employee Colin DeCair tries out Orphy's Escape to Space.
"We definitely believe in supporting our community and making as big of an impact as we can. We definitely believe that it's not just financial wellness, it's total, overall wellness. And one of the best things to do with that is to help communities—be it through the arts, be it through education, whatever the case may be—if it's going to help our community grow, we want to be a part of that, because a healthy community means a healthy Busey.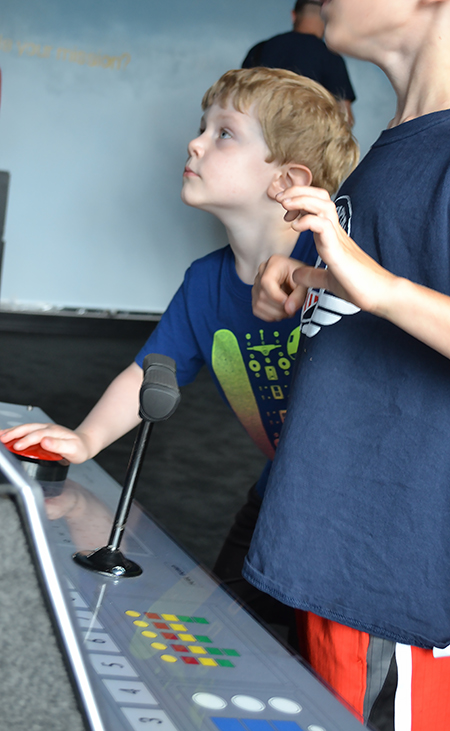 Colin DeCair's son pushes the button and launches Orphy into space.
Citing Brauer's plans to transform the Orpheum to be a local P–20 STEM education resource for the community, DeCair adds: "Since we're already on board, we already had that relationship, it just made sense for us to double in and be that partner to help them grow, and help the community grow, and help everyone just have a little fun at the same time."
At the event with his son, who was particularly enjoying Orphy's Escape to Space, DeCair says, "Astronomy is just a fun exhibit. It's an exhibit that's going to require a lot of support to make happen, and to look how they're wanting it to look. And we have the capacity to be able to help them to reach that goal, which is why we're fully in support of it."
The other partner helping with the Astronomy Kids' Corner was the University of Illinois' Mechanical Science and Engineering Department. Though university folk have been involved with the museum in the past, Brauer hopes to cultivate more of that:
"Just trying to be a little more proactive and take a little more advantage of that resource that's sitting in our back yard!"
The son of a Busey employee "pumps" fuel into Orphy's Escape to Space prior to launch. (Photo courtesy of Carrie Wells.)
So Brauer, an engineer himself with a history of working with higher education, was thrilled when one of his board members connected him with MechSE's Emad Jassim, Director of Undergraduate Programs, about having some of MechSE's seniors do Senior Capstone Projects that would contribute to the Orpheum's new astronomy exhibit.

Asteroid Mine


Orphy's Escape to Space
So Brauer and his staff came up with several ideas for exhibits they'd like, and the two student teams chose the ones they were interested in. One, the Asteroid Mine, gives young visitors a chance to mine "asteroid rocks,"picking them up using a giant gripper. After placing it on the scale, they are then to use the chart to determine what kind of ore they've picked up, then send it back into the pile of ore samples.
In the other, Orphy's Escape to Space, kids can suit up like an astronaut and launch a rocket into space. But to do so, first, they must pump the handle to give Orphy's rocket enough fuel to make it into space, then push the red button to "launch" the rocket and see how far it goes.
Also part of the exhibit, Brauer converted a slide (very popular with kids) which had previously been part of a castle exhibit into a shiny Lunar Lander so kids can climb up the ladder into the lander then slide back down.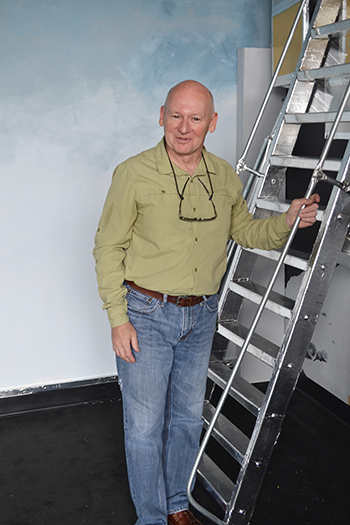 Brauer by the steps he built to the lunar lander/slide.
Excited to work with college students, Brauer acknowledges that the partnership dovetailed nicely with his goal to broaden the museum's reach to impact more than just young children.
"It ended up being a nice process," he admits. "From the very beginning when I stepped in, I wanted to be more proactive in the marketing and the engagement of students, and this really fit into that vision, more of a P–20 engagement with the student population versus kindergarten through third grade. So it really broadened it out."
Plus, besides gaining two new, high-quality exhibits for the museum, Brauer also got to interact with the students throughout the process of designing and building their projects, another thing that appealed to him about the project: "I'm a very big advocate of project-based learning," he admits. "And that's exactly what these capstone projects are."
Brauer hopes this collaboration with MechSE will be ongoing, because of the unique opportunity it gives students to design something really unique.
"This is just a different animal," he admits, "to develop an exhibit that's gonna' to be there long-term, that's gonna' be out there in the public." He says that in a lot of typical capstone design projects, the students "may or may not finish, and at some point it gets tucked away in some closet to never be seen again. But this was something that was going to be in the public eye and represent the students and the department and the university in a very different way than it has in the past."
Brauer reiterates that part of the appeal was that the students had to design something that was going to be at the museum for a long time and be very visible. "And I think that's in part why the department did these two projects," he explains. "I think they certainly looked at this and said, 'Boy, this is something that is very unique that our students haven't done before.'"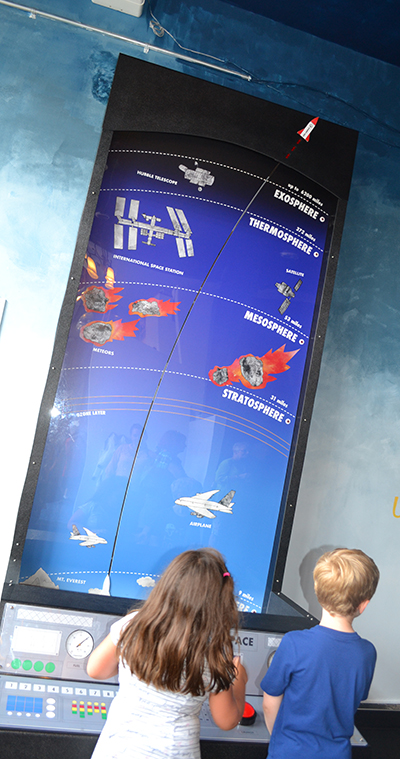 Two youngsters try out Orphy's Escape to Space.
But the museum-university collaboration wasn't just beneficial for the museum. It was a win-win for both partners. For instance, it gave the MechSE students a broader perspective of what a project is like, from beginning to end.
"The groups were able to take theoretical concepts that they'd learned regarding project management in other classes and bring it into this real project, where they had to go through the process of trying to figure out what it is that we're going to do and then figure out what's the best way to do it, and actually design and develop this thing. And it ended up being an interesting process."
Plus, Brauer relished being able to pour some of his wealth of knowledge and experience into the young engineers. Because his career has been split between directing global manufacturing and operations and higher education, he's well versed in not just engineering, but the best pedagogy. 
"I'm in engineering by trade," Brauer says, "so it was a nice perspective that I was able to add."
For example, he helped the fledgling engineers with their timeline. They had one semester, not forgetting spring break and graduation, to complete their projects, so he helped them figure out the amount of time they had to come up with the design and go through the engineering process.
"So I really tried to bring the real world to them very quickly," Brauer says, "that we're serious about this. The museum, obviously, we wanted to have a finished product. They saw that and they embraced it."
Brauer reports that the students spent a lot of hours and late nights completing the projects. And to ensure their design was appropriate for kids, one team even met with folks in the College of Education to discuss pedagogy for young children. Plus, both teams came up with You-Tube videos advertising their projects.
Brauer also addressed different engineering aspects, like liability, engineering, and safety, reminding the students, "'These are things that you need to consider in this.' So all of these topics that they had touched somewhere along their four-year path at Illinois they were able to bring home and really apply. I think it just added an entirely different perspective for everything that they learned...what was applicable and what wasn't applicable at times."
What did Brauer think of the collaboration?
"I loved it," he admits. "I just got a kick out of the kids. They were very dedicated to the projects. I was very impressed by their maturity."
With the MechSE students taking ownership of their projects, Brauer also worked to ensure that the students understood and embraced their client's vision. He indicates that the Orpheum recently held a 25th anniversary reception for founders and current museum stakeholders. The goal was two-fold: to say, "Thank you for getting us here!" to the founders who attended, and to convey to current stakeholders, "Now, this is where we're going!" He also invited the MechSE student teams.
"We wanted them to become true stakeholders in the museum," he acknowledges, "so they could not only see what they were doing, but they could be able to understand the strategic vision of the museum."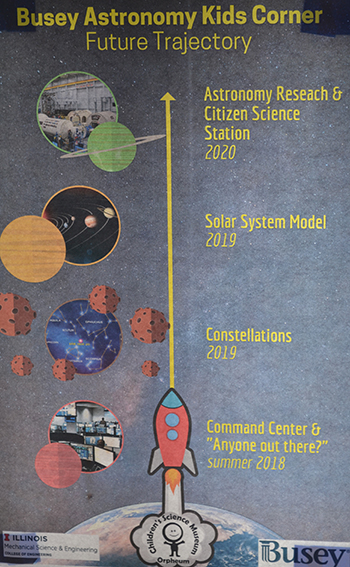 Some of the future projects planned for the Orpheum's Astronomy Kids' Corner.
Brauer emphasizes that this is just the first stage of the Astronomy exhibit, and that the museum is going to continue to add to it. For instance, a financial exhibit is in the works where a visitor can step on a scale, find out how much they weigh, then figure out what it's going to cost to get them into space. There will also be a control center, and constellations mounted from the ceiling.
He also wants to ensure that the Orpheum has a master plan, a pathway through the museum. "There has to be logic. It has to be connected. Start with the dinosaurs, and we're going to leave the earth at some point, see what's out there," he says, referring to the Astronomy exhibit.
Brauer shares the strategic vision he developed when he was first hired: "We're going to strategically move forward; we're going to raise the bar; we're going to become more professional; we're going to advance the museum."
Part of what Brauer means by advancing the museum is encouraging stakeholders to "Be focused on the Children's Museum." He shares a little-known tidbit about the museum's history in explanation: "The museum was started, really, to put something in this building. The original intent was to save the Orpheum Theater." Regarding the perpetual conflict among the board and supporters between those just interested in saving the building and those interested in children's education, his response to them is this: the Children's Museum is the steward of the building. Therefore, the museum needs to grow and advance, become more engaged in STEM, and become more engaged in K–12 and beyond to include the university too—so that means P-20.
To help the museum advance, a couple of other museum-university collaborative projects are also in the works. "I'm really looking at, let's leverage all that knowledge and expertise, and really become a working student laboratory, quite honestly, for students."
And along with a working student laboratory for college students, Brauer envisions the museum becoming a go-to STEM education community resource: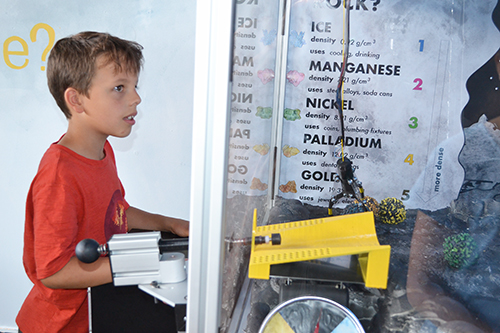 A local youngster tries out the Asteroid Mine exhibit.
"We want to do more STEM and become a true museum," he envisions. "We want to elevate our educational offerings, be able to be more help to the schools, and still be a collaborative instrument with the University of Illinois to go out and reach an urban population and take STEM to the families and kids that normally wouldn't have access to it. I really view us as a community resource that provides access to an urban, K–12 environment in ways that others within the Champaign-Urbana area can't do or are not willing to do."
Grateful to Busey for its long-term commitment to the museum, he also hopes to interest additional corporate sponsors. Plus, he suggests that the museum is an excellent venue for outreach when the university faculty apply for grants, such as to NSF. "We want to be the outreach partner in that, because that overcomes, I think, a lot of the barriers to reach the people at the K–12."
Regarding the future, Brauer shares the importance of Orpheum stakeholders having a unified strategic vision and embracing that: "If you don't have that vision, you're always going to live in the present," he states, then adds, "I'm pushing for the vision; I'm pushing for the future."
"I wanna' have a world-class children's science museum," he continues, citing other children's museums. "I want to move in that direction."
---
For additional I-STEM articles about the University's partnership with the Orpheum Children's Museum, see:
Story and photographs by Elizabeth Innes, Communications Specialist, I-STEM Education Initiative.
More: K-6 Outreach, MechSE, Orpheum, Undergraduate Education, 2018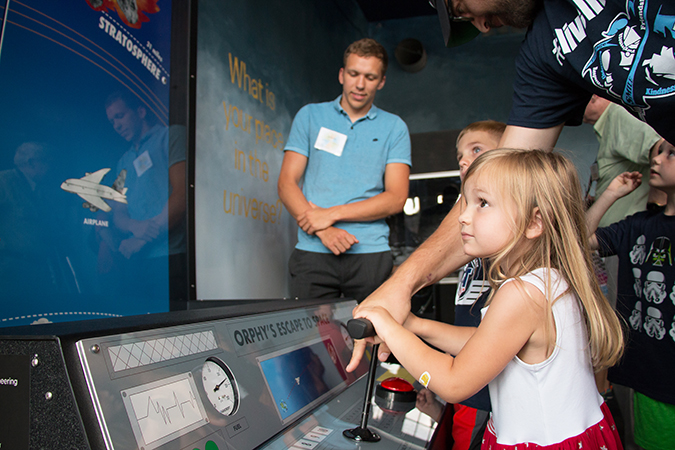 A local 4-year-old tries out Orphy's Escape to Space. (Photo courtesy of Carrie Wells.)