G.A.M.E.S. Campers Passionate about Saving the Planet Learn About Environmental Engineering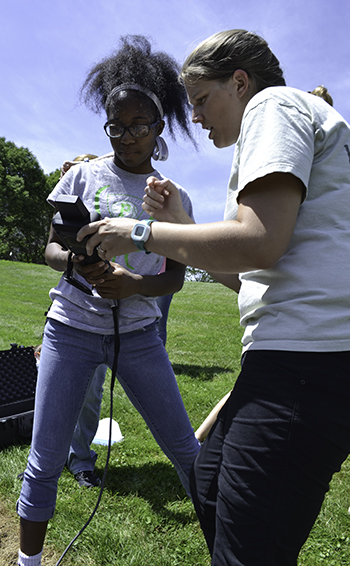 Environmental Engineering GAMES campers analyzing results of water quality at Boneyard Creek.
August 4, 2016
The 2016 Environmental Engineering and Sustainability G.A.M.E.S. Camp was a perfect experience for 20 high school girls who have a passion for saving the planet. This one-week camp addressed many facets of Civil and Environmental Engineering (CEE), ranging from water quality, air quality, renewable energy, and sustainability, and gave the girls some exposure to what a career in environmental engineering might be like. The 2016 Environmental Engineering and Sustainability G.A.M.E.S. Camp was in its sixth year of operation led by the creator and co-director of the camp, Sotiria Koloutsou-Vakakis, who was originally inspired to start the camp because of her daughter's positive experiences at G.A.M.E.S. camps years ago. Koloutsou-Vakakis says she keeps on doing it because she loves teaching: "I do games camp because I love working with students of all ages."
One of several graduate students who helped out with this year's camp was Mary Foltz, a CEE graduate student in Environmental Engineering whose research focuses on nitrogen cycling in agricultural fields. According to Foltz, because the camp's activities touched on a wide range of environmental engineering issue, this dovetailed with the girls' wide spectrum of interests.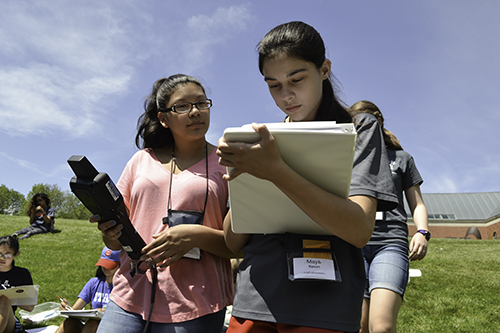 Two Environmental Engineering GAMES campers test water quality at Boneyard Creek
"Some really enjoyed the outdoors lab where we tested water quality at Boneyard Creek. Others were really interested in computer modeling and mapping software we utilized throughout the camp. Still others liked the tour of Abbott Power Plant and learning about how interrelated water and energy are. Luckily, there was something for everyone with the large variety of topics we covered."
Like Koloutsou-Vakakis, Foltz indicates that she also got involved with the camp because of her love of teaching.
"I participated in the GAMES camp mostly because I love teaching," he admits. "Before coming to graduate school, I spent a year teaching science at an alternative high school outside Chicago. Although I love the classes and research I am involved in here at UIUC, I really missed interacting with students and being a positive role model for them. GAMES gave me the opportunity to share my love of environmental engineering and science with the girls."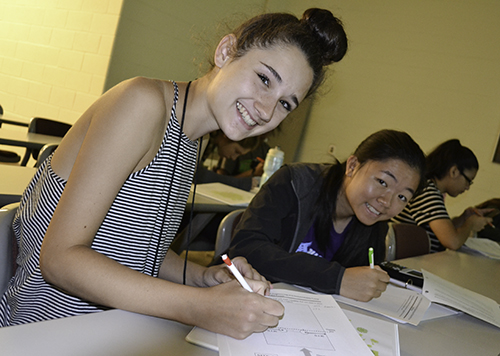 Environmental Engineering GAMES camper works on tidal wave project.
Foltz was also motivated by the desire to do a little recruiting—she wanted to "hopefully encourage them to consider engineering and UIUC for their future."
Did she also hope some of them would end up in CEE? Foltz indicates that many of the participants discovered that environmental engineering is the field for them. "I know several of the girls will end up in civil and environmental engineering. Many of the girls came in wondering what exactly we do as engineers and what their future could possibly look like going this route. After learning about the diverse areas you can get involved with through civil and environmental engineering, many girls realized this was the field for them."
Foltz indicates that having some of the girls discover that engineering or CEE was not the field for them was equally important: "The camp was still beneficial for those who determined that this field wasn't for them after all, because at least they figured that out now rather than three years into their college studies like some students these days do."
Like Foltz, Koloutsou-Vakakis reports that she too definitely saw some future engineers in the group—and possibly some in her own field—and also hopes they end up at Illinois. "Most of these students this year, they chose this camp intentionally. It was their first choice. That's what they told us. And they're planning a career in sciences or engineering. We hope they come to Civil and Environmental Engineering."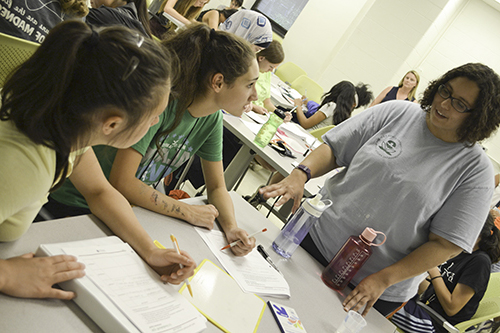 Two Environmental Engineering GAMES learn about sustainability
According to Koloutsou-Vakakis, because the group was comprised of mostly juniors and seniors this year, they were hoping for some input regarding CEE as a career. "So they're definitely looking for their future major and career," she explains. "We also have some sophomores who are just exploring."
And of the group of mostly juniors and seniors, Foltz too believes many of the girls got some help regarding their decision making about their future career:
"The most important impact I think the camp made was helping the girls decide if engineering, and more specifically environmental or civil engineering, was for them. They came in with so many questions and uncertainty and left with a good sense of direction."
Story by Elizabeth Innes and Skylar Johnson, I-STEM undergraduate student. Photographs by Elizabeth Innes, Communications Specialist, I-STEM Education Initiative.
More: 8-12 Outreach, Environmental Engineering, GAMES, GAMES: ESE, Summer Camp, Sustainability, Women in STEM, 2016
For additional I-STEM articles on 2016 engineering camps, please see: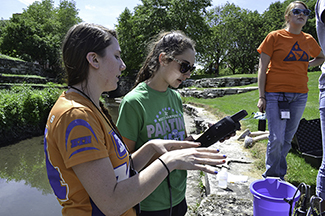 Camper gathering data on water quality.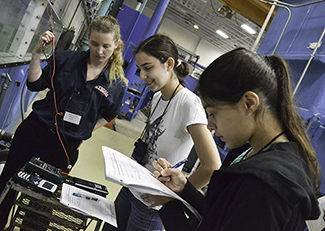 GAMES campers analyze results.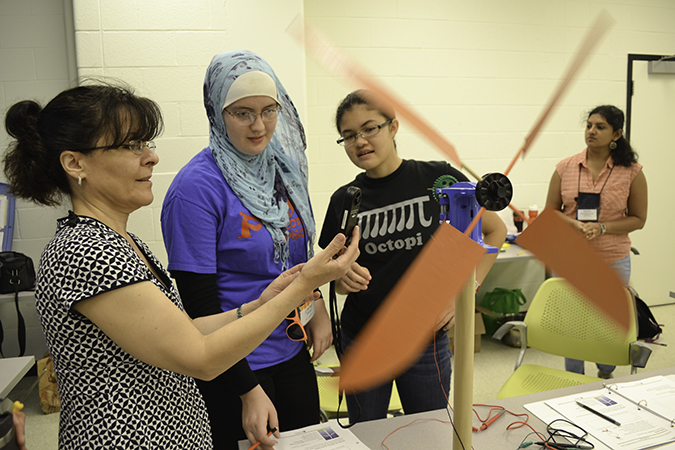 Dr. Sotiria Koloutsou-Vakakis, Director of the Environmental Engineering GAMES camp, works with campers who are measuring the output of their wind turbine.