AERO G.A.M.E.S Campers Soar with New Aerospace Knowledge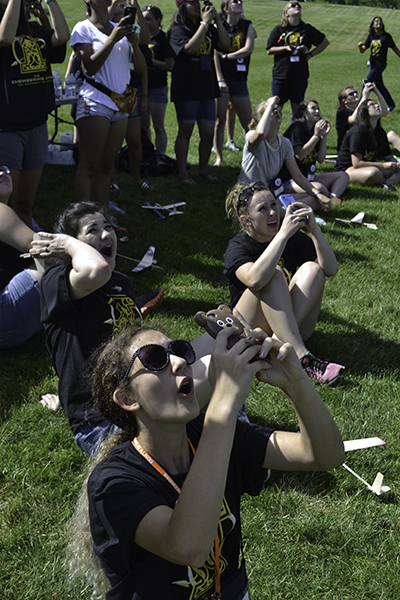 Aerospace GAMES campers react to the flight of one of their fellow camper's model aircrafts.
July 26, 2016
From July 10th–16th, 30 girls from Illinois and a few other Midwestern states attended Aerospace G.A.M.E.S. (Girls' Adventures in Mathematics, Engineering, and Science) camp. Besides learning about the diversity of an aerospace engineering degree, they also had what was most likely another new experience for most of them—being with a large group of girls who have a similar interest in STEM. Plus, as the pièce de résistance, after spending the week learning about aeronautics, they designed, built, then got to actually launch a glider and a rocket. Based on the week's activities, the girls got a taste of what college life at Illinois is like, and many are considering Aerospace Engineering at Illinois. And if camp director Brian Woodard has his way, "Hopefully we can recruit them," he admits.
Most days the girls had class and labs on aerospace topics, such as astronautics and aeronautics design, rocket propulsion, aerodynamics, wind tunnel lab, orbits, and structures and materials. They also had some out-of-classroom experiences by going to the University of Illinois Observatory, where they learned about astronomy, and a field trip to Willard Airport, where they learned about all the different opportunities an aerospace engineer has at an airport. At the end of every day, the girls had about two hours to work on their own gliders and rockets that were going to be launched during competitions on the last day of camp. For the glider competion, the winner would be the one with the longest flight time. For the rockets, there was an added dimension: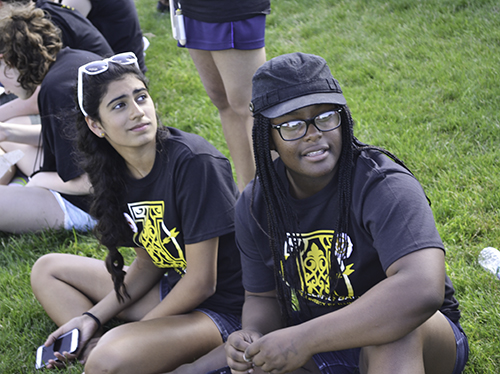 Two Aerospace GAMES campers watch the flight of one of their fellow camper's gliders.
"They're launching rockets with an egg in it," explains camp director Brian Woodard, "and it has a little piece of electronics that measures the height based on air pressure. And so the competition is the highest egg that comes back intact."
Woodard explains why he serves as director of the camp every year:
"I just love to get out here and encourage all these people who maybe wouldn't realize what aerospace is all about, and how fun it is. We build rockets and airplanes for this particular thing, but we show them how diverse aerospace is and show them that they can do so many things with an aerospace degree."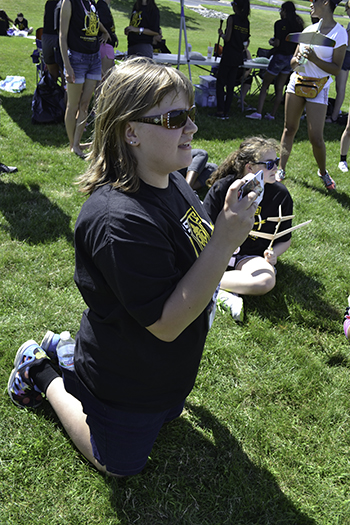 Melanie Wasson makes a video of her rocket's flight.
And most of the camp's participants were definitely considering engineering—possibly aerospace. For instance, Melanie Wasson, an upcoming junior at Harlem High School in northern Illinois, showed up at Aero GAMES camp because her aunt, "found this camp online and suggested that I go to this because she knew I was interested in Engineering, and she had been to this school." Wasson says this was the first camp she's ever gone to.
When asked what she learned from the camp, Wasson admits, "a lot about aerodynamics and a lot of aerospace stuff that I didn't know before." She's "70% sure [she'll] do aerospace" at Illinois. "There are still other things to look at," she adds, "but this is high on the list."
How'd she do at the camp? Her rocket reached 800 feet in the air and her egg didn't break, even though the parachute didn't deploy.
Veronica Lee, a rising senior at Downers Grove North High School in Illinois, also came to Aero G.A.M.E.S. to find out more about Aerospace Engineering. She admits, "I came to this camp because I've always been interested in engineering in general, and U of I is my number one choice. I want to be a mechanical engineer, but aerospace is also something that I'm interested in. This is my first GAMES camp, and I've had a lot of fun. It's really cool."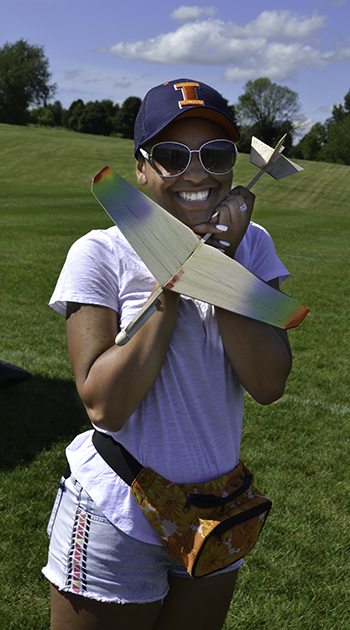 Aerospace GAMES camper, Veronica Lee, shows off the glider she designed and built.
Lee says she "learned more about the theory side and how generally it's applied about aerodynamics." She indicates that she "also learned more aerodynamics and fluids, and how weight is really important in general" and while she "wasn't good at physics, [she] liked the challenge of it."
Her favorite activity of the week was the visit to the airport: "That was really cool!" she reports. "We went up to the control tower. We didn't get to fly a plane—the weather was kind of bad this year so they couldn't do it. Just thinking of all the jobs in the airport and how it all works and comes together is really cool."
Lee found the Aero GAMES camp to be a great preview of college:  "I definitely think I got a feel for more of a college environment," she reports, "kind of squeezing all this material into a week and seeing how everything is applied and works."
Lee reports the camp did a good job of providing real-life, practical applications to theoretical learning she's gotten in school; however, what she sometimes found challenging was "trying to separate what I've already learned and what I've newly learned and to try and make sense of it all. Because you go through all these things and theories, and then you come here and see how it actually works. This is how it works in real life, and this is the math behind it."
Lee definitely appreciated being with a bunch of other girls who were also passionate about STEM: "I think also trying to see more people interested in the same thing is really cool. Because I don't usually get people who are all interested in science in the same place. It's really cool."
Lee highly recommends this camp to any girl who's interested in engineering: "I really think GAMES camp should be for everyone. I don't think the price should deter anyone, and I really think that if you apply it, and this is what you're really into, then it's a great place to bring minorities and women and girls all together who love STEM."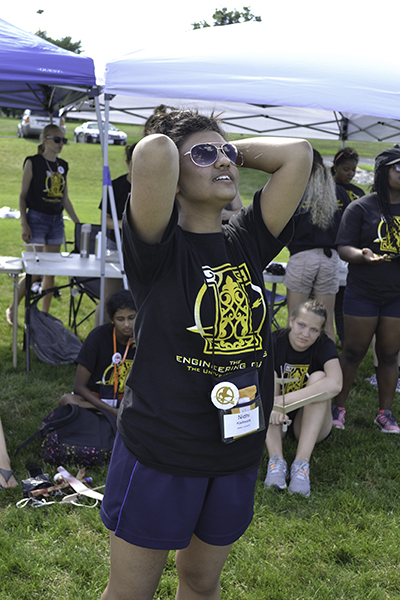 Aerospace GAMES camper, Nidhi Kadiwala, watches her rocket soar after several unsuccessful attempts to launch.
Like Lee, Nidhi Kadiwala, an upcoming junior at Main East High School in the Chicago suburbs is also interested in engineering, and that's why she participated in the camp: "I was really interested in Engineering and I wanted to try something new," she says.
Although her dad is an engineer, she says he never pushed her into the field. In fact, this was her first camp. Nadiwala says she really liked it.
"It was very informative, and I learned a lot of stuff. My dad's an engineer, so I wanted to go into something similar. And I really liked physics, so I thought this would be cool."
Like Lee, Kadiwala also learned a bit about what college is like: "I definitely learned how classrooms work in college. There's a lot of walking."
While most Aero G.A.M.E.S. campers weren't settled on what their major in college will be, many were definitely considering Aerospace Engineering. When asked about it, Kadiwala replied "Definitely one of the things I'm considering. Haven't pinpointed it exactly, but, yes, definitely considering it," and Lee admits, it's "something I'm interested in." Many girls attending this camp were also strongly considering attending University of Illinois, Urbana-Champaign, and camp director Woodard acknowledges, "Hopefully we can recruit them." He adds an interesting statistic that speaks to the success of the Aero GAMES:
"We here at Illinois have been increasing the number of women in Aerospace the last four years, and hopefully we can keep that going with these camps."
Story by Alexandra Anne Peltier, I-STEM undergraduate student. Photographs by Elizabeth Innes, Communications Specialist, I-STEM Education Initiative.
More: 8-12 Outreach, Aerospace Engineering, GAMES, GAMES: Aerospace, Summer Camp, Women in STEM, 2016
For additional I-STEM articles on 2016 engineering camps, please see: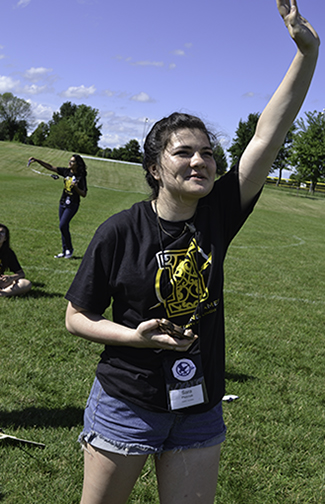 Camper Sara Pietrzak celebrates an awesome flight by her model.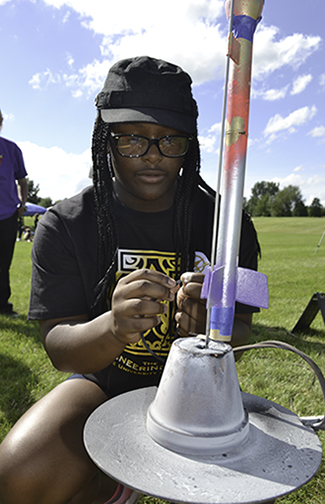 An Aero GAMES camer readies her rocket for launch.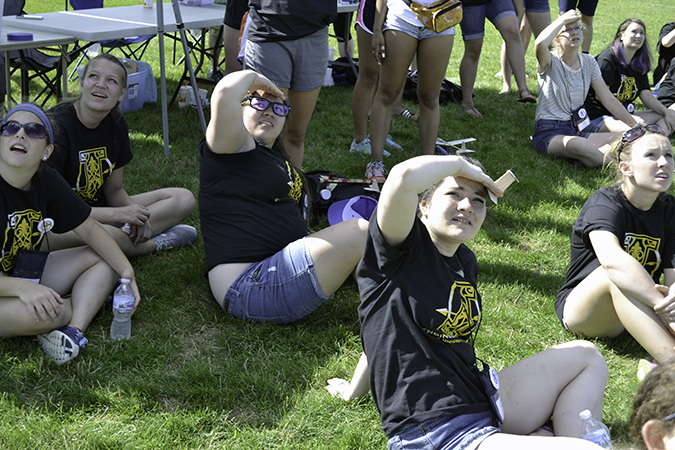 Aero GAMES campers watch as a rocket is launched during the final event at Dodd's Park in Champaign.