High School Girls Discover Chemical & Biomolecular Engineering at GAMES Camp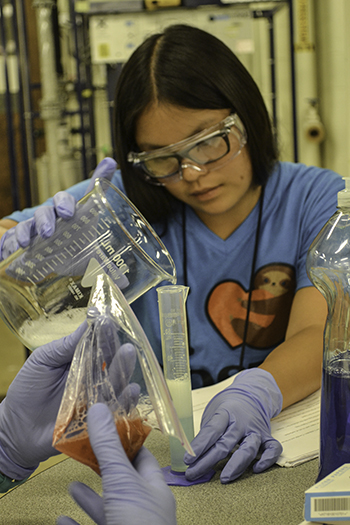 A camper works to extract DNA from strawberries.
June 28, 2016
Twenty-four high school girls from all over the country converged on the Illinois campus the week of June 19th–25th for the Chemical and Biomolecular Engineering (ChBE) GAMES camp. During the 2016 edition, they not only learned about chemical and biomolecular engineering, but got to try their hand at it. After hearing about a variety of interesting aspects related to chemical engineering, they got to do fun, hands-on activities related to them—including some geared toward things that might appeal to girls—like foaming face wash and shower gel. Plus, during field trips, the girls got to see first-hand what a career in chemical engineering might be like.
In its fourth year, the 2016 ChBE GAMES camp for girls from 9th grade to 12th grade, drew not only local girls, but a few from Chicago, and one each from Texas and Nevada. In charge of the camp this year was Ricky Greer, a ChBE instructor, who reports that he does the camp every year to give the girls the chance to explore their career options…and to possibly recruit a few to Illinois.
"I just have a passion for community outreach," he admits. "Reaching out to young people and having them being able to explore different concepts, ideas, career fields—and hopefully get students to come to the University of Illinois."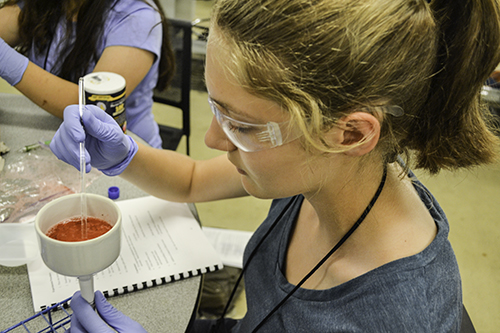 A camper nears the end of the DNA extraction experiment.
Most of the week's mornings and afternoons started with a lecture by a faculty member, followed by an activity that corresponded to that lecture, led by the faculty member and his grad students. For instance, on Monday morning, ChBE Assistant Professor Diwakar Sukla gave a lecture about Computation, followed by a game designed to reiterate the lesson material. Other lessons during the week included Catalysis, Surface Science, and Materials Synthesis by Dr.Flaherty; Polymers and Recycling led by ChBE Assistant Professors Charles Sing and Damien Guironnet; Bio Transportation plus a Hydrogel activity by ChBE Associate Professor Hyunjoon Kong; and "Crystals All Around Us" and a crystal-making activity by CBE Assistant Professor Ying Diao.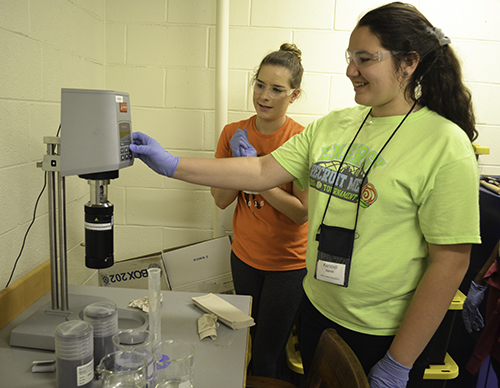 A ChBE GAMES camper learns how to use the lab equipment during the Pumps experiment.
Evidently Diao's crystal-making activity was pivotal in getting the girls excited about the subject matter. When reporting on how the camp was going, ChBE Lecturer Jerrod Henderson, who began the camp back in 2103, says, "So far so good. Started off kind of slow, but today (Wednesday) I think they kind of had their break-through moment. They were making crystals out of chocolate. So that livened them up!"
To give students additional hands-on experiences, students rotated through a set of six basic operations, many of which allowed the students to learn about and use the machines in the lab. The experiments included: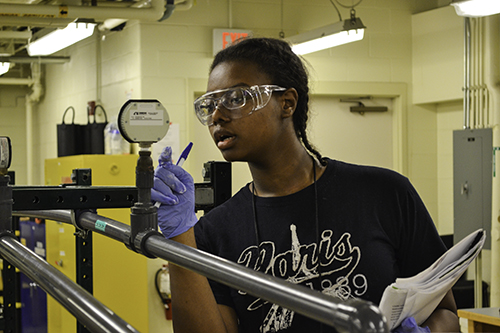 A 2016 ChBE GAMES camper measures water pressure as part of the Pumps experiment.
Pumps
DNA Extraction
Polymer Extruder
Enzymatic Cleaning
Batch Distillation
Acid Rain
According to Henderson, the pumps experiment was new for 2016. "So the ladies are looking at how different fluids flow in pipes, and how they're pumped. They're looking at water, and something that's more viscous, liquid clorox too."
To give the girls additional exposure to what a career in Chemical Engineering might be like, several field trips to Illinois businesses were scheduled during the week. For example, the campers visited the Tuscola ethanol plant of Lyondell Basell, one of the world's largest plastics, chemical, and refining companies, with 55 sites in 18 countries. They also traveled to Chicago on Thursday to tour a research and development lab of Abbott, a global healthcare company.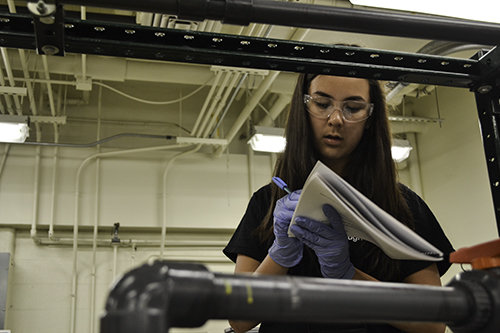 A camper records the readings she made as part of the Pumps experiment.
According to Henderson, who accompanied one of the groups on Tuesday's visit to Lyondell Basell, the girls appreciated the field trip immensely.
"They had some awesome questions about engineering. Shows that they were thinking about college and beyond. They were asking a lot of questions, like, 'What is work life like for chemical engineers?' and, 'Am I going to be on call?' and, 'How did you make the decision to really stick in the field?' These young ladies over there mentioned it, the opportunity to see a plant as a high school student. They thought that was valuable."
Also, should the girls be considering a career in chemical and biomolecular engineering but need additional information, a Prospective Student Q&A session was scheduled with Kay Moran, Assistant to the Head of the ChBE Department, to answer any questions the girls might have about how to apply to ChBE at Illinois.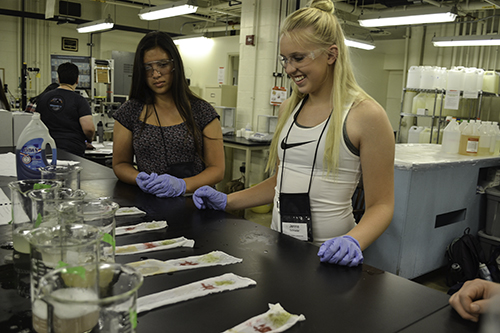 Two campers participating in the Enzymatic Cleaning experiment examine stained cloths to determine which got the cleanest.
Did any of the girls decide on a career in chemical engineering as a result of the introduction to the field during GAMES? Greer believes some might be interested.  "I think the overall goal is to allow the girls to explore the field," he reports. "So I'll give them the opportunity to see what the industry looks like…And we also show them the side of academia. And we also talk about other fields such as field industry, cosmetics, and things like that."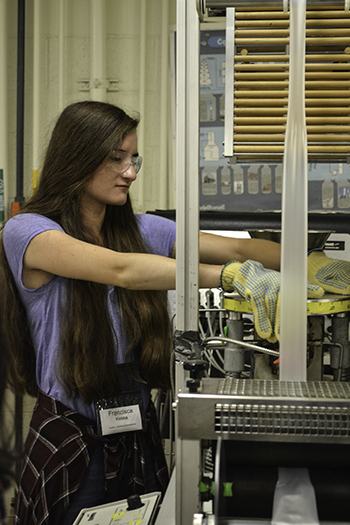 A ChBE GAMES camper operates the machine during the Polymer Extruder experiment.
In addition to the faculty members who taught sessions during GAMES, several ChBE students served as lab assistants to teach the students about the equipment and guide them during the experiments…and also to serve as role models to show the girls that a woman can be a Chemical Engineer.
For example, in charge of the Polymer Extruder experiment was lab assistant, Kendra Yean, a rising sophomore in Chemical Engineering who hopes for a career in Research and Development. Yean says she participated in the camp to help the girls understand that they too could become chemical engineers: "It is a pleasure to expose the interesting side of chemical engineering to the girls and strengthen their confidence in this field," she explains. According to Yean, the girls were very enthusiastic in learning. "They paid attention to every detail explained and also asked a lot of questions throughout the week," she adds.
Yean believes some of the girls might be headed into Chemical Engineering: "I can see all of them are very passionate about Chemical Engineering, if not engineering or STEM itself. There was a day when there were no experiments for the girls, as we invited a comedian to perform, and the girls turned out to be really disappointed. I'm glad that the girls were so eager to learn new things every day."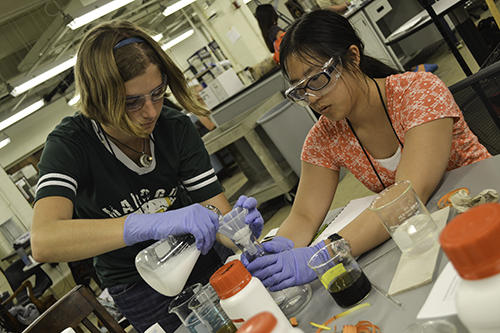 Two ChBE GAMES campers participate in the Acid Rain experiment.
Yean encourages students who think they might be interested in chemical engineering as a career to attend the camp: "This camp is really eye opening to chemical engineering, and I highly recommend anyone who has a slight interest in chemical engineering to participate, as I believe your interest will boost up after the camp."
Illinois junior Yolanda Bradshaw, who is majoring in Animal Sciences and was in charge of the Acid Rain experiment, says she wanted to participate in the camp to help steer girls into STEM…and because she attended GAMES camp herself when she was younger, she wanted to have a similar impact on the girls:
"I myself was a GAMES participant when I was in middle school. Being able to give back and have an impact on young girls going into a STEM field is a very rewarding experience."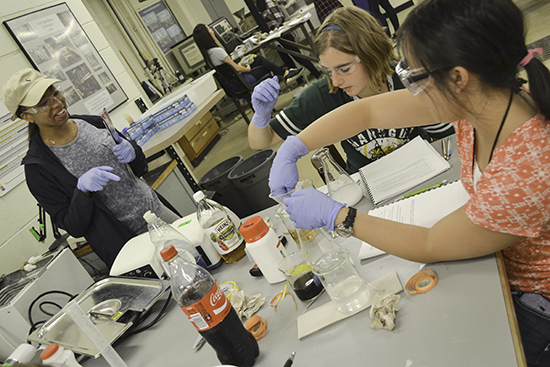 Yolanda Bradshaw (left) supervises as two ChBE GAMES campers do the Acid Rain experiment.
Does Bradshaw think any of the girls are headed into Chemical Engineering, or at least engineering or STEM?
"Of course!" she says. "These girls are definitely headed into engineering. Their faces lit up during every lab and they had a lot of great questions."
Story and photos by Elizabeth Innes, Communications Specialist, I-STEM Education Initiative.
More: 8-12 Outreach, ChBE, GAMES, GAMES: ChBE, Summer Camp, Women in STEM, 2016
For additional I-STEM articles about 2016 G.A.M.E.S. camp, see: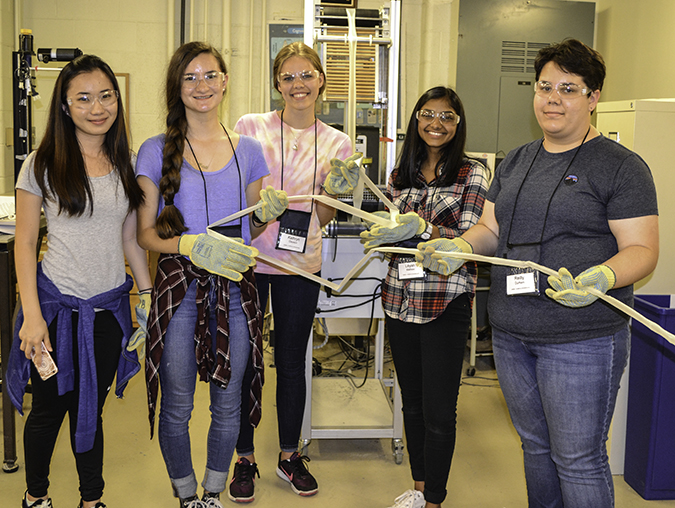 Lab assistant Kendra Yean (left) and a team of GAMES campers show the polymer tube they made with during the Polymer Extruder experiment.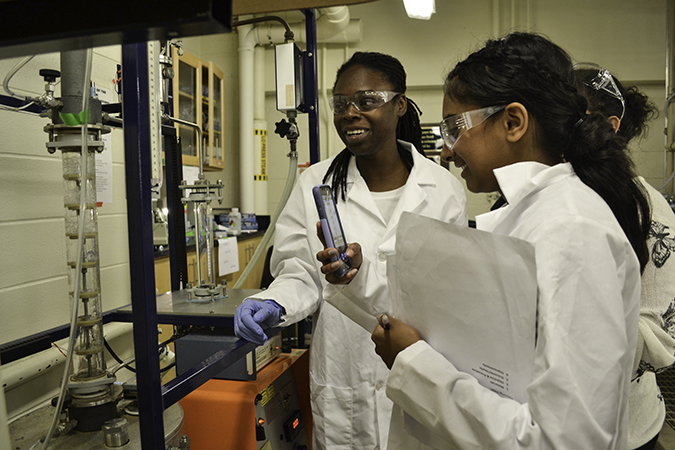 A lab assistant works with a GAMES camper on Batch Distillation experiment.