MechSE's WYSE Camp Helps High School Students Explore Mechanical Engineering
Two high school campers work build a prosthetic device during one of MechSE's Exploring Your Options WYSE camp.
July 19, 2016
Many of the 24 high school students who participated in the 2016 Exploring Mechanical Engineering camp held June 26–July 2, are pretty much set on careers in engineering…They're just trying to figure out in which discipline. And MechSE's (Mechanical Science and Engineering's) WYSE camp appears to have the potential to assist them in their decision-making process. For one, unlike Illinois' other WYSE (Worldwide Youth in Science & Engineering) camps, most of which offer a brief introduction to a variety of engineering disciplines, MechSE's spends the entire week exposing campers to some of the fun stuff in mechanical engineering—from building their own 3D printer to designing a prosthetic device, and to learning how a career in engineering would allow them to make a difference in other people's lives.
Exploring Mechanical Engineering was run by MechSE faculty Matt West, Elif Ertekin, and Education Coordinator Joe Muskin, with help from a number of graduate and undergraduate students from MechSE and other engineering departments.
Many of the activities were new this year, including the main project: students designed then built their own 3D printer—pretty amazing for high school students to do, considering how new the technology is. That's not all they designed and built. They made a key chain they designed with CAD (computer-aided design). They were given a patient scenario, a young woman who had her left arm amputated three inches above her wrist, and asked to custom design a prosthetic device. They also designed and built a robot that responds to light. In addition they were also exposed to a cleanroom and learned about copper tape and programming arduinos, material testing, and microfluidics.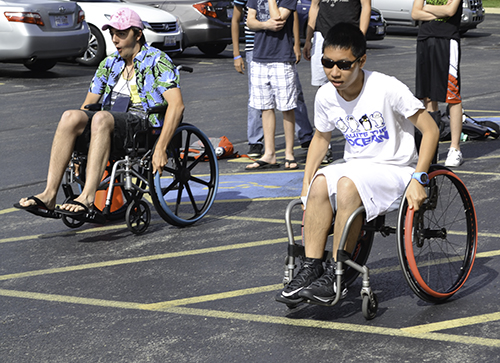 Two WYSE campers race toward the finish line during a wheel chair relay at Intelliwheels.
Students also got a taste of how engineers can impact industry and make a difference in people's lives. They visited Caterpiller and a new startup, Intelliwheels. While getting BS and MS degrees at Illinois, IntelliWheels co-founder and CEO Scott Daigle designed a wheelchair with gear-shifting technology similar to a bicycle. Now, at IntelliWheels, he designs wheels to improve the efficiency and usability of manual wheelchairs. His engineering philosophy which he tried to instill in the visiting students: Listen to the people one is designing for in order to create products that help solve their specific problems.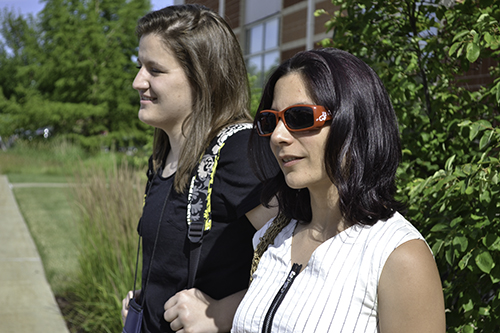 WYSE camp staff members Abby Pakeltis, a MechSE undergrad, and Elif Ertekin, WYSE camp co-coordinator, enjoy the wheelchair relay at Intelliwheels.
One "hands-on" activity in which campers participated during the Intelliwheels tour was a wheel chair relay. Each camper got a chance to try out two different wheelchairs—one was a low-tech, less expensive wheel chair; the other a more expensive chair with high-tech wheels, to experience for themselves the differences in the useability of the two chairs. They also experienced the types of challenges persons in wheelchairs regularly experience regarding uneven or slanting pavement, etc.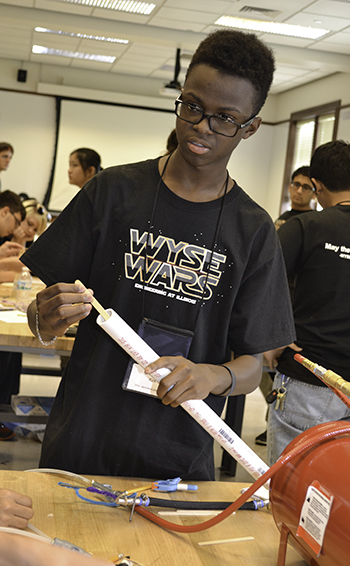 WYSE camper Connor Kirk works on his team's prosthetic device.
One student who especially enjoyed these field trips was Connor Kirk, a rising junior from New Jersey: "I like how we're able to go to places, such as the Caterpillar office and Intelliwheels," he says. "I thought that was pretty cool."
Like many of the student participants, Kirk eally enjoyed camp and says it helped him with his decision-making regarding what field/discipline to go into. "It's a lot that we're doing, and I think all the experiences are helping me decide if I want to go into mechanical engineering or not. And I'm having a blast," he adds.
Like Kirk, Lizzie Wakelin, a rising senior from Springfield, Illinois, says she's thinking about being an engineer, and that MechSE's WYSE camp is helping her to zero in on which field:
"Yea, so this is to help me decide which discipline I should go into, because I'm not really sure what kind of engineer, and this will help me decide if mechanical is for me or if I should be in a different discipline."
Wakelin wants to be an engineer in order to make a difference in people's lives:
"I enjoy math and science," Wakelin admits, "and it gives me a lot of happiness whenever I solve some complicated problem and build something that helps other people. I want to be able to build things in the future that can benefit people in some way."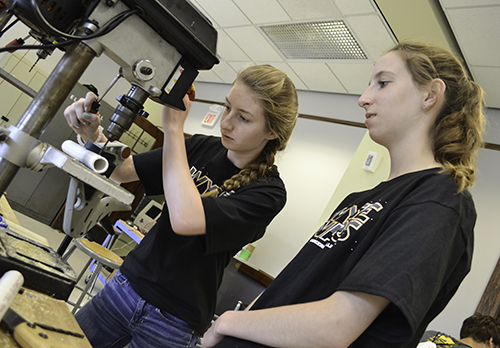 Two campers use one of the Mechanical Engineering Lab's machines to drill a hole while creating their prosthetic device.
Also thinking about being an engineer is Camille Broderick, a rising junior at Chicago's St. Ignatius College Prep. She joined a robotics club at her school last year, and that really got her interested. "I've been stronger in science and math, so that really got me thinking, 'Maybe an engineer could be a possibility.'"
Another student who's definitely thinking about being an engineer is Chloe Torm, a rising junior at Barrington High School in Barrington, Illinois. And it's clear that she's been thinking about it for a while…she's been a regular participant in the GAMES camp circuit for several years.
"I've done multiple engineering camps," Torm admits. "I've done GAMES camp three years now, and this is my first WYSE camp. So I've done robotics, aerospace, electrical, and then this camp is mechanical." Torm, who had actually attended the Electrical Engineering (GLEE) GAMES Camp the week before WYSE camp is "definitely leaning towards aero and mechanical."
She too believes WYSE camp is helping her to make a decision. "Yea, I think so," she admits, "since I didn't do a mechanical camp, so it's helping me see possibilities of what I could be doing if I choose this track."
Is she going to apply to Illinois? "Yea, definitely!" says Torm.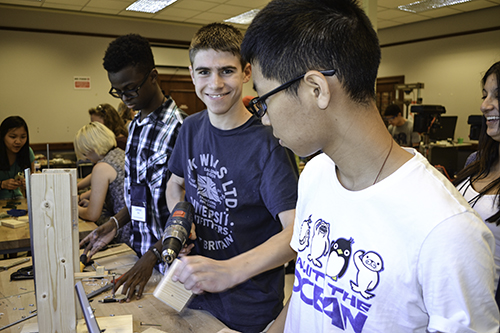 WYSE camper Dylan Treschel (center) and two teammates work on their 3D printer.
Two high school students from Highland Park, a suburb about 45 minutes north of Chicago, also say that the WYSE camp is helping them decide. Both were unsuccessful in getting into the camp last summer, and would also say it was well worth the wait. For example, Dylan Treschel, a rising senior, admits, "I applied last year, but I did not get in. I got lucky this year though."
Thinking about a career in engineering, Treschel says he's trying to decide which discipline. "I've been kind of focusing on either electrical, computer, or mechanical engineering. I'm kind of here to see whether I like electrical or mechanical engineering more."
WYSE camper Kyle Rabin works on his team's prosthetic device.
Another rising senior at Highland Park, Kyle Rabin also applied last year, but applied too late and didn't get in.
"This year I was fifth on the waitlist I believe, and I got in. So that was good."
His favorite part of the camp? Not having to worry about a grade!
"I'm really enjoying it so far," says Rabin. "I really enjoyed building a 3D printer, and I enjoy working with small groups, especially with these projects. Usually, when we do projects like this, it's in school, and you have to be stressed about the grade you're getting, but this is purely for fun, and you're just hanging out and doing cool things. It's fun!"
Pretty set on being an engineer, Rabin says the camp is "helping me make up my mind on what discipline I want to go into. Right now I'm looking at a pretty broad spectrum as far as aerospace, electrical, mechanical, computer… I really enjoy a lot of aspects of these different things. I enjoy circuit boards; I really enjoy programming; I really enjoy building things...it's helping me decide."
Illinois
grad students Lydia Bakalova (left) and Baigalmaa Batmunkh, who instructed WYSE campers.
Several of the staff members were also motivated by the desire to help the young people choose engineering as a career. For instance, MechSE grad student Lydia Bakalova wanted to help out with WYSE Camp to get them interested in engineering when they're younger.
"I wanted to kind of see how we can improve building engineering skills into students from an early age. And I think it's a good idea to start them from high school, then convince them that engineering is a super diverse field and they can do many different things. I'm really excited to see what they can come up with."
And Bakalova believes some of them might end up becoming engineers: "I think a lot of them have potential interest in doing that," she says, "and they seem to be very interested in what they can do in the future, after graduating."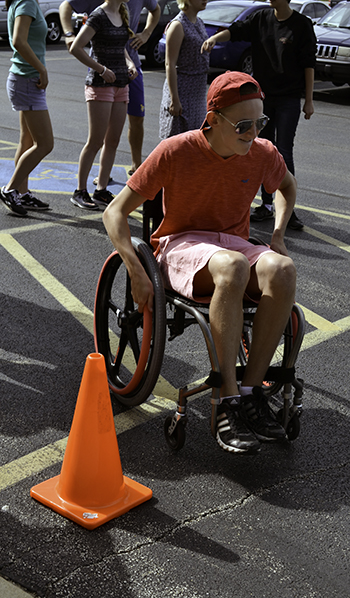 A camper tries to navigate around acone during a wheel chair relay.
Also helping out with WYSE was Baigalmaa Batmunkh, a second year Master's student from Industrial Systems Engineering. Because her research is somewhat related, she was recruited to help teach the CAD computer design session. "So I got very fascinated about the idea of teaching what I know so well to future engineers." She was also excited to "interact with students and help them learn about engineering skills."
How'd the students do? "They work very hard, and they are very motivated and creative," she explains. "So I am very fortunate to get involved with this summer camp."
Batmunkh, who is from Mongolia, might also have a hidden agenda—to learn all about running STEM camps. She says that back in her country, they don't have these kinds of science camps for high school students. And she hopes to someday host a similar camp for students in her own country .
"I want students in developing countries to have the same opportunity to learn and improve, and get a good education so that they can change their lives and change society as a whole," she admits. " really want that! One day I hope to come back to my country and work with students in underprivileged communities and then teach them science education."
She especially hopes to encourage girls to pursue a science education: "because in my country Mongolia, we don't have many female engineers. Even in leadership positions, there aren't many females. So I really want to use my education to encourage other girls to pursue an education in science, and make change in lives."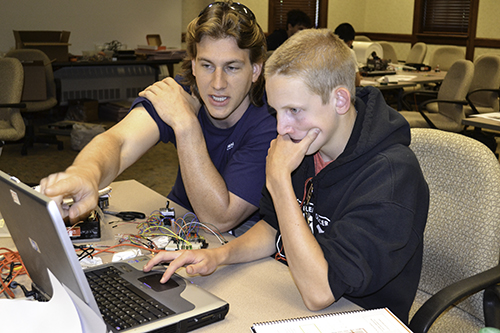 MechSE Ph.D. student Matt Milner works with a high school student during WYSE camp.
Another MechSE grad student, Matt Milner, says he did the camp because he gets a kick out of watching the students problem solve.
"I think it's a lot of fun to get out there and let them kind of create, and let them design something. Give them some ground rules, give them a problem to solve, and kind of see how their mind works and how they solve the problem. It's really interesting to see."
Milner also finds working with the camp rewarding in a couple of ways: "I think it's good to give back," he admits. He also finds it rewarding to help the students grapple with whether they want to go into engineering as a career, and, if so, which discipline.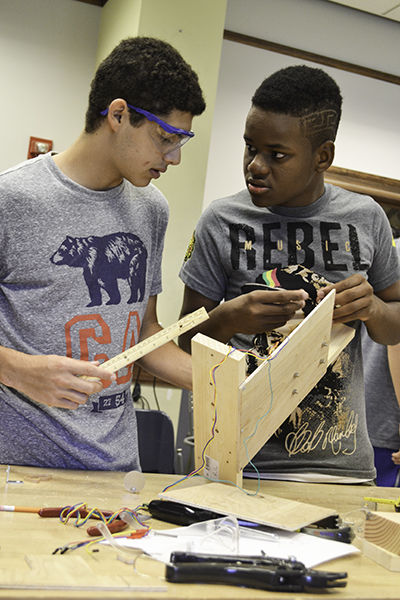 Two teammates work on the 3D printer they're designing.
"Hearing the things they're talking about: 'Do I want to be an engineer? Do I want to do this? Do I want to do mechanical? Do I want to do aerospace? Do I want to do electrical?' These are all the same types of things I thought about. So having gone through it a couple years ago, I can talk to them about what I've been through and show them how I got through figuring out those tough decisions. And maybe something I went through could impact them. They can say, 'He did that, and that's kind of how he figured it out; that's maybe what I'll do.'"
Did Milner see any engineers among the group? Oh, yes, definitely," he says. "I think absolutely every one of them could be an engineer."
Milner also admits that he and his cohorts were promoting Illinois.
"Oh yea, absolutely. Absolutely. You know anywhere they end up going, I think they'll be perfectly successful, and we really hope to have them here."
Milner, who "absolutely" intends to do the camp again next year, is already thinking about how to improve it. He says that every time he wears the cool WYSE WARS t-shirt (it had kind of a Star Wars theme) that participants wore on the final day of camp, it will remind him to plan how to make next year's camp better.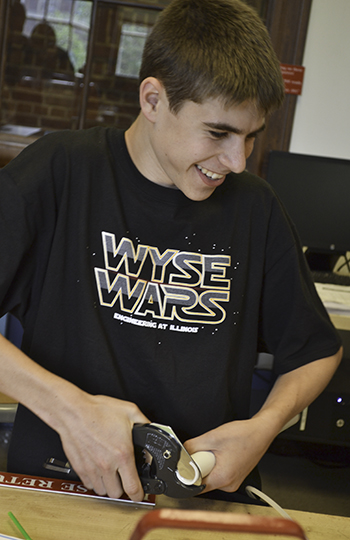 A WYSE camper works on his team's prosthetic device.
"I think it will bring back good memories and kind of solidify…I think it's a good way to be thinking, 'How can we get this better? How can we expand this? How can we bring in more students? What else can we critique and make this more interesting for students?'"
MechSE undergrad Abby Pakeltis, who helped witht the WYSE camp, also found it to be rewarding, and believes she actually saw some students discover their future careers:
"Each week, I watched as the students with a variety of experience in engineering participated in the activities. Whether the campers were familiar with certain topics or were learning them for the first time, they all spent the week realizing their passion for learning and creating. During the camps, I would ask the students if they knew what they wanted to design or develop as engineers. One camper talked to me about creating prosthetics, and I was then able to see him build an incredible prosthetic hand at camp. Many of them had a chance to build or experience these possible future careers."
---
Story and photographs by Elizabeth Innes, Communications Specialist, I-STEM Education Initiative.
More: 8-12 Outreach, MechSE, Summer Camp, WYSE, 2016
For additional I-STEM articles on 2016 engineering camps, please see: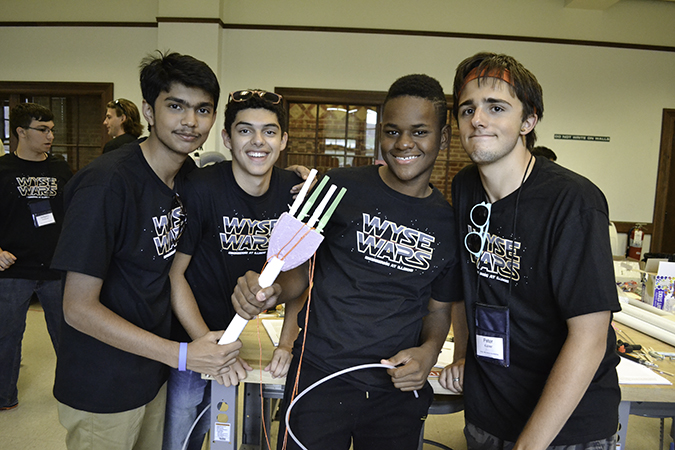 One team of WYSE Exploring Mechanical Engineering campers exhibit the prosthetic device they're designing.