At G-BAM GAMES Camp Girls Learn They Can Make a Difference Via Engineering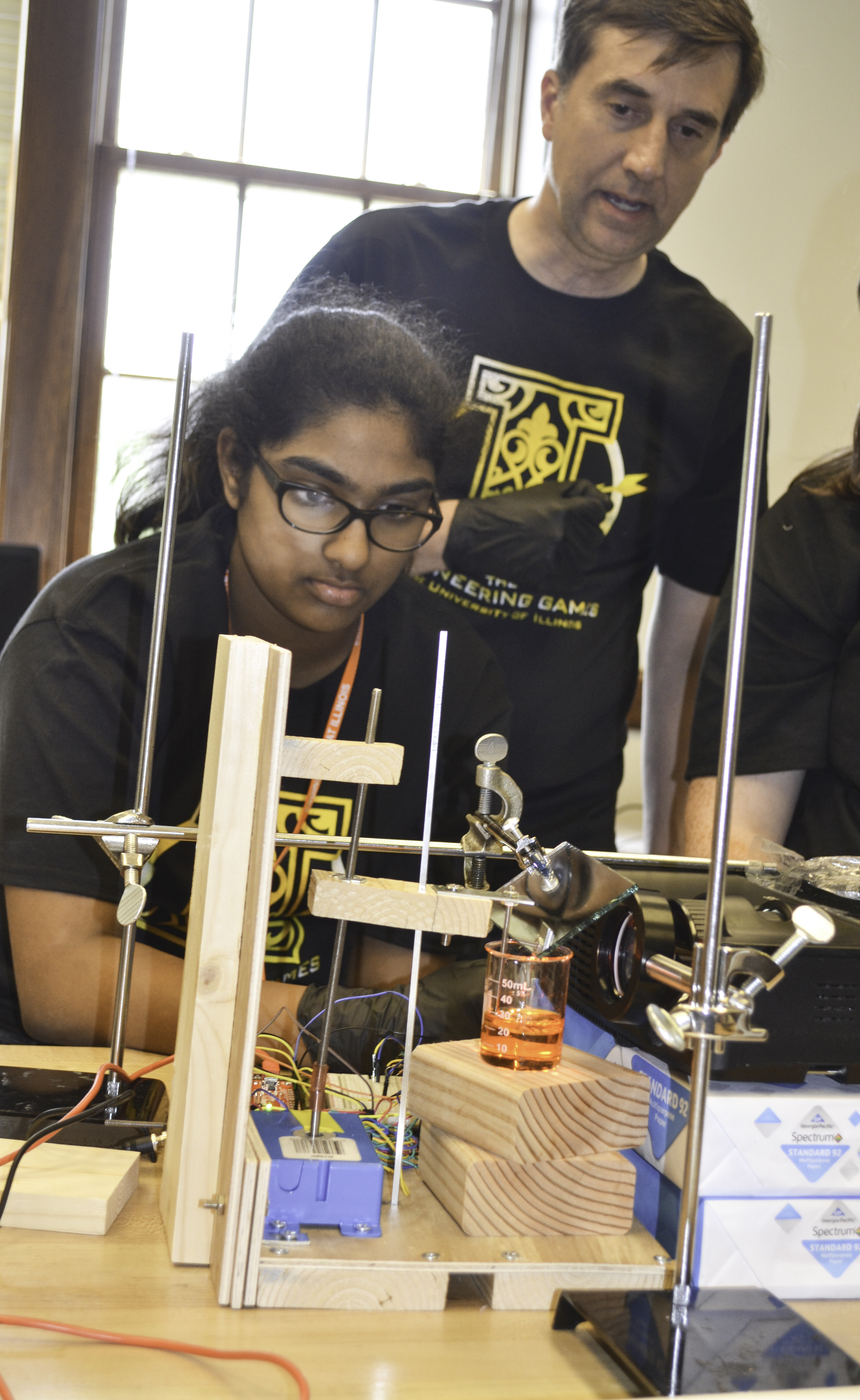 During G-BAM GAMES camp, a camper and co-coordinator Joe Muskin watch as the 3D printer her team designed prints an object.
July 22, 2016
Many of today's young people want careers that allow them to make a difference in other people's lives.  During the 2016 G-BAM (Girls Building Awesome Machines) G.A.M.E.S. (Girls' Adventures in Mathematics, Engineering, and Science) camp, the 24 high school girls who participated from June 19th–25th not only did high-tech, hands-on activities, such as building a 3D printer and using CAD to design and 3D print a key chain, and fun stuff, such as writing a program for a robot, then watching it do the dance moves they had designed. During other activities, like building a prosthetic device and a field trip to Intelliwheels (a start-up which designs wheels for wheelchairs), they discovered that a career in engineering could allow them to impact others' lives...for the better.
For MechSE's 2016 G-BAM GAMES camp, co-directors Associate Professor Matt West, Assistant Professor Elif Ertekin, and Education Coordinator Joe Muskin revamped the curriculum, implementing a number of exciting new activities. For instance, for the main project of the week, students designed then built their own 3D printers...then were actually able to print tiny models on them.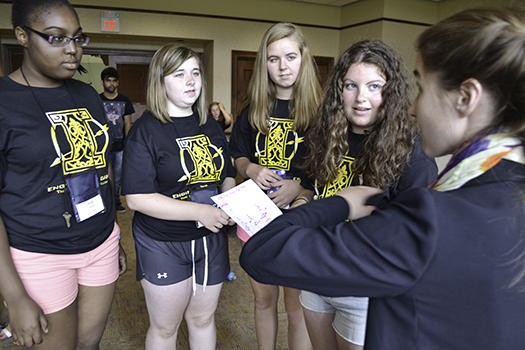 Professor Amy LaViers (right) goes over a team of campers' choreography for the robot.
One new activity that was a hit with the participants (and this reporter) was led by MechSE Assistant Professor Amy LaViers and several students from her RAD Lab (Robotics, Automation, and Dance) which uses dance to design systems that control robots. During this activity, first the teams of girls choreographed a dance move routine, then the routine was programmed into the robot. At the end of the session, amidst lots of smiles and spontaneous laughter, each team gathered around the robot and did the dance moves with it.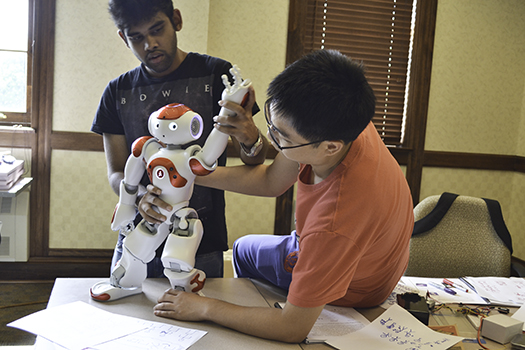 Two of LaViers' grad students work with the RAD Lab's robot.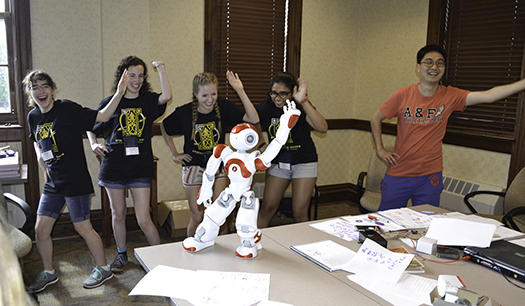 A team of girls, along with one of
LaViers'
grad students (right) performs the moves they choreographed along with the RAD Lab's robot.
On a more serious note, to remind the girls of the important role engineering can play in making a difference in people's lives, students were given a scenario about a young female amputee and asked to custom design a prosthetic device for her.
In addition, students visited a cleanroom, made a key chain they had designed with CAD (computer-aided design), and learned about copper tape and programming arduinos, material testing, and microfluidics.
Students also took a couple of relevant field trips to Illinois' Research Park to visit Caterpillar, where they did hands-on activities and got some fun freebies—baseball caps with the Caterpillar logo. They also paid a visit to a new startup, Intelliwheels, whose co-founder and CEO Scott Daigle got both his BS and MS degrees at Illinois. While on campus, he designed a wheelchair with gear-shifting technology similar to a bicycle, and now his company, IntelliWheels, designs wheels to improve the efficiency and usability of manual wheelchairs. Daigle introduced visiting students to his engineering philosophy which involves really listening to clients in order to create products to help solve their specific problems.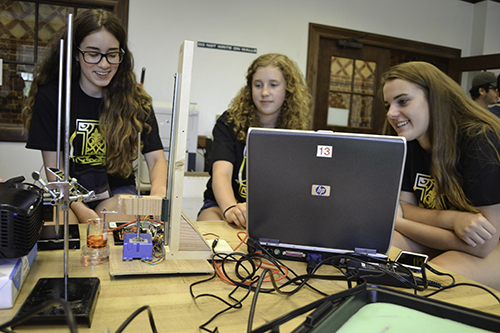 A team of girls waits for their 3D printer to print out their image.
One "hands-on" activity campers enjoyed while at Intelliwheels was a wheel chair relay involving two different wheelchairs—a low-end wheelchair and a high-end one featuring some of Intelliwheels' high-tech wheels. While lots of fun, students also learned some things, as they not only experienced the differences in the usability of different types of chairs, but also challenges persons in wheelchairs regularly encounter, such as uneven pavement, ramps, and how to navigate differences in height between streets and sidewalks—exactly the kinds of things an engineer would need to consider when designing a product that would meet the client's needs.
Most of the 2016 G-BAM GAMES campers, who came from Illinois, with a few from other states, participated in the camp because they were interested in engineering. For instance, rising senior Carolyn Simon, from Highland Park, Illinois, came to camp because she's interested in finding out more about Illinois.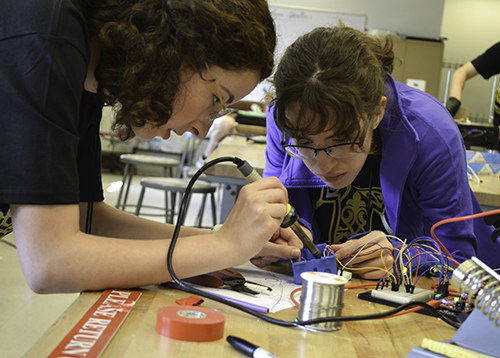 Carolyn Simon and Bryce Marin work on one of the components of their team's 3D printer.
"Well, my parents heard about it because we were interested in the University of Illinois, and it sounded like fun."
"Does Simon think she'll become an engineer? "Yea, I think so," she says.
Bryce Marin, another rising senior who goes to school at MICDS (Mary Institute and St. Louis Country Day School) in Missouri, says she too will probably become an engineer. Will she choose mechanical engineering? "Probably, I guess," she says. "I'm keeping my options open, but it seems really fun so far." 
Marin says her favorite part was the biomechanical activities, "Except the coding part was pretty fun, too, and building the 3D printer. So yea, they're both fields of mechanical engineering."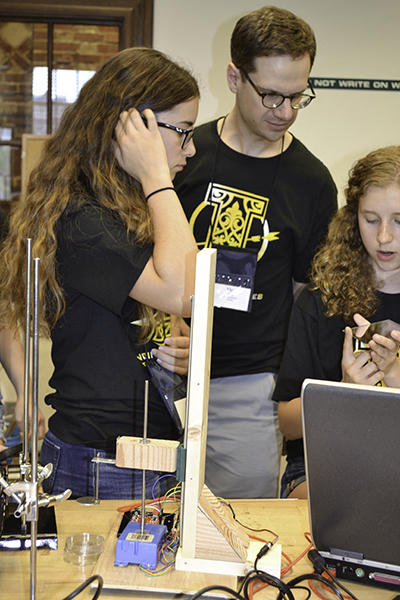 G-BAM co-coordinator Matt West (center) interacts with a group of students building their 3D printer.
While the campers might hope that they've got the right stuff to one day become engineers, co-coordinator Matt West, who knows what it takes to become an excellent engineering student, says he definitely saw some future engineers in this year's crop of campers:
"We have seen a lot of good creative thinking, really good problem solving," he acknowledges. "I've seen people really excited about the idea of doing engineering, and using engineering to help people."
West explains that that aspect of engineering, being able to help people, was really important to the G-BAM campers.
"A message that really resonates with a lot of the girls is being able to get out there and actually make a difference by building new things, solving things for people."
He goes on to describe the field trip earlier in the week to Intelliwheels. "That story, I think, really resonated with the girls," he adds. "So if you want to actually help somebody who is disabled, for example, with engineering you can actually make a difference in their life."
West also calls the new 3D printing activity "a really nice and noble project…Very slow, and they can print very small things," he qualifies. "But to go from nothing to a functional 3D printer is astounding. Absolutely."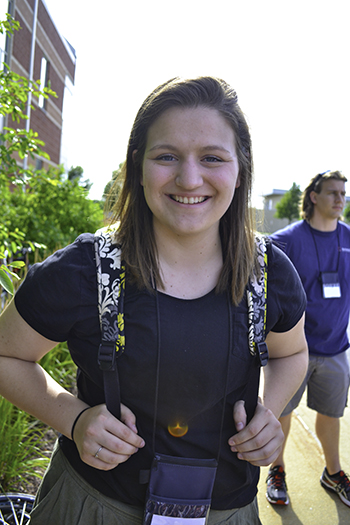 Abby Pakeltis enjoying the wheelchair relay at Intelliwheels.
West was pleased to have Illinois undergrad and GAMES camp alumn Abby Pakeltis serve as a counselor for both MechSE's GAMES and WYSE camps. Pakeltis was excited about participating in the camps because of the impact GAMES camp had on her when she participated in high school. In fact, it had such a great impact that she is currently an engineering student in Mechanical Science and Engineering. So she hopes to play a small part in the camps having that same kind of impact on this year's crop of campers.
"I wanted to be a counselor for the camps this summer because I have experienced the fun and excitement of GAMES camp when I was in high school. Now, as a student at UIUC, I still connect with the counselors that I had as a camper. Having real engineering students to ask questions of throughout the week and simply have fun with is a unique opportunity that these camps provide. Because I made friendships with my counselors that continued into college, I was eager to come back to camp as a counselor for this year's campers."
As a GAMES alumnus, what was it like being on the counselor end of things?
Pakeltis reports that "Being the counselor for these camps gave me the chance to see the campers find their passion in engineering with activities that I participated in as a camper. I loved watching the campers become so excited to participate in these activities." She found it particularly rewarding to "be able to relate to them stories of when I went to camp."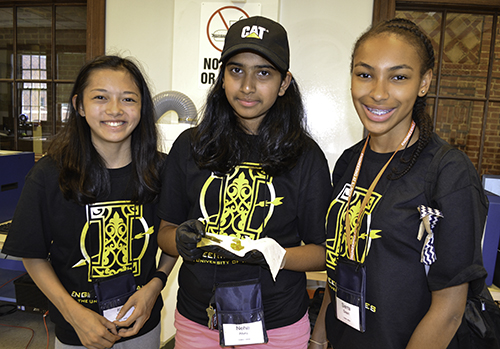 A team of girls proudly display the image their 3D printer fabricated.
Pakeltis was particularly impressed by the campers' dedication and drive to finish their projects.
"Each day, the campers did not want to leave their projects. They would have been happy to keep building and perfecting their machines all day—which made me smile."
Pakeltis believes the camps allowed students to do activities related to what might become their future careers: "Each week, I watched as the students with a variety of experience in engineering participated in the activities. Whether the campers were familiar with certain topics or were learning them for the first time, they all spent the week realizing their passion for learning and creating. During the camps, I would ask the students if they knew what they wanted to design or develop as engineers…Many of them had a chance to build or experience these possible future careers."
Story and photographs by Elizabeth Innes, Communications Specialist, I-STEM Education Initiative.
More: 8-12 Outreach, GAMES, G-BAM, MechSE, Summer Camp, Women in STEM, 2016
For additional I-STEM articles on 2016 engineering camps, please see: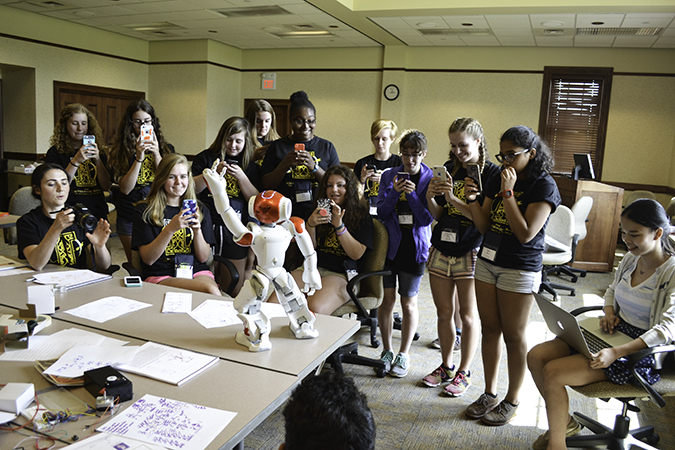 G-BAM campers and one of Professor
LaViers
' grad students (right) enjoy watching the robot perform dance moves the campers coreographed.