Stories about...WYSE
"Scientists in textbooks and on TV don't look like me." "No one in my family has done it." "Math is hard, and you can't do science if you're not good at math." "Only A+ students go to STEM." "The 'cool' kids don't go to STEM." "Math is for 'nerds.'" "A math degree won't pay the bills." "I don't want to work in a lab." "I'll need to go to grad school and that means a lot of student debt." "STEM degrees are more expensive." "I'll never get into X University." "I'll never get a scholarship." – Rafael Tinoco Lopez on misconceptions about STEM.
December 14, 2020
While young African-American, Latino/a, and Indigenous students might face a lot of real challenges in regards to choosing careers in STEM, according to Civil Engineering Assistant Professor Rafael Tinoco Lopez, some misconceptions concerning representation, skills, social life, future perspectives, and resources could be contributing to their not considering STEM careers. To rectify this, he and numerous other folks from both the University and the community are taking part in IMAGINE (Identifying Misconceptions of Access of Underrepresented Groups in Engineering) Family STEM Nights. Their goal? To foster inclusion of underrepresented students in engineering by helping middle grade students and their families learn more about engineering, especially specific disciplines. Plus, IMAGINE isn't just focusing on familiarizing students with what engineering is. Planners hope to address misconceptions about skills needed to be an engineer; foster discussion regarding issues of equity, access, and representation in engineering; and talk about resources available for first-time college students.
---
July 17, 2020
While Illinois' many STEM residential summer camps were cancelled this summer due to COVID-19, the many high schoolers who had signed up prior to the pandemic, plus a few minority students who were recruited, were still able to learn about the different engineering disciplines and what being an engineer might be like via Grainger College of Engineering's "What It Takes" Virtual Summer Camp.
---
July 31, 2019
Eighteen female high school students from Illinois, and even a couple from the east coast (New Jersey and Connecticut) were on campus the week of July 7–13 to participate in the 2019 edition of Girls Learn About Materials (GLAM). In addition to learning about a variety of different materials, teams of students completed design projects targeting specific materials, during which they learned more about their material and even designed a prototype using it. They also honed their presentation skills by creating and presenting a poster at the end-of-the-week poster session. A final goal of the camp was to foster interactions between the campers and female students majoring in Materials Science.
---
June 24, 2019
Electrical and Computer Engineering's (ECE) GLEE camp recently celebrated its tenth successful year of operation. Familiar faces, such as ECE Professor Lynford Goddard and a team of ECE students and faculty, returned to serve as instructors for the 2019 camp. Previously, the camp was exclusively for girls, however, this year, GLEE opened up and welcomed students of all genders. Nineteen girls and two boys from east-central Illinois, the Chicago area, and even two from out of state experienced a high-quality program with exposure to what studying Electrical and Computer Engineering at Illinois is like.
---
July 6, 2018
Exactly what is nuclear engineering? It has to do with power plants, right? The 18 high school students, rising juniors and seniors mostly from the Chicagoland area, who were on campus the week of June 25–29th for the first-ever Exploring NPRE camp discovered that nuclear power is just one emphasis of NPRE (the Department of Nuclear, Plasma, and Radiological Engineering). And the high schoolers who attended NPRE's week-long, residential camp not only learned about nuclear engineering, but plasma and radiological engineering as well, and how they impact our lives. Plus, they learned a bit about Illinois, and what it might be like to be an engineering student on campus.
---
May 17, 2017
High school (even middle school) students looking for something fun to do once school is out need look no further than the numerous Engineering camps being offered at Illinois this summer. Most emphasize a specific engineering discipline, such as mechanical or materials engineering, while a few introduce the students to several disciplines. Some are for girls only; others are co-ed. Some are designed with specific age groups in mind, such as younger students or older ones who are closer to graduation and grappling with choosing their careers. However, despite their differences, they're all alike in that they use fun demos, presentations, and hands-on activities to expose participants to engineering, and they give students a taste of what college life at Illinois is like.
FULL STORY
---
Rosado Continues to Improve Engineering Camps, Grow the STEM Pipeline to Illinois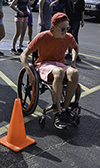 July 27, 2016
Sahid Rosado is a STEM outreach force to be reckoned with on the University of Illinois campus. After starting out as just an instructor for an Environmental Engineering G.A.M.E.S. camp session a few years ago, she is now the Outreach Coordinator for the College of Engineering and is in the process of not just improving but revolutionizing Illinois' Engineering camps via the addition of middle school students as she seeks to grow the STEM pipeline to the University.
FULL STORY
---
MechSE's WYSE Camp Helps High School Students Explore Mechanical Engineering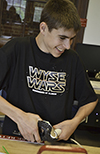 July 19, 2016
WYSE campers design and build a 3D printer. Many of the 24 high school students who participated in the 2016 Exploring Mechanical Engineering camp held June 26–July 2, are pretty much set on careers in engineering… They're just trying to figure out in which discipline. And MechSE's (Mechanical Science and Engineering's) WYSE camp appears to have the potential to assist them in their decision-making process.For one, unlike Illinois' other WYSE (Worldwide Youth in Science and Engineering) camps, most of which offer a brief introduction to a variety of engineering disciplines, MechSE's spends the entire week exposing the campers to some of the fun stuff in mechanical engineering—from building their own 3D printer to designing a prosthetic device—and helping them learn how a career in engineering might allow them to make a difference in other people's lives.
---
Lt. Governor Campus Visit Aimed at Increasing Diversity in the STEM Pipeline
September 18, 2015
When Lt. Governor Evelyn Sanguinetti visited I-STEM on Wednesday, September 16th, she met with a number of like-minded Illinois folk regarding increasing the number of underrepresented students in STEM. During the dialogue, administrators, educators, project directors, and students alike shared their passion for STEM education and outreach, conveying this message to the Lt. Governor: the STEM pipeline at Illinois is alive and well.
FULL STORY
---
WYSE Camps Treat Guys and Gals to an Engineering Smorgasbord
July 27, 2015
Like Illinois' cutting-edge GAMES camps, the five summer 2015 WYSE (Worldwide Youth in Science and Engineering) camps are designed to show high school students how fun and exciting engineering can be...and to encourage them to choose it as a career. What sets WYSE apart from GAMES camps, which are for girls only, is that it exposes guys to engineering too. What also sets these camps apart is that while two focus on specific disciplines (like GAMES), the other three are designed to give students a taste of all of the different types of engineering available—kind of like an engineering smorgasbord.
---
Rosado's Summer 2015 Camps Expose Young People to Engineering...and Illinois
July 1, 2015
Sahid Rosado never dreamed when she signed on to teach an Environmental Engineering G.A.M.E.S. camp session a few years ago that she would end up where she is today—the reigning Queen of Illinois' Engineering camps. As Outreach Coordinator for the College of Engineering, Rosado is ultimately responsible for 356 campers this summer—and she loves it.
---