Engineering for Social Justice Scholars Program Helps Students Rethink Engineering's Role in Society
November 10, 2016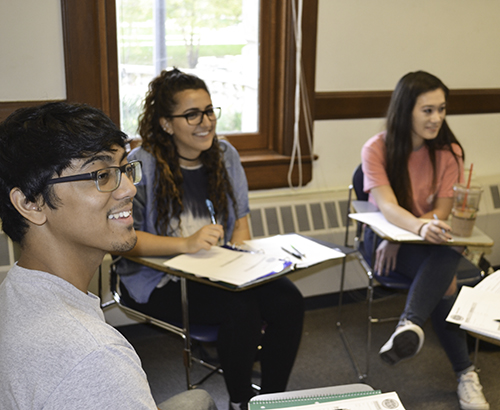 Left to right: ESJ students Jake Navarez, Angel Loizzo, and Kendall Furbee enjoy the class activity while learning, as they play "The Last Straw! A Board Game on the Social Determinants of Health."
Are you passionate about righting historical inequities in our society? Do you have a penchant for STEM outreach to multi-ethnic middle-schoolers? For 18 engineering undergrads, the answer  to both of these questions was a resounding "Yes!" So this fall, they signed up for Engineering's new, two-semester-long Engineering for Social Justice (ESJ) Scholars Program.
The new program has a dual purpose. One, it's designed to help Engineering students who don't believe social justice is an engineering issue to "rethink the role engineers play in society." Two, it's meant to provide additional mentors to help with ICANEXSEL (Illinois-ChiS&E Alliance for Nurturing Excellence in STEM Education Leadership), an outreach to diverse, Chicago Public School (CPS) middle school students.
The course was created by Engineering's Outreach Coordinator, Sahid Rosado, and Valeri Werpetinski, Co-Director of Learning in Community (LINC), Engineering's service learning program. Rosado acknowledges that "near and dear to her heart," is increasing the number of students of ethnicity in STEM. Werpetinski helps to develop courses where students learn about a social issue someplace in the world, such as lack of access to clean water, come up with a design, then actually travel there to resolve the issue.
"We're going to do something very similar," explains Rosado, "but instead of traveling to Uganda, [students are] traveling to Chicago."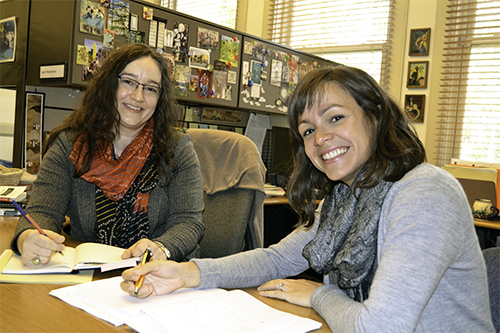 ENG 398 Instructors Valerie Werpetinski and Sahid Rosado meet to plan the curriculua for the ESJ Scholars spring 2017 class.
The course Rosado and Werpetinski developed for the program, ENG 398, is a year-long, two- semester learning experience that discusses social justice issues then encourages students to find practical solutions to solve them.
For example, in fall 2016, the introductory "Social Justice and STEM Education" course is being piloted. The course addresses different issues within the social context that the CPS kids are coming from. "Of course, we've heard how the Chicago Public School District has been historically underserved and underfunded," explains Rosado. "So we want to talk about those issues—why those issues matter."
Issues being discussed include: "Why do we have huge disparities when it comes to ethnic or racial disparities in STEM?" and "Why is it a problem?" "So kind of unpacking those issues," says Rosado. She adds that it's not an isolated social issue, but it's pervasive around the country: "So not only in the Chicago area, but in the U.S., because it's a national problem. It's not just here."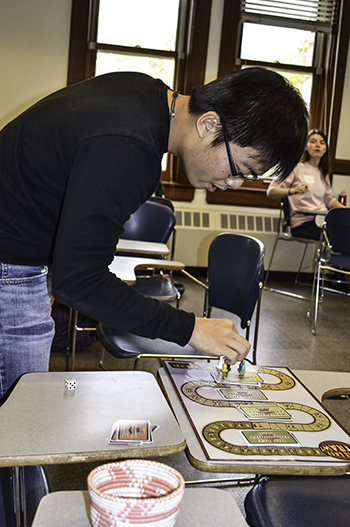 Siu Fung (Joseph) Tsang moves his team's player during the game.
According to Werpetinski, there's a sort of disconnect when it comes to STEM fields: "People think that social justice is just for other disciplines, that it doesn't belong in the STEM fields."
Werpetinski indicates that even for outreach-minded students, one way the disconnect plays out is through their compartmentalizing outreach vs. their own college experience studying engineering. A student says, "Hey, I'm going to go and do an outreach program and work in an under-resourced community or school with under-represented students in the STEM fields," she explains, "and then I'm going to come back to the College and my campus life, and I'm back into a setting where meritocracy is the norm, and I am unreflective on my own privileged status and how I got here."
So to help students more fully grasp their privileged status and inequities in our society, one class period students played a board game, "The Last Straw! A Board Game on the Social Determinants of Health."
The class was divided into several groups, with each assigned a "player" of a specific gender, socio-economic status, and race. Characters included a privileged white, upper-class male; a lower-class male living in the Appalchias; a lower-class male person of color; a lower-class woman of ethnicity, etc.
As the game progressed, characters moved from childhood, to adolescence, to adulthood, and finally to old age, gaining or losing "Vitality Chips" depending on personal or community circumstances, with the "last straw" being whatever caused the character's death. The player with the most "Vitalilty Chips" at the end of the game, won.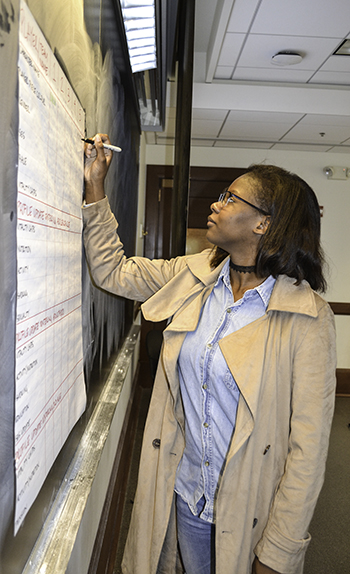 ESJ Scholar Mitsuko (Hope) Ihaza records data related to the health of her group's character during "The Last Straw" game.
Who won the game? The extremely wealthy White, upperclass male, of course. The first character to kick the bucket and thus be out of the game was the Chinese male with the lowest socioeconomic status—under the poverty line—who didn't even make it to adulthood.
Because the class is essentially an outreach program, they also addressed:
What makes an outreach program successful?  
Why is it so important to have mentors involved in the program?
Why is it important that we have them working in small groups?
"So understanding the reasoning behind the model we've decided to go with," adds Rosado.
Since a key component of LINC is students being part of the solution to solve the issue they're addressing, in a crucial second piece of the program, ESJ scholars not only learn about social injustice and inequities in our society, but address them. So in fall 16, ENG 398 undergrads are serving as mentors for ICANEXSEL.
ICANEXSEL is comprised of folks from two University of Illinois campuses, Urbana-Champaign (Illinois) and Chicago (UIC), who are partnering with the Chicago Pre-College Science and Engineering Program (ChiS&E). The outreach offers STEM activities to CPS students on consecutive Saturdays in both the fall and the spring semesters. Comprised of engaging math and science lessons, including hands-on activities and experiments, activities are held primarily in Chicago at UIC, with sessions being jointly taught by both Illinois and UIC personnel and CPS teachers. The final Saturday session each semester, CPS students and their parents travel south of I-80 to experience Illinois' campus for additional STEM activities and campus tours.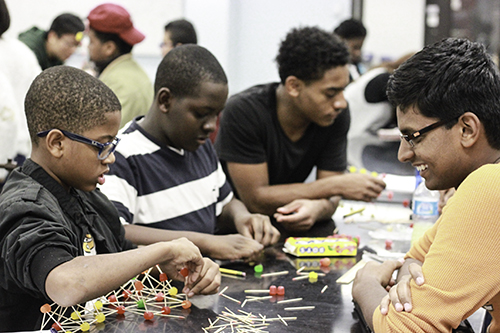 An ESJ student (right) enjoys watching two CPS students (left) build toothpick gumdrop structures during the ICANEXSEL outreach.
Begun in 2014 with sixth graders, the program has been expanding incrementally—adding a grade each year: 7th graders were added to the mix in fall 2016; 8th graders in fall 2016. The idea is to expose youngsters to STEM and engineering concepts in middle school then nurture them along the STEM pipeline through high school to produce a promising batch of STEM-career-ready students. Plus, when it's time to pick a college, they will hopefully consider and matriculate to either of the two campuses, since they will already be familiar with and comfortable with both.
Since the ESJ scholars needed a service project, and ICANEXSEL needed more mentors with the addition of 8th graders, it was a win-win for both programs. Plus, it's hoped that while providing quality STEM education activities for the Chicago youth, ESJ scholars begin to make a connection between disparities that exist regarding access to the kinds of resources they themselves might have had (and taken for granted) that helped steer them into STEM.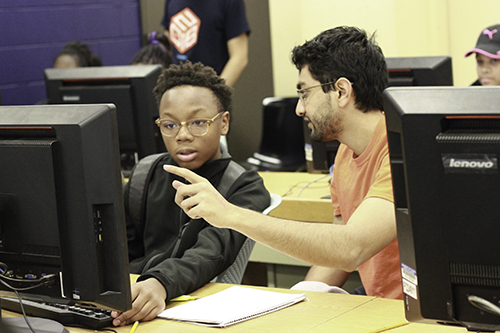 Illinois
ESJ scholar Joydeep Ganguly (right) interacts with a CPS middle school student during a UIC Saturday session. (Photo courtesy of Lynette Lin.)
So the goal, says Werpetinski, is to use the outreach as a way to teach Illinois students about social inequities: To have students who are engaging with youth, and they're doing outreach, but we're adding this critical perspective, asking them critical questions, getting them to think about, 'Well, how does that relate to your experiences as a student?'
While the ESJ scholars are learning about social inequities, they are also helping to provide STEM resources to middle school students who are at a key juncture in regards to STEM exposure.
"Access to an education, access to a rigorous curriculum, access to resources— because that plays a huge role in a middle schooler's life and decision to pursue STEM," says Rosado. "If we never had a student see math in a different way, or play around with science topics and things, that student might very likely not choose STEM."
Rosado goes on to explain the huge role that that lack of access plays in this. "We do want to talk about why that's important, and why it's important for us to do something about it. Because this isn't something that's just been happening in the last few years, it's historical. We also want to address why that lack of access happens. Is it a coincidence, or not?"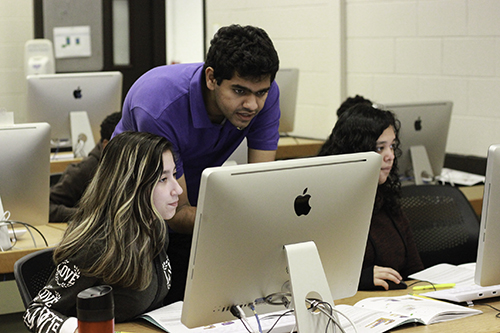 Illinois
ESJ scholar Mrinaal Mittal (center) works with CPS students during an activity at one of the ICANEXSEL Saturday outreach events at UIC. (Photo courtesy of Lynette Lin.)
Because the program spans two semesters, the second course, "Leadership in Engineering for Social Justice," is set for spring 2017.  "That's really when we kind of let the students run with it," Rosado says. Students are to take everything they learned in the fall course and in Chicago and replicate the model locally. Also, in Chicago, teachers taught the lessons, but in the second semester, it's up to the students; that's the leadership component.
Rosado says another key strategy for the spring is to have students address issues happening on campus:
"I feel like this last year has been crazy in terms of the Black Lives Matter movement…So we also want this cohort of students to address an issue that's happening on campus. We're going to leave it up to them to choose what they feel passionate about...And they will have to come up with programming to address it."
She says one idea might be to do a speaker series open to the entire campus to talk about inclusion. "I think this a chance for them, and this is a perfect cohort for them to do that. Because they've been learning about gaps in STEM…so I think they're are the perfect group of students to something about it.
Rosado believes a course addressing social justice is very timely given the number of incidents over the past year regarding race.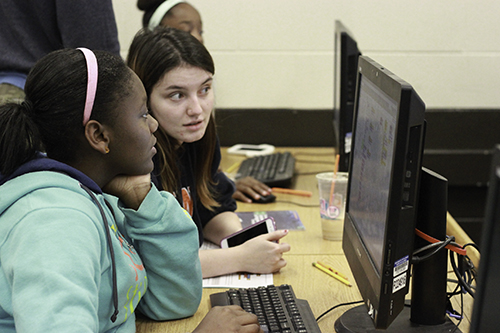 Illinois
ESJ scholar Cheyenne Syring (right) works with a CPS student during one an ICANEXSEL Saturday outreach event at UIC. (Photo courtesy of Lynette Lin.)
'It's a good thing that we're doing this course," Rosado acknowledges, "because we can talk about these things. I feel like there's kind of a stigma, that we don't talk about these things, or these things are sensitive. That's not true. It's the complete opposite, if anything. It's that we have to be talking about these issues."
Werpetinski is hopeful that by discussing social justice issues, this group of students experience a paradigm shift that has a positive impact for years to come:
It's that whole trajectory," she says, "understanding where they came from in terms of their educational experiences and being part of efforts that are trying to address that with young people; thinking about their role in a more critical fashion while they're here at the University, and hopefully this also will influence some of their decision-making in their future careers or when they're in positions of power, how can they actually advocate for social justice and have people more aware of those things in industry.
---
For additional related I-STEM web articles, see:
Story by Elizabeth Innes, Communications Specialist, I-STEM Education Initiative. Photos by Elizabeth Innes, unless noted otherwise.
More: K-6 Outreach, 6-8 Outreach, Chicago Public Schools, ChiS&E, Underserved Minorities, 2016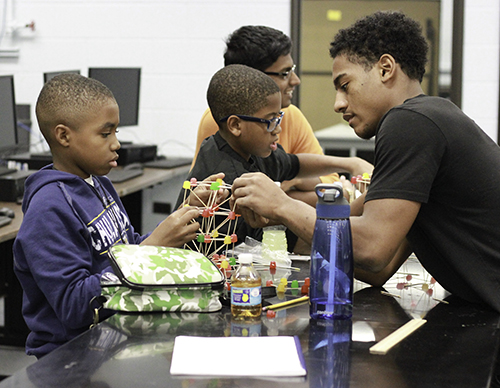 Illinois
ESJ scholar Amire Woolfolk (right) helps a young CPS student with his toothpick-gumdrop structure during a Saturday session at UIC as part of the ICANEXSEL outreach. (Photo courtesy of Lynette Lin.)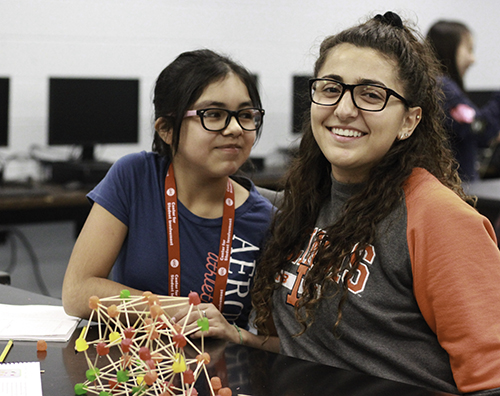 Illinois
ESJ scholar Angel Loizzo (right) works with a CPS student on her toothpick-gumdrop structure during a Saturday session at UIC. (Photo courtesy of Lynette Lin.)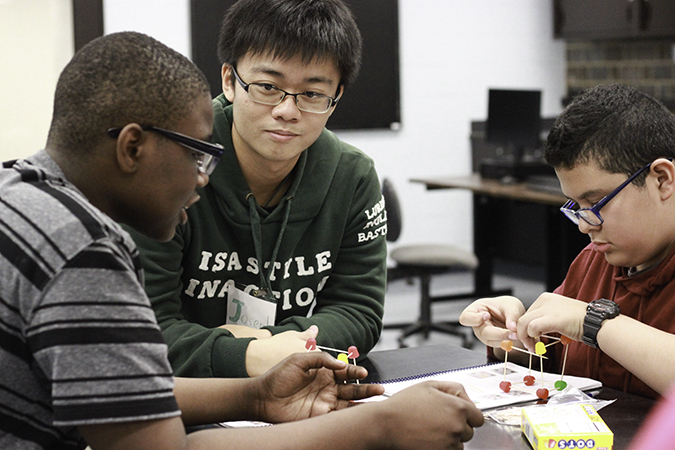 ESJ scholar works with CPS eighth graders on a hands-on engineering activity building a toothpick-gumdrop structure during a Saturday session at UIC. (Photo courtesy of Lynette Lin.)