Illinois Students Help Youngsters Learn Science, Have Fun at Orpheum's Spooktacular
November 3, 2016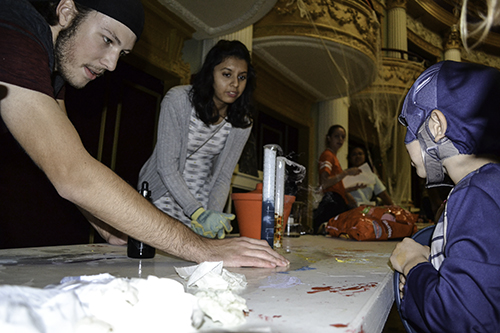 REACT members Kevin Stehlik and Dhruvi Shah do a chemistry experiment for a local youngster at the Orpheum's Spooktacular.
Decked out in their Halloween costumes, a number of local youngsters and their folks showed up for some pre-Halloween fun at Spooktacular, an event held at the Orpheum Children's Science Museum on Saturday, October 29th. While the youngsters appreciated getting to wear their costumes and, of course, access to the ubiquitous Halloween candy which was liberally sprinkled around throughout the museum, they also had fun learning about science and interacting with Illinois students who were present to make the day special.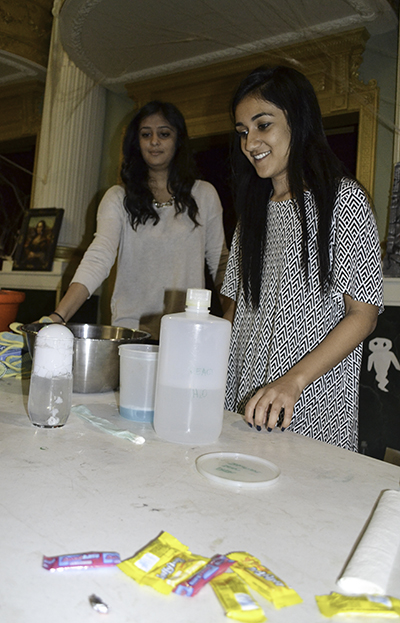 REACT member Ankita Datta (right) enjoys the Crystal Ball activity.
Adding to the fun were a number of REACT (Reaching and Educating America's Chemists of Tomorrow) students, who were on hand to share some chemistry. The lineup of ooky, spooky hands-on activities kids could do were:
Frankenstein's Hand
Spooky Lava Lamps
Dry Ice Crystal Ball
Dry Ice Bubbling Acid
Slime
Oobleck
Spooky Color-Changing Milk
The REACT students not only shared their passion for their field with the youngsters, but they had a blast doing it. For instance, Dhruvi Shah, a freshman in civil engineering who helped with the Dry Ice Bubbling Acid activity, says,
"I think the kids had a lot of fun, and I think (hope) at least a few were inspired by how cool science can be and start thinking about going into STEM when they grow up."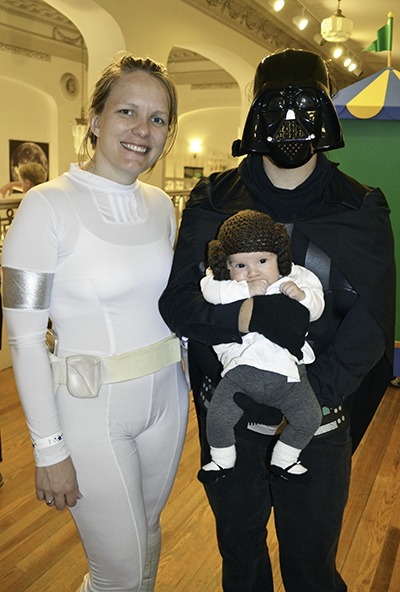 Probably the youngest visitor to attend the Spooktacular, a young "Princess Leia," accompanied by her mom and dad, also sporting Star Wars costumes, gets some early exposure to STEM.
Performing the Dry Ice Crystal Ball experiment for visitors was biology freshman Ankita Datta, who says she got involved with REACT because she loved what the organization had to offer.
"I love children and am always looking for to the opportunity to spread my knowledge on to others because I know it can make a difference in their lives," Datta explains regarding her participation in Spooktacular. "I think this event influenced children to be more interested in science by triggering a curious response of wanting to know more about how the universe works."
Chemical Engineering freshman Jacob Leicht did the experiment called "Frankenstein's Hand," which mixed baking soda and vinegar to produce carbon dioxide, thus making the glove expand.
Leicht shares why he got  involved with REACT: "Because I love teaching chemistry to kids." Another bonus of joining the program, according to Leicht, was, "I can use it to count a chemistry course for honors credit."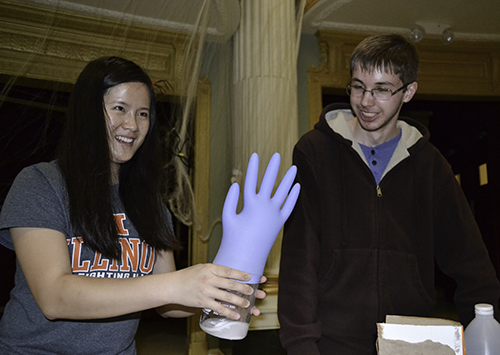 Left to right: REACT members Shuyue Zhang and Jacob Leicht show visitors "Frankenstein's Hand," an experiment done with bakiing soda and vinegar to produce carbon dioxide, thus making Frankenstein's glove "magically" expand.
While he says some of the children were probably too young to fully understand what was going on, Leicht believes others actually got something out of it.
"I was surprised at how much enthusiasm and knowledge they had about the chemistry, so they enjoyed seeing it in action," he admits. "Who knows, maybe even a few actually learned something new about chemistry."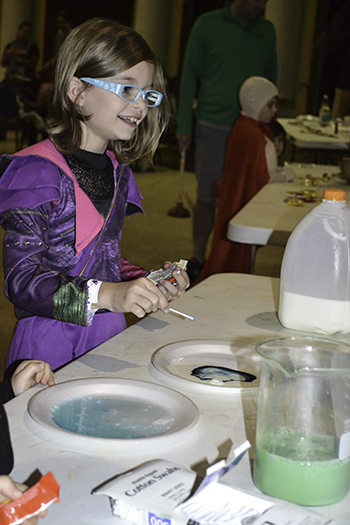 A local youngster prepares to drop dish detergent into a plate of milk to watch the diffusioin of the food coloring.
Leicht's partner at the Frankenstein's Hand experiment was Shuyue Zhang, a freshman in chemical engineering. Zhang participated in the event because she loves outreach. "I have been always engaged in all kinds of volunteering activities in high school, so I just wanted to complete the REACT program as a way to volunteer."
Zhang believes the event helped pique some of the youngster's interest in chemistry:
"I personally really enjoyed seeing how surprised and happy the kids were when they saw the gas filling the glove. So I think doing the experiment, particularly on a Halloween weekend, will make them to be more interested in chemistry and to start to notice science can be simple and can be everywhere in our daily lives."
Also helping with the day's festivities were a number of Illinois students from Human Development and Family Studies who exhibited their artistic skills at the very popular "Face Painting" station.
Kaitlyn Sebastian, a freshman in Human Development and Family Studies participated in the Spooktacular because it was a volunteer opportunity provided by her major; however, she indicates that she also thought it would be fun. "I specifically chose the Orpheum event because I knew it would include a ton of fun interaction with children in all kinds of cute costumes," she admits.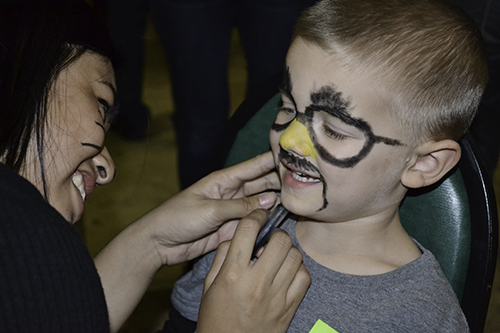 Kaitlyn Sebastian, a freshman in Human Development and Family Studies, paints the face of a local youngster.
Part of the facepainting team, Sebastian appreciated that the event was not only fun for families, but educational too.
"I think the Halloween Event at the Orpheum Museum was a great opportunity for families to dress up and do fun, Halloween-themed activities together. The chemistry presentation was a very cool and, most importantly, educational twist to the event for the kids to enjoy!"
A local grandmother explains why she brought her four grandchildren to the event.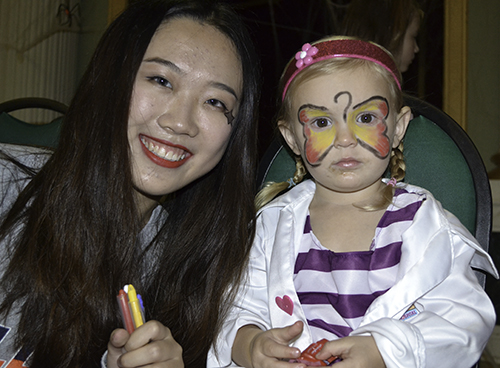 Yingjia Huang, another freshman in Human Development and Family Studies, poses with a local youngster whose face she has just painted.
"The Spooktacular was a win-win," she explains. "It was both fun and educational. They got to wear costumes, get their faces painted, and eat candy, all while learning about science. It's my goal to expose them to and get them excited about STEM as much as possible while they're young. Plus, I intend to continue doing so as they grow. I want them to be comfortable with it and feel it's something they can do when they get older. I'd like it to be a viable option for them later on when they're thinking about careers."
---
Story and photographs by Elizabeth Innes, Communications Specialist, I-STEM Education Initiative.
For more articles about the Orpheum and REACT, see:
More: Chemistry, K-6 Outreach, Orpheum, REACT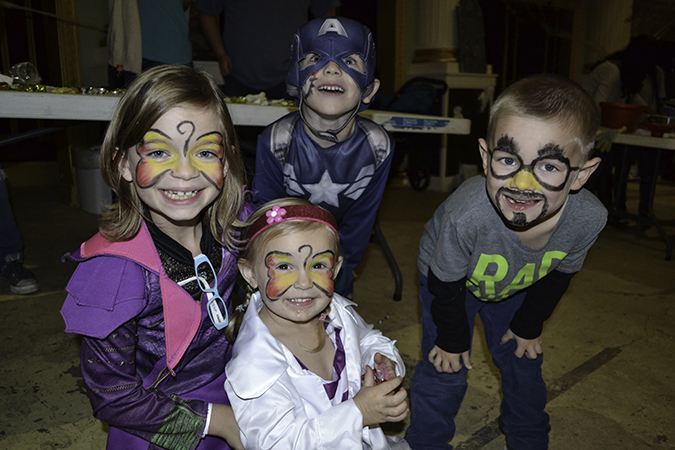 Some local children, cousins from Urbana, enjoying the Orpheum's Spooktacular event.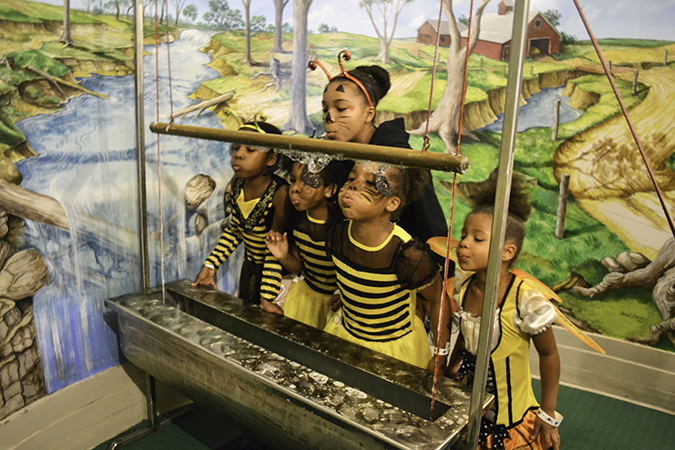 Five local sisters, all dressed as insects (They're bugs," corrected their mother, "because sometimes they bug me!") blow big bubbles in the Orpheum's Bubble Machine.