The (Future) Doctor is in the House: Meet an Illinoisan in the Inaugural Carle Illinois Medical Program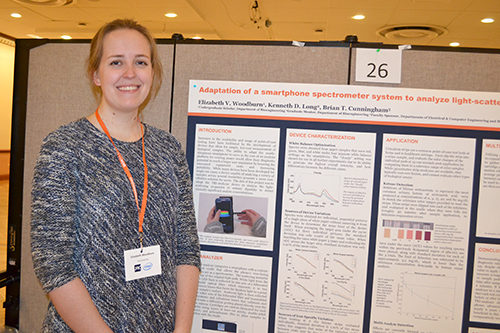 Woodburn with her poster at the ISUR poster session.
May 30, 2018
What do being a librarian and a doctor have in common? Elizabeth Woodburn has considered both as potential careers. But it is the latter that she will be pursuing as a member of the first ever Carle Illinois College of Medicine class. She is one of two her 32 peers to hail from the state of Illinois. Coming from Winnetka, IL, Woodburn graduated from the University of Illinois with a degree in Bioengineering this May. Although her parents encouraged her to look outside the state, she followed in their footsteps and became an Illini. At first, joining a large institution like Illinois seemed daunting, but Woodburn found what she calls "wonderful, small pockets of people within the big school".
As a type 1 diabetic herself, Woodburn had grown up around a healthcare environment and had first-hand insight into the medical perspective. Biology had always been her favorite science, and she knew she wanted her college major to be bio-focused. Her choice lay in deciding between engineering versus traditional hard sciences. The diverse nature of Illinois' BioE program attracted her because it allowed her to explore everything from medical devices to cell and tissue engineering.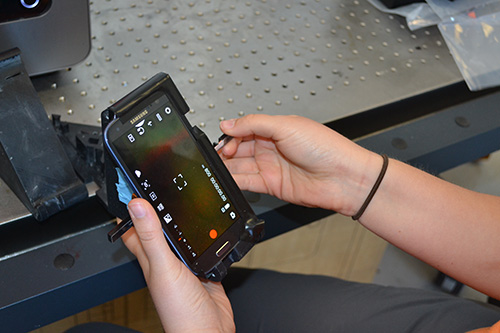 Woodburn's smartphone biosensor system.
She was first exposed to medical research as a high schooler, when she participated in a summer research program from 5 weeks at UIC where she worked with pancreatic islet cells. She continued to explore her interests in research as part of the Illinois Scholars Undergraduate Research program or I-SUR. Her research focused on creating a smartphone biosensor system that they have since named the tri-analyzer. It takes three expensive, benchtop instruments for disease detection and consolidates them into one portable, low-cost smartphone cradle. Her diligence led to her being featured on a publication as second author last summer. She is currently working on drafting her own first author publication. Woodburn hopes to have it published in the IEEE Sensors Journal, which is a biweekly peer-reviewed scientific journal, covering research on sensors. She counts herself as lucky to have found a project that tied into her interests in accessible and affordable healthcare, but more so in regards to seeing the same project develop through many different phases of development and gain a longitudinal perspective. This allowed her to be involved in several aspects of manufacturing and data analysis, to the point that she was able to lead her own experiments and only have to check in with her supervisor once a week.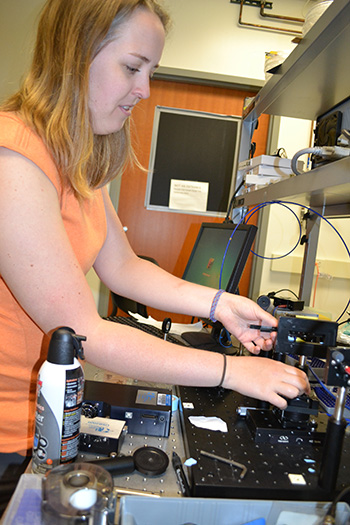 Elizabeth Woodburn working in the lab.
Woodburn was also involved in clinical experiences during her time on campus. She was a part of Illini Emergency Medical Services, a student-led EMS group which she joined as a freshman. Over time, she rose to positions of leadership in the organization, in which capacity she taught EMT courses and helped run CPR outreach programs. Woodburn calls it an intensive course that leads to participants becoming state licensed healthcare professionals. She is quick to stress that they are not paramedics and do not start IV lines or incubate, but that they can assess patients, deal with trauma, and deliver drugs. It also allowed her to explore her interests in healthcare versus technology. She has received the national award for excellent and fire service based EMS through Illini EMS, though it is no surprise that someone named Woodburn would win such an award.
Her summers were spent in an unconventional way, with Woodburn working at a YMCA camp in Michigan in a health clinic and as a wilderness EMT for the past 6 years. In her time there, the injuries she saw ran the gamut, ranging from broken bones to concussions to poison ivy. She also mentions children who came in with chronic conditions that needed regular maintenance medications and routine support while at camp. It is no wonder that she is exploring different pediatric subspecialties given her love of working with children.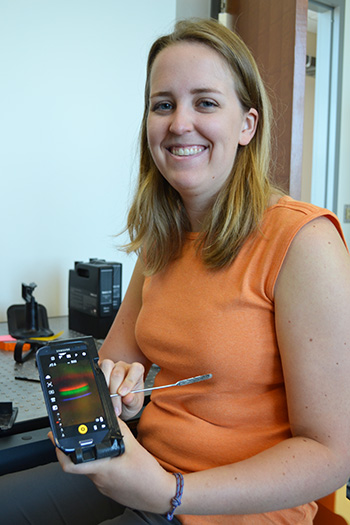 Elizabeth Woodburn with her smartphone biosensor system.
Woodburn decided on medical school because spending so much time in a research environment made her realize that she did not just want to be limited to working in a lab, but rather interact with people and help them solve their health conditions. However, she did not want to simply practice medicine in a static environment. Being on the forefront of innovation and cutting edge technology was essential to her. The engineering-based curricula at the Carle Illinois College of medicine allows her to remain engaged with research, without having to do a full PhD. She had the opportunity to apply her knowledge and think critically about class content instead of simply memorizing it. In later years of their clinical rotations, students have to come up with a mini-design project idea to turn into a capstone project, which Woodburn is particularly excited about.
Since it is the first year of the program, Woodburn believes that the class will have a lot of say in giving feedback on the program to revise it for the next year. She is pleased at the prospect, as she is also interested in curriculum development. The hands-on learning based environment was another decisive factor, with the program claiming that students get patient experience starting from the first week there. Although it may start out as shadowing, students of the Carle Illinois program start patient-care a year sooner than most programs. They begin supervised, family medicine care in their second year. Woodburn's passion for conducting research and working with people is undeniable, and her track record indicates a future that (wood)burns bright!
---
Story by Niharika Roychoudhury, I-STEM undergraduate student. Photos by Elizabeth Innes, Communications Specialist, I-STEM Education Initiative.
For more related stories, see: Carle Illinois, BioE, Student Spotlight, 2018
For an additional I-STEM articles about ISUR, see: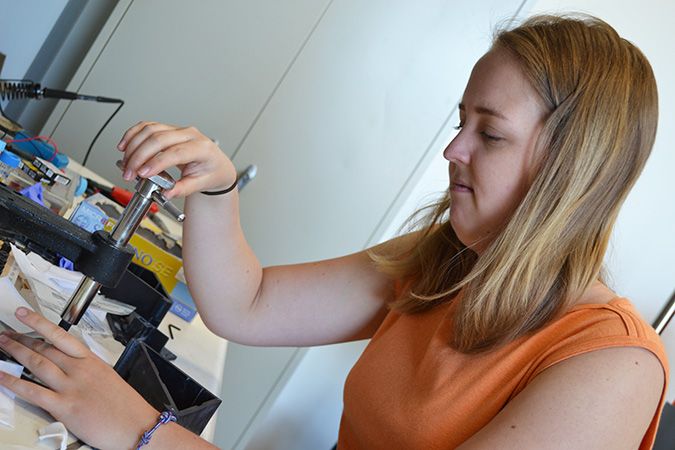 Elizabeth Woodburn working in the lab.