Engineering Open House Poised to Pique Students' Interest in Engineering, Illinois
April 3, 2019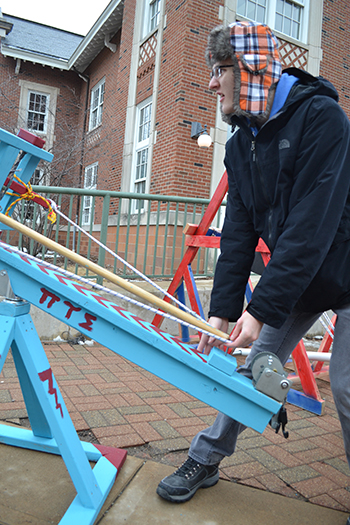 An Engineering student prepares to launch a catapault.
On March 8–9, thousands of visitors, including children and their parents; teachers and students on field trips; and presenters, such as current Illinois engineering students and even alumni showed up to participate in Dare to Defy, the 2019 Engineering Open House. For elementary and middle-school-aged visitors, it was a chance to learn more about science and engineering. (And let's admit it, a day away from school is always fun.) For many high school students, it was a chance to discover what being an engineering student at Illinois might be like and possibly even narrow down their career choices. For the many alumni and their industry colleagues who presented, it was a chance to display their products, share their experiences in engineering, and possibly get some young students interested in their field and maybe even their company. For all participants, it was a chance to celebrate engineering at Illinois.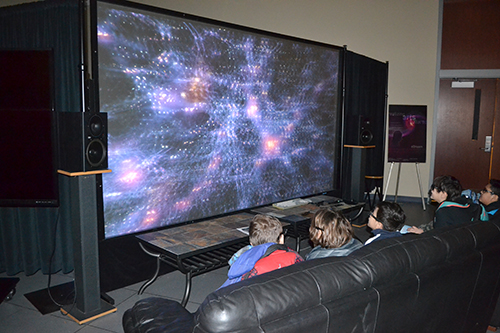 EOH visitors watch a 3D presentation at NCSA's Data Visualization Theater.
In its 99th year, EOH was spread out across 24 different locations on campus and featured numerous events, including several design competitions, speakers, even a Tesla Coil concert. Its startup showcase featured a few of the more than 1000 startup companies that have originated on campus, such as PSYONIC bionic limbs and MakerGirl, a nonprofit that encourages girls to pursue STEM fields. Some exhibits were quite loud, such as Talbot Lab's concrete crusher, the Illinois Space Society's Hyrid Rocket Engine, or some of the the Illini Motor Sports racing cars. Plus, a large contingent of Illinois Engineering students (both individuals or groups, numerous RSOs (Registered Student Organizations), plus representatives from many different companies, including many alumni, showed up to expose visitors to their areas of interest.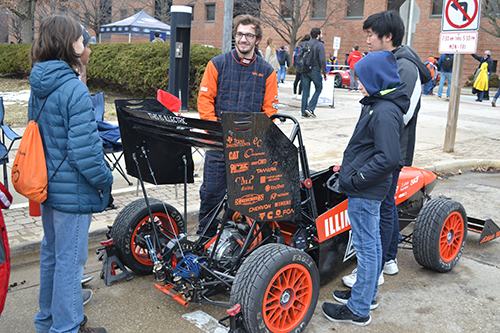 Nick Tuzzak (center) showing the Illini Motor Sports race car to EOH visitors.
For example, Illini Motor Sports teams showed off their race cars and hoped to possibly pique some students' interest in not just engineering, but in their organization. One member of the Formula Electric team was Nick Tuczak, a senior in computer engineering. What was a computer engineering student doing on a racing car team? Shouldn't it be comprised of mechanical or electrical engineering students. Tuczak explains: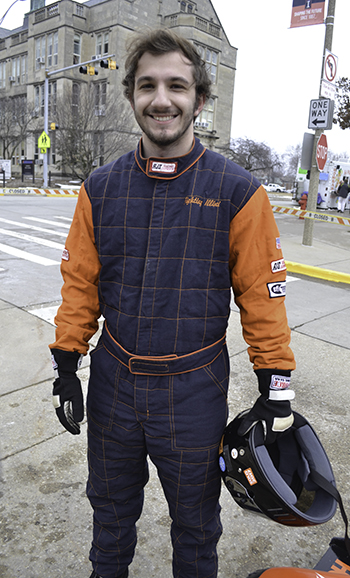 Computer Engineering senior Nick Tuzzak, a member of the Formula Electric team.
"Good question. So aside from all of the electronics and power, besides that, there's a lot of circuit boards. So I help design circuit boards. And on those circuit boards are little micro-controllers or small computers, and those need to have software on those to kind of help regulate the car and get a lot of data or help keep things safe. So I help write some of the code as well as help design the circuit boards that house those little computers."
Has Tuzzak ever gotten to race in a competition? Not yet, but as a senior, he expects to do so during the competitions they'll be going to this summer. However, he did get a chance to drive at EOH. "So I've been doing a few spins here and there," he says, then explains why he and his teammates participated in EOH.
"We want to get other students interested, especially prospective kids, in coming here" he admits. "So many kids come up to this vehicle and they see how awesome it is. They're so excited! They love sitting in the car. They love seeing it drive. So we want to spark the interest in little kids of joining this university and joining such a good team as Formula Electric. It gets them interested in an engineering club, or if they want to pursue an engineering background."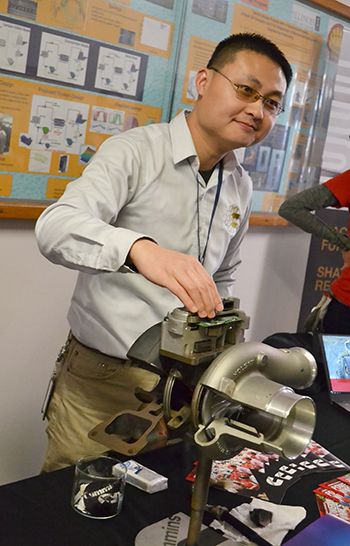 A Cummins representative shows off one of the motors they build.
Also, since the University donates a lot of money to help fund the teams, they also feel obliged to show the powers that be that they're getting their money's worth. "We want to give back and kind of showcase what we've been doing and how we've been spending their money so they know that we're making really productive use out of the thousands of dollars that they're donating to us."
Another current engineering student, Jamie Milota, a sophomore in engineering physics was doing EOH for the second year in a row.
"I was introduced to it my freshman year, and I thought it was really interesting," she acknowledges. "I just like to give back to the community."
Plus, as a woman in physics, she hoped to serve as a role model, especially for young girls. "I am a huge advocate for women in physics," she admits, "so I really like to be a representative for women in physics for the younger children who think, 'Oh, I don't think I can do this,' but see a woman doing this and be like, 'Oh, I can do this!'"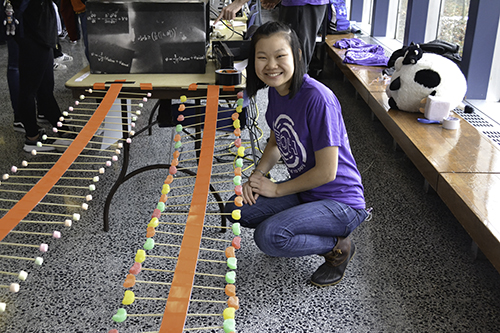 An Illinois Engineering student with a wave demo made of candy.
"They seem really engaged with it. This demo is new, but they seem really interested in it."
Regarding her "Food for Thought" exhibit, which she says was illustrating waves, which would move faster, the little candies or the big ones? This reporter correctly guessed the big ones.
"So everything in physics can be representative in waves, this shows how heavier things require more energy and lighter things require less energy so they can go faster."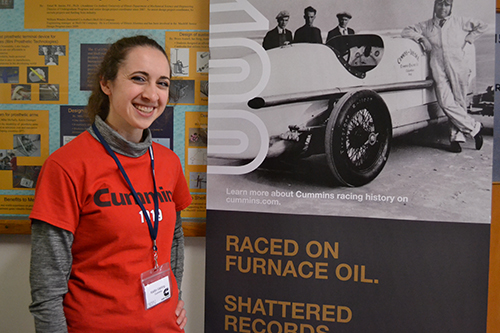 Katelyn Balling at the Cummins booth at EOH 19.
An Illinois alumna, Katelyn Balling, who studied aerospace engineering at Illinois from 2010-2014 was at EOH to represent her company, Cummins, which makes all different kinds of engines—except for rocket or airplane engines, which is what she specialized in. She explains how she ended up going to work for a non-aerospace company.
When she was a student here at Illinois, she did a summer internship at Cummins, and fell in love. "I just really liked the company. I didn't really mind that it wasn't planes or rockets or anything, I just loved what I did, and I loved the people and the culture, so I stayed."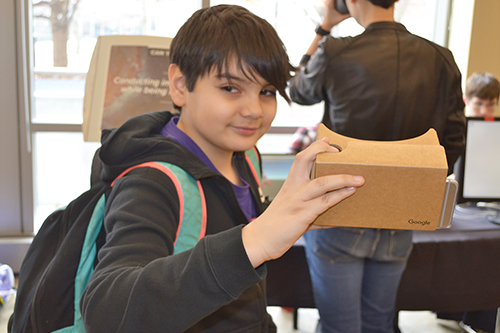 Above & Below: A young EOH visitor trys out Google Cardboard VR.
Balling adds that with engineering, "Just because you study one thing, it doesn't mean you're pigeon-holed…you're stuck in that forever. You can do so much with it."
Balling, who grew up in Newton Illinois, says that in high school, she used to come to EOH a lot, and admits that those experiences impacted her decision to attend Illinois: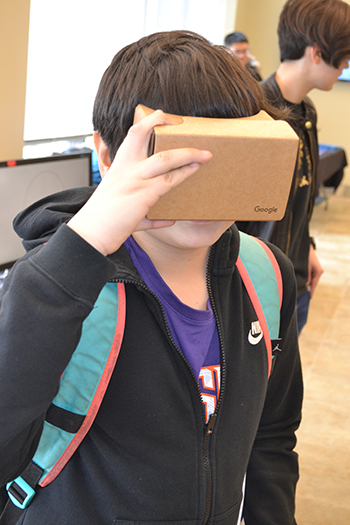 "My high school was close enough that we could drive here. Our math club would come up here on a Friday, and although we were excited to get out of class in high school, I loved to come; I loved to learn. There was so much to learn; there was so much going on. My school really didn't have a lot of resources for STEM. We're very small, rural. (Her senior class had 134 students.) Coming here was such a great opportunity to learn about what there is, what Illinois has to offer, and what careers in STEM could look like. It was a really cool time to learn." (She recalls some of the things she most enjoyed: "They were making ice cream with liquid nitrogen, exploding things, engines running on the quad, all kinds of cool stuff!)
She shares EOH's impact on young visitors based on its impact on her personally: "So I came from a very small place (my mom teaches, my dad's a farmer), but I wanted to do something different. Science just really intrigued me, but I didn't know about it. How could I learn what there is to do?"
She refers to the fact that, especially for today's youth, jobs they might want to go into might not even exist yet and won't until it's time for them to enter the workforce. "This a great opportunity for them to learn what possibilities there are."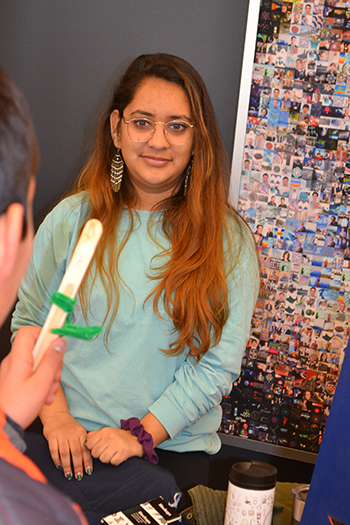 Aditi Jha at the Design For America booth at EOH.
While most exhibits were strictly about engineering, other student organizations that were engineering-related took advantage of the crowds and carnival-like atmosphere to plug their work. For example, on hand to exhibit were students from Design For America (DFA), a student organization here on campus that uses the human-centered-design-process, which is often used in engineering, to create social good in our community.
Brianna Greviston, a sophomore in architecture, reports that DFA is very inter-disciplinary and comprised of students from all majors, including engineering, business, and design. "We don't really like to limit who can be in the club," she says. "We like to have interdisciplinary teams because the best designs and the best ideas come out when you're working together with people who have different skill sets."
Brianna explains why she and members of the DFA team participated in EOH.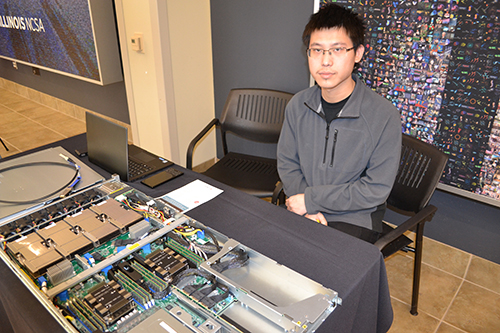 An Illinois student exhibits a supercomputer built by engineering students.
"We really like to show how design can affect engineering. I think a lot of people don't think they work together. Usually you have the designers and the engineers."
She reports that when she came to college, that's how she thought it was going to be. She thought she would do her designs in architecture, then hand them off to a civil engineer to check.
"But you have to do both," she admits. "The best products come when you use the human-centered design process and when you're actually working with the people you're designing for. That's really big in engineering."
---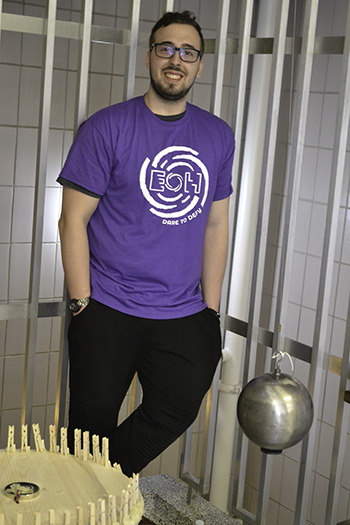 An Engineering student staffs the Foucault Pendulum exhibit.
Story and photographs by Elizabeth Innes, Communications Specialist, I-STEM Education Initiative.
More: Engineering, Engineering Open House, K-12 Outreach, Open Houses/Fairs/ Expos, 2019
For aditional I-STEM articles about Engineering Open House, see: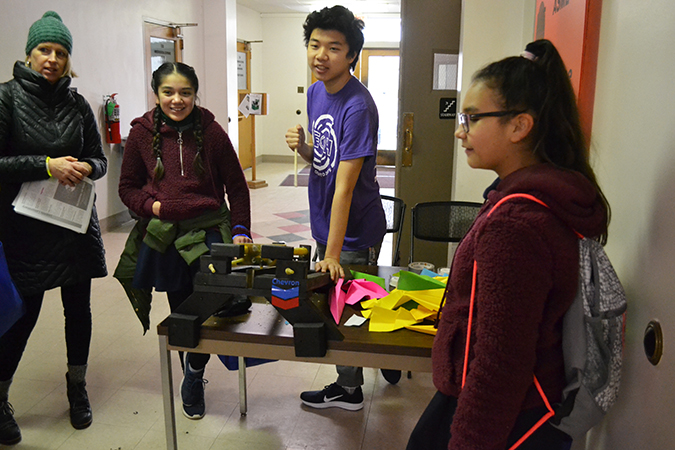 EOH visitors watch the paper airplane launcher in action.