Engineering Open House 2015 Looks to the Future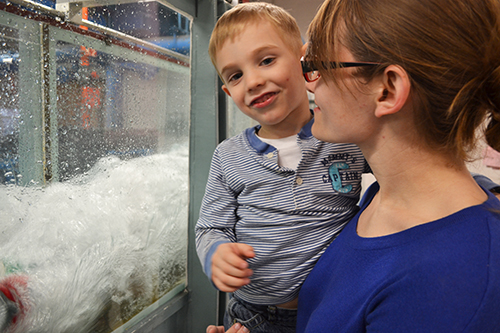 A local youngster at the Large Flume exhibit learns a bit of the physics of how fluids work. He watches the voyage of artifacts (a rubber duckie, some balls, and an empty pop can) he has thrown into the flume as the water performs a hydraulic jump, then flows down over the spillway, carrying the debris with it.
April 6, 2015
The thousands of guests who visited campus on March 13–14, 2015, to attend "The Future Starts Here," the College of Engineering's 95th annual Engineering Open House (EOH), were not only exposed to the many facets of engineering. Staffing the numerous exhibits were eager engineering students on hand to suggest to visitors that engineering at Illinois, and/or some of the technology being presented, could be in their future.
For example, one Urbana woman, a graduate student in the Foreign Language Department, brought her two small children to EOH hoping to inspire her 3-year-old son to be creative…and possibly become an engineer.
She indicates that her purpose in taking her son to EOH was to "encourage him at a young age to think outside of the box in his creativity." She also hoped he would gain some self-confidence.
"Looking at the EOH designs is a great way to show him that he can do anything he puts his mind to," she reports.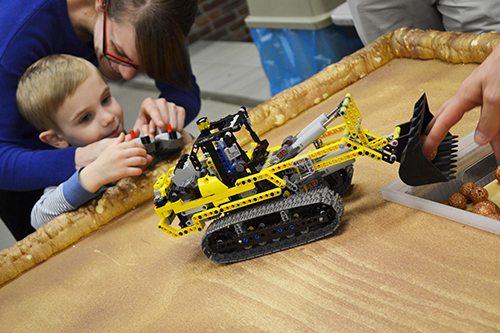 With some help from mom (who enjoyed it as much if not more than he did), a local 3-year old has successfuly dumped his payload using a remote-controlled Caterpillar bulldozer.
What further impact did she hope it would have on her son? That he wouldn't be intimidated by engineering and might be open to a career in the field some day:
"By taking him at such an early age to EOH, he won't be scared of 'big bad engineering' as I was as a child. This is a great un-intimidating way for him to open up his mind to the possibilities of becoming an engineer one day."
EOH 2015 exhibits covered the gamut of engineering disciplines, and most offered fun hands-on learning opportunities. For example, visitors could try to build an earthquake-proof Lego structure, then test it. Beckman Institute housed many exhibits about the human brain, including an opportunity for visitors to harness the electricity in their own brain to try to control a brainwave toy. And of course, large crowds gathered on the Bardeen Quad at the appointed time to watch firemen set a fire then put out it out in the ever-popular Dorm Room Fire Safety Demonstration.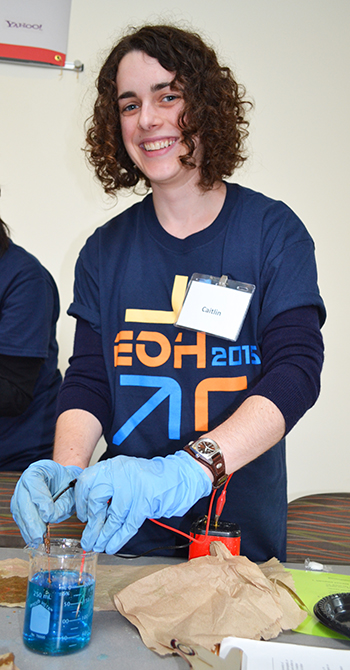 An
Illinois
grad student and NanoSTRuCT member Caitlin Race copperplates a nickel.
At MNTL (the Micro-Nanotechnology Lab), Volunteers from NanoSTRuCT, a student-led graduate student intitiative, staffed an exhibit that taught EOH visitors about nanotechnology via several hands-on activities. For example, during one activity, visitors could do an electroplating activity, which, according to NanoSTRuCT member Caitlin Race, "uses a battery and a salt solution to transfer copper ions from the bar onto a nickel, effectively coating the nickel with copper."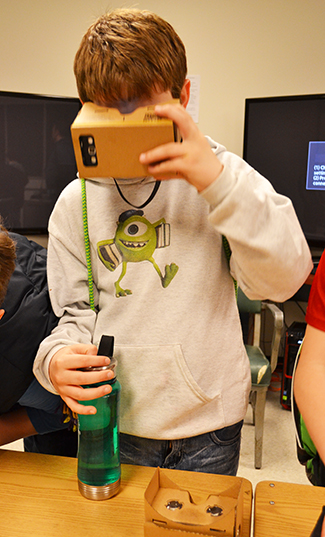 Above, a young visitor dons a Google cardboard visor into which a smart phone loaded with the appropriate app has been inserted, allowing him to explore the virtual world.
Why did Race take time from her studies as a busy Illinois graduate student to participate in EOH?
"It's really inspiring to see the kids asking questions and getting excited about science," admits Race. "It's time really well spent to teach kids and talk about what you can do with engineering and nanotechnology."
Her more long-term goal was to "get visitors excited about science/engineering and interested in pursuing it in college and beyond (or, for the younger kids, to not lose interest before they get to high school)."
Race adds that she also believes that the diversity of the team of NanoSTRuCT students who helped in the various EOH demonstrations might have convinced some youngsters that they too could be successful in STEM.
"I hope that the kids were inspired, no matter who they are, to do whatever they want," she says.
When asked whether her group's efforts impacted visitors, Race responded with a resounding, "Yes! Kids were really excited about the demonstrations, and some talked about looking forward to coming back to EOH every year. Some people also had really good questions and you could tell that they were interested in learning about science and what you can do with it."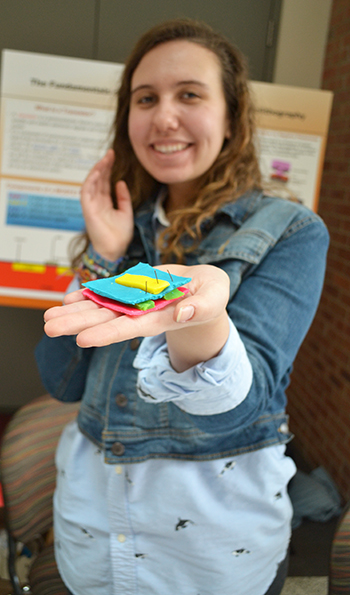 A Central High student demonstrates what a finished transistor model should look like.
Also at MNTL was the nano@illinois Research Experience for Teachers (RET) exhibit, which, in an exhibit tailor-made for youngsters, simulated transistor manufacturing. A summer 2014 RET participant, Champaign Central High School's physics teacher, Dan Reed, brought members of Central High's Future Teachers Club to assist visitors, who could build transistor models. Using colorful pieces of Play-Doh as layers of the transistor components, they could move from station to station to simulate the deposition, photolithograpohy, and etching processes. In the end, they had a finished replication of a transistor to take home.
Members of the Biomedical Engineering Society created an exhibit youngsters were sure to enjoy. Glowing red to represent the inside of a cell, the exhibit invited visitors to do hands-on activities that would teach them about the different parts of the cell and how they function.
Visitors enamored with certain beverages could visit Loomis Lab to learn more about their beverage of choice. For example, Starbucks afficionados could visit "Exploring the Daily Grind: The Roasting, Brewing, and Decaffeination of Coffee." Those who prefer a beverage that packs a bit more of a wallop could visit the "Fermentation and Brewing Science: The Science of Making Beer" exhibit and learn all about how to make beer for themselves.
One EOH exhibit that seemed to be a favorite with visitors was the Virtual Educational Reality Lab, which, according to engineering student Cory Scribner, strives to use virtual reality as an educational experience for both students and faculty members. Scribner reports that Professor Rizwan Uddin, who started the lab, "wanted to use these experiments to reach across to people who couldn't afford to use the experimental equipment so that they can still do experiments, but without having the full system."
Scribner indicates he participated in Engineering Open House "because it is a great experience both educationally and socially." He indicates that he participated last year as well, and that both times, it helped him improve his presentation skills: "I have learned a lot about presenting, communicating, and explaining ideas."
Scribner also indicates that he, his professor, and his other labmates participated in EOH in order to spread the word about the lab and its services: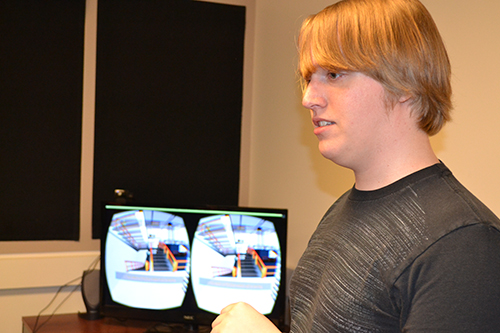 Engineering student Cory Scribner explains to EOH visitors about the Occulus Rift (on the monitors behind him), which uses a software program they developed themselves to provide a virtual reality tour of the now defunct TRIGA reactor, which used to be on campus.
"In general, I think most of the visitors had a good time with our demonstrations. Professor Rizwan Uddin wanted to host these demonstrations in the Virtual Education and Research Laboratory (VERL) to help the VERL grow by presenting ourselves. He wanted to advertise to potential undergraduates and current undergraduates, graduates, and researchers alike that virtual reality is a great tool for educational and training purposes."
He indicates that they also hoped some of the interested parties (especially students at Illinois) might want to stick around: "We are currently looking for individuals that are interested in helping around in the VERL."
Did Scribner enjoy it? Sort of. He admits that he's not used to so many youngsters being around the lab: "The very first day of EOH the lab was swarmed with kids, which I found to be rather overwhelming."
But on the whole he felt it was a positive experience. "There were a few people that were impressed and inspired by the work in our lab...But during the entire event, there were many people of whom were genuinely interested in our projects and how the technology worked. I really enjoyed conversing with those individuals because they may have some ideas or information that are of interest to me or the lab."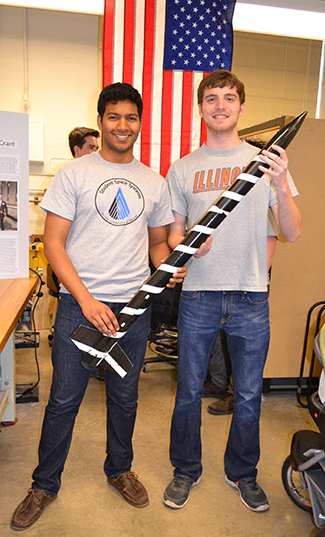 Above, two
Illinois
Aerospace Engineering students who are also members of the Illinois Space Society exhibit one of the rockets they have launched.
Story and photographs by Elizabeth Innes, Communications Specialist, I-STEM Education Initiative.
More: Engineering Open House, K-12 Outreach, Open House/Expos, 2015
For an aditional I-STEM article about Engineering Open House, see: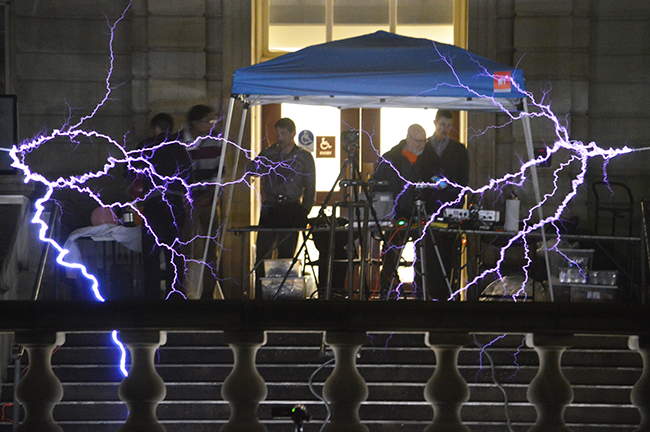 Visitors willing to hang around until after dark were treated to a light show, a Tesla coil. (Image courtesy of I-STEM administrative staff member Cindy Kallembach.)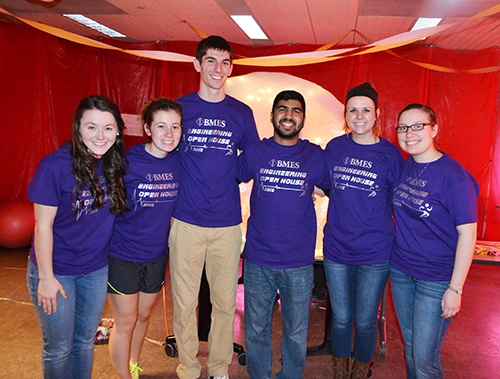 Biomedical Engineering Society members' exhibit mimicked the inside of a cell.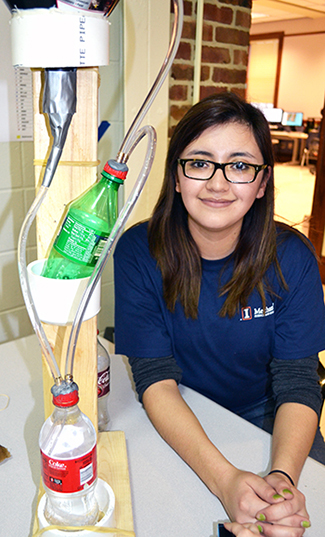 Above, an engineering student and member of the Society of Hispanic Professional Engineers demonstrates a perpetual motion machine.