CS @ ILLINOIS Sail Exposes Visitors to Computer Science at Illinois
May 12, 2016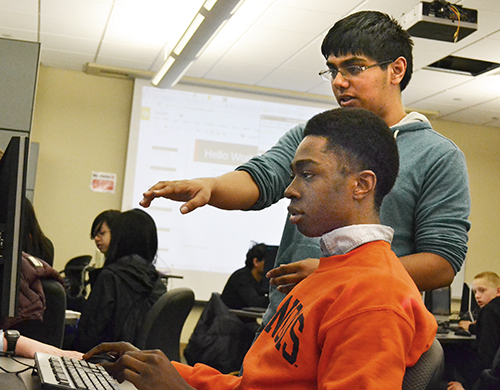 An
Illinois
CS student, Milan Dasgupta (right) works with a visiting high school student during Sail's "Python & Raspberry Pi" workshop.
What it's like to be a computer science (CS) student at Illinois? On Saturday, April 9, 2016, around 250 high school students (and even some eighth graders), including 115 girls, from around the state and the nation participated in CS @ ILLINOIS Sail to find out. Sponsored by Illinois' Computer Science Department, the free, day-long event was filled with workshops about computer science and math theory, how to create websites, the ever-popular mobile and gaming apps, career opportunities in CS, and how to not just survive but thrive during one's freshman year. Also featured—a bunch of just plain fun workshops showed visitors that CS students know how to have fun too.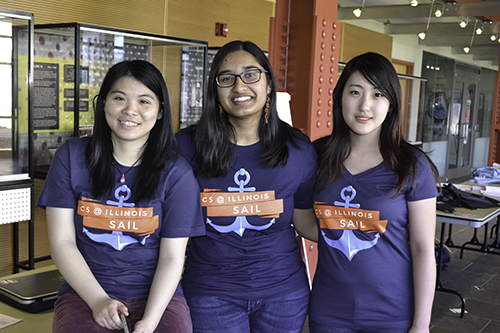 Corly Leung (left) and a couple of other WCS members on hand to help Sail run smoothly.
According to Corly Leung, a Computer Science junior in charge of Sail, the purpose of the event was to allow student visitors to "get a taste of what CS at Illinois is like, versus the traditional, 'We walk you around campus; we talk to you; but you don't really get to know us,'" kind of campus visit. "When the students take the different classes in Sail," she continues, "they really get to know the teachers, because it's a class size of around 20 to 30; and then during lunch time, there are college students just talking to them as friends. We hopefully give them what CS at Illinois or the people or the environment is like."
Participants in the "Python & Raspberry Pi" workshop have some questions.
While CS @ ILLINOIS Sail was called SPLASH last year, the name was changed this year to prevent confusion. SPLASH, an event held at universities nation-wide, including Illinois, does university-level outreach events for many majors, including CS. So CS rebranded its premier outreach event as Sail so everyone would know that it's different from SPLASH.
When visiting students and their parents arrived on campus, they had a tour of the engineering quad, including the Siebel Center for Computer Science, and breakfast. Participants then participated in two workshops to round out the morning, had lunch where they were able to interact with Illinois CS students, then four more workshops in the afternoon. Students attended around six different classes chosen from about 75 different computer-related and non-computer-related classes offered by Illinois' CS students. Most were CS related: CS and/or math theory); websites (HTML, CSS, JavaScript); media (music, electronics); and mobile apps (iOS/Android).
For instance, there were plenty of heavy-duty math courses, such as: "Burnside's Lemma—An Introduction to Higher Mathematics," "Algorithms and Objects: Breaking Down a Problem," and "What I Wish I Knew About Calculus."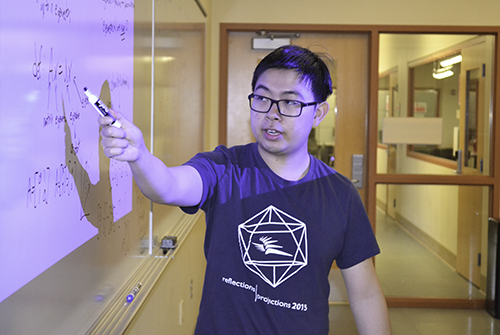 A CS student explains some math principles to participants during a Sail workshop.
There were also lots of CS/programming courses, such as "Introduction to Linux," "Data Structures: How Programmers Store Stuff," plus numerous workshops related to specific software: "Recursion and Python," "How to Revit," and "Making a Simple Twitter Bot with Python."
The popularity of apps and gaming was apparent, and in many workshops, learning was couched in game playing: "Intro to Android Reverse Engineering," "Twitter Bots with Raspberry Pi," "Make an HTML 5 Game with Phaser," "Crafty Logic: Learning Digital Logic through MineCraft," "Game-Playing AI," and "Video Game Mechanic Design," where students could learn the basics of video game design through Super Smash Bros Melee. Another popular class was "Virtual Reality: What Makes an Immersive Experience."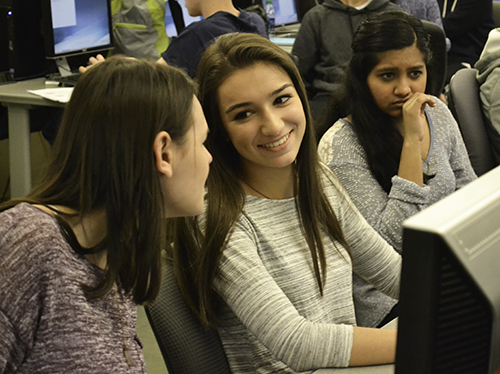 Sail participants interact during one of the workshops.
Students also had access to courses about website development, html, and CSS: "Intro to HTML/ CSS—Build Your Own Portfolio!" "The Art and Science of Building Websites," and "You, Online: Personal Sites 101."
For music lovers, there was: "Programmatically Creating Music on the Web," "Hamilton—The Man Behind the Musical," and "Songwriting Featured!" for which students were encouraged to bring their own instruments.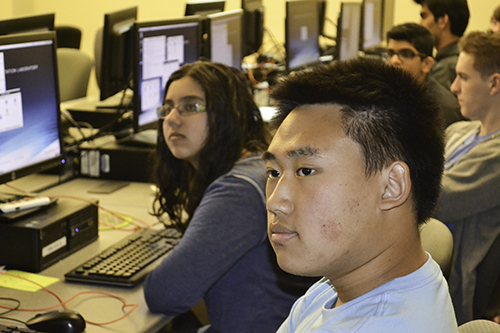 Sail participants listen as a CS student explains some principles of website design.
A couple of courses even tackled a weighty subject not so much about computer science, but because of it—individual privacy. The "Braving a Brave New World: Technology and the Fourth Amendment" course explored "American attitudes, laws, and policy action with regards to privacy due to widespread communication technologies." While the class touched on technical details of tools used to protect and/or dissolve privacy, the emphasis was on the ramifications of technology, rather than the creation of it.
Another course, "4th Amendment: Internet Privacy," tackled the 4th Amendment in light of the recent FBI interaction with Apple. Still another, "Security and Cryptography," addressed the nuts and bolts about how data are protected.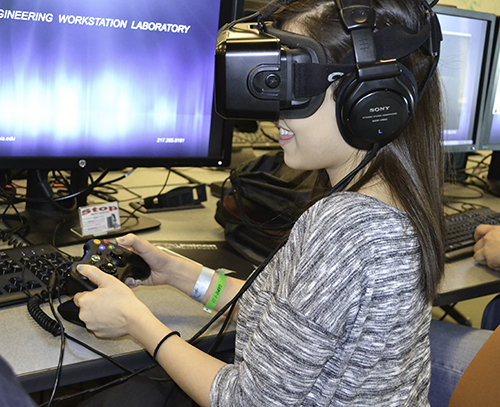 A high school student enjoys exploring virtual reality.
A number of "how-to" courses specifically designed to help students adjust to college life, especially during their freshman year included: "How to Breeze through College Math (A Mathematica Lesson)," "How 2 College," "Common Freshman Fears," and "You're in College! Learn How to Food!" Others dealt specifically with CS: "How to Get a Job in the CS Industry," "Surviving the CS Culture."
While Leung describes Sail as "more CS focused," she adds, "but on the other hand, we have our interests and likes outside of computer science, and we would like to show that. We have a very popular SMASH class."
So, Sail also featured quite a few totally-non-computer-related courses just for fun.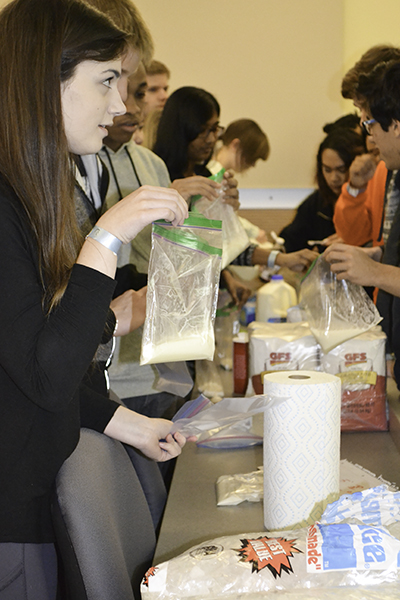 Participants in the "Making Ice Cream" workshop add the ingredients for their ice cream.
As the name implies, students in "Making Ice Cream" did just that. "Parachuting (Kindergarten Style)," also included some good old-fashioned Frisbee; for Harry Potter fans, there was "Quizditch (Harry Potter Trivia)," and students revisited an old pasttime, but with a new international flavor, during "Chinese Yo-Yo."
Students could dance the hour away in courses like: "Dance—Intermediate Hip Hop" and "Finding Hop in a Hipless Place" (hip-hop)." And for students who were bored of plain socks, there was a 'Tie Dye Workshop," which, according to Sail's website, enabled visitors to "make wicked cool, psychedelic socks!"
A few workshops gave students a good time while tackling some bedrock principles addressed in other engineering disciplines. For example, the "Eggciting Eggsplosive Eggdrop Competition," dabbled in Mechanical Engineering, and challenged students to build a contraption that would protect an egg as it plummets to the ground. A couple of other courses wrestled with lift and thrust and aerodynamics: in "Introduction to Aerospace" students built and launched paper airplanes; "Plane Sheets of Paper" was a paper airplane competition.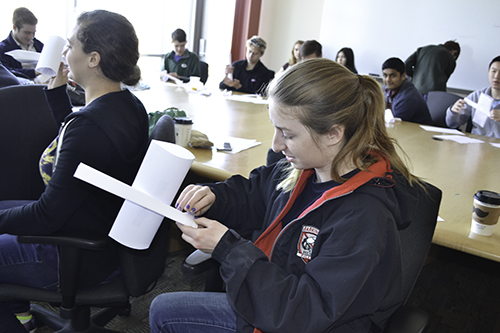 Sail participants make paper airplanes in the "Introduction to Aerospace" workshop.
Sail even included courses for pet lovers. For folks partial to dogs, there was a "Therapy Dog Session," during which students could pet trained therapy dogs to relax. For cat lovers, there was: "Machine Learning with Cats," which allowed visitors to "learn a bit more about machine learning with," according to the instructor, "nature's perfect animal: the cat!"
Parents were able to talk to advisors, student groups, and representatives from financial aid and study-abroad programs. During their meal times, they were able to interact with undergrad students from the CS department.
Eighth grade student Annemarie Graham.
In addition to learning more about computers, Sail participants came just for the experience itself. For instance, eighth grader Annemarie Graham, who says she likes computers and is interested in being a computer scientist, admits she came because she "thought it would be fun to get to see what college is like." Her impression of college? "Yeah, it seems fun."
Graham's friend, Haylie Conger, Another eighth grader, admits she came to SAIL "Because it's a good opportunity to learn."
Both were part of a large group of eighth grade girls who had traveled from out of state for the day. Some of their parents had gotten together and decided to get an early start by exposing the girls to college.
Why do the CS students dedicate part of their weekend to participate in such an event? Leung says that for her, it's not only to give the students a true picture of CS at Illinois, but also to correct negative impressions they might have about computer science in general.
"These students are high school students who get a taste of what CS at Illinois is like, and have a chance to know what CS is like without just making the assumption that all we do is code in front of a computer. It is nice if they do decide to come here because of SAIL, but I think it's more important for them to really understand what computer science is, to get a feeling of what we're like, and see if we are a good fit for them."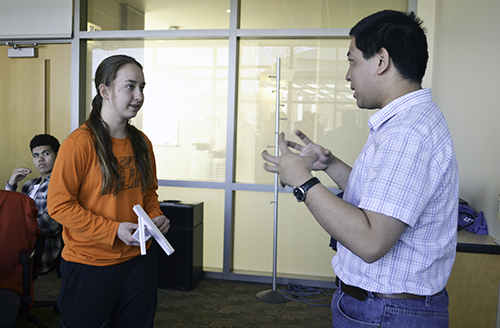 A high school student (left) in the "Intro to Aerospace" workshop chats with
Illinois
student Shie-Jene Shan about life in CS.
Corly Leung, the director of Sail, is in her third year in a 5-year combined Master's and Bachelor's degree program. While she was the outreach director chair for Women in Computer Science (WCS) last year, she calls her involvement this year more like 'Oh, they are doing an outreach; I guess I can help" kind of thing.
Leung explains that it was because of a similar outreach that she ended up coming to Illinois. She attended a Society of Women Engineers Little Sister's Weekend, in conjunction with a WCS admitted student's day. "So when I came, I really liked the environment; the people were friendly and cooperative. It gave me a sense of community that I really enjoyed, so that's why I came to Illinois."
That's actually the reason why she started to get involved in outreach, to provide that for younger students: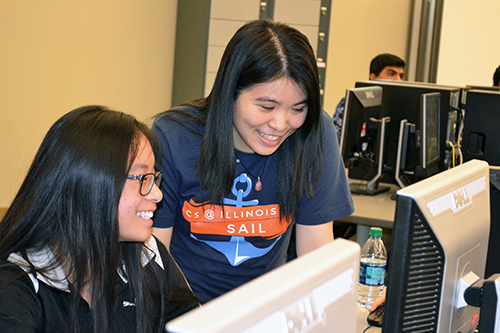 Corly Leung (center) interacts with a visiting student during CS @ ILLINOIS Sail's "Python & Raspberry Pi" workshop.
"When I came to Illinois," she explains, "I didn't know anyone. This place is freezing. I'm from California. I didn't know anyone. I came here with like a feeling of I was either going to make it and be happy, or I was going to be really depressed. When I came here, the people here were very supportive. They gave me some sense of community, so that's why I want to help when students come in."
---
Story and photos by Elizabeth Innes, Communications Specialist, I-STEM Education Initiative.
More: 8-12 Outreach, Computer Science, 2016
For more I-STEM web articles about CS outreach events, see: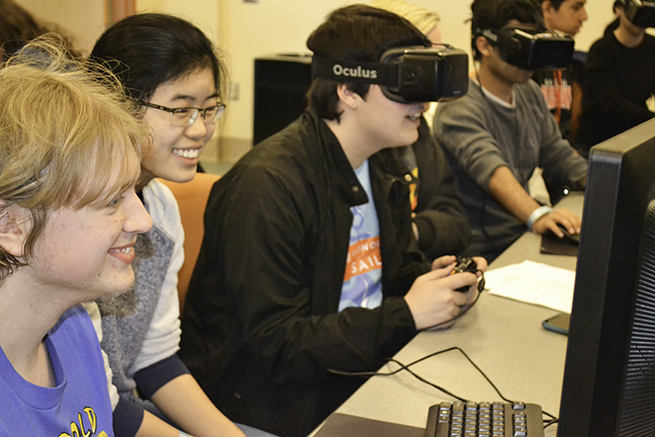 Sail participants enjoying the virtual reality workshop.