GEMS: Steering Middle School Girls Toward Careers in Computer Science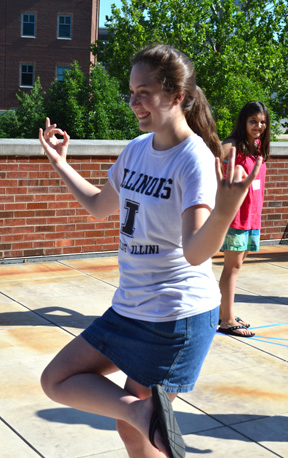 Briana Chapman strikes a unique pose as part of a human graphs activity during GEMS camp.
June 19, 2013
Briana Chapman is a prime example of how exposing youngsters to STEM (science, technology, engineering, & math) at an early age can lead to a life-long interest—and possibly culminate in a career in STEM. Chapman, who attended GEMS (Girls Engaged in Math and Science) camp as a youngster, is not only helping coordinate this summer's edition of the computer-science-focused camp for middle school girls; her career plans are "to somehow change the world"...via computer science.
Although the emphasis was on astronomy, not CS, when Chapman attended GEMS, the experience piqued her interest in science...and began a love affair with GEMS. A rising sophomore, she is actually in her third year teaching GEMS. As a high school student, she assisted a CS student who was running the program. By her second year, she was in charge of the program. This summer, she has help coordinating the program: CS senior lecturer Cinda Heeren.
Previously run by Edie Wyzecki through NCSA, GEMS is in its 20th year. Wyzecki, who recently retired, passed the baton to Chapman and Heeren and the Department of Computer Science (CS); thus, the focus is shifting from an emphasis on math and science in general to computer science.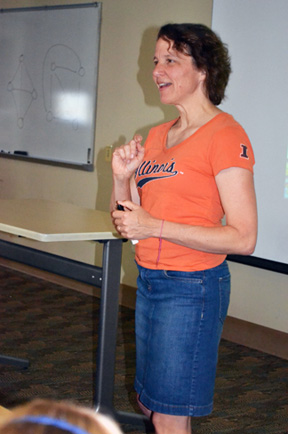 Cinda Heeren instructing campers about graphs during the MathDoku session of GEMS.
What will the girls who attend GEMS camp do? Using App Inventor, they will learn to create Android apps with the focus: "How computing impacts sustainability in the food industry." Several guest speakers, women currently working in industry as software engineers, will give presentations sharing what their careers in computer science are like and serve as role models for the girls.
The camp serves 25 girls a week during the two sessions from June 17–28. To fill the 50 slots, Heeren and Chapman camped out on the floor of Heeren's office, sifting through the 100+ applications of girls from all over the state (and beyond) who applied. They used two criteria in choosing the campers. Their first priority was to serve local kids; their second was to ensure that each girl was actually interested in attending (that her parents hadn't just signed her up to keep her busy during summer vacation). Heeren and Chapman reported that for a few cases, it was obvious that the parent had filled out the application. They weren't sure if the kid even knew about it. According to Heeren, the girls' application essays came in handy during the decision-making process, because they could tell "whose parents were making them do it and who really wanted to do it."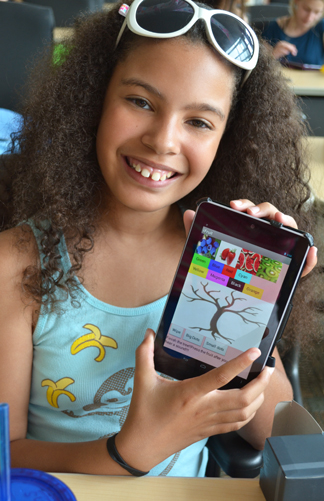 GEMS camper proudly displays the Android app she created.
Why sacrifice one's summer to run a camp for middle school girls? Heeren sees GEMS as an opportunity to get more women involved in Computer Science. For one, as an instructor, she'd like to see more female faces in the crowd when she teaches class every day. "The distribution of gender in this department is abysmal. We have approximately 8% women, which means my class is always all boys. So there is this sort of mission or this calling to do what I can to change that. I feel that outreach is one of the components to making the change." Her strategy? Target them when they're young, before they've decided what they want to be…like in middle school.
"Quality programming for middle school is lacking, especially in the summer. Kids are willing to think about what they are going to do eventually at that point. It's sort of the first time that they are willing to think a little more long term about what they are going to be doing forever. So it's a nice opportunity to introduce the content to them."
Why STEM? Replies Heeren, "Because we think it's fantastic." And she figures that once they're exposed, the kids will like it too. "We think once they're hooked, they'll be there forever. And it doesn't matter to me whether they come to school here or even really whether they major in CS; I want them to do something that requires that they think hard and be creative and that they are intellectually fulfilled."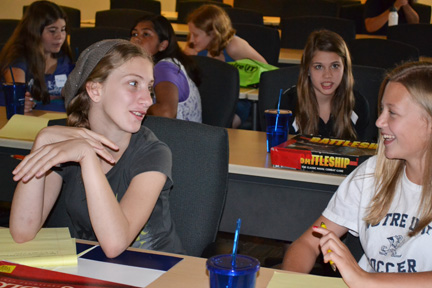 Two campers interact during the MathDoku activity, where they were to describe to each other the unique qualities of a variety of graphs.
Heeren stresses that there are a couple of unique aspects to GEMS that set it apart from other camps. First, it's for girls only, and run by women only.The guest speakers are women. They even want any "techies" who might come to help with computers to be women, so they can act as role models.
Second, and most important, it's free. In fact, GEMS has always been free. Chapman acknowledges that they received a lot of advice to change that policy: "You need to charge money to get people to show up and take it seriously." She then defends their decision: "Actually, in all the years that I've been involved, we've never had a kid ditch out on us and not show up. So, it was a little bit scary; we are almost getting this grant, and they are telling us we really need to be charging money, and we had to hold strong and say, "'No, we can't.'"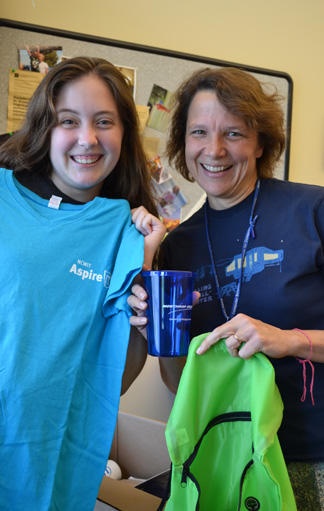 Chapman and Heeren show off some of the goodies they received for the girls from NCWIT.
However, thanks to the generosity of the CS Department, who footed the bill for both the space and the salaries, and thanks to the grant they received from NCWIT, the National Center for Women & Information Technology for equipment, they didn't have to succumb to the pressure they were receiving on different fronts to charge the girls a registration fee.
Heeren acknowledges that through GEMS, CS is intentionally courting a virtually untapped population: females. "It's really a commitment to having young women in the building." She then goes on to cite the statistic that the US is graduating a third of the people needed in Computer Science, and draws her conclusion: "It's that we need to have more women."
NCWIT sees potential in the camp too. The center provided a grant to cover the Nexus 7 Google tablets on which the girls will deploy their apps.
Says Heeren: "So we're so grateful for the support of the CS Department and NCWIT to make it happen…We didn't want any barrier to participation. We wanted everybody to go, 'Oh, yea, I can do that.'"
While Heeren sees GEMS as a vehicle to expose the girls to STEM and isn't insistent that they end up in CS, Chapman isn't so obliging. Enamored with her field, she hopes the camp will steer girls in that direction.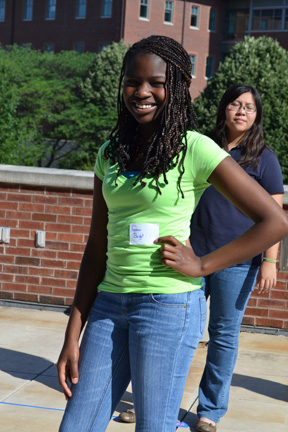 Middle school girl strikes a pose during GEMS camp living graphs activity.
"I really love computing, and I want people to see it as a valid option, especially girls. Because a lot of middle school girls are very socially minded. They care about changing the world. I want for them to see this as a valid avenue to do that. But I think that computing is a valid way to get world-changing tools into the hands of people. And that's what I want them to see I guess."
Chapman is right about the girls wanting to change the world. When asked, "If you had all the math, computer, and programming skills you could ever need, what would be the first thing you'd do with all that knowledge?" the responses of the girls who attended last year's camp ranged from programming an educational game to help people learn science and math easily; to putting up a site where people could donate money to help kids who are homeless or don't have anything to eat; to discovering new ways to cure cancer using computer simulations.
When it comes to changing the world, Chapman has already made an auspicious start. The feel-good story where Chapman helps teach at GEMS after attending as a youngster herself now has a storybook ending: "Actually it's gone full circle," she adds. "Now my middle school sister is involved this year."
Story and photos by Elizabeth Innes, Communications Specialist, I-STEM Education Initiative.
More: 6-8 Outreach, Computer Science, GEMS, STEM Pipeline, Summer Camp, Women in STEM, 2013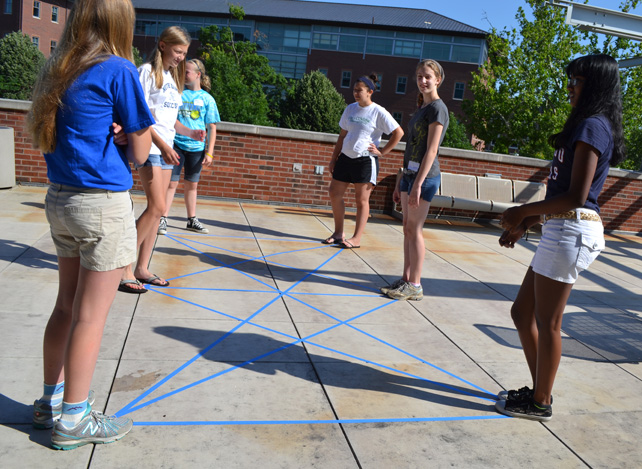 GEMS campers act as vertices in a life-sized graph.