Lecture Series Highlights Women in Science at Illinois; Makes University Archives More Diverse
October 1, 2020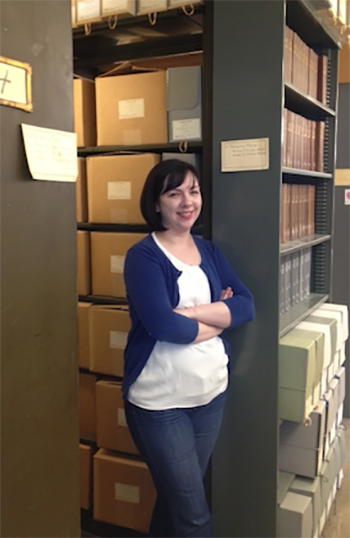 Bethany Anderson, University Library Assistant Professor, an archivist of the history of science and technology on campus. (Image courtesy of Bethany Anderson.)
If you're interested in innovative scientific research at Illinois and would like to find out more about the exceptional women who conduct it, sign up to attend the Women in Science Lecture Series via Zoom at noon on the second Tuesday of every month. Sponsored by the University Archives and funded by a grant from the Library Innovation Fund, the series is the brainchild of Bethany Anderson, an archivist who focuses on the history of science and technology on campus, and Kristen Allen Wilson, the coordinator of the Illinois Distributed Museum website. The new virtual lecture series was not only intended to highlight women in science at Illinois; its creators hope it, along with video records and other material which will be available via their websites, has a more lasting impact—to help diversify both Archives and Museum holdings and to provide a resource for educators. Thus, over the long-term, they hope to help increase the number of women choosing careers in STEM.
So, exactly what are the University Archives and the Illinois Distributed Museum, and what do they do? One of several special collections units within the University of Illinois Library system, the Archives tries to capture all aspects of the university. For example, it documents the history of the university itself; it acquires faculty and alumni papers; and its student life and culture archives program documents student life, including acquiring records of student organizations on campus, etc. The Illinois Distributed Museum exhibits innovations created at Illinois in a unique way compared to other museums—rather than being housed in one building, the site is "distributed" across campus, thus its name. According to its website, it is "designed so campus is the museum building and this website is the tour guide and the exhibit interpretation labels." Based on their purposes, both the Archives and the Museum are well aligned to sponsor the Women in Science Lecture Series and house its data. Additional partners/sponsors include: Beckman Institute for Advanced Science and Technology; Humanities Research Institute; Cindy Ingold, Gender Studies and Multicultural Services Librarian; Interdisciplinary Health Sciences Institute; National Center for Supercomputing Applications; Prairie Research Institute; School of Integrative Biology; Women and Gender in Global Perspectives; and Women in Engineering.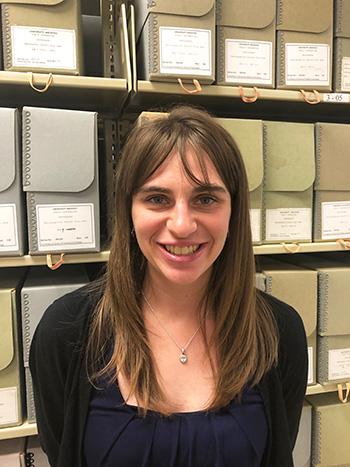 Kristen Allen Wilson, the coordinator of the Illinois Distributed Museum. (Image courtesy of Kristen Allen Wilson.)
Wilson first came up with the idea for the series. She approached Anderson one day and mentioned that Field Museum in Chicago has a women-in-science lecture series highlighting women scientists and their work. Says Anderson, "So we thought it would be really interesting to do something similar here at the university but focusing on women scientists and engineers." Citing the University's long history of technical and engineering education and research, she adds, "We thought it'd be great to highlight women faculty and staff at the university."
Plus, they decided to create video archival records of these lectures too, which will help meet a need of theirs to better document women in the sciences at the university, an area that both acknowledge is underrepresented in their holdings—"kind of a way to not only bring visibility to the importance of the history of women in science at the university, but also to create a preliminary record of it and then see where that leads us," continues Anderson.
Wilson believes the lecture series can foster relationships with current female professors, encouraging them to donate their papers to the archives and/or at least be aware that they can do so. Also, since she's trying to ensure that more diverse people, especially women in the sciences, are represented on the Illinois Distributed Museum website, she acknowledges, "So we thought this would also be a great way to  form those relationships with scientists, get to know them, get to know their work, and hopefully that would lead to a continued relationship where we could have them represented in our holdings."
For Anderson, with her focus on the history of science and technology on campus, the lecture series is right up her alley. Although she's currently quite busy web archiving the growing number of campus findings and inventions related to COVID-19, "trying to make sure that we capture and preserve websites that document all of these different scientific innovations that are coming out of the university right now with the pandemic," she's delighted to carve out some time to support the series, believing it's an important step in diversifying the archive's holdings and including folks currently underrepresented there.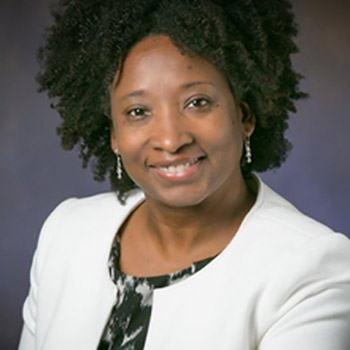 October 13th Lecturer, Dr. Carla Desi-Ann Hunter, Associate Professor of Psychology. (Image courtesy of Carla Desi-Ann Hunter.)
However, while Anderson is definitely STEM oriented, Wilson's Museum emphasizes innovation at Illinois, and is, thus, a lot broader in its emphasis, covering all the disciplines in addition to STEM, such as history, the arts, languages, literature, philosophy, politics, etc. So why does Wilson want to focus on science? While she says that the series was mostly inspired by the Field Museum's Science emphasis, she adds, "I think both of us are committed to making sure underrepresented groups are presented more"—including women.
In fact, Wilson, who has been dilgently working to ensure that the Museum website becomes more diverse, is hopeful that the Women in Science series will help with that. "I inherited the website, and it was very White, male heavy," she admits, "so I have been working…" However, given that much of the material for the distributed museum is contributed on a volunteer basis, Wilson has encountered some challenges regarding fostering diversity among the offerings.
"I focused on building up the disciplines and just let volunteers choose what they wrote about, but now I've noticed that they actually gravitated more towards the White men too." She's not sure why that is. Possibly it's because that's what was mostly on the website previously. Maybe it's because it's easier to find information on events about White men. "A lot of people would try some women from more historical times, and they had just had trouble finding information on them. So, they'd want to switch to someone else. So now I'm being a lot more intentional, saying, 'Okay, who are we actually representing? Are we making sure that this is a good representation of everyone, and not just picking people?' So, this lecture is really helpful with that."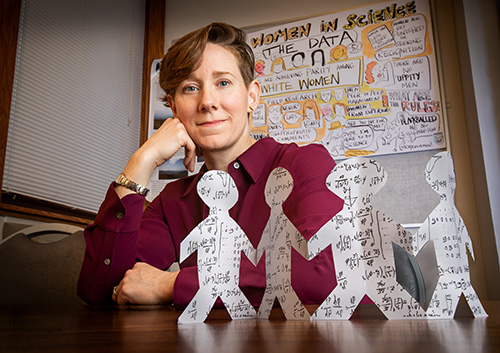 September 8th Lecturer: Kathryn Clancy, Associate Professor of Anthropology. (Image courtesy of Kathryn Clancy.)
Concerning the speakers, the Illinois campus has a lot of amazing women in STEM from which to choose. How are they deciding which to feature—how are they narrowing down all these women to determine who will present? They've actually created a spreadsheet listing as many women faculty in the sciences as possible, then are doing some background research to discover information about them prior to reaching out. For one thing, since they're seeking disciplinary diversity, they're trying to make sure that they cover a number of fields since so many different sciences are represented here at Illinois. Plus, since science is often interdisciplinary, they're also looking at faculty with multiple appointments in different areas. They're also considering intersectional diversity…women who have overcome several types of discrimination, such as gender, race, economic, etc. "We're trying to approach this in an intersectional way too, in terms of how we select our speakers—trying to make sure that we're being diverse and inclusive in that regard as well," Anderson adds.
So, in addition to providing a platform for women to share their research, their other main goal is to ensure that their holdings fill these gaps in areas of women being represented in the science. "We want to make sure that people are able to research these women in the future," Wilson explains.
Referring to how the archives are used, she adds: "And, that's what people do when they come in the archives: they research the research, and they research the person. So, we've got to make sure we have this available and accessible for as many people as possible, and that these women do see themselves as making history at this moment and that their research in general is just groundbreaking and innovative. So, we want to make sure that people realize that their stories should be preserved."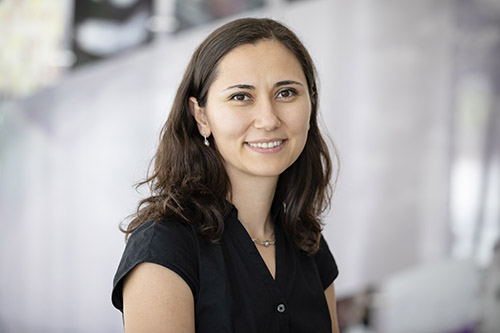 December 8th Lecturer: Dr. Zeynep Madak-Erdogan, Associate Professor of Nutrition. (Image courtesy of Zeynep Madak-Erdogan.)
Thus, while Anderson and Wilson hope to diversify their holdings via the digital records of the series, along with additional materials posted about each individual, they also hope to change the perception that their material is only about white males. "I think that it's really important for people who've been historically underrepresented in archival holdings to see themselves reflected in our records," Anderson explains. She believes that has the potential to encourage more folks to donate their papers or records they have that document their activities, their research, their teaching, and so forth. They are hopeful that the lecture series is one way to help bring visibility to that. "Ideally, by having these videos preserved and accessible," she adds, "this'll help lead to more, especially in terms of papers from women faculty."
Another use for the digital records is to make them available for K–12 teachers, along with some lesson plans. "So we plan to do some outreach to the school teachers as well, and let them know that these are available once we post them and work on some lesson plans," explains Wilson, "some questions that students can answer while they watch the videos. So that way it's ready to go for teachers and easy for them to adopt and not give them more work."
Following are the women chosen to present during the Fall 2020 semester, as well as additional materials posted about them and their research in the University Archives. (Names which are linked [highlighted in blue] indicate lecturers which at this point have additional materials posted.)
September 8, 2020: Dr. Kathryn Clancy, Associate Professor and Director of Graduate Studies in Anthropology, and a Beckman Institute faculty member in the Biological Intelligence group. A biological anthropologist by training, and an intersectional feminist biologist, Clancy indicates that her research is on the environmental stressors that influence the menstrual cycle. According to Clancy:

"This means I conduct research on stressors like workplace harassment as well as the mechanisms that connect them to the menstrual cycle, like the stress response and systemic inflammation."

Because Clancy's talk fell on the #Scholarstrike, half of her talk connected the concept of abolition and defunding the police to how we should be addressing sexual harassment in academia. The second half of her talk was what had originally been planned, which was looking at the history of the Western study of menstruation.
October 13, 2020: Dr. Carla Desi-Ann Hunter, Associate Professor of Psychology. Dr. Hunter will discuss her research on ethnic minority psychology, specifically related to identity and well-being in the United States. Registration link: https://forms.gle/JrUWD7D2kawVtCX88

November 10th Lecturer: Dr. Susan Martinis, Biochemist and Vice Chancellor for Research and Innovation. (Image courtesy of Melissa M. Edwards.)

November 10, 2020: Dr. Susan Martinis, Vice Chancellor for Research and Innovation, and Biochemist. Martinis will share her perspective as an educator, researcher, entrepreneur, and leader of the University's $650 million research enterprise. Registration Link: https://forms.gle/LUwyjxPxJUz5ZfeCA
December 8, 2020: Dr. Zeynep Madak-Erdogan, Associate Professor of Nutrition. Madak-Erdogan indicates that her talk is about her research on women's health disparities, specifically breast cancer disparities in African-American women from south side Chicago, and gestational diabetes disparities in low income populations. The following quote is from one of the recent articles covering her research:

"Food quality, exercise, sleep, and one's overall health and well-being are affected by socioeconomic status. Women with lower socioeconomic statuses are much more likely to die from ER+ disease due to these factors. If we understand molecular basis of health disparities and show their relationship to socioeconomic status, we can inform policy makers better to instigate change in the society."

Registration Link: https://forms.gle/X3yT8q944135wzSW8
---
Author: Betsy Innes, Communications Specialist, I-STEM Education Initiative. Photographer: Betsy Innes (unless otherwise noted).
More: 2020, Women in STEM