Fall 2019 WIE Orientation Introduces Engineering Freshmen Women to a Support System, Possibly Life-Long Friends
September 27, 2019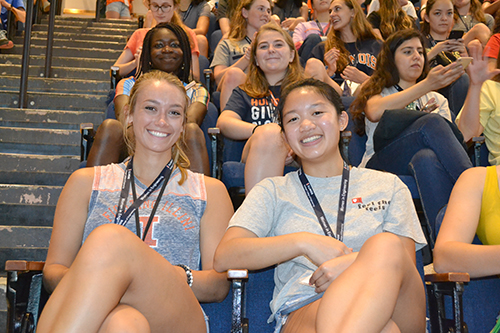 Incoming freshmen, excited to start their adventure in engineering, wait for WIE Orientation to begin.
A freshman asks a question during one of the sessions.
Simplicity. That was how the planners of the Women in Engineering (WIE) Orientation described their event for incoming female freshman engineering students. Their goal? To provide the same awesome program as in previous years—but condensed: only the evening of Wednesday, August 21st and all day Thursday the 22nd. Orientation sought to: introduce freshmen to their departments and to campus resources and where they could be found; provide sage advice, including from keynote speakers Ann Zuzuly and Valerie Laguna; and foster community-building, both with fellow freshmen and with mentors—older and wiser female engineering students who had successfully navigated the many challenges freshmen face. Of course, the icing on the cake was early move-in, avoiding the insanity of all-campus move-in day.
Co-coordinating this year's WIE Orientation were Alexa Yeo, a senior in Civil and Environmental Engineering; Berat Gulecyuz, a junior in Bioengineering; and Michelle McCord, a junior in Engineering Physics. Also key in planning the event were WIE Director Angie Wolters and Brooke Newell, WIE Program Coordinator. The goal of these women was to anticipate challenges freshmen face, then equip them by distilling solutions down into informative but fun activities to prepare the freshmen for college life at Illinois. No small task.
The idea behind condensing the program into an evening and one full day was to enable more students to attend, and it worked. The number of girls who attended jumped from 265 last year to 355—the most to ever attend Orientation since it began 17 years ago. In the past, some girls had been faced with this dilemma: miss Orientation or miss activities provided by their Living Learning Communities (LLCs). So this year's abbreviated schedule allowed them to do both: move in on Tuesday, spend Tuesday night and all day Wednesday with their LLC, then join WIE on Thursday. WIE's condensed schedule also accommodated international students facing a similar dilemma.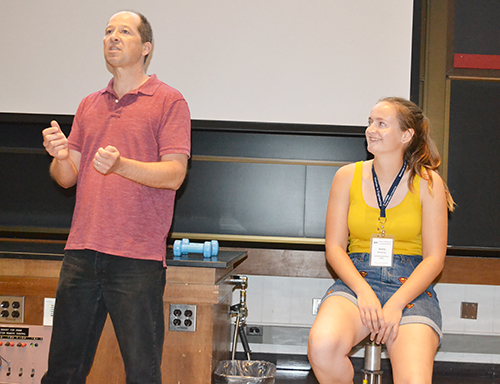 On the first night of WIE Orientation, Physics Professor Tim Seltzer does a physics demo using a brave volunteer from the audience.
"We've leaned it down," acknowledges Brooke Newell, "so that the most essential bones of what we felt should be there are there. I mean, we've added flair here and there, but I think that we thought very hard about what we wanted the students to take away from this at the end of the day." While WIE provided icebreakers and times for freshmen to get to know each other, she claims the two main thrusts were: "How do you connect with your department?" and "hearing from the upperclassmen, getting them engaged, kind of that two-way connection."
"We are bringing everyone together," adds Wolters. "Every activity doesn't have to be overwhelming or totally intricate. But the reason we've gone with simplicity is because it's affording us this opportunity to have so many more of the students present. And it's not only that, but this simplicity gives them this chance to know one another but not be overwhelmed and exhausted."
In fact, according to feedback from previous years, students have said it was too much. "The only complaints we ever have is that they're overwhelmed," says Wolters. "'I just moved in; there's so much going on, and then I have these two days,' and that it was too much. And so us becoming leaner, I think it's allowed us to grow, but it's also giving even more students the space to find each other in that community that we know means so much to them."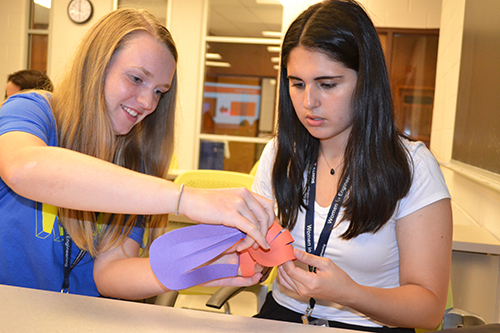 Two freshmen work on their paper heart.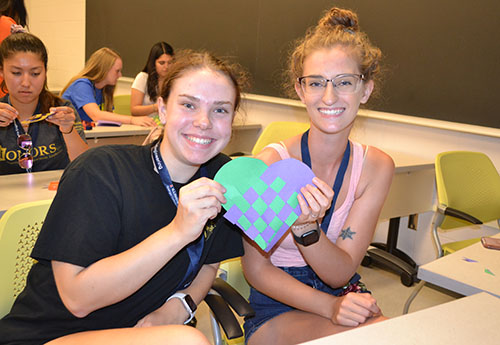 Two freshmen show off the 3D paper heart they made.
So the first night of Orientation featured an activity, making 3D paper hearts, which exposed freshmen to other students in their majors. (Based on great feedback from last year, this year's Orientation continued to provide more break-out sessions so students could get to know folks in their departments.) Another goal was to familiarize students with what a discussion section is and how it works. So while WIE has done the paper hearts activity before, this year they did sought to mimic the large lecture hall/smaller discussion section students would be encountering in a few days when they went to classes. So, acting as the professor in front of the huge "lecture session" of 355 women, Dean Sue Larson presented her traditional guest lecture; mentors then acted as TAs for smaller "discussion" groups comprised of students in the same majors.
"That's supposed to introduce them to how they can be successful in a discussion section and just what it's like," Yeo explains. "Because going into such a large university, that's probably something that they don't know a lot about. So that's a pretty significant new thing that we're doing."
According to Newell, they get the "Aren't-your-classes-big?" question all the time. "And we don't want to say, 'Oh yes, they're all big!' Sometimes they are larger classes in a lecture hall, but then you break it down to a discussion section. So this gives the people that attend more of an advantage."
Besides getting to know students in their majors, the larger group was also broken down into other types of groups this year, enabling student to get to know each other in other settings, such as in their dorms, for instance. So after making 3D Paper Hearts, the participants broke out into groups by dorm.
"Because a lot of times," McCord explains, "the people you study with, especially in your first few years, aren't necessarily people in your major, just because they may not live close to you. So just getting to know the people that live in your area is really helpful, 'cause everybody is going to take calc. Everyone's going to take physics. So, knowing that the resources are right down your hall is a really great thing."
So following a little icebreaker, the girls made a decoration, which included their name and major, for the door of their dorm room. So when walking down the halls of their dorm, freshman engineering students who attended Orientation would immediately know that an engineering freshman lived in that dorm room.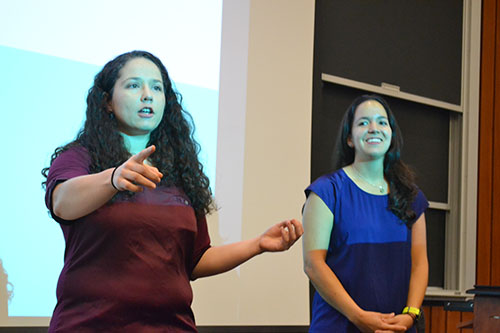 Ann Zuzuly and Val Laguna share with freshmen about their experiences at Illinois.
On Thursday morning, mentors and their groups were encouraged to meet informally for breakfast in the basement of the Illini Union. But Thursday's activities officially began with keynote speakers Val Laguna and Ann Zuzuly, Engineering alums who graduated in May 2013 and work in industry: Proctor and Gamble and Eaton Corporation, respectively.
"As we were writing that presentation," Laguna admits, "I just kept thinking, 'What did I want to hear as a freshman?' And the fact that I can be in a position to be that person to provide some insight and advice is so amazing, and it's humbling, and I can't help but take the opportunity.  And the last part of it—to be able to do it with Ann…" she says, regarding her college BFF. The two met the first day of WIE Orientation in 2009, became best buds, then roomies, and are still best friends even though separated by several states.
"I love that we had this opportunity to do it together," adds Zuzuly regarding being the keynote speakers.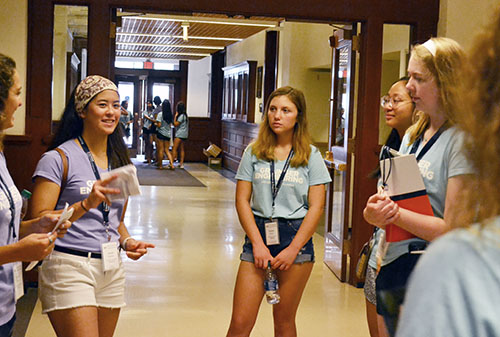 Engineering freshmen listen as their mentor (left), an older engineering student, shares during one stop in the Engineering Building during the 2019 WIE Orientation's resource tour.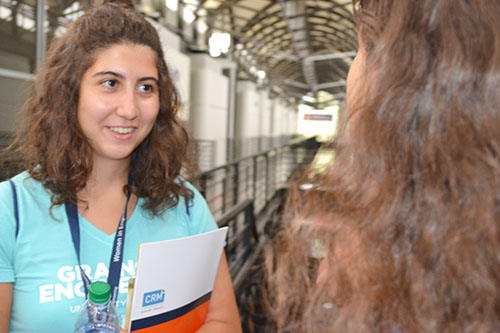 A freshman chats with her mentor by Engineering Career Services in DCL.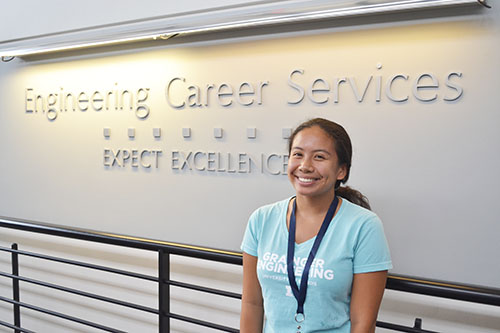 A freshman discovers the location of Engineering Career Services on the third floor of the Digital Computing Lab (DCL).
An important part of Thursday's program was the resource tour—familiarizing students with important engineering resources: CARE (Center for Academic Resources in Engineering) in Grainger Library, where students can access mentoring; Engineering Career Services, which holds Engineering Career Fairs and provides resume assistance; Engineering Undergraduate Research; IEFX, which oversees the Engineering 100 course; IPENG (International Programs in Engineering) which arranges study abroad; Undergraduate Student Advising; and WIE.
Some co-coordinators and mentors even confessed to being a bit fuzzy about where key resources were located. According to McCord, "You would hear about the different resources, but didn't necessarily know where they were." In fact, she hadn't known where Engineering Career Services was because she had never gone there. She'd been to the Career Fair, and her employer did interviews at her department building, but it wasn't until serving as a mentor last year at Orientation that she finally discovered where it was, acknowledging, "But, I mean, it's a really great resource!"
In fact, several WIE mentors agreed, "This was awesome, because I know of these resources, but I had no idea where the research office was in Engineering Hall!"
"And just knowing where they are, I think, makes you more prone to using them," McCord adds, "because it's one less step you have to do to reach out to them. You could be studying, and freaking out about the career fair, and say to yourself, 'You know what, I'm going to run up and see if they have any walk-in appointments.' And, just knowing that that resource is there, I think, is a lot more beneficial than just always hearing about it, but it's just this phantom thing that you never know where it is."
"It's not only about the students finding those spaces and connecting with those spaces directly by being in them, but it also has allowed us to really engage our corporate sponsors," Wolters adds, referring to another important stop during the resource tour (besides snacks at the Illini Union, of course): the Company Fair. This mini career fair featured representatives from WIE's corporate sponsors: Texas Instruments, Abbott, and Caterpillar, as well as two other corporations: Proctor & Gamble and Eaton. The idea was to give freshmen a jumpstart on interacting with industry recruiters.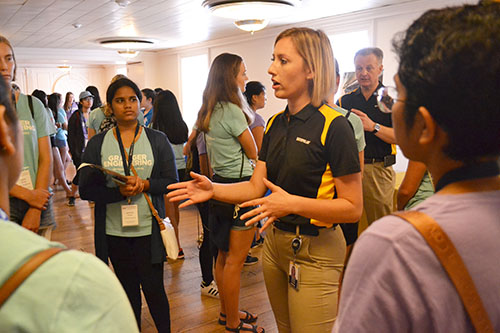 During the Company Fair, part of the resource tour, a representative from one of WIE's sponsors, Caterpillar, shares with freshmen about her company and what they're looking for in recruits.
"So our mentors walk up to the corporate representatives with the freshmen and model for them what it's like to talk with one of the representatives from these corporations, and then the freshmen can engage as well," Wolters explains, so when they attend the career fair, "They won't feel that barrier of discomfort about 'What is it really like to go in there and talk to someone?' Instead, we've done part of that with them."
Also, mentors approached companies based on majors the companies might be looking for. For example, bioengineering probably approached Abbott, which is pharmaceuticals; electrical engineering most likely approached Texas Instruments.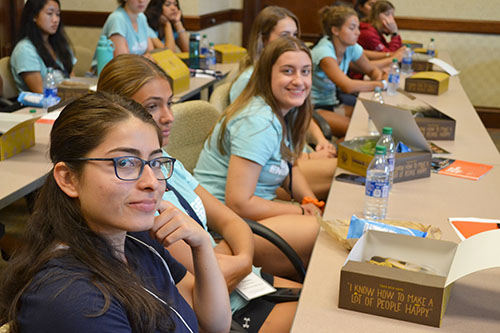 Mechanical Science and Engineering freshmen enjoy their box lunches while asking questions of the panel of staff and professors.
Following the resource tour, Departmental Lunches allowed freshmen to meet not just fellow freshmen, but advisors, professors, and staff in their departments.
Were there things the co-coordinators themselves had struggled with during their early college years, telling each other, 'Oh, this is something we need to implement so the freshmen don't have to go through it too.'? Yes, managing one's time was one area. So this year, Ken Nafziger, a psychologist and counselor embedded in the College, gave a Time Management Workshop. According to McCord, a lot of freshmen struggle with it.
"It was something I really struggled with my freshman year," she admits. She was fine the first semester because she was only taking a couple of STEM classes. However, her second semester, "I definitely hit a little low point at the beginning of the semester," she admits. "And, I think it took me a little while to find that balance of just where to leave time for academics and where to leave times to just relax too, 'cause it's really important. You can't study all day. You need a break (other than you just shower)."
McCord says talking about time management right away helps freshmen understand that it's something that they need to think about. Also, she adds that getting to meet Nafziger kind of takes away that stigma of needing help for whatever mental health needs they might have throughout their time here.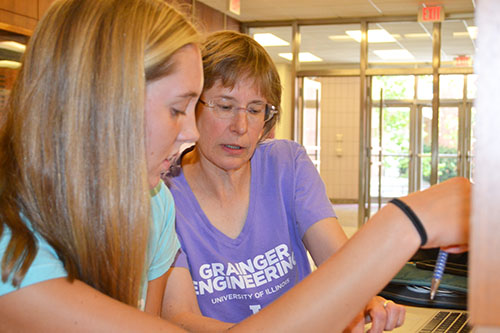 Dean Sue Larson (right) meets with a freshman for an advising session.
Following Time Management, meaty workshop sessions took up the rest of the afternoon. Students could pick three, half-hour workshops, ranging in topics from technology freshmen would need to be familiar with (Google and other apps), undergraduate research, industry (Abbott, Texas Instruments, and Caterpillar), RSOs (Registered Student Organizations), entrepreneurship, internships, even how to navigate campus via the sometimes intimidating bus system. Plus, advising sessions with Angie Wolters, Brooke Newell, and Dean Sue Larson were available for all three half-hour segments.
The co-coordinators share why they helped plan Orientation. Alexa Yeo says: "So when I came as a freshman, this was my first introduction to campus, and WIE, and the Grainger College of Engineering. So it was my first introduction to college life in general, and it ended up being such a positive experience for me. The very first person I sat down next to at the first evening is now one of my best friends and my roommate. So I've been able to create such a great relationship through that. And I met a lot of other staff and other students from my major, which was really helpful as well to just kind of get that introduction. So, I just had a really positive experience as a freshman myself by coming to this.".
The fall 2019 WIE Orientation coordinators (left to right): WIE Director Angie Wolters, Michelle McCord, a junior in Engineering Physics; Alexa Yeo, a senior in Civil and Environmental Engineering; Berat Gulecyuz, a junior in Bioengineering; and Brooke Newell, the WIE Program Coordinator and an Engineering Undergraduate Academic Advisor.
For Berat Gulecyuz, Orientation helped to mitigate the shock of acclimating to a very large campus: "I went to very small high school," she acknowledges. "We had 29 kids in our senior class. And going from that to 40,000 in one moment would have been such a big change. So Orientation was like a nice small jump to go from 30 kids, to a few hundred, then to thousands of engineers, and then to the tens of thousands of students on campus. So I think it was a good transition to college."
The third co-coordinator was Michelle McCord, an out-of-state student. When she first visited campus the fall of her senior year in high school, one of the first people she talked to was Angie Wolters. She remembers wearing the Women in Engineering t-shirt she got all the time once she decided to go here. However, because she was from out of state, she didn't get to come back for summer registration, a second chance to learn where things are on campus or meet different faculty or advisors or people in her major. So as soon as she saw the invitation to WIE Orientation, she told herself, 'Oh, I definitely have to go to that!'"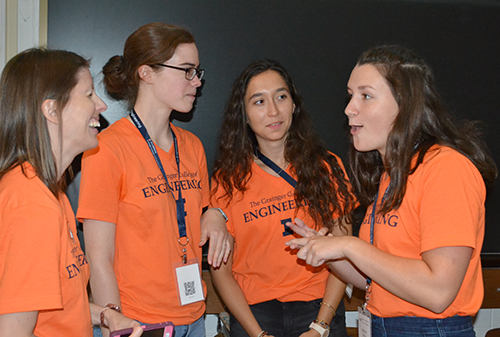 Michelle McCord (right), chats with several fellow WIE Orientation coordinators prior to the Wednesday night event.
She recalls, "It was just a really great opportunity for me to meet people, especially being in a small major." So she got to meet the two or three other freshman girls in engineering physics, plus talk to upperclassmen, which she calls really beneficial. A mentor last year, she "just really loved being in the leadership role with that and getting to help underclassmen. It was a really rewarding experience. So I was really grateful to have the opportunity to continue as an assistant coordinator."
Coordinators of WIE Orientation 2019 share what impact they hope WIE Orientation will have on the freshmen, not just during the event itself, but even long-term during the new students' time at Illinois.
Yeo says, "I just hope that the incoming freshmen get the same sort of feeling that I got out of it, which is that they have a place in the U of I, in the Grainger College of Engineering, in Women in Engineering. And even though it's such a big school, there is a place for them here."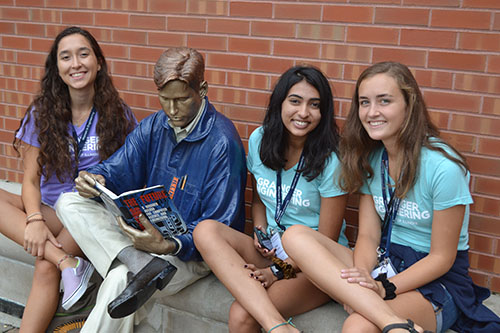 Berat Gulecyuz (left) and a few of her freshman mentees take a break by Grainger Bob by the south entrance to the Grainger Library.
Gulecyuz says, "I've always wondered as a kid what it would be like to change the world. But you never know for these orientations, these events, meeting these new freshmen, one conversation could change their entire world when they come into campus and who knows what the ripple effect is going to have?"
She admits that that's what it was like for her. Her mentor wasn't just a mentor during Orientation, but basically has mentored her throughout her time here at Illinois so far. "I talked to her constantly, throughout the last two years," she admits. "So they give you something to reach for—someone with potential—what you strive to be." So it was her hope that everyone involved with Orientation would "inspire the girls to go do something big in the world one day."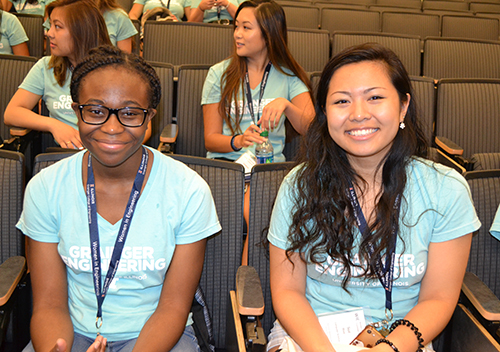 Freshmen Benedicta Udeogu and Sue Wee wait for WIE Orientation to begin.
Several freshmen share why they chose their major, and what they hoped to get out of Orientation. For instance, Benedicta Udeogu, a computer engineering major, shares why she picked that field. "Well, I wanted the opportunity to choose if I wanted to go into hardware or software because I didn't feel myself to be the strongest coder, and I didn't want to come in having expectations that I couldn't fill. So I gave myself the chance to reach to different levels and have different opportunities."Regarding the low number of women in engineering, she remarks: "I think it's important that we should have equality in all our jobs and woman in engineering, it's a minority right now." So she hopes to spread awareness so more women will choose engineering.
Sue Wee, a Computer Science freshman, thought Orientaion would be an opportunity to get to know more girls in her field. "Because I always hear about how engineering doesn't have that many girls…But I figured that a lot of people are just feeling the same way as I. I wanted to come to a place where I could connect with others and just sort of step out of my comfort zone right off the bat and set that goal for myself.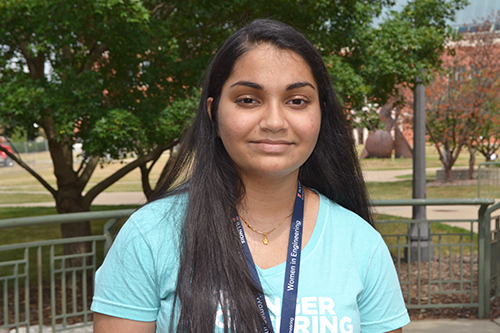 Mechanical Engineering freshman Raksha Sridhar.
Freshman Raksha Sridhar shares why she chose Mechanical Engineering. "I didn't really want to work in a computer lab. I wanted to do something with my hands, and I love problem solving. I didn't want to stick with one major. So mechanical is very versatile in the engineering field; they have a little bit of everything. So I could choose what I wanted to be, and it's hands on, and it's problem solving. So it's all three things I love combined."
Sridhar shares why she came to Orientation. "I saw all the amazing opportunities here and connections I could make. And they're really welcoming and making the transition from home to college really easy. Plus, they care about your future." She shares some additional opportunities and connections she hoped to take advantage of: "They provide you with mentors and professors who will welcome you, and explain to you what you need, and what steps you need to take care of. So I was like, 'Okay, that seems really good. I need something like that.'"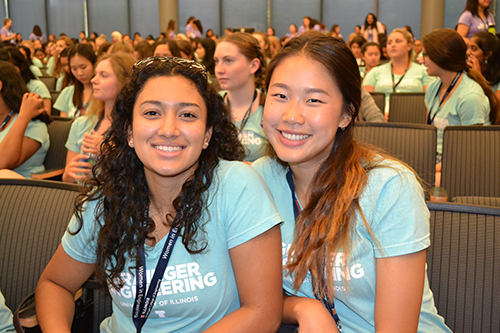 Two Computer Engneering freshmen Arely Irra and Jiwon Lee enjoy the Thursday morning activities.
Arely Irra, a Computer Engineering freshman from the Chicago suburbs, shares why she participated.
"I hope to get to know a lot of people because it is a male dominant field," she says. She says she'd met a computer engineering major whom she hoped to study with sometimes, but also hoped to meet others not just in her major but across engineering to do study groups. As of Thursday morning, she says the program had "been actually really chill. I like the way they follow the program," then adds, "We've gotten to eat a lot of good food!"
She particularly appreciated the mentors: "They have been really helpful with all our questions that we've had, and I've learned a lot about how things work here."
Computer Engineering freshman Jiwon Lee participated in Orientation because, "Coming in, I didn't have a lot of people from my school cause I'm from California" ( the bay area, near San Jose.) "And I just wanted to have a community and came to Orientation to meet people. So I wanted to come to WIE for that."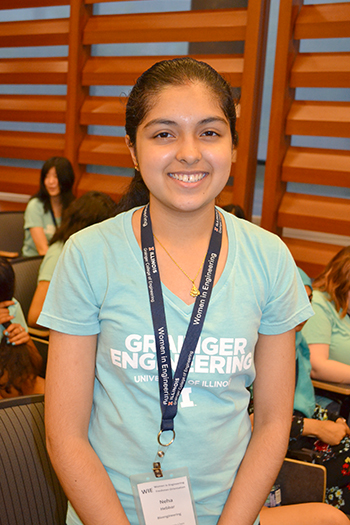 Bioengineering freshman Neha Hebbar.
Lee shares why she picked her field: "First off, I don't have that much background in STEM. So when I looked into it, I thought it was really interesting how Computer Engineering connected CS and ECE [Electrical and Computer Engineering], and it was kinda like how software translates into hardware, so that's why I picked computer engineering." Reporting that she met a lot of people at WIE, she adds, "I'm actually really surprised that there's only like 26% girls in engineering, and I'm glad that we can all band together."
Bioengineering freshman Neha Hebbar, a Champaign nataive, came to Orientation "to get a taste of the college life and meet other girls that are going into engineering like me. So, I guess just make a network of friends already and get a head start on that." She also hoped for some advice. "I'm going into classes, but I don't know what to expect right now; but I've gotten a lot of good advice. So I think I'll be ready when I go on my first day."
The WIE staff share their reasons for devoting so much time administrating Orientation. According to Brooke Newell, Orientation gives her a chance to meet students. "Yes, we see this big group, but we have the opportunity to check in and talk to students. Then when we advise them, whether they're coming in specifically to see us or not, we're like, 'Hey, didn't you come to Orientation?' And so again, I think it just breaks down that barrier, makes it that much easier for students to feel comfortable even in this space in terms of advising. I think that that's helpful."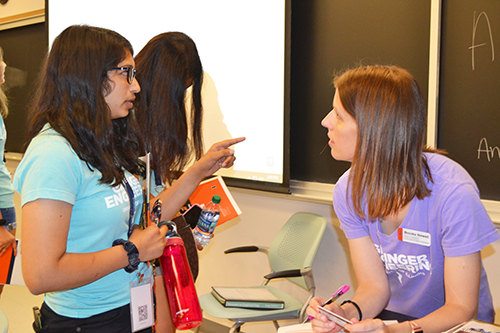 During one of the afternoon advising sessions, Brooke Newell (right) gives a freshman some advice.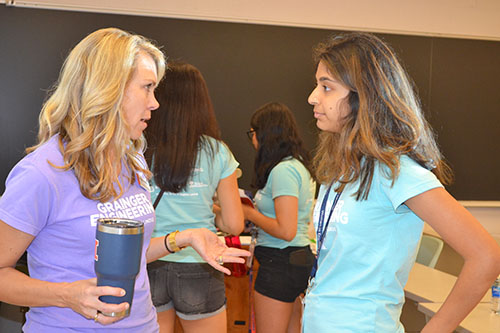 Angie Wolters chats with a freshman during one of the afternoon's advising sessions.
Angie Wolters acknowledges that WIE Orientation is her favorite time of every year.
"Because of the stories that every student, past mentor, past coordinator has about what it means to them. Because alums send me pictures of them with their bridesmaids that they met at the Orientation."
Wolters, who treasures stories about what orientation meant to alums, recalls a recent communication she received. One alum sent pictures from her wedding party. All of her bridesmaids were Illinois Mechanical Engineering grads, and they had all met that first night at WIE orientation.
'But for me this year, I think it feels very reflective, with Anne and Val returning to campus," she adds, referring to the keynote speakers, who were WIE Orientation Co-coordinators her first year back at Illinois working with WIE. "Knowing that their friendship began at Orientation," she recalls. "It means so much to see that impact—that that's something that we do here in this program. And knowing they're not alone in that: everyone has that story and that personal piece that they've taken away from Orientation. And so it's what makes me so excited to still be a part of this and to do this every year."
No matter how long WIE Orientation lasts, where it's held, or how many activities there are or what they're like, it seems that there's this bonding that happens between the students. This is probably true for a large number of female engineering students on campus: they met at WIE Orientation, they're best friends, and might even be roomies.
Case in point: Liz Boehning, a sophomore in Electrical Engineering, shares why she participated as a mentor. "So I did it my freshman year last year, and I really loved that. I met a lot of great girls that I'm still best friends with. So I just liked the idea of coming back and telling freshmen what I learned. Because I think freshman year is so different from anything you've ever experienced. It's nice to have somebody who's been there to give you advice. So I just wanted to be there for them like my mentor was."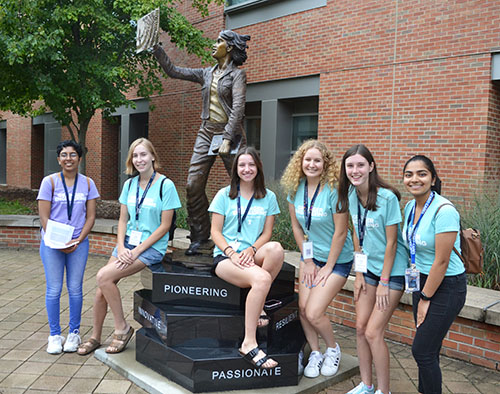 A mentor (left) introduces her group to Quin (the Quintessential Engineer), the statue of the female engineering student erected on campus near MNTL a couple of years ago.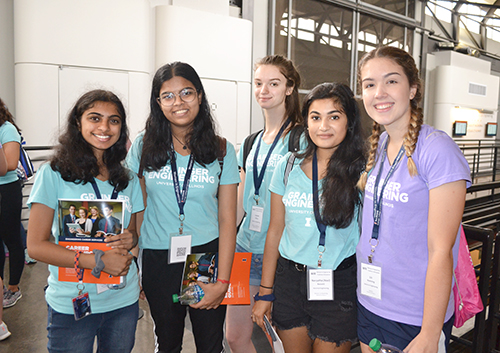 Sophomore Liz Boehning (right) serves as mentor to a group of freshman Electrical Engineering students.
And as is often the case, Boehning, who is still good friends with some of the girls she met last year at orientation, admits, "I'm going to live with two of them next year, so..."
"The critical part is that we give them the space to find each other," Brooke adds.
"Oh yeah," adds Gulecyuz. "All my best friends are from Orientation. Yeah. That's what everyone says. But, it's true."
---
Story and photos by Elizabeth Innes, Communications Specialist, I-STEM Education Initiative
More: Engineering, WIE, Women in STEM, 2019
For additional I-STEM articles about WIE Orientation, see: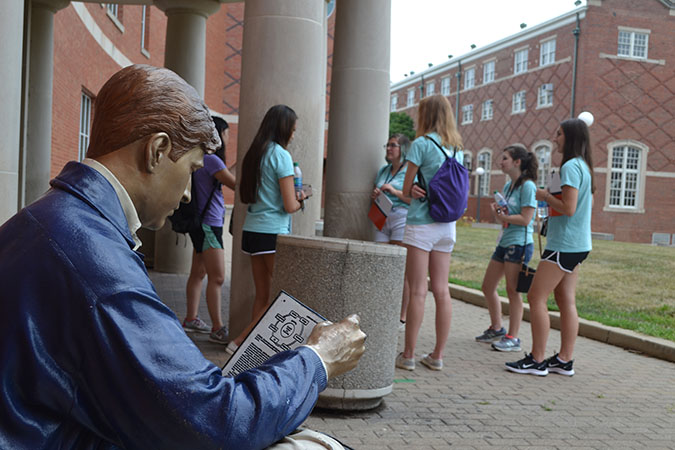 Above: At the fall 2019 WIE Orientation, a group of female engineering freshmen chat on the south portico of Grainger Library as Grainger Bob looks on.
Below: The entire group of participants at WIE Orientation: 355 freshman, numerous mentors, and WIE staff and coordinators.