Aerospace Engineering Junior Suzanne Peterson Returns to G.A.M.E.S. Camp
June 13, 2018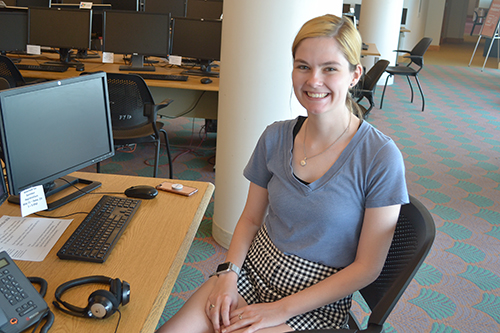 Aeronautical Engineering junior Suzanne Peterson.
Most undergraduates rarely get an opportunity to participate in an immersive experience relating to their future career paths as early as high school. But rising senior Suzanne Peterson is a 5-time veteran of the University of Illinois G.A.M.E.S. camp, having first attended when it was still open to middle school students. Girls' Adventures in Mathematics, Engineering, and Science (G.A.M.E.S.) is an annual, week-long event which allows high school girls to explore scientific ideas through demonstrations and activities. This year, Peterson will be on the other side of the event as a lab assistant who teaches several classes and sessions. Her own experiences at these camps as a young girl opened up the possibility of studying engineering, and she wants to pay it forward, saying, "I'm really passionate about outreach, and I would like to be [an inspiration] for somebody else."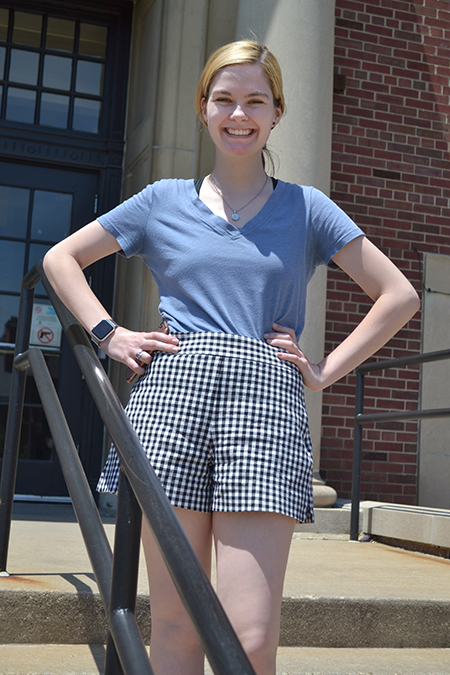 Suzanne Peterson in front of Talbot Lab, which houses the Aerospace Department
Peterson has participated in two computer science camps, a robotics camp, GLEE (the electrical engineering camp), and of course, the aerospace camp. During the summer between her freshman and sophomore year of high school, This last camp was responsible for igniting her love of aerospace engineering. When she attended the robotics camp the next year, she realized that although she enjoyed robotics, aerospace made her heart soar. Her favorite part of the aerospace camp was going to the airports, getting into the smaller planes, and touring their facilities. Although the rocket she built at that camp did not go the highest, it did go the farthest, though she attributes this to the wind. She calls her rocket "the coolest thing ever" and laughs about her greatest innovation on the piece being that she spray painted it gold.
Peterson has always loved airplanes:
"I thought [airplanes] were very interesting in how they managed to stay up in the sky when they're so heavy and all the people are on them. I always wanted to try to figure out how that all worked."
She credits her interest in the field to an Earth Science course she took as a freshman in high school which piqued her interest in astronomy, and by extension, the possibilities in space and air travel.
Peterson matriculated to the University of Illinois through the Parkland Pathways program, which allows students to take classes at Illinois while enrolled at Parkland College (at the tuition rates of the latter). She took one course at Illinois every semester while at Parkland for a total of four classes. While her Parkland classes were mostly general engineering courses, taking the aerospace classes at Illinois before she enrolled made the transition easier, both academically and socially. Since coming to Illinois, she has taken further coursework in structures and composites. Peterson hails from Monticello, Illinois, a mere 20 miles away from the Illinois campus. She enjoys going to school so close to home because it allows her to see her family, but more importantly for every college student, lets her do her laundry for free.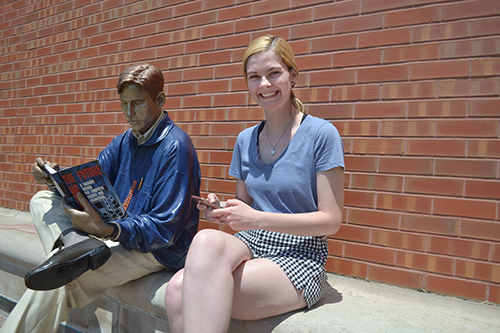 Suzanne Peterson sits next to campus icon Grainger Bob, who watches over Bardeen Quad in a bench just south of Grainger Library.
Peterson's current research is in composite materials, which she hopes to continue working with in the future. She works with Dr. Philippe H Geubelle in the Computational Mechanics Group, where she is working on a computer code that analyzes the instabilities of one of their projects. It is a new way to manufacture composites instead of just vacuum sealing it and putting it in an autoclave for 12 hours, wherein it shoots a high temperature front at the parts which cures them faster. Peterson believes that while the composites are as sturdy as they would be if made in the traditional way, there is a lot more research to be done on that front.
Peterson plans to start working on the industry side after she receives her degree, although she is considering the option of graduate school in the future. She worked as an au pair in Spain last summer, and her host family had a cousin who worked at the aeronautics company Airbus in Madrid. Seeing that the company has opportunities all over the world, and her experience living in Spain itself has Peterson considering a career abroad. Whichever path she chooses, the solid foundation her experiences at Illinois have given her will serve her well.
---
Story by Niharika Roychoudhury, I-STEM undergraduate student. Photos by Elizabeth Innes, Communications Specialist, I-STEM Education Initiative
More: Aerospace Engineering, G.A.M.E.S., G.A.M.E.S. Aerospace, Women in STEM, STEM Pipeline, Student Spotlight, Undergraduate, 2018