Sustainable Futures Workshop Stokes
High Schoolers' Passion: Sustainability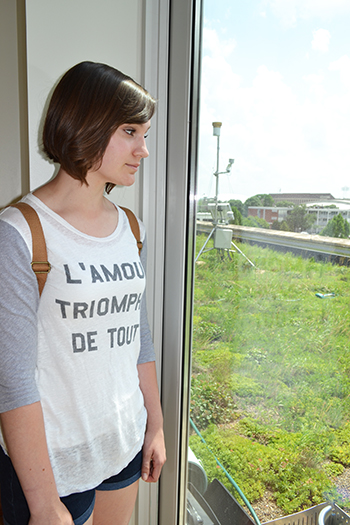 Grace Moran views BIF's green roof during a tour.
June 27, 2014
What prompted 14 high school students to give up prime time lounging by the pool to attend the Sustainable Futures summer workshop? Some came to explore career options; however, others, whose career aspirations were not necessarily related to sustainability, didn't. But no matter how disparate their career goals, they all had two things in common: they wanted to change their world, and they all were passionate about sustainability.
This intensive, interdisciplinary course, jointly sponsored by the Center for Global Studies (CGS) and the Global Studies Program in the College of Liberal Arts & Sciences, offered a college-level foundation in environmental sustainability, plus an added incentive: students earned one college credit in Global Studies at the University of Illinois. (So the four students who will be incoming freshmen this fall already have one credit on their transcripts.)
Students experienced presentations by faculty and experts on some sustainability challenges, conducted research, and took field trips to local sustainability sites. For example, they visited the Student Sustainable Farm, Woody Perennial Polyculture, and Center for Advanced Biofuels test plots, which all practice agricultural sustainability; they saw how ecologies have been transformed at the Prairie Restoration Project. They also experienced some sustainable urban environments, two LEED-Certified facilities: the campus' Business Instructional Facility (BIF) and the Champaign Water Treatment and Control. During Friday afternoon's culminating event, participants presented their research findings.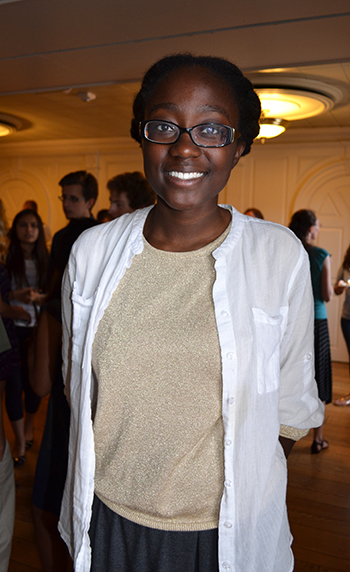 Damilola Ajasa, a rising senior from Tinley Park, Illinois, during the Sustainable Futures final presentation event.
All of the participants have impressive career aspirations. For instance, Damilola Ajasa, who is interested in public health—global health, specifically—came to the camp to "earn more international and global insight." Her goal: to "understand everything from a global perspective, as well as just environmentally and socially. Her dream job? She hopes to be an epidemiologist with an emphasis on global diseases such as malaria and typhoid fever—things that affect Africa. Ajasa, whose ethnicity is Nigerian (Yoruba) says she chose this field "because I'm African, and that's where my heart is."
Calling the camp "impactful," Ajasa indicates that she learned a lot about "just the different kinds of plants that there are and different options that we have besides gasoline and non-renewable resources."
According to Ajasa, "The level and the rigor of the course was particularly fascinating because we learned a lot, but it was in a little time, and I feel like it really impacted us as a group."
She particularly enjoyed the session about oils and whales, which she called intriguing: "because we learned about the past and the future and where global sustainability is going in the future, and so I really appreciated that."
For another student, rising junior Liam Berg from Oak Park, Illinois, even the community he grew up in—as its name implies—is "Green."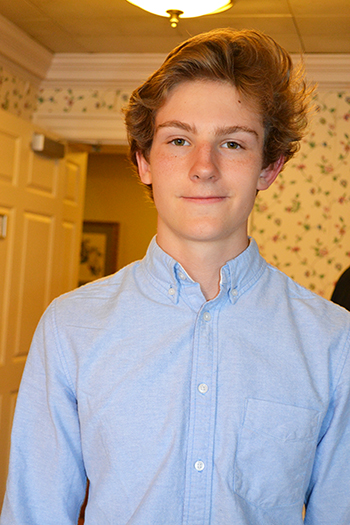 Liam Berg, a rising junior from Oak Park, Illinois, during the Sustainable Futures final presentation event.
"The town I grew up in, it's pretty environmentally friendly. So sustainability and things like that, I've grown up around them. It's always been in my mind. I was really eager to learn more."
While Berg is considering a career in sustainability: "It's really interesting and really complex," he had another reason for attending: he wanted to experience the campus and will most likely be seeking admission to Illinois. Since both of his parents went here, are they pressuring him? "They certainly would like me to go here."
Of Sustainable Futures, Berg says: "It was just a really good experience. I thought the field trips and a lot of the classroom instruction were really helpful. And when we went to the sustainability farm, I thought that was a really good way to see it firsthand and how people are actively contributing."
Grace Moran, a rising senior from Rock Island, came because she's interested in integrative biology. "The reason I wanted to study this is because it's the macro side of biology," she says." Moran also claims "I've been an environmental freak since 7th grade."
How did she become an environmental freak? Through the internet. "I got kind of obsessed," she admits, "and I forced my parents to get compact florescent bulbs in the house. So then I started researching the rest of it, and that's how it happened." Has she converted them to LED bulbs yet? She's working on it.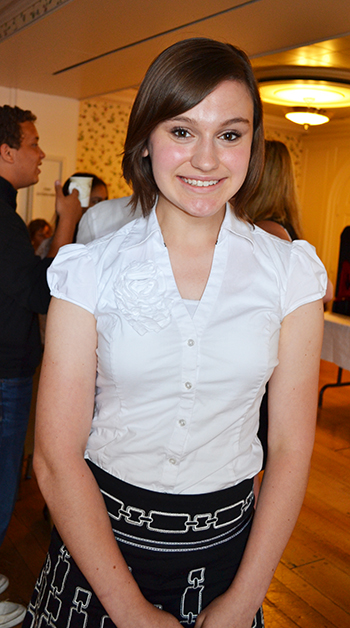 Grace Moran during the Sustainable Futures final presentation event.
Moran, who hopes to attend Illinois in integrative biology, has a very specific field in mind: cancer research, particularly angiogenesis. "If you can cut off the growth of blood vessels," explains Moran, who already sounds well versed in her chosen field, "you can stop the growth of tumors which would also decrease the chance of metastasis, the largest reason why people reach stage four." Moran plans on being a researcher in a lab…"probably Boston," she says.
What's one thing she learned from the camp? Governments are key.
"I learned how government could be what got us into this issue, but it can also be the solution. And largely, the solution to sustainable futures is in international cooperation, particularly between governments who have more money who could give funding to other countries. For instance, a lot of smaller countries need subsidies for farms to increase their production."
She also learned that nitrous oxide is a major culprit: "It's 300 times more potent than CO2, so if we can decrease how much of that is produced in crops, because that's largely where it's released, I think we can really start decreasing global warming."
Based on what she has learned so far, she also has some general advice. "Go back to a more natural way of growing things." She suggests prairie grasses, which have a lot of cellulose for creating biofuel, and "don't take a lot of tending, so it would be a much simpler way of growing things that would help the environment."
Marcus Green (right), from Champaign, IL, poses with a fellow student in front of Lincoln Hall.
Also passionate about sustainability is Marcus Green (whose name is also quite apropos, I might add), a rising senior at Centennial High School in Champaign. Green explains why he was drawn to the camp. "Because I'm eager to help the environment, and I think that the world can be changed. Even one person can do just a little bit that can spread and exponentially grow to do great things for the world…And I really like to recycle."
After a mutual discussion about recycling challenges, Green came up with a solution that would not only promote recycling but help the economy: "I feel like recycling plants could bring jobs, like if you have people go through it and sort it."
Green intends to major in chemistry, with a career goal of becoming a nurse. So for him, the camp was a very informative "side trip."
"I learned so much about all the problems that I was unaware of with the world and what's happening. One thing that really affected me is how hard it is to change the world—the population as a whole in countries—because of what they want for themselves."
Green went on to express frustration over individuals' unwillingness to make personal sacrifices in order to improve the environment.
"That just bothers me. If you really want the world to be better, and you know what is happening is wrong, you should be able to change your own views to gear them towards helping the world instead of for your own personal gain."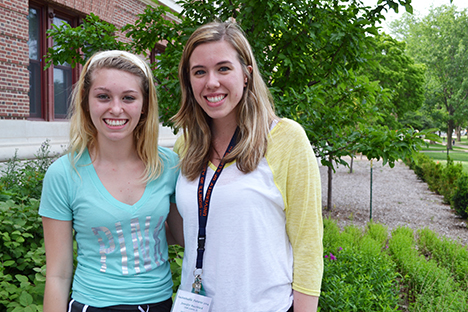 Two Sustainable Futures Workshop participants pose on the Quad.
In its second year, the Global Studies Workshop organizers hope to expose high school students to global studies.
"We want to get them and give them an experience on campus and an introduction to the field in the hopes that that might shape their decisions when they get to college as to what to study," says CGS Associate Director Elly Hanauer.
However, when Hanauer, CGS Director Edward A. Kolodziej, and the former director of LAS's Global Studies program began brainstorming about doing the workshop, they originally were considering college students. But in hopes of recruiting more students to the field, they decided on high schoolers.
The program also hopes serve students beyond the state. Although the majority of students in this year's camp were from the Chicago area, it attracted students from 3 states (Illinois, Michigan, and Florida). Says Hanauer, "We really see this as a program that is national in its reach in terms of attracting students from all across the country. We would love to attract international students as well."
With a myriad of topics to pick from about global studies, why sustainability?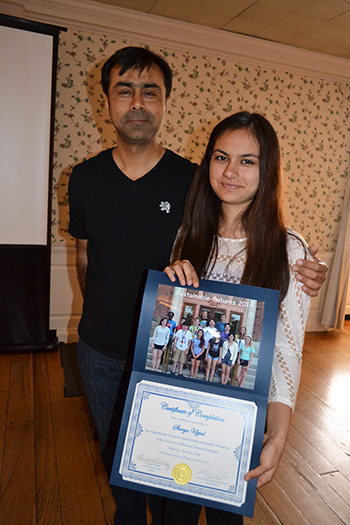 A high school student (right) poses with and her father at the Sustainable Futures Final Presentation event.
According to Hanauer, they initially planned to address a different global studies theme each year: last summer's theme was international human rights; for 2014, they chose Sustainability, a major global issue.
"It's a topic that's so urgent and really affects everybody," says Hanauer, "so we thought it would be one that high school students, in particular, would be interested in."
And Sustainability may be the topic for next summer's workshop as well. "After this summer," says Hanauer, "we may rethink the rotating themes every year, because we really liked this one…So we may stick with sustainability for another year."
Which is ok with one pleased parent who told Hanauer, "Oh, I think you may see my son again next summer, even if you do the same topic."
Sustainability was also easy in terms of finding faculty to help teach the camp this year. "That's always been an area where we've had a focus and worked with faculty across campus to support them developing new courses," says Hanauer. One faculty member with whom CGS had previously worked immediately came to mind:  Jonathan Tomkin. Says Hanauer, "Jonathan Tomkin is of MOOC fame for his first-ever Coursera with hundreds of thousands of participants," explains Hanauer. Associate Director of the School of Earth, Society, and Environment, Tomkin has been teaching on the subject for quite a few years; his course, "Introduction to Sustainability," was the first MOOC (Massive Open Online Courses) on sustainability.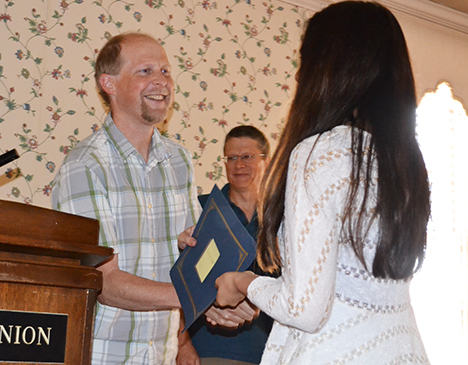 Jonathan Tomkin (left) awards one of the Sustainable Futures workshop participants her certificate.
What does Tomkin think students learned? "That the world is a complicated place, I hope," says Tomkin. "The students realized that there are tradeoffs between different decisions, so that if we do one thing, we might not be able to do another, and we have to decide where to put our resources. The second big thing that they learned is that there are many different important trends to keep track of if we're thinking about sustainability in the future. There are personal-level things to worry about, like what we can do as a person, but also what's going on at the country level scale and what's going on at the international scale."
To recruit interested students in the target age group, rising sophomores through graduating seniors, Center staff emailed thousands of high schools, teachers (particularly science teachers), and guidance counsellors. Plus, they placed an ad online, which seemed to reach a lot of students and parents.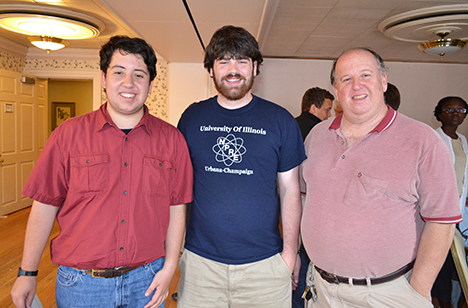 Robert Geringer (center), an Illinois grad student in nuclear engineering, was one of two RAs/TAs who helped with project, including supervising students at the dorm.
Camp organizers used a rigorous selection process to choose participants: students submitted an application; teacher recommendation; high school transcripts; and several short essays on topics such as their interest in sustainability and what they hope to study in college. An outside reader, a former high school teacher, helped in the decision-making process.
Camp participants didn't just study and go on field trips. According to Hanauer, "They had fun, and made friends, and enjoyed their times in the dorms." Some planned events included dinner with academic advisors from a number of campus units dealing with sustainability, a campus tour, a scavenger hunt, an evening at ARC, a concert on the quad, and bowling at Ilini Union.
"This camp was awesome," says Green. I made so many friends. Probably see them, hopefully, in the future. It was great."
Adds Hanauer, "We really enjoy this program. It's nice for our staff. It's something that we created from scratch and have watched grow, and that we hope to continue to expand in the future. It's a change of pace working with the high school students as opposed to the faculty and university students."
Story and photographs by Elizabeth Innes, Communications Specialist, I-STEM Education Initiative.
More: 8-12 Outreach, Center for Global Studies, Summer Camp, Sustainability, 2014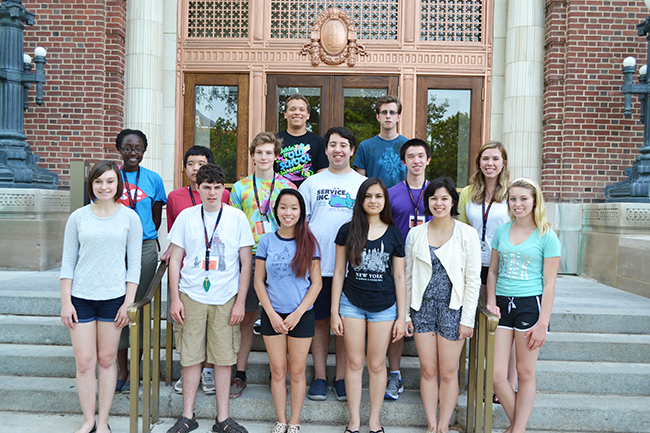 Participants in the 2014 Global Studies Workshop: Sustainable Futures