Mattia Gazzola's Paper2Tree: A 3-Step Program to Give Back to Your Community: Publish a Paper ➜ Plant a Tree ➜ Perform a School Outreach
December 1, 2017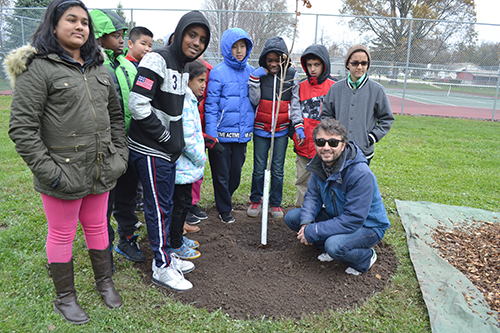 Mattia Gazzola (bottom right), along with students from King School, next to the Swamp White Oak he planted in Carle Park as part of his Paper2Tree initiative.
While appreciating the beauty of nature on his 20-minute jaunt from his home in west Urbana to campus every day, Mechanical Science & Engineering (MechSE) Assistant Professor Mattia Gazzola decided that just gazing at trees and being refreshed in his soul wasn't enough. He felt he needed to counteract one of the negative effects of his job—publishing papers that, over the life of his career would, in all probability, take the lives of a number of trees. So he came up with Paper2Tree, a practical way for those in academia to not just take, but to give back by planting real trees to replace the ones destroyed while practicing their profession and working with schools to expose more youngsters to STEM.
Vis-à-vis his daily trek through Urbana's Carle Park, Gazzola admits, "It's nice, and there are a lot of trees…I spend a lot of time looking at trees. So at one point I was thinking maybe I could invest some time to do something useful. So I was thinking about maybe, from a scientific perspective, what I could do," then goes on to share his acorn of an idea:
Admittedly, Gazzola recognizes that as a researcher and professor who publishes papers for a living, he goes through a lot of the stuff: "Some time ago, I realized that for every article I publish, I use many, many sheets of paper: writing, re-writing, reviewing, correcting...and I thought, 'What if we could reverse that? What if we could plant a tree every time a good paper comes out—and at the same time celebrate and share it with the wider public?'"
Regarding this prospective tree, Gazzola waxes poetic on his website, envisioning it as: "A tree that will grow together with the scientific reach of the research."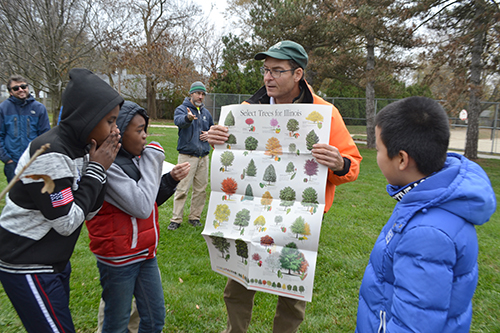 Mike Brunk, the Urbana City Arborist, shows King fifth graders the "Under the Canopy" publication he and some colleagues from several City of Urbana partners developed about Illinois trees.
But he shoved the idea to the back burner until one day, while checking out the Urbana Park District's website, he discovered that they had a program where one could have a tree planted—such as to celebrate the birthday of a child. That's when he had his epiphany:
"Why not combine the research that is done here, and the outreach, so that you can have an outreach experience outside, and plant a tree, and use this tool to broadcast what happens here at the university?"
So Gazzola did his homework. He broached the idea with MechSE's Educational Outreach Coordinator, Joe Muskin, and Julia Stackler, the Assistant Director of Communications in MechSE's Media Office. Both liked the idea. So they approached the head of the department, who also liked it. Finally, they pitched the idea to the City of Champaign, the City of Urbana, plus the Champaign and Urbana park districts, who liked the idea too. So the Paper2Tree program germinated, sprouted, and began to push up through the ground.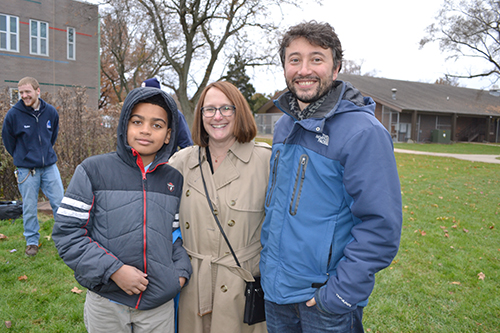 A BTW fourth grader poses with Champaign Mayor Deborah Feinen (center) and Professor Mattia Gazzola (right).
One nice thing about Gazzola's notion— compensating for paper used by planting a tree—was that he didn't have to reinvent the wheel when it came to planting the trees…both local park districts have tree-planting programs in place. There is a fee (around $200–$300) to pay for the tree itself and to pay the park district for the manpower to not only plant the tree, but to care for it for the next 10 years. Plus, if it dies during the 10-year period, they'll replace it.
"We just needed to use what they do already and then channel it in a different direction," Gazzola explains.
So after doing his research and getting the go-ahead from all the partners involved, he bought and set up a website: https://paper2tree.org/. It will allow faculty to sign up for the program, pick a city (presumably their city of residence: Champaign or Urbana), pick a specific spot for the tree, then be redirected to one of the local park district websites to pay. A fun perk: anyone who plants a tree through the Paper2Tree program will actually be able see it on the website via GPS—geolocalized, visualized on a map, and organized in "science groves." (As an indicator of the high-tech world in which we live: according to Gazzola, "For now there are no signs on the trees, but they all have a GPS signature so they can be seen on the map.")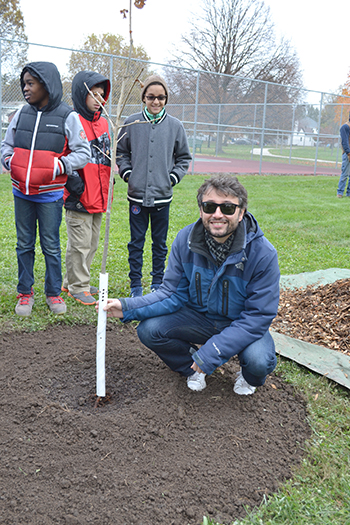 Professor Mattia Gazzola (front center) with the fledgling Swamp White Oak he helped to plant.
Then, on November 16, during the Paper2Tree kickoff event, Gazzola put his money where his mouth is. He had a Swamp White Oak tree planted in Urbana, next to Martin Luther King School. The paper? "It's called, "Scaling Macroscopic Aquatic Locomotion," he explains. "That's the first paper to go to tree."
Also helping to compensate for his paper footprint was a MechSE colleague, Assistant Professor Chenhui Shao, who had a tree planted in Champaign's Douglass Park, not far from Booker T. Washington STEM Academy, in honor of his paper, "Dynamic Sampling Design for Characterizing Spatiotemporal Processes in Manufacturing." (The Champaign Park District might want to rethink their tree selection process, however, given that this is Illini country. The tree they chose to plant was a Buckeye.)
With the first two aspects of his three-step approach taken care of (writing a research paper then planting a tree), Gazzola then concentrated on the third part: fostering research-related outreach to local schools. So he contacted the Champaign and the Urbana school districts who are partnering with Paper2Tree in order to facilitate outreach events connected to the papers.
Why outreach events with schools? For one, Gazzola hopes to increase the diversity in STEM. "One of the reasons I'm pushing so much for the outreach," he admits, "is because you want to engage, for example, more and more women or minorities...Women are not usually introduced to these types of fields, and this is one way to introduce them to what technology and science is. And that they can actually make something useful and it can be fun and interesting."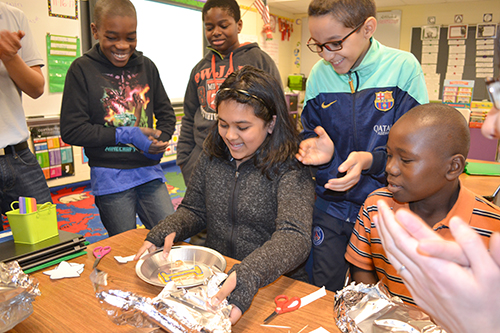 Above: A group of King fifth graders cheer on a classmate who succesfully completed Assistant Professor Chenhui Shao's cookie puzzle activity.
Below: BTW fourth graders show off their completed gliders.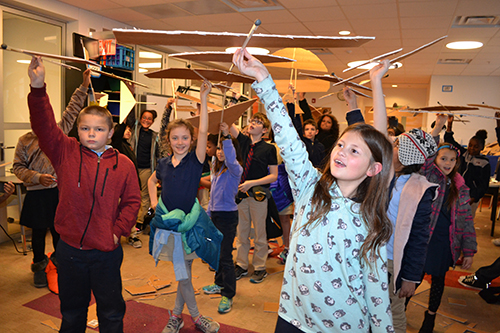 So he'd like to see kids exposed to a wide variety of STEM areas early on: "If you're exposed to several of these outreaches throughout your studies, you will have a broader view of what your options are or find something that you particularly like."
Plus, he also hopes to dispel the myth kids often have that STEM is too difficult for them. "There is this idea that this is very hard to do, unlike other subjects. But that's not true, you can do all of them. It's just seeing and trying it. This is a way to show them that it's not impossible. It's set up as kind of a game so they don't have pressure doing these things, but they can still experience these."
Gazzola also believes this third step—fostering outreach to local schools—provides the rationale for getting faculty who might be outreach-minded but not necessarily be environmentally conscientious enough to shell out $300 to be involved in Paper2Tree.
"You have to offer some incentive to faculty to use this program," he admits, "Because otherwise they say, 'Why should I pay $300 for no reason?'"
What better incentive than the bottom line? Gazzola figures the outreach aspect will appeal to faculty who are constantly writing proposals to funders like NSF, for whom outreach has become increasingly important: "So we have pressure to come up with outreach programs," he acknowledges, "and it makes sense to involve the community. People are always looking for opportunities to do that, and here is a low-barrier opportunity that we provide to faculty. They can say, 'Okay, I published this paper. I can pay this fee and have a tree planted, and this Paper2Tree involves the park district, the school district, and the university, of course.'"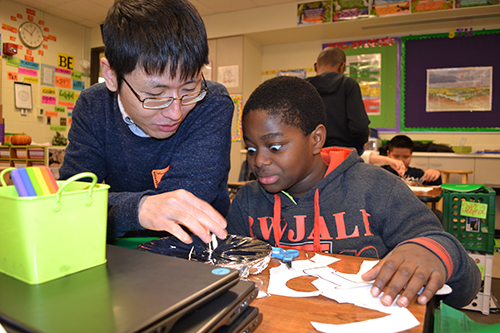 Above and below: MechSE Assistant Professor Chenhui Shao interacts with a class of King fifth graders.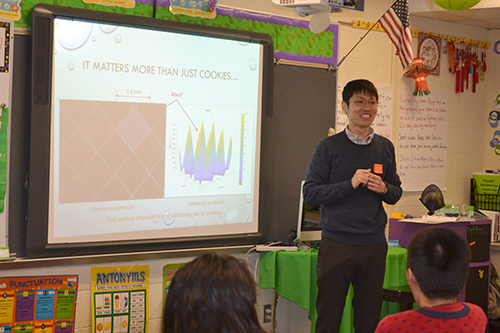 So to announce the program and to demonstrate how outreach activities related to research papers could tie in to the program, during the Paper2Tree kickoff event, Gazzola and several MechSE colleagues provided outreach activities in local schools. For instance, at Shalonda Carr's fifth grade class at Urbana's Martin Luther King Jr. Elementary School, Assistant Professor Amy LaViers led several activities related to her research, robotic movement and flocking. Then Assistant Professor Chenhui Shao led Carr's students in a cookie puzzle activity. And to add to the fun, after the activity, they got to eat the cookies. Then, to top it all off, the students got to help plant Gazzola's swamp oak tree.
The afternoon's festivities took place at Champaign's Booker T. Washington STEM Academy courtesy of BTW's STEM Specialist Loren Johnson. BTW fourth graders were exposed to Gazzola's research during a robotic fish activity, and Assistant Professor Aimy Wissa and some of her students led fourth graders in building bio-inspired gliders which actually flew…some quite well. To cap off the afternoon activities, Shao's tree was planted as Champaign's mayor, Deborah Feinen, and other dignitaries looked on.
But the Paper2Tree outreach component has another, even deeper layer. Gazzola is adding a new section to the website: an activity module where information related to a given outreach will be made available.
"Let's say a high school teacher wants to replicate the activity," Gazzola explains. "All the material and instructions are on the website. The activities are different; some are related to manufacturing, robotics, and simulations. But all these professors have to think about how to engage with students. It's gonna' be made available, so if someone likes it and finds it interesting, they can replicate it."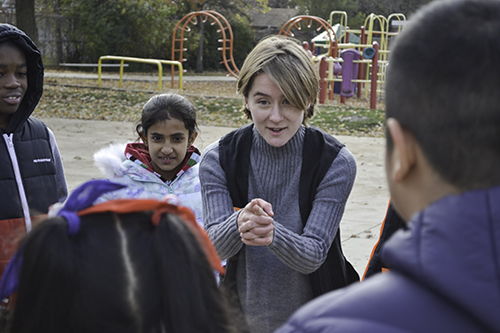 Above and below: MechSE Assistant Professor Amy LaViers leads King fifth graders through several activities related to her research, including robotic movement and flocking.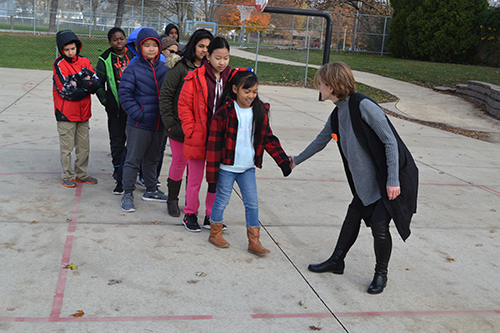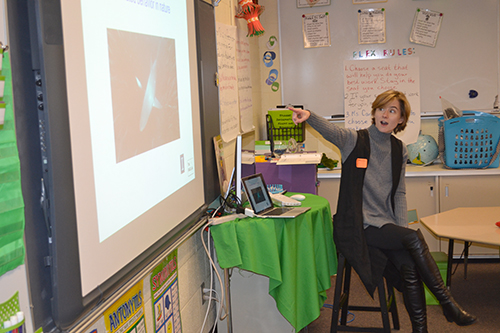 Were the Paper2Tree program to spread beyond the borders of Champaign-Urbana, Gazzola would thrilled. "We are thinking of expanding it. If there's interest, we want to grow, first to our neighboring cities around here. But there is a friend of mine, he wants to in Ohio. It might become interesting. Ideally, it would be nice that you could put in your zip code and it tells you the park districts."
So Paper2Tree is a nice vehicle that is already set up for publishing professors to give back to the community. "Yeah. That's the idea," Gazzola acknowledges. "If you think about it, the papers—the minimum cost for a paper is one student working for one year. But that's never the case, it's more than that... $300 is not very much compared to the actual investment in your paper."
But the professors don't just give; they get something out of it too. Sure, there's some hoopla celebrating their publication, plus some free publicity. "In my mind, if you publish a nice paper, it's going to be at an outreach event; it's gonna be advertised on our website," Gazzola explains. "So my idea is to have little sections for each activity which you see the person that sponsors it and a summary of their life and activities." But even more importantly, publishing professors get the satisfaction of knowing that, in addition to adding some extra oxygen to the atmosphere and some extra shade to someone's path, they just might have inspired some youngster to follow in their footsteps.
---
Author/Photographer: Elizabeth Innes, Communications Specialist, I-STEM Education Initiative
More: Champaign-Urbana Community, Faculty Feature, MechSE, 2017
For additional I-STEM web articles about MechSE Educational Outreach, see: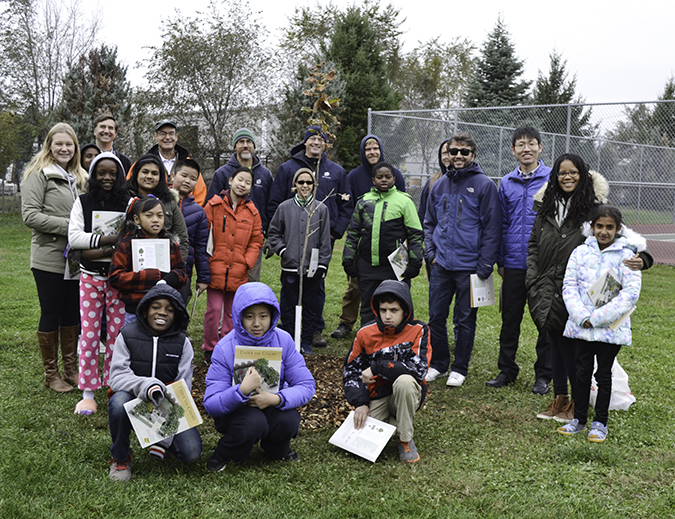 Some of the many folks who helped plant the Swamp White Oak next to King School, including Shalonda Carr and her fifth graders, Professors Gazzola and Shao, Joe Muskin and Julia Stackler, and several Urbana Park District personnel.