Naturally Illinois Expo Uses Hands-on Activities to Interest Students...in Science, Naturally
March 15, 2013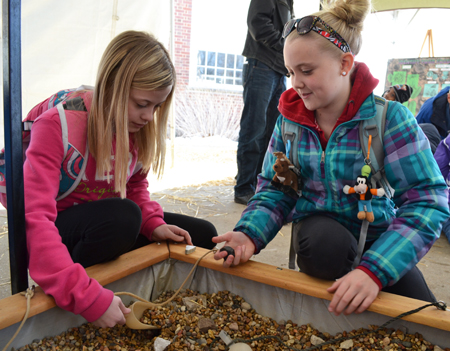 Two students dig for fossils.
Pet Cecil, a real live tarantula. Dig for million-year-old fossils. Hold a gargantuan grasshopper. Experience the circus atmosphere of an exhibit showcasing Illinois river otters and pet the vivacious ringmaster's stuffed otter.
These are some of the fun things a grandfather and his three grandkids found to see and do at the Naturally Illinois Expo the weekend of March 8–9. In addition to these four visitors, the Expo attracted 1900+ more, including around 1100 students, teachers, and chaperones from 12 schools and 40 classrooms.
Besides hands-on activities like those above, the Expo, sponsored by the Prairie Research Institute, provided learning experiences about a broad range of scientific disciplines. The Expo's 48 exhibits and over 200 exhibitors and volunteers informed visitors about a myriad of topics, including dinosaurs, mosquitoes, ground water, earthquakes, bones, pollination, glaciers, and how to produce zero waste. And these are just a few of the areas addressed in the exhibits and studied every day by researchers in the Institute's five scientific surveys: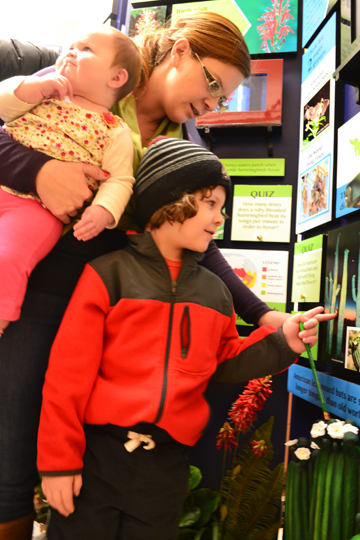 A mother and her son examine a display about "Creatures That Are Not Afraid of the Dark," while her daughter considers her career options.
Because of so many interesting things to see and do, the Expo is a big hit with students…and their teachers. For instance Gail Beck, a teacher at Leal school in Urbana has brought her class to the Expo for several years: "I love taking the children there. It is a highlight of the year!"
Eve Hargrave, the Illinois State Archeological Survey's Public Engagement Coordinator, who organized this year's Expo, believes one reason the event, now in its fifth year, is so popular with kids is because exhibitors are encouraged to incorporate hands-on activities. In fact, the Institute holds an annual workshop for exhibitors taught by an education coordinator for the Environmental Education Association of Illinois, Sarah Livesay, who teaches scientists workshops on how to speak to the general public, particularly kids.
"Each year we've had this, and have noticed a significant improvement in the exhibitors' ability to interact with the general public and the kids," says Hargrave. "Because as scientists, we're used to jargon; we're used to talking to people who have the same background. So it's difficult at times to try and figure out, 'Ok, at what level do I need to discuss this?'...And Sarah would emphasize hands-on, if possible; we need to engage them…So I think every year it just gets better, as far as the exhibits."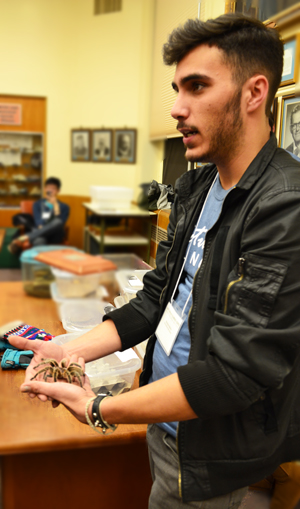 Graduate student at a Naturally Illinois exhibit on insects shows Cecil the Tarantula to Expo visitors.
And a number of exhibits appeared to have hands-on activities. For instance, this reporter, as well as a bunch of very engaged students, got to pet Cecil the tarantula, who appeared unfazed by all the attention. Kay Grabow, a fourth grade teacher at Thomas Paine School in Urbana, really appreciated the hands-on learning opportunities for her students: "Having so many hands-on things in one place is great. We could take field trips to learn about some of the things, but never so many."
Hargrave reports that it wasn't just the kids who had fun at this year's Expo. "I think it was really good… Everywhere I went, it seemed that everyone was just excited. And it wasn't just the kids, it was the staff. They all clearly enjoyed doing this. And everybody was exhausted at the end. But just to interact with the students in such a positive way, it's just wonderful. And I think they really do enjoy it."
In addition to working hard to engage the students, Expo planners provided resources to help teachers maximize the experience. To enhance student learning during the expo, each received a field book with questions about each exhibit visited. After completing the field book, students could claim a reward at the information tent. The week of the Expo, materials were delivered to teachers ahead of time, enabling them to choose which exhibits they wanted to visit if they had a limited amount of time. The teacher packets, funded by a grant from the University's Office of Public Engagement, contained the field books plus individual samples of coal, fluorite, trilobite for each student. In addition, teachers received books, posters, and samples for their classrooms, plus materials for their school's library. Fourth grade teacher Kay Grabow's students used the field books during their visit to the Expo, and Grabow reports that the books encouraged a higher level of engagement with the exhibitors. "It was a good thing to have because it gave them a way to engage in conversation with the people manning the exhibits. The students who did engage in conversations really learned a lot from doing that." Grabow observed another benefit of distributing the field books: "They got some good practice with map reading as well as seeing the exhibits!"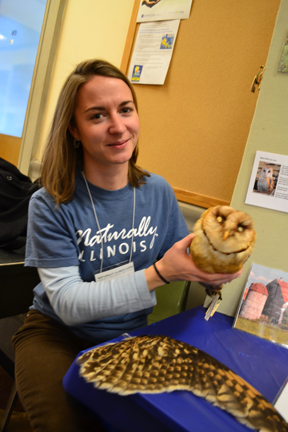 Exhibitor holds a stuffed owl in the "Creatures That Are Not Afraid of the Dark" exhibit. Displayed on the table in front of her is an owl wing that visitors were invited to feel."
Expo planners also are doing a pilot study this year with the Champaign-Urbana One-to-One Mentoring Program, providing resource boxes for the organization's community centers in all four local middle schools, plus two elementary schools. Each resource box has an activity from each of the five Surveys. The study will track use and the effectiveness of resource box materials.
While Expo planners hope to augment schools' science curriculum, they have a more long-term goal. They intend to expose youngsters to a variety of science fields when they're young in hopes that they become interested enough in a specific field that when it's time for them to choose a career, they'll pick that field. According to Gary Miller, Associate Executive Director of the Prairie Research Institute, "We're trying to feed the pipeline!"
Libby Johnston, Communications Director for the Prairie Research Institute agrees. "We are interested in reaching the younger children, because we hope it stirs their interest in the resource sciences because we know right now that the people in the resource sciences are not plentiful. And some of the areas are not really growing much. So we know that in order for us to do our work, we need to have trained people. So we are interested in educated people, and we are interested in motivating kids and showing them what a great career science can be."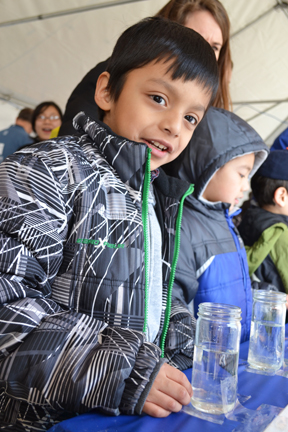 Youngster at Naturally Illinois Expo learns about hidden minerals in Illinois water.
Further, Johnston creatively envisions how a simple experience at their Expo could set a youngster's life on a trajectory to a career in entomology:
"You never know when just an experience that even a 6-year-old has, seeing that tarantula and thinking it was wonderful, that it sticks in their mind. And they do a report when they're in junior high, and then they do this and do this, and pretty soon, they're an entomologist. You just don't know what's going to stick in someone's mind, even a young child."
According to Miller, another goal is to remove the mystique surrounding both science and the university—to make them approachable. "We're trying to demystify both the university and science to children and to whole families. When I grew up, I never set foot on a university campus of any kind until I went to one. And it was so intimidating because I just had no idea what it was all about. So even to get people on the campus, I think, is really positive. Because I've heard a lot of people say 'I'd love to go to the U of I, but I could never survive there.' They just feel totally intimidated at a big university—academically and socially."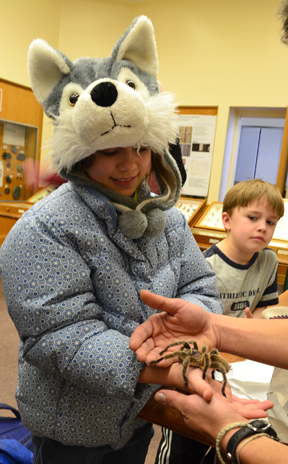 Cecil the tarantula makes a new friend with a young Expo visitor, while her younger brother watches."
Miller believes a great way to familiarize students with the university and to help them feel that, 'Yes, I could be a scientist,' is to encounter a real, live one—face to face. "The other thing is to actually meet the scientists, and have met a biologist or a geologist or a chemist or an archaeologist so that they can hopefully vision themselves doing that and being that someday. We feel like that's really important in encouraging children in particular in going into these fields. And that they can do it and that there are good-paying, interesting jobs right here in Illinois. They don't have to go to the west coast or somewhere to do their science. So that's really our main goal. We're trying to feed the pipeline!"
Kay Grabow's fourth graders were receptive to Miller's approach. "The students were interested in all the different kinds of jobs there are that have to do with the natural resources of Illinois. Unfortunately, many students just think of Illinois as flat land with corn, so their eyes were opened to so many wonderful resources in our state," she says.
Story and photographs by Elizabeth Innes, Communications Specialist, I-STEM Education Initiative.
More: Champaign-Urbana Community, K-12 Outreach, 2013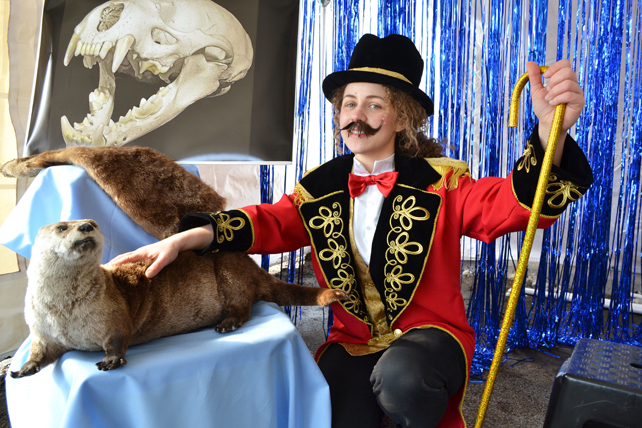 Naturally Illinois Expo exhibitor at the "River Otters in Illinois" exhibit poses by a stuffed otter.