New Center for Agricultural, Biomedical, and Pharmaceutical Nanotechnology Targets Biotechnology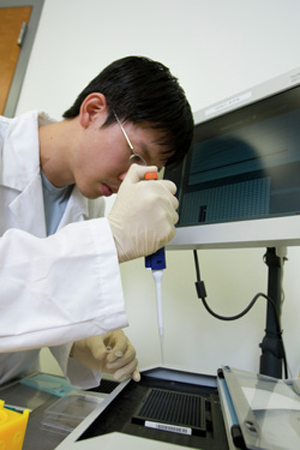 Student working at Micro and Nanotechnology Laboratory. (Photo courtesy of Micro and Nanotechnology Laboratory)
February 10, 2011
The new campus Center for Agricultural, Biomedical, and Pharmaceutical Nanotechnology (CABPN) is an NSF Industry/University Cooperative Research Center designed to enable discovery and innovation through collaboration. CABPN's mission is to conduct industrially-relevant fundamental research into applications of nanotechnology in the fields of drug development, agriculture, and medical technology; to facilitate technology transfer to industry; and to enhance graduate education and research. According to Brian T. Cunningham, CABPN's director and principal investigator, "A great deal of research momentum in nanotechnology is now leading to commercial applications and the interest to develop new products and/or services. The types of projects that we envision initially include biosensors for pathogen contamination, nanoparticles for drug delivery, and sensors incorporated into point-of-care diagnostics in the intensive care unit of a hospital."
Nanotechnology is finding many new applications in biotechnology, including food production, food safety, pharmaceutical high throughput screening, drug delivery, point-of-care diagnostics, and disease diagnosis.  The goal of CABPN is to bring together industrial interests in this multidisciplinary field, and to support research projects with broad applicability across many markets. CABPN's research program will explore the viability of nanotechnology in the following biological science applications: diagnostics, pharmaceutical screening, nanoparticle drug delivery, and nanosensors.
Diagnostics. Sensor technologies with the ability to detect cancer biomarkers in blood can serve as a noninvasive early diagnostic approach. Once incorporated into intensive care units, sensor technologies can provide real-time diagnostic information on patients.
Pharmaceutical Screening. To more rapidly determine the potential of natural products (i.e., plants, fungi, and bacteria) as pharmaceuticals, new nano-technologies can monitor the effects of these extracts upon cancerous and normal cells to help identify promising leads.
Nanoparticle Drug Delivery. To increase the effectiveness of treatment and reduce side effects, biodegradable, targeted nanoparticles can deliver drugs to specific tissues, and increase the efficiency of drug delivery to food animals.
Nanosensors. Biosensors can detect pathogens in food supplies, while chemical sensors can detect trace quantities of contaminants in pharmaceutical manufacturing pipelines.
Illinois' strong research infrastructure provides numerous state-of-the-art facilities and laboratories. While CABPN's headquarters will be the Micro and Nanotechnology Laboratory, other facilities/laboratories involved include:  Beckman Institute,  Coordinated Science Laboratory,  Frederick Seitz Materials Research Laboratory,  and the Institute for Genomic Biology.
Center Members include the following iIndustry partners: A*STAR Institute of Microelectronics,  Abbott, Advanced Diamond Technologies,  Dow Agrosciences,  Elanco Animal Health, Embrapa,  Fox Development Company,  Illinois Soybean Association,  Intel, Livingston Securities, LLC,  Mayo Clinic,  NanoSi,  SRU Biosystems,  Tate & Lyle,  US Army Corps of Engineers,  US Army TATRC. Non-paying advisory members include: Brendan Fox, Pharmaceutical, Nano Business Alliance, the United Stated Department of Agriculture, and the Ul.S. Food and Drug Administration.
Author: Elizabeth Innes, Communications Specialist, I-STEM Education Initiative
More: Funded, MNTL, Science Center, 2011