SungWoo Nam Creates Virtual Lab, Promotes Undergraduate Research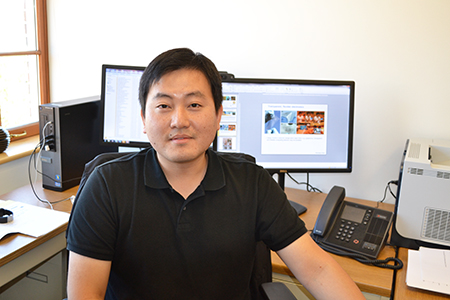 MechSE Assistant Professor SungWoo Nam.
November 19, 2014
SungWoo Nam, an Assistant Professor in Mechanical Science and Engineering, appreciates the little things—the really little things—like on the nanoscale or the atomic level. However, when it comes to STEM education, he likes to work with students across the entire spectrum: graduate students, undergraduates, and even high school students. But his passion is exposing a sometimes overlooked group—college sophomores—to the wonders and the rewards of research, like his own research on nanoscale devices and materials, particularly graphene.   
Exactly what is graphene? It's actually graphite, the rather common, everyday substance that forms the core of the ubiquitous #2 yellow "lead" pencils we probably used as elementary students. What's uncommon about graphene? It's a one-atom-thick layer of graphite, which is difficult to get down to. For example, according to Nam, a line drawn by a pencil is comprised of somewhere between 10,000 to 1,000,000 layers of graphene, but could be above or below this range as well.
"The number of layers is dependent on the darkness of the pencil marks," explains Nam.
Hailed as the next big "wonder" material (move over, plastic and silicon), the two-dimensional substance is tougher than diamonds, conducts heat and electricity better than copper, and yet is very flexible. Engineers and scientists predict that in the future, it will be useful in computers, photonics (optical electronics), filtration, composite materials, energy storage, even bioengineering. For example, Nam and the students in his research group are investigating its interaction with living cells and tissues.
To introduce students to the super material, Nam has a favorite hands-on activity he likes to have them do: making a paper graphene circuit. The activity demonstrates both graphene's electricity-conducting properties, as well as its flexibility. In fact, when he taught a session at G-BAM G.A.M.E.S. camp this past summer, this is one of the activities he had the high school girls do.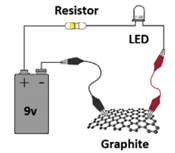 Diagram of how a paper graphene circuit works (image courtesy of
nisenet.org
)
Students draw a structure on a piece of paper, then place a 9-volt battery at one end and an LED light bulb at the other. The electrons move from the battery following the graphene pathway across the sheet of paper to light up the LED. For even more fun, and to demonstrate graphene's flexibility, he has students crumple the paper, and the circuit still works!
Besides being a fun activity, Nam says the students "understand why this is something that could be important in the future," for example, making the world's smallest, fastest, most flexible circuits!
As its name implies, Nam's 400-level course, Introduction to Nanotechnology, introduces seniors and grad students to nanotechnology. Working to make the course more multi-disciplinary, Nam says that for some of his students, it's the first time they're learning about nanotechnology.
"They don't get to see the state of the art until they're seniors," he complains.  
A strong advocate of research experiences for undergraduates, Nam's theory is that upperclassmen have their projects courses, and that because of iFoundry and iEFEX, freshmen at Illinois now have a great experience too. However, Nam is particularly concerned that one group of students is being slighted: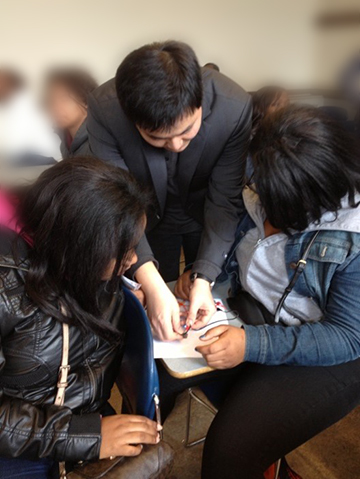 Nam helps a couple of high school students with their graphene circuit during an outreach.
"Can we have a better sophomore experience?" he implores. "What is the best way to involve and engage these students?"
Nam believes he has come up with one great solution to expose these younger students to some of the state-of-the-art stuff, so they "get excited when they see the things that are out there." It's a virtual lab.
With support from the Provost's Office, Nam's been developing Virtual Lab, which he hopes will enable students who haven't had a research experience to "get a sense of what we actually do in the lab," which Nam believes will "lead to an understanding of that specific procedure."
Because it's an on-line platform, students will be able to choose key experiments they want to explore. First, they'll experience an introduction about the subject they've chosen, and even see a video clip of an actual lab experiment. And since it's interactive, while the procedure is taking place, students will be able to choose what they think will happen—possibly even making the wrong choice. But whether a student makes a right choice or a wrong one, it will all be part of the learning experience, as students are led to analyze what happened. Nam will be learning from their choices too. As part of the project, he wants to gather data and get students' feedback. For example, why did they select that certain option?
But whether it's sharing about his research through outreach or through the virtual lab, Nam's take on education is simple: keep it fun.
"It's a great experience to make something we do every day in the lab fun," he admits.
When given an opportunity for one closing comment, Nam hops up on his soap box and makes one final pitch for undergraduate research:
"I think whether or not it's virtual or hands-on," admits Nam, "for undergrads to have a lab experience to help them see what's out there and tie into what's being done today—I think this kind of hands-on experience will leave an impression on students. That's at least one component I try to implement."
Story and photos by Elizabeth Innes, Communications Specialist, I-STEM Education Initiative.
More: Faculty Feature, MechSE, Undergrad Education Reform, 2014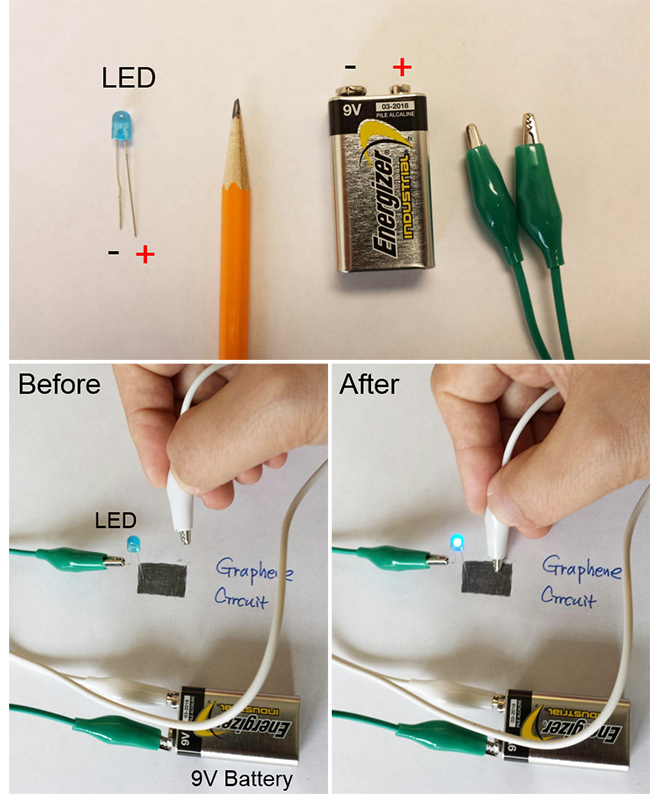 Illustration of how a Paper Graphene Circuit works (image courtesy of Dr. Sung Woo Nam).