Grainger Engineering's Knights of St. Patrick Honors Eleven Outstanding Engineering Students
April 15, 2020
Faisal Masood, one of the 2020 Knights of St. Patrick, at work in his lab. (Image courtesy of Faisal Masood.)
In spring 2020, Grainger College of Engineering's Knights of St. Patrick honored eleven students—eight women and three men—who have exhibited leadership, character, and made exceptional contributions to the College and its students during their time at Illinois. Being inducted into the Knights of St. Patrick is one of the highest honors an Engineering student at Illinois can receive. Following a description of the order's history and selection process are brief introductions to many of the 2020 knights themselves. As they share a few of their numerous accomplishments, what they have loved about being at Illinois, what they're passionate about, plus some of their hopes and dreams for the future, it is apparent why they were chosen for this prestigious honor.
Why a campus order celebrating two such seemingly disparate things—engineering and St. Patrick? The first Knights of St. Patrick order on a campus was founded in 1903 at the University of Missouri, Columbia. Its students had claimed that such a great feat—driving the snakes from Ireland—could only could have been accomplished by someone in their field—therefore St. Patrick must have been an engineer. In 1950, Illinois began its own Knights of St. Patrick tradition celebrating engineering and serving as symbol of honor and achievement among engineering students. Since then, the order has honored between 8–15 Engineering students annually.
The selection process involved having each Engineering Council organization nominate two students during closed-pool nominations, plus additional nominees during open-pool nominations. To be considered for the award, each nominee submitted an application, including two letters of recommendation. A selection committee comprised of former Knights, Honorary Knights, and Golden Shamrocks (faculty members and staff members, respectively, who support Engineering students, chosen using the same criterion that define Knights). These reviewed applications, narrowing down the field of applicants, who were then interviewed.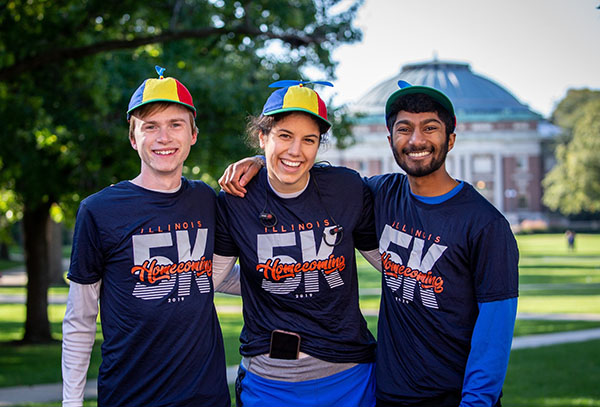 Regarding a 5K homecoming run las fall, Kinight-elect Diana Slater (center) says:. "Nothing like an early morning run in some fun hats with pals to show school spirit and kick off homecoming week!" (Image courtesy of Diana Slater.)
Of the eleven students selected as Knights in 2020, eight were women. These included Aerospace Engineering's (AE) Elena Kamis; Diana Slater from Bioengineering (BioE); Civil and Environmental Engineering senior Julie Lorenzo; Computer Science seniors Nupoor Gandhi and Caren Zeng; Richa Vijayvergiya, an Electrical and Computer Engineering (ECE) senior; Engineering Physics senior Teagan Mathur; and a Materials Science and Engineering (MatSE) senior, Priyalini Ai Bharath. The three men were BioE senior Faisal Masood, Talen Sehgal, a MatSE junior; and a Mechanical Science and Engineering senior, Brian Dardón.
While the annual Knights of St. Patrick Ball usually held in March did not take place this year due to the COVID-19 pandemic, an engraved plaque honoring this year's Knights of St. Patrick class will be permanently hung in Engineering Hall.
Following are introductions to several 2020 Knights-elect, who share why they were honored to be chosen, plus other interesting info about themselves, including some of their extracurricular activities while at Illinois and their plans for the future.
Priyalini Bharath
Priyalini Bharath is a Materials Science and Engineering major with a minor in the Hoeft Technology and Management Program. She shares what being chosen as a Knight of St. Patrick has meant to her. "My freshman year, I quickly learned that there were going to be lots of people who would be better engineers than me," she admits. However, she worked hard and contributed, "taking on leadership positions on Engineering Council that supported the technical work in the engineering community, or being a mentor to freshmen starting to walk the path of an Illinois engineer. The Knights of St. Patrick award to me has been a celebration of hard work and contribution in all forms, from academics, to community building, to simply caring. It's nice to know that such qualities are valuable and recognized by the college."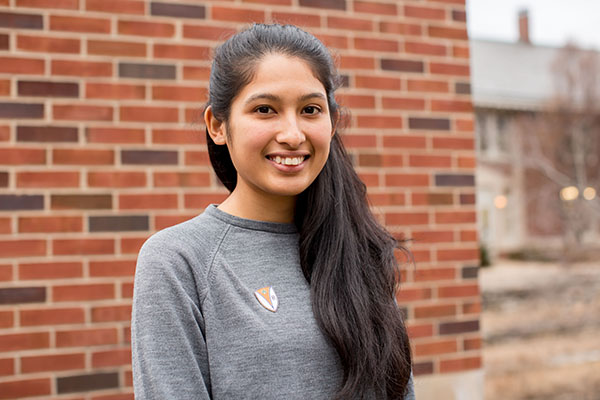 MatSE senior and Engineering Council Vice President Priyalini Bharath. (Image courtesy of Priyalini Bharath.)
Bharath's most involved RSO (Registered Student Organization) position has been serving as Vice President of Engineering Council this year. The main liaison with 90 campus engineering RSOs, she sought to increase inter-RSO communication. "I am very grateful for the organization," she reports, "as it gave me some incredible opportunities to lead and give back to the campus in ways I would not have been able to otherwise."
Bharath's favorite extracurricular activity on campus was being part of Legend Dance Company since her freshman year. The mixed-styles dance team does mainly jazz and lyrical, but also dabbles in tap, hip-hop, and ballet. "It has been one of my favorite outlets outside of my major and other involvements," she says, "and a place I have met some incredibly talented individuals I now call great friends."
Regarding COVID-19's impact on her senior year, Bharath says it's been "far more forgiving to my life compared to many others. My heart goes out to those who have been drastically affected."
While Bharath's dream job for the future is to build an educational nonprofit, she has a job lined up at Micron Technologies: a Business Unit Analyst of the Catalyst Program. This is a rotational program for professionals with engineering backgrounds who plan to go into management and is aimed at growing leaders for the company in an accelerated environment with close mentorship from the company's management.
Regarding her time at Illinois, Bharath says, "llinois gave me my first cold splash of reality and has consistently done so for four years, and I will eternally be grateful for that. It has been a humbling yet empowering experience to learn how talented, hardworking, and good people can be, and know that I will always be supported and rooted for by such a community. I hope to pay this forward every day as I leave Illinois' nest and into the larger world."
---
Nupoor Gandhi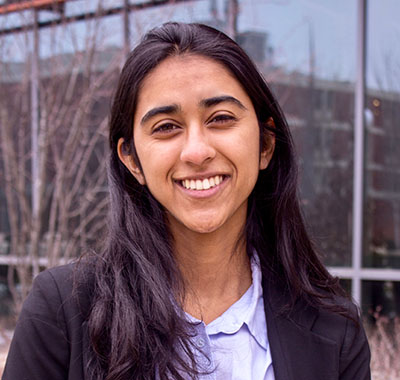 Computer Science senior Nupoor Gandhi. (Image courtesy of Nupoor Gandhi.)
Nupoor Gandhi, a senior in Computer Science, shares what becoming a Knight of St. Patrick means to her: "I feel so honored to join such an outstanding bunch of people! I think the honor of knighthood represents the construction of your character over your time at the university. In my case, I am the product of a lot of other people demonstrating what courage and empathy looks like in difficult situations. I feel so grateful to all the students and faculty who have influenced me these past few years."
Gandhi's favorite campus group at Illinois has been the Society of Women Engineers (SWE), of which she served as president her senior year. She loved spending time with her friends in SWE. "They are a goofy and remarkable bunch, and I often feel so much nostalgia when I think of them." She reminisces about a cookout SWE holds early in the fall semester to meet the new freshmen in the organization. She claims looking through photos taken at the event reveals "the wildly different personalities who have floated through our organization. Each year brings a different dynamic, and I feel so grateful to have met all the people I overlapped with."
Regarding the impact of COVID-19 on her goals, Gandhi says: "It would be useful for policy makers to be able to forecast cases at more fine-grained temporal and geographic resolution. I would like to continue doing research on prediction tasks in public health using social media and looking for new ways that studying language can push epidemiology research forward."
Gandhi's dream job would be to work in academia studying problems at the intersection of NLP (Natural Language Processing) and public policy. (A component of AI, NLP is a computer program's ability to understand spoken human language.) After graduation, she will be pursuing a PhD at Carnegie Mellon University.
Gandhi shares what being at Illinois has meant to her, calling it a tremendous responsibility to be an engineer from the University of Illinois. "Many students will end up in places where their work will affect people at a large scale," she says. "We should be critical of the way that we are taught and conscientious of the impact of every decision that we make. We should be held accountable for the technology that we develop."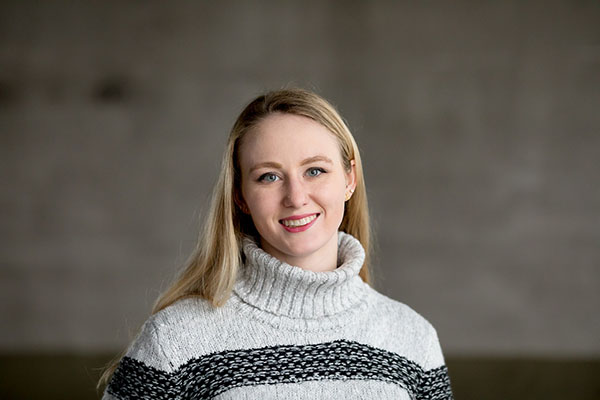 Elena Kamis. (Image courtesy of Elena Kamis.)
Elena Kamis
One benefit of being chosen as Knight of St. Patrick, according to Aerospace Engineering senior Elena Kamis, was that it helped her develop some new relationships. "I've found a group of people whom I can relate to in a way I never had before. My four years of college were spent dedicating my time to the University and my department, but I often didn't make friends outside of my major, even if they were passionate about the same thing. Being a Knight allowed me to find a group of people I fit perfectly with but never knew before, and continue to grow alongside them."
Kamis's favorite RSO was the Illinois Space Society (ISS), in which she's held numerous positions: a representative on the Students for the Exploration and Development of Space, an Engineering Council representative, Educational Outreach Director, Senior Advisor, Illinois Space Day Chair, and Social Media Manager. Her favorite ISS role has been working with its Educational Outreach Board, which she's been involved with since she was a freshman, volunteering at hundreds of events.
Calling herself "a big people person," Kamis claims one of her favorite pastimes on campus was just spending time with friends. They played and watched the Bachelor, went hot tubbing at CRCE, and played board games on Thursdays. "If I'm with my friends, I'm at my happiest," she explains. So it was Kamis' affection for her friends that also made the COVID-19-related switch to entirely online classes so difficult for her. She wasn't able to say goodbye to her friends.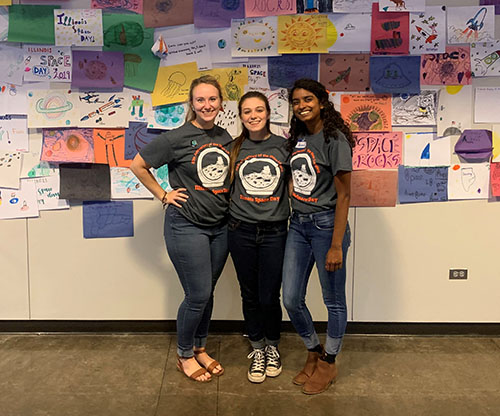 Elena Kamis, Angelina Boynton, and Shivani Ganesh, members of ISS's Educational Outreach Board at the fall 2019 Illinois Space Day hosted by ISS. In the background is some of the space artwork completed by young visitors to Illinois Space Day.
"There are so many people I thought I'd still see daily when I got back to campus, and that I'd be able to spend time with them and hug them goodbye. We spent this four-year journey together. They saw me at my best and my worst and helped me grow as a person. I love them with my whole heart, and I'll never get that time back or be able to close that chapter of my book. I don't think I'll ever get over that."
Kamis shares what being at Illinois has meant to her. "Being able to be at one of the top engineering schools has provided me with endless opportunities that I wouldn't have had in other places," she explains. Plus, because Aerospace Engineering is a small major, "Everyone here treats one another like family. I would not have the support network I have today and succeeded as well if I had chosen to go somewhere else."
Kamis' dream job down the road involves being a Systems or Operations Engineer in the space industry. She hopes to intern with Ball Aerospace in the summer of 2020, return to Illinois for one last semester, then find a full time job.
However, no matter what her future job, Kami's life-long goal is simple: "to make a change. I don't know how yet, but I'll find a way whether that be politics, the medical field, or just fighting for the rights of those who deserve it. I don't take things sitting down, and I'm only just starting."
---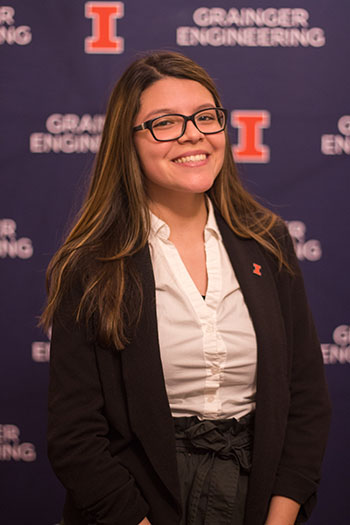 CEE senior Julie Lorenzo. (Image courtesy of Julie Lorenzo.)
Julie Lorenzo
Civil and Environmental Engineering senior Julie Lorenzo says being a Knight of St. Patrick has shown her that drive and passion for helping others can go a long way. "I wanted to accomplish so much the moment I stepped foot onto campus, but it wasn't necessarily easy for me," she says. Both a minority and a transfer student, she admits that "in order make the best of [her] experiences in such a short time frame," she had to cope with numerous changes simultaneously: being away from family, adjusting to both class sizes and to the workload, living on her own, making new friends, etc. "This award, in a way, is not only for me," she adds; "it's a way to prove to those students who want to make a difference inside and outside of engineering that they will be recognized for their drive to give back."
Lorenzo's favorite campus group was the Society of Hispanic Professional Engineers (SHPE). "Committed to helping students become better professionals," she was a member of SHPE's graduate committee, which encouraged Hispanic students to apply to graduate school through talks by deans, professors, and professionals about the graduate program application process, and via MentorSHPE, which facilitated grad students imparting what being a grad student is like to undergrad mentees. "Being on the graduate committee has allowed me to give back to the Hispanic community and foster motivation for Hispanics to close the gap in terms of graduate school."
One favorite campus pastime Lorenzo really misses is coffee runs to Dunkin' Doughnuts or Starbucks with friends or mentors. "It was a good way to catch up," she reports, "because everyone is so busy during the school year, so a 30-minute conversation would be really be cherished." Calling them "a simple, friendly gesture that now can't even be achievable" (because of COVID-19), she adds that they were also refreshing breaks from schoolwork.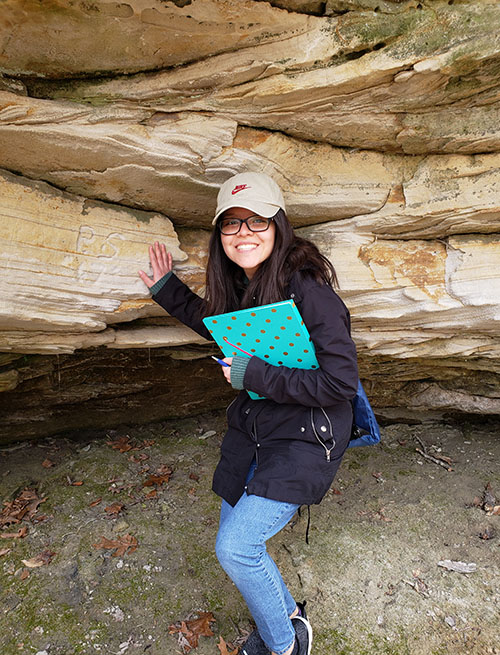 Julie Lorenzo takes a break from the classroom. (Image courtesy of Julie Lorenzo.)
For Lorenzo, attending Illinois has been a way for her to give back to her family. Her grandmother relocated to the U.S. from Mexico to provide a better life for her kids, which Lorenzo "used as motivation to push me to do well in school." She is glad she ended up at Illinois "because of how many resources and opportunities Illinois can provide to its students if one is motivated and determined." She acknowledges having had numerous learning experiences, not just in academics, that will help her navigate her career.
"Even though Illinois was a very difficult transition, it has made me grow immensely as an individual, and I hope to be able to come back and help others navigate their Illinois experience just as people have helped me."
For Lorenzo, the worst thing about COVID-19 has been taking senior-level classes online. "It is hard to fully understand the material without face-to-face teaching," she admits. Despite attending virtual office hours, she says, "it's just a big learning curve to get over." She's also disappointed that the Knight's Ceremony was cancelled, since her family was excited to attend.
In terms of her future, Lorenzo doesn't necessarily have a dream job, but hopes to be a construction manager working on site to ensure the progression of each structure and the safety of workers. What she does dream of doing in the future is this: "to point out to my family, especially to my younger sisters and family members, which buildings I helped make to prove that getting a higher degree is worth it!"
Re her summer internship with Mortenson, she hopes to gain some construction management experience. "I am ready to take what I've learned in class and apply it outside...to finally get firsthand experience in the construction industry."
---
Faisal Masood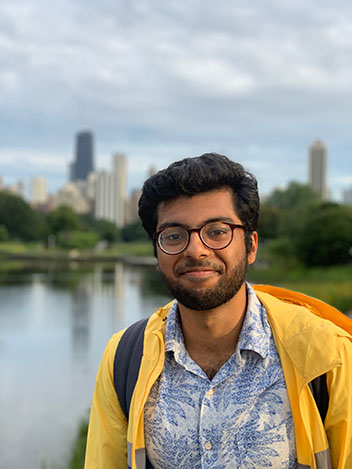 Faisal Masood. (Image courtesy of Faisal Masood.)
One BioE senior inducted into the Knights of St. Patrick was Faisal Masood, who says becoming a Knight-elect has "truly been an honor." Although he hadn't dedicated time to extracurriculars to receive an award, he says, "It is humbling to know that my dedication and hard work are being recognized. I am well aware of all the wonderful and brilliant candidates that were considered in this process, and I am honored to serve as a representative to the Grainger College of Engineering." 
Masood shares why he chose bioengineering: "Because I was interested in becoming a physician, but I did not want to lose aspects of engineering and design that I was also passionate about," he explains. "Bioengineering seemed like a great way to prepare myself to become a physician while simultaneously improving my critical thinking and design skills." Happy with his decision, t he's excited to use his "first-hand experience as a clinician to serve as a bridge between innovation and the clinic."
Masood shares two things he's been involved with during his time at Illinois. For instance, his sophomore year, he and a few peers founded a community outreach group that sought to reduce educational disparities locally. He and his team had noticed that local rural schools enjoyed only a fraction of the resources available to schools closer to the University. So using their technical skills, they converted patient-derived MRI files into 3D-printed anatomy models which they then provided to high school anatomy students free of charge so they could understand the kinesthetic aspect crucial to physiology.
Iin his 4th semester as a laboratory assistant for Professor Karin Jensen's BIOE 202 course, Masood says this position involved preparing reagents for students to use in the lab, as well as ensuring that students in the course learned proper and safe lab techniques. Of the above two outreach activities, he claims, "Both of these activities have been extremely fulfilling and rewarding!"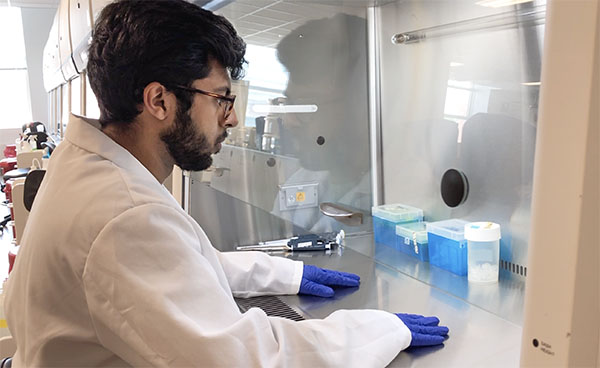 Faisal Masood at work as a laboratory assistant for the BIOE 202 course. (Image courtesy of Faisal Masood.)
One of Masood's favorite pastimes on campus has been music. Indicating that he had played music as a kid, he says that, "It's become a great outlet for me." While the guitar was his instrument of choice, he had also begun to dabble in hip hop, using his computer and a MIDI controller. "Music has been a great way to unplug from the stresses of my daily routine," he claims. "It's a great creative outlet!"
Masood had several reasons for choosing Illinois; some centered around his field of study.; he was excited about Bioengineering at Illinois because of the cutting-edge research being conducted here. Also, he grew up in Illinois. "Being able to attend such a prestigious engineering institution relatively conveniently made UIUC a very easy choice for me," he admits.
In addition to his technical training, Masood has discovered that engineering is a collaborative effort. He says prior to coming to Illinois, "I had a very vague idea of what engineering was. I understood that it was a technical endeavor, but I did not appreciate the nuances of the field. Now that I am preparing to graduate as an Illinois engineer, I now understand that engineering is a very collaborative endeavor that aims to address a needs-based problem."
---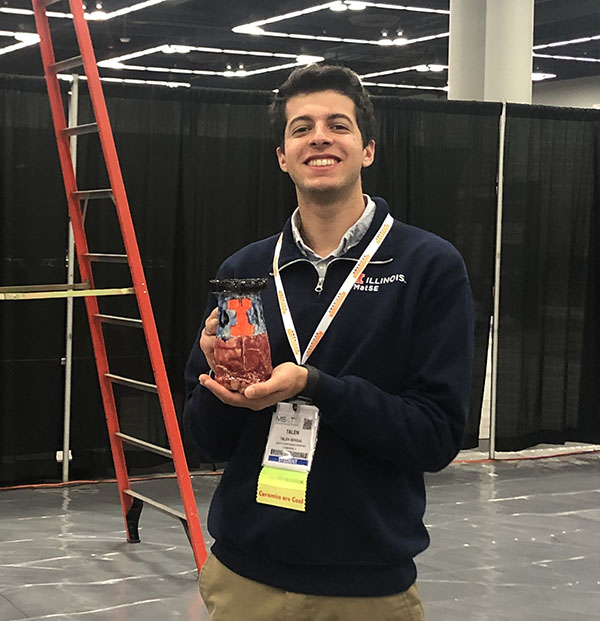 MatSE junior Talen Sehgal exhibits a ceramic coffee mug he made. (Image courtesy of Talen Sehgal.)
Talen Sehgal
According to Talen Sehgal, a MatSE junior, receiving the Knights of St. Patrick award has been a huge honor. He considers himself quite fortunate to be recognized in this way and shares one responsibility he has embraced as a Knight-Elect:
"To continue being involved with the college, displaying important core values, and making appropriate decisions along the way. Knighthood to me means that I have an opportunity to be a positive example for others in a public setting, hopefully inspiring my peers along the way."
Sehgal's favorite campus group is Keramos,a Materials Engineering honors organization for students. He loves the group because he's met many of his friends through it. On its board since his sophomore year, he's also served as Herald for two years, providing students hands-on experiences in ceramic processing, and also helping to organize a lot of Keramos's social/outreach events to students and professors on campus.
One of Sehgal's favorite non-academic extracurricular activities has been intramural sports. He and some of his close friends have been on several different teams over the last couple of years, playing kickball, broomball, indoor soccer, and dodgeball.
"I had a great time!" he admits. "It was a great chance to have some fun during a typically stressful week and get a little bit of exercise in…It was awesome!"
Talen Sehgal. (Image courtesy of Talen Sehgal.)
Sehgal says the worst thing about COVID-19 pandemic is the uncertainty. "I'm mostly worried for my parents' and grandparent's health and safety, but also my siblings, extended family, and my friends. Besides being worried about health, I'm saddened that I won't be able to experience this bit of my college experience with my friends." Meanwhile, he's staying physically active, remaining indoors as much as possible, and keeping up with school work. He's also pursuing some fun indoor hobbies—knitting, and a virtual book club!
Sehgal hasn't figured out his dream job yet; he wants to use the skills he's learned at Illinois to work in metals or ceramics as a Materials Engineer. Still a junior, he doesn't have a job lined up yet. However, assuming COVID-19 doesn't throw a wrench in his plans, he will intern with Chevron this summer, graduate in December 2020, then take a little time off after that before he starts work full time.
Seghal shares what Illinois has meant to him, calling it "Absolutely life changing for me! I'm so grateful for the opportunity to have come to such a prestigious Engineering program and gotten to participate in lots that the campus has to offer. I love that Illinois is a globally recognized institution and that I've never had to explain to anyone in a prospective job field how great it is. Lucky to call this place home."
---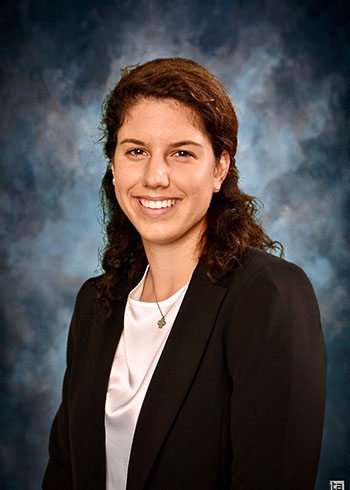 Diana Slater. (Image courtesy of Diana Slater.)
Diana Slater
Regarding being chosen as a Knight of St. Patrick, Bioengineering senior Diana Slater claims she wasn't always a leader. In fact, she recalls being all too happy to sit on the sidelines her freshman year.
"I was scared and did not think I could contribute," she admits. "Receiving this award is validation that you don't have to start at 100%. You don't have to come from the best high school, and you don't have to be the most skilled—you can grow into the person you want to become. Ever since freshman year, I took steps at my own pace to grow into the scholar and leader I am today." Adding that she never thought she would have the opportunity to receive this award, she acknowledges, "I am very humbled to be able to share my story."
Slater's favorite campus group has been the Biomedical Engineering Society (BMES), which she's been involved with ever since her first weeks at school. She's held various leadership roles over the years, and served as president her senior year.  Some of BMES's benefits she's appreciated have been its "supportive students, as well as the opportunity to build technical skills, network with top companies, and make an impact in the community."
Athletics had dominated her younger years, so it was one of Slater's favorite extracurricular activities on campus. She quickly "found a home" on Illinois' soccer turfs and gym courts, made friends through intramurals, plus released " some of that pent-up energy from studying all day." In fact, this past winter, she captained a coed soccer team which won their championship—a great end to her four-year career.
For Slater, the worst thing about her senior year being truncated due to COVID-19 was its impact on her relationships. "I really miss running into friends on the quad and in hallways. Even though I try to keep up with friends, I miss the little everyday interactions and the surprised waves from sidewalks." Slader adds that although Illinois is a big campus, to her, it always felt like a small world. "The quality and authenticityc of the community is really unparalleled," she declares.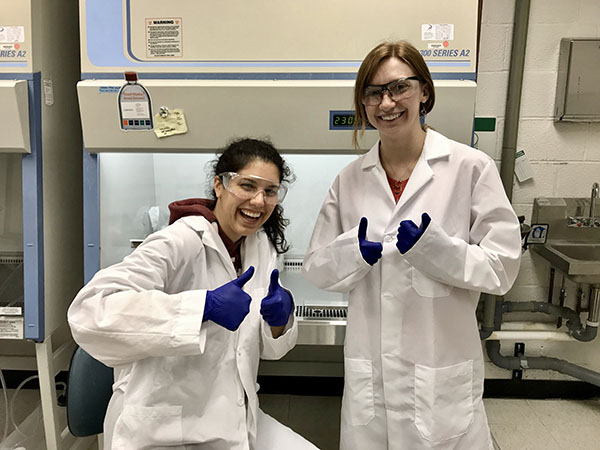 Diana Slater (left) and her grad student mentor Marley Dewey in Brendan Harley's Lab, where Slater conducted research on bone regeneration. (Image courtesy of Diana Slater.)
While Slater matriculated to Illinois for practical reasons, she says she quickly discovered that it was the perfect fit for her. "Illinois allowed me to grow personally, academically, and professionally. It soon became a home rather than a school, and the people I met became a family rather than acquaintances." Although her final year was cut short due to the COVID-19 pandemic, she acknowledges "just how special a place it is and how proud I am to graduate from such a remarkable institution."
Regarding her plans for the future, Slater is excited to get out into the working world to discover where her talents are best suited. She envisions a job that allows her to "travel, connect with many people, and make a real impact in healthcare." In fact, following graduation, she has a job lined up as an incoming Operations Rotational Development Program Analyst at Genentech in San Francisco.
"I am so excited to apply my knowledge and skills after four years at Illinois to make an impact in the pharmaceutical industry and continue to provide life-saving medicine for patients," says Slater.
---
Richa Vijayvergiya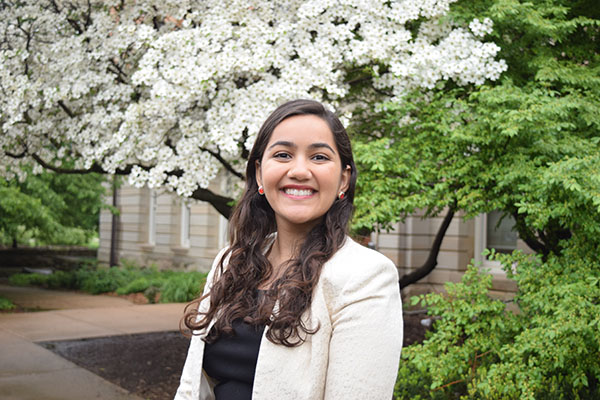 Richa Vijayvergiya. (Image courtesy of Richa Vijayvergiya.)
Richa Vijayvergiya, an ECE senior majoring in Electrical Engineering, calls being a Knight of St. Patrick a huge honor.
"I always strived to advocate for others, and am grateful to be recognized for my leadership and passion," she says. "It's still unbelievable to me that I received this award, because there are so many qualified candidates, but I am humbled to be awarded this honor along with such an impressive group of people."
Vijayvergiya's favorite campus group has been Women in Electrical and Computer Engineering, where she served as president. "I loved it because it gave me a welcoming community within my department and provided opportunities for personal and professional growth," she shares, adding, "I made some of my closest friends in this RSO and memories to last a lifetime."
Vijayvergiya has very eclectic interests when it comes to recreational activities, and took advantage of many on- and off-campus opportunities. For instance, the Illinites' arts and crafts nights gave her a chance to relax and to "flex [her] artistic muscles." She says Krannert shows were "always great quality," and allowed her to "explore different cultures and art forms." She also frequented the Arboretum and Japan House, saying "It felt like you were transported to a completely different place."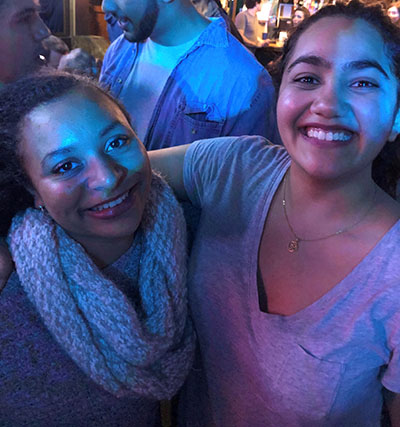 Richa Vijayvergiya (right) and a friend at karaoke night. (Image courtesy of Richa Vijayvergiya.)
Plus, Vijayvergiya and friends took advantage of off-campus activities as well. For instance, they sought to explore as many restaurants and cafes in the C-U area as possible. Another great tradition, "I have so many great memories from," she recalls, was hitting Murphy's Pub on Saturday nights where she and her friends would "sing our hearts out at karaoke."
Vijayvergiya says the worst thing about COVID-19 pandemic has been "all of the things that were taken away from us. Everyone was looking forward to something…and all of that had to be cancelled, which is hard to digest." The very worst thing was that her university experience came to such an abrupt end. "I didn't get to say goodbye to so many of my professors, friends, TAs, and all the other people on campus that helped me get this far," she says. She also misses seeing friends and peers in class and having class structure, "because it really defined the university experience that I enjoyed so much."
Like several other Knights, she regrets not getting to say goodbye, having a few months "to process that I was going to graduate and move away from my supportive community and take the time to say goodbye to my life here, and all of that was taken away, or rather fast-forwarded to the end."
Despite the rather abrupt end of her senior year, Vijayvergiya says being at Illinois has shown her how many opportunities she has to succeed. She claims the plethora of experiences, such as working on projects with people of all backgrounds, helped her grow in many ways:
Richa Vijayvergiya (center) and several of her friends show off her solar panel project done while working as a lab assistant in the power and energy lab. Her project involved teaching SWE women about solar power and solar panels, then installing some solar panels at the Randolph Community Garden in Champaign. (Image courtesy of Richa Vijayvergiya.)
"I was able to learn about so many topics inside and outside of my major, and I always felt encouraged to pursue my goals," she explains, adding, "I learned so much about myself and about the world during my time here, and it has shown me all the possibilities I have to make my dreams a reality."
When it comes to making her dreams a reality, Vijayvergiya hopes to someday work with underdeveloped communities world-wide through non-governmental organizations or the UN. She dreams of aiding in environmental conservation while empowering residents to achieve their goals. Meanwhile, she has landed a Technology Analyst job at Accenture in Minneapolis.
Article written by Elizabeth Innes, Communications Specialist, I-STEM Education Initiative; Photos courtesy of the various students, as noted.
Other I-STEM articles about Engineering initiatives:
More: Engineering, 2020