Undergraduate Women Conduct STEM Research Courtesy of Engineering's Clare Boothe Luce Scholars Program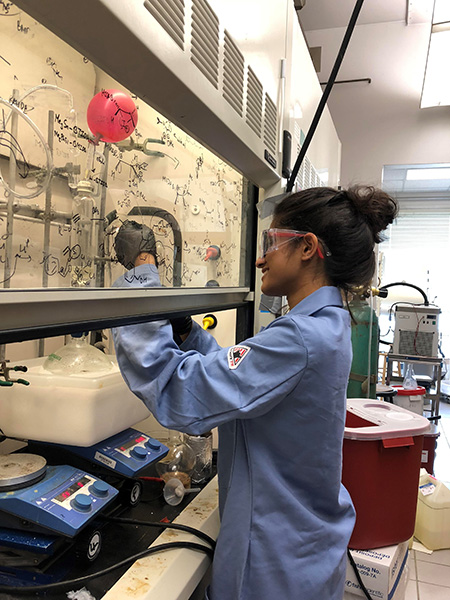 Chemistry senior Sriya Chitti conducts reserach in Martin Burke's lab. (Image courtesy of Sriya Chitti.)  
September 15, 2020
Eight undergraduate women who are committed to research and who dream of attending graduate school and possibly even pursuing careers in STEM (science, technology, engineering, and mathematics) research are discovering what it might be like courtesy of the Clare Boothe Luce (CBL) Research Scholars Program. Housed in Grainger Engineering's Illinois Scholars Undergraduate Research (ISUR) Program, CBL provides scholarships that allow these women to experience cutting-edge research in chemistry, physics, mathematics, or engineering while being mentored by Illinois' premier researchers.
Funded by the Henry Luce Foundation, CBL's first cohort of research scholars, all sophomores, juniors, and seniors, perform at least ten hours of research a week. In addition, they participate in ISUR activities, which include a fall undergraduate research course and monthly research seminars, plus they'll get to present their research in ISUR's Engineering Research Fair on September 24th–25th and/or its Poster Expo in April 2021. Other benefits include a $5,000 award for the 2020–2021 academic year, and $7,000 for full time research for ten weeks in the summer. Scholars had the option of completing their summer research this past summer, or next summer, depending on whether they're a junior or a senior. Plus, they will receive up to $350 to travel to present their research at conferences.
In addition to the above benefits, Natasha Mamaril, Director of the ISUR Program and Associate Director for Undergraduate Research in Engineering, claims scholars gain just as tangible long-term benefits through undergraduate research. For one, it grooms them for graduate school, exposing them to what that might be like in their field. "If you are thinking of doing graduate school," she asserts, "doing undergraduate research would be a valuable experience."
However, Mamaril says the experience has an even more significant impact on students: it transforms them: "They're just students right now, but with undergraduate research, they transform into scientists and engineers, more specifically—because they learn a lot from classrooms, but with research, they're able to apply what they're learning."  Other benefits include networking and experiences that help narrow down their career trajectories. "They get to connect with people who are experts in their field," she adds, "and it's also a way for them to clarify their interest in STEM careers."
They do so by actually trying out research in an area they think they're interested in, learn what research is really like, plus possibly discover that they enjoy it. "I meet students who say that they are not interested in research nor did they consider a research career at all. But when they do research, they tell me how much they actually enjoy it. Then, they start to think, 'I want to be a researcher!'"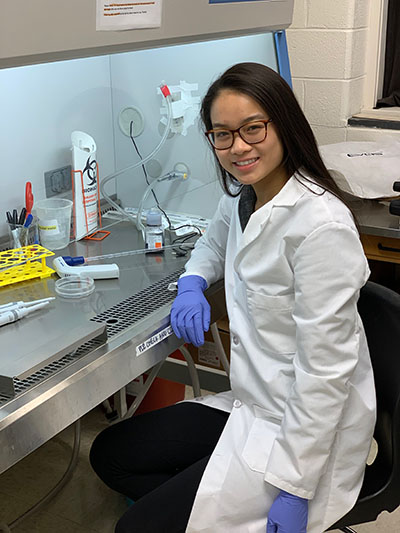 Bioengineering senior Joy Chen conducting research in cancer researcher Erik Nelson's lab. (Image courtesy of Joy Chen.) 
How are students assigned to the various labs? Actually, they're not. Mamaril believes if the students themselves look for the researcher they want to work with whose research aligns with their own research interests, it will be of more value to them. In fact, many CBL scholars are usually already working in labs. For instance, Joy Chen, a senior majoring in bioengineering, minoring in chemistry, and on track to graduate in May 2021, has actually been working in Dr. Erik Nelson's lab in the Department of Molecular and Integrative Physiology since she was in high school, when she participated in the ResearchStart program. Regarding her three-year stint in Nelson's lab, she recalls:
"I started the summer before my freshman year, and it's been incredible to reflect on how far my project has come over the years and watch myself grow as a researcher."
Chen's research focuses on how a metabolite of cholesterol, 27-hydroxycholesterol (27HC) affects breast cancer reemergence from dormancy and future metastasis. Her current project focuses on neutrophils, a type of white blood cell, which has been found to be required for 27HC to function, looking into any underlying mechanisms between neutrophils and 27HC to cause reemergence from dormancy.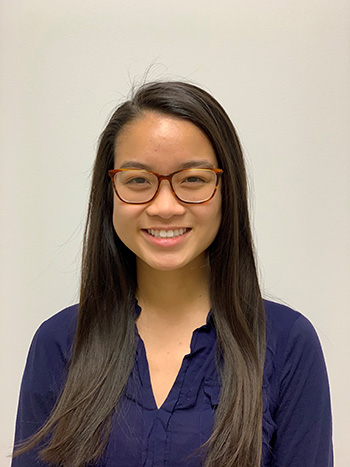 Bioengineering senior Joy Chen (Image courtesy of Joy Chen.) 
Chen addresses the importance of her research area: "Breast cancer is the second leading cause of cancer death amongst women in the US," she reports, "so it is critical to study factors that may lead to higher risk of disease recurrence, and work to develop therapeutic targets for prevention."  She also believes her knowledge of engineering and the skills she's acquired can contribute to research. "As a bioengineering student working in a more biology focused lab, I can clearly see the intersection of biology and engineering and how the two complement each other. This is important to me because I am interested in the applicational aspects of biology and how we can help people through engineering problem solving."
Excited to have been chosen as a Clare Boothe Luce Research Scholar, Chen shares: "I think the program's mission to support women undergraduates doing engineering research is great and inspiring," she says. "My research experience thus far has taught me not only how to critically design and carry out experiments, but also the importance of collaborating with other researchers in the field and sharing ideas."
Chen, who is aiming for a career in research, shares her plans for the future. "Research has always piqued my interested because of its vast impacts and endless discoveries. I am currently in the process of applying to bioengineering PhD programs." Her dream job? To run her own research lab, incorporating biomedical engineering ideas into cancer research. "I want the impact of my research to positively affect people all over the world," she explains, "and beyond that, I want to teach and inspire others, particularly young women, to delve into this field as well."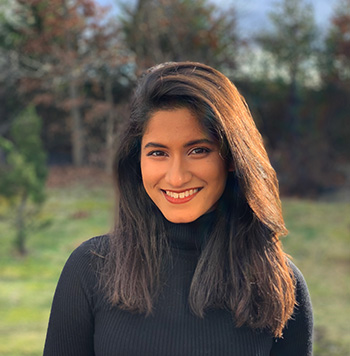 Chemistry senior Sriya Chitti. (Image courtesy of Sriya Chitti.) 
Sriya Chitti, a Chemistry senior set to graduate in May 2021, is a CBL scholar working in Chemistry Professor Martin Burke's lab. She describes her research in his lab: "I have developed a new generalizable method to forge three-dimensional carbon-carbon bonds that is currently paving the way towards the automation of the construction of drug molecules," she explains. "I am now working towards demonstrating the utility of the method by constructing two natural products with potential applications in the treatment of malarial and fungal infections."
Chitti took organic chemistry with Professor Burke her freshman year of college, and recalls, "I witnessed the immense evidence and potential of it to create a wide variety of substances ranging from therapeutics, fragrances to materials, and became very fascinated with the subject. I was then motivated to ask Professor Burke if I could join his lab!" So she did, and has worked for him for the last four years.
Chitti describes the impact being involved in research has had on her. "Research has not only enabled me to think more critically about pressing issues that need to be solved in science," she admits, "but has also equipped me with very valuable life skills such as perseverance, paying attention to detail, and most importantly embracing the journey to advancing science!"
In fact, her time in Burke's lab has most likely shaped her future career, as she intends to carry on her experience in his lab in her own lab some day. Chitti says her dream job is to establish her own laboratory at an R1 institution and uncover important disease-specific biological mechanisms using organic chemistry and chemical biology.

Another CBL scholar, Haley Tholen, a senior in Mechanical Science and Engineering focusing on Engineering Mechanics, is conducting research under Dr. Amy Wagoner Johnson in the Applied Biomaterials and Biomechanics Lab. Like Chen, this isn't Tholen's first time doing research, or her first time working in Wagoner Johnson's lab, for that matter; it's her fourth year working with the professor.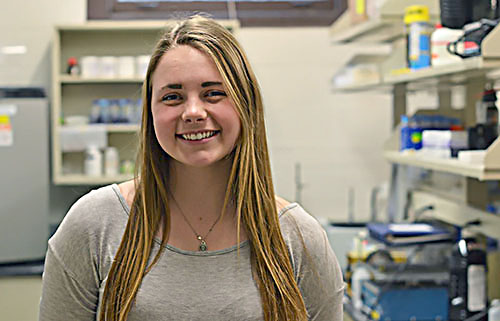 Mechanical Science and Engineering senior Haley Tholen in Amy Wagoner Johnson's Applied Biomaterials and Biomechanics Lab. (Image courtesy of Haley Tholen.) 
"I have learned an immense amount of technical, communication, and writing skills that I would not otherwise have had the opportunity to dive into with regular courses," she claims regarding her undergraduate research. "I have been fortunate to see this project evolve from Day 1, which encourages me to continue working towards its success."
In her research, Tholen is fabricating and analyzing hybrid-algal substrates for the purposes of coral reef recovery. Tholen claims that one reason she finds her applied mechanical engineering research rewarding is because it "strives to solve huge problems that are much larger than myself, such as coral reef restoration. It is very powerful to be in a lab like this, especially since all of Professor Wagoner Johnson's projects deal with finding solutions to some of people's most commonly-faced challenges." Another aspect she finds rewarding? "The work is very interdisciplinary in nature, which is critical for me to learn a variety of skills, both technical and not."
Tholen believes being a Clare Boothe Luce Scholar will challenge her "to become a more experienced and more valuable researcher," as well as "learn skills that I can apply to graduate school and future projects." Also believing research is in her future, she says her post-grad-school dream job is working at one of the national labs or on submarine design/implementation.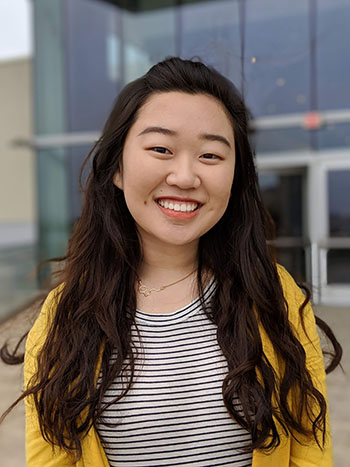 Materials Science & Engineering junior Dana Yun (Image courtesy of Dana Yun.) 
Materials Science & Engineering junior Dana Yun works in Assistant Professor Jessica Krogstad's lab, mentored by Samyukta Shrivastav. Her research project, Ternary Diboride Thin Films for Extreme Environments, seeks to understand the effect of aluminum in diboride films at high temperatures by obtaining their crystallization and oxidation kinetics. The addition of aluminum in diborides (material needed in industry for its resilience in extreme environments) may aid in the stability and characteristics of the material.
Yun, who is passionate about the climate and sustainability, shares why this area of research is important. "Research develops the world and advances our understanding of the world around us," she reports. "I hope to focus on humanitarian research; water desalination, sustainable materials, and other projects that contribute to a greener world. The climate crisis is the number one issue facing our world, and solutions are urgently needed. I hope to contribute to this effort that our entire species is fiercely tackling."
Also passionate about research, Yun cites how she has benefitted from undergraduate research, which she claims, "has not only allowed me to work on projects and learn lab practices, but it has connected me to outstanding researchers doing their own amazing work and given me experience writing papers and presenting my work." Further, over the next year, she is looking forward to "further exploring all the areas of research available and finding what I want to continue to pursue."
Yun previously conducted research as part of the Kriven Group, investigating responses at high temperatures of high-entropy ceramics, composed of five randomly distributed elements in a single structure.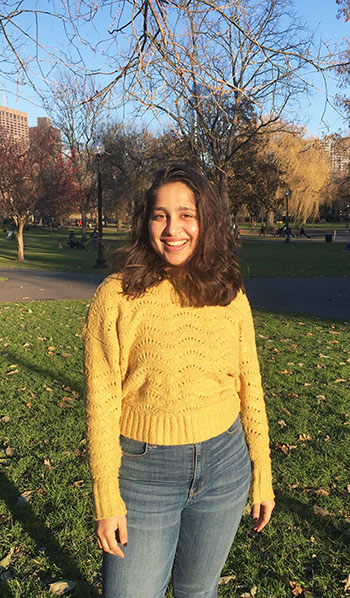 Shweta Khorana (Image courtesy of Shweta Khorana.) 
Regarding the future, Yun says her dream job is "to teach at a university, do sustainable research, and have some other small projects to encourage women and underrepresented minorities to pursue STEM."
Another Bioengineering student, Shweta Khorana, a junior slated to graduate in May 2022, is conducting research under Bioengineering Assistant Professor Shannon Sirk in the Sirk Lab. Her research project involves engineering gut commensal bacteria (bacteria that already lives in and supports the gut) to produce and secrete engineered antibodies/therapeutics that can treat different diseases in the body.
Regarding the importance of her research, Khorana, who's interested in making an impact in healthcare accessibility worldwide, says, "Current treatments for the diseases we are working with are very expensive, not as effective, and can be harmful to healthy tissues in the body. Therefore, this alternate form of treatment will be much more accessible, as it will hopefully be able to be implemented in a food matrix, such as yogurt which already has probiotic cultures in it."
Indicating that being involved in this research has had a significant imact on her thus far, she asserts, "My research experience has opened my eyes to the different ways that small changes in the body or disease treatment can heavily impact our wellbeing. Also, research has really shown me the power that creativity has in STEM; I have become a much better problem solver and critical thinker because of it."
Khorana has been doing research her entire career at Illinois. Part of the Cancer Scholars program, she joined her first lab the spring semester of her freshman year. "However, I have found that I love it, and I'm so glad I got involved," she admits. In fact, she definitely believes research is in her future, whether in higher education/academia or contributing to R&D in industry. "I'm not sure what my dream job is yet," she asserts, "but I definitely want to make an impact on healthcare accessibility in some form."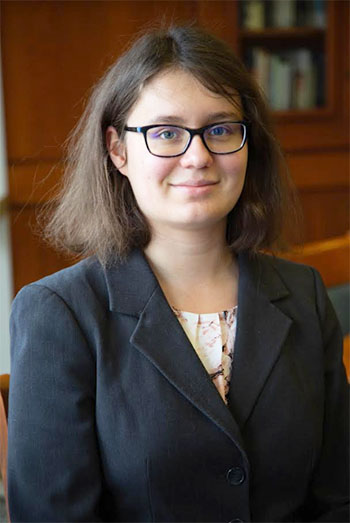 Anna Alvarez (Image courtesy of Anna Alvarez.) 
Anna Alvarez, a senior in mechanical engineering, is working under Professor Amy Wissa in the Bio-inspired Adaptive Morphology Lab (BAM). Her research project? To create a bird-inspired morphing wing that can be used for small UAVs (unmanned aerial vehicles). She claims that working on this particular research project has given her a better understanding of both UAV design and aerodynamics.
Alvarez shares some additional benefits of undergraduate research. Admitting that she's always loved making her own personal projects, she reports that "Research is essentially the same idea, only with a greater goal in mind. With more resources available, I can dive deeper into any of my interests." For example, she can receive the professional support and advice she needs to create small nanoscale structuress, or use her love of animals to create a robot that mimics them. "Working on bio inspired robots was a childhood dream of mine before I knew what 'bio inspired' meant," she admits, "and I'm grateful to be able to pursue this as part of the BAM lab."
Alvarez has worked on a handful of short-term research projects over the course of her undergraduate studies. For example, last summer she worked in a cleanroom to develop a liquid crystal actuator for microrobotic applications as part of Cornell's Nanofabrication Facility REU program.
Intending to obtain a PhD in the future, Alvarez has already begun applying for graduate school to begin working on her Master's degree. Her dream job is to combine her experience in nanofabrication and robotics to work on bio-inspired micro robots. "I would love to do this research by observing animals in my own lab, similar to how the Lentik Lab in Stanford trains their own birds and uses their own data to develop robots," she explains.
(See ISUR's website for bios on all eight CLB Scholars.)
---
Story and photographs by Elizabeth Innes, Communications Specialist, I-STEM Education Initiative.
More: Engineering, Undergrad, Undergrad Research Symposia, 2020
For more I-STEM articles about Engineering undergraduate research, see: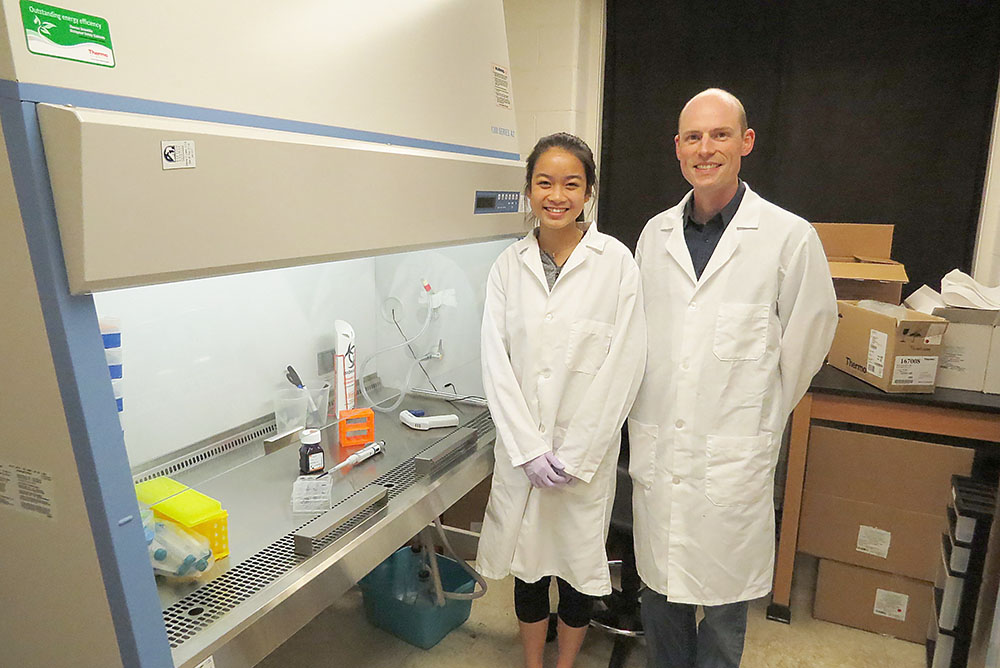 Bioengineering senior Joy Chen, with her mentor, cancer researcher Dr. Erik Nelson. (Image courtesy of Joy Chen.)