At I-STEM's Multidisciplinary Summer Camp, UHS Students Have Fun with Chemistry—Everything From Soap Making to Glow Sticks to Ice Cream
October 12, 2017
How cold do you like your ice cream? Just on the cusp of melting? Cold enough to start a major brain freeze? However you like to eat ice cream, using liquid nitrogen to freeze the ingredients will provide an instant, delicious dessert.
UHS students work together to make their own soap.
This was one of a number of chemistry-related topics that 27 Urbana High School (UHS) students got to explore and test on Tuesday, August 15, as a part of the brand new I-STEM Summer Camp, a multidisciplinary summer program that ran from August 7–18. The camp was aimed at exposing under-represented minorities to many STEM fields and job opportunities, as well as building teamwork and lab skills.
The day started with a presentation on lab safety from Dr. Tina Huang and her lab assistant Stephanie Legare. Though some might question whether this is necessary for high school students, Huang explains, "You can experiment, but you also have certain parameters. That's for safety reasons. You can't just randomly mix stuff that we told you that you can't. Especially with chemistry, explosions can happen, you know, things like that. That's why you have to understand what is a healthy dose of the boundaries in which we have to work in a chemical lab." Although the day was all about encouraging curiosity and creativity, Huang also emphasizes the need for proper lab safety for the well-being of everyone present.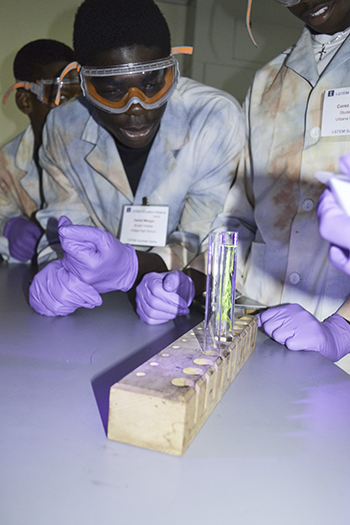 I-STEM campers reap the fruits of their labor and get to observe chemiluminescence in action.
So, after tie dye lab coats and neon orange safety goggles were handed out, the students began experimenting. Huang had planned out four experiments to engage students.
The first was saponification, the process by which soap is made. Students mixed, melted, and stirred the ingredients over a hot plate until they were left with liquid soap. As it cooled, the soap could then be molded into any shape the students desired. Many creative designs emerged, but the question remained: what was the point of the experiment? Huang wanted to show students that soap is actually just made up of fats and oils at its most basic level. With the addition of an alkali metal, the oils in soap are fundamentally changed so that they are able to latch onto and dissolve other oils. This is how soap cleans!
Ever wondered how glow sticks can produce light without any heat? For the second experiment of the day, students explored the topic of chemiluminescence, which uses chemicals to produce light as opposed to combustion, which burns a fuel to produce both heat and light. The budding chemists' faces glowed just as much as their test tubes when the lights were turned off.
Document forgery is something one would normally hear in the plot of an action movie. For their third experiment, however, students experienced how scientists use chromatography, the process of determining the elements of a substance through a chemical process, to determine if documents have been altered or even if money has been forged. They started with melting the outer shells of M&Ms to figure out what colors are combined to create the rainbow of candies in every pack. For example, when melting brown, students discovered that instead of leaving a streak of the same color on the filler paper, the candy actually left streaks of red and blue. This process was carried over to pen inks, which were heated to a similar temperature to the M&Ms. The different types of ink flowed at different speeds, which is how it is possible to detect a forgery. If the ink from a suspect document flows at a different speed than a proven document, then the suspect document is proven to be a forgery.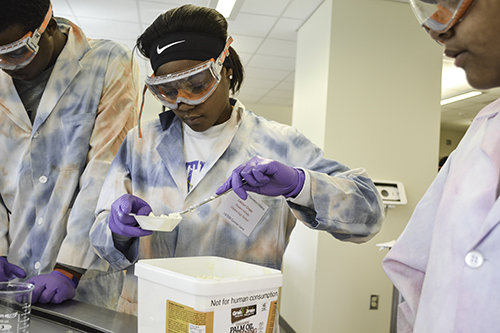 UHS students work together to complete a hands-on activity.
To end the day, Huang had a special experiment planned to explore the topic of heat transfer, or how objects with different temperatures interact with one another. Students mixed whole milk, sugar, egg yolks, and a few other ingredients in a bag. Excitement swept around the room like a wave as the students realized that they were mixing the ingredients for ice cream! But how would they chill it? The day was almost over and there was no freezer in the lab. At that moment, Huang and Legare dragged in a big insulated tank filled with some mysterious liquid. After telling the students near her to stay well clear, Huang donned a pair of heavy duty protective glasses and goggles and opened the top of the tank, unleashing a blast of frozen air around the entire room. Students then handed their ice cream mixes to Professor Huang and watched as they were dipped into the mysterious cold liquid and flash frozen to the perfect ice cream consistency. Huang explained that the liquid was actually a super-chilled liquid form of the gas nitrogen. Because it has such a low vaporization temperature, liquid nitrogen is cold enough to cause severe frostbite in the fraction of a second. Handled properly, however, it can be used to create a delicious cooled dessert in no time at all!
According to Huang, activities like I-STEM camp's Chemistry Day are important to help students overcome their fear of certain STEM subjects:
"We hear from the students that in order for them to get interested, they need to start as early as possible," Huang explains. "Many students have a fear of STEM. Even though they want to major in it, they're sometimes afraid when they get to the college level. They view certain topics as really hard and difficult to master. I think if we get the attitude out and give them something fun that they can do, they'll know that it's not impossible and that learning also takes time. So then, we can have that attitude when they get college that it's going to be hard, but it's not impossible."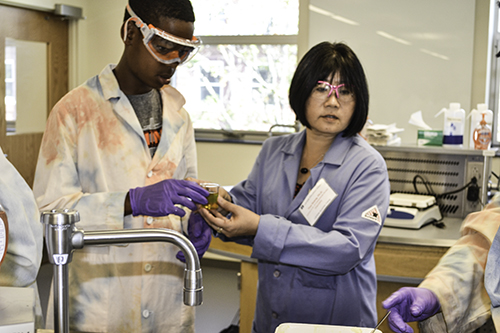 Above: Tina Huang (right), helps a UHS student doing a hands-on activity.
Below: UHS students explore chemiluminescence, using chemicals to produce light.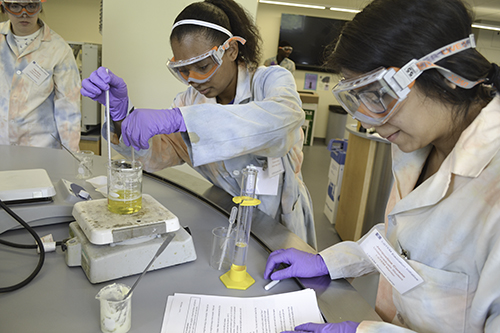 Regarding why she agreed to participate in the I-STEM Camp, Huang replied:
"I enjoy interacting with students in general. I have kids at the high school age, and I kind of understand how they think. I think I'm much more patient than other people when it comes to dealing with high school students. I kind of know how to push them a little bit, they can't just push me, because I will push back. I have my own rules, especially for their own safety. I see that a lot of the good kids ask really good questions, and some of them say that they enjoy certain parts of the things and this is something that they don't get to do very often."
Regarding why she participated in the camp, Legare responded that she enjoys helping students learn about entirely new topics, "They enjoy it, it's fun to see them excited to learn something." She continues that camps like I-STEM's allow kids to experience what it could be like to work in a STEM field. They also allow students to dip their toes in how education at a higher level looks and gives them a sneak peek into the future if they do end up attending college.
Chemistry Day was a resounding success, with students munching on their frozen desserts out the door and chattering about their experiments with soap, glow sticks, and M&Ms. Conversations flew left and right about the topics those experiments had explored. The chemistry between the students was palpable.
---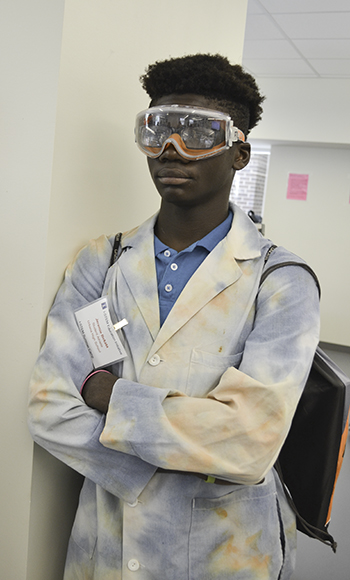 Jeremie Bokota, an I-STEM camper, demonstrates proper lab safety equipment, wearing a tie dye lab coat and neon orange safety goggles.
Story by: Nick O'Connell, I-STEM Undergradute Student Worker and a sophomore in Mechanical Science and Engineering
Photographs by: Elizabeth Innes, Communications Specialist, I-STEM Education Initiative
More: 8-12 Outreach, Chemistry, I-STEM Initiatives, STEM Pipeline, Summer Camp, Underserved Students/Minorities in STEM, Urbana High School, 2017
For additional articles about I-STEM's 2017 Summer Camp, see: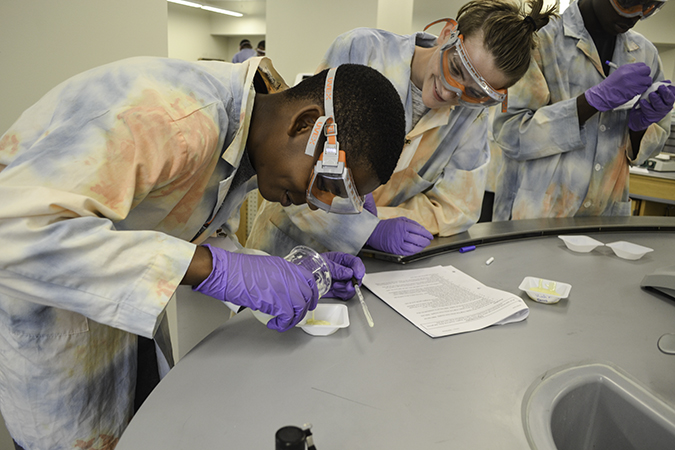 I-STEM campers pour the soap they've made into a container.