iRISE Workshop is a Hit With Local Middle School Teachers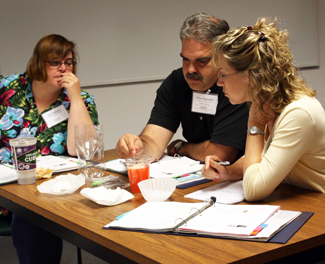 Science teachers at iRISE teacher workshop perform experiment filtering water.
Urbana, Ill. — On Tuesday, June 28th, 2011, 24 middle school teachers from across the state came to the University of Illinois to build algae bioreactors, take apart and reassemble computers, build chemical and mechanical water filters, and explore the fluorescence of living plants. These activities were developed into classroom-ready lesson materials by a group of graduate students, faculty, and veteran teachers as part of the iRISE Project. iRISE is a Focal Point Initiative project funded by the Graduate College and also supported by the Center for the Physics of Living Cells. The project is a collaborative effort of faculty and graduate students in the Departments of Physics, Electrical and Computer Engineering, Chemistry, Biophysics and Curriculum and Instruction.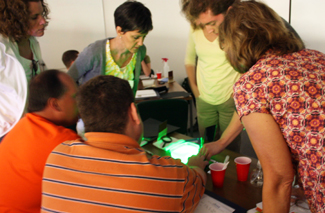 Science teachers perform hands-on project working with flourescence at iRISE teacher workshop.
A primary focus of the project was the development of a new course in the Physics Department last spring, Physics 598SE: Introduction to Science Education. This course provided training in K-12 educational outreach to 20 science and engineering graduate students. As part of the course, students developed and taught hands-on lessons to middle school students at the Don Moyer Boys and Girls Club. These same lessons were further developed and delivered to teachers in the June 28th teacher workshop titled "From Computers to Biofuels: Sparking the Imagination of Middle School Students." Each lesson was taught by graduate students and accompanied by a reflection session to allow teachers to share ideas about how best to implement the material. Each topic also included a lecture by faculty and, in one case, representatives from Engineers Without Borders, that helped explain the practical applications of what they were learning as well as current challenges in the field.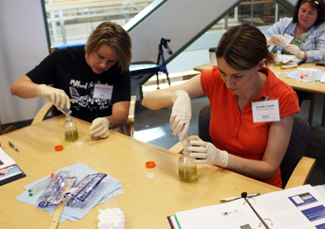 Middle school science teachers experimenting with algae at iRISE teacher profesional development workshop.
One of the teachers from the workshop wrote about her experience in this workshop: "There's some well-known saying about, "If I read it, I remember 25%; however, if I teach it or do it myself, I remember 100% of it." Well, in this case, that saying is certainly true. Because I did those activities myself, I have ownership. I had fun, and I thought along ... thought of the possibilities ... thought of the child's perspective ... thought of curriculum connections ... much, much more than if I had merely read. Because I was actively engaged in learning (and loved it), I will be that much more engaged and in tune with my students as they go through the activities and explore the possibilites of going beyond."
For more information about the teacher workshop or any aspect of the iRISE project, please see the website at www.irise.illinois.edu.
More: iRISE, Teacher Professional Development, 2011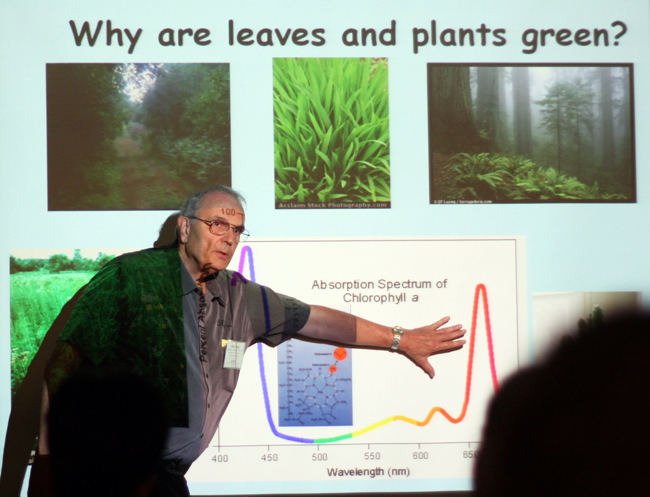 Discussion of photosynthesis during teacher workshop.