INCLUSION REU Exposes Undergrads to Computational Research Using Open Source Software
August 29, 2019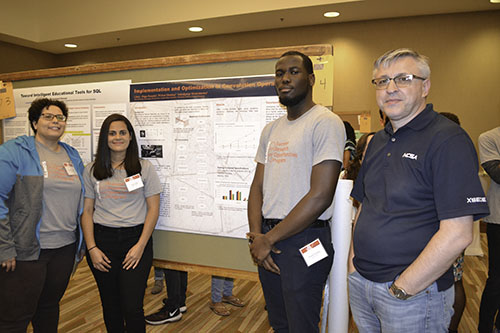 Lixcy Vega and Prince Ghartey present their research to two NCSA members.
In the summer of 2019, eleven undergraduate students experienced a computationally-based summer research experience as a part of the National Center for Supercomputing Applications' (NCSA) NSF-funded INCLUSION (Incubating a New Community of Leaders Using Software, Inclusion, Innovation, Interdisciplinary and OpeN-Science) Research Experience for Undergraduates (REU). In its third and final year, the REU allowed the students to acquire or improve their coding skills, possibly even learning a new programming language as they completed projects using Open Source Software. In addition to finding out what research is like, they also experienced another activity they will most likely use should they end up in grad school: they created posters then presented their research. Some of the students also figured out what their next step might be careerwise: matriculating to Illinois to further their education. Plus, the participants also made some relationships and did some networking.
One emphasis of the INCLUSION REU was to foster skills the undergraduate students might be able to use in the future. So one component of the REU was to train the students to develop and contribute to Open Source Software projects. While this software is free, the idea is that people don't just use it, but also contribute back to it, mostly using GitHub a development platform that provides tools and features that foster collaboration among software developers. So many of the REU projects involved Open Source Software.
While eight of the eleven participants had some computer science background, three didn't; so the program also sought to provide them with resources. For instance, at the beginning of the summer, the REU held a Sustainable Central Carpentry Workshop where students received training, and were able to forge connections with Max Belkin, the Blue Waters Education Coordinator, who is also an open software carpentry certified instructor. The undergraduates could get extra help from him, asking him questions and working with him if they needed assistance.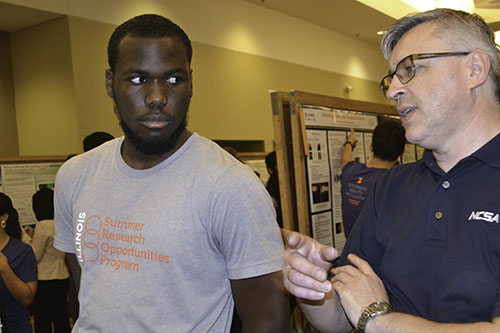 Prince Ghartey listens attentively as a critic converses with him about the data that the research group had accumulated and their overall presentation.
As the name INCLUSION implies, another goal of the REU was to include minority students or others, such as women, who are underrepresented in STEM, with the long-term goal of making the overall population of software developers more diverse. So the 2019 group of eleven students included both African American as well as Latino/a students, as well as women.
Plus, to ensure that coding skills are not limited to computer scientists only, the REU sought to foster cross-disciplinary collaboration. So one unique component of the INCLUSION REU was that most students worked in pairs. According to Olena Kindratenko, NCSA's Education and Outreach Coordinator, the participating students appreciated the opportunity to have a project partner. Plus, since the students paired up on projects were usually from different departments, they also brought different strengths to the project. "So it means that they are bringing in different experiences, different points of view, and they ask different questions," Kindratenko explains.
Another unique aspect of the REU is that, not only did the students work in pairs, but they had pairs of mentors as well, with the projects being led by two mentors from different disciplines if possible. According to Kindratenko, NCSA faculty and research staff were really excited about the REU program: "We didn't have any difficulties to find people to work with the students," she explains, "and we were able to have pairs of mentors."
The group of participating students was also heterogeneous in that the majority of the students were from across the country and beyond. While five students attended Illinois colleges/ universities, only two were University of Illinois students: Sarah Habib, a physics major in her second year in the REU program, as well as Vasista Vovveti from Illinois' Computer Science Department, who heard about the program through word of mouth. The others are from Wisconsin, Maryland, Massachusetts, Colorado, Texas, even as far away as Puerto Rico.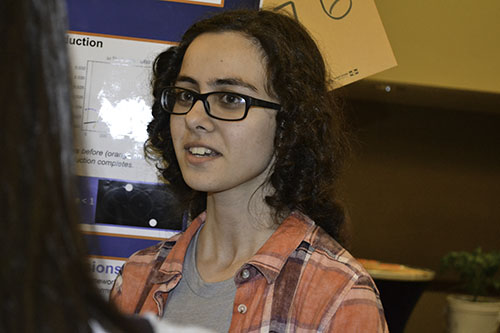 Sarah Habib goes in depth explaining the idea that their group project had based their research on.
However, while only two of the group attended Illinois during the spring 2019 semester, that might have already changed, or might in the not-too-distant future. Take Lixcy Vega, an Entrepreneural and Management Development major with a minor in Computer Science at Inter-American University of Puerto Rico. According to Kindratenko, "She actually is really interested in this opportunity to apply to graduate college at the University of Illinois, because she was kind of hooked on us, I guess." In fact, three of the REU students were planning to apply to grad school at Illinois. In addition, two of the participants from community colleges were interested in transferring to Illinois for their last two years.
In light of several students hoping to attend grad school at Illinois, the REU held a meeting with a Graduate College representative who talked about the application process and what students needed to include in their applications, such as letters of recommendation from professors who worked closely with them during the REU.
Another skill students acquired that they might be able to use down the road, especially in grad school, was how to present their research. So the students made posters describing their research in detail, which they presented twice near the end of the summer: at the Illinois Summer Research Symposium on July 18th, and at the end-of-the-summer poster session at NCSA.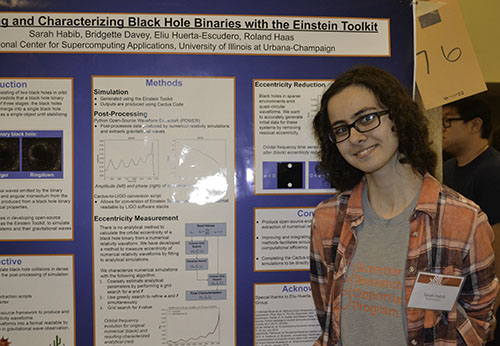 Sarah Habib proudly stands in front of her research project on Black Hole Binaries.
The final unique aspect of the program is that students could participate two summers in a row. However, in 2019, all of the students were new to the program except for Sarah Habib, who was in her second year in the REU. A rising senior at Illinois, Habib got involved with the REU because she was looking for opportunities to work at NCSA. She had actually applied to the SPIN internship program, but they didn't have room. However, because they wanted to work with her, they offered her a spot in the INCLUSION REU.
Kindratenko calls Habib one of their most successful students. Because she started the REU last summer and continued working on the same project this summer—processing simulation data of black hole binaries using the NCSA-developed open source software: the Einstein Toolkit—she has already published three papers based on her research. Plus, since she's a local student, she plans to continue working with NCSA's Gravity Group in order to publish another this fall based on her work and the additional data she obtained this past summer.
Regarding challenges she encountered while in the program, she indicates that there was a lot that she didn't know about coding in general when she began. "So a lot of the challenge wasn't necessarily from the physics problems," she explains, "although those presented some unique challenges too. But a lot of the challenges were just trying to figure out how to do things with the tools that I had."
Regarding how the REU has impacted her career goals. Habib says she had a pretty fair idea of what she wants to do in the future, and this REU has definitely solidified that for her. "I think it actually helped me a lot," she reports. "It's been a great opportunity. I've gotten the opportunity to see what real research looks like, and I've done some very productive work with this group, I think, because it's definitely been my best work experience. So this is definitely something I'm encouraged to continue in the future."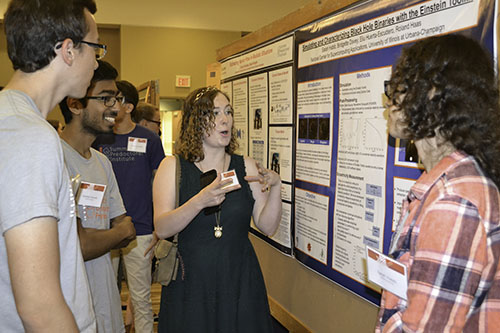 Bridgette Davey cheerfully goes over the results of her team's research with other students.
She also values the networking and relationships she developed. "And I think my relationship, especially with my mentor, is probably going to be a huge advantage in the future, just as providing a networking opportunity. So that's something I'm very thankful for. So yeah, this program has given me a lot of opportunities."
Another physics major who participated in NCSA's INCLUSION REU was Bridgette Davey, who's majoring in physics at Monmouth College. A senior, she's due to graduate in December. Davey actually heard about the INCLUSION REU at a woman's conference through Gabriel Allen, an Astronomy and Computer Science Professor and an NCSA Senior Research Scientist, who encouraged her to apply. "So I did, and here I am," she says.
One of the most challenging things about Davey's experience was the coding."Actually, my previous experience had just been knowing enough code to do what I wanted to do, and this is more of an almost entirely computationally-based project. So I was having to learn a lot on the fly and trying to get up to speed."
Regarding the impact the summer has had on her future career plans, she says Illinois is one of the places she's thinking about for grad school. "I've been able to talk to some of the professors here who are in different fields, and so that's made me think that I really want to go into astronomy. So yeah, it definitely has had an impact."
Another student who is applying to grad school at Illinois is Bomsaerah Seong, a rising senior studying chemical and biomedical engineering at the Colorado School of Mines. She chose to participate in NCSA's INCLUSION REU because at her home institution, she also works with computational material science research. She says wanted to look at different opportunities besides her school. "And I found NCSA, and I applied for this project specifically working with computational material science, and here I am!"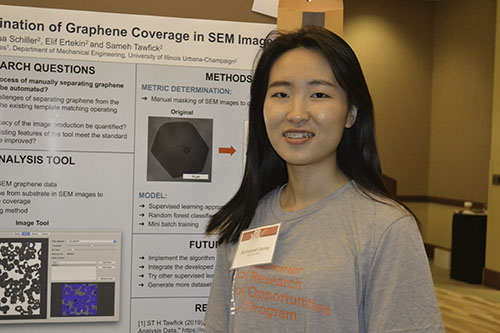 Bomsaerah Seong shares the insights that she gained through her research.
She says the most challenging thing about the summer was that as a chemical engineering major, she didn't really have a lot of computational background. But upon arriving here, she received basic computational model training. She also got a lot of help from her grad student mentor, and "pretty much everyone in my INCLUSION group. If I need help I just ask someone who's sitting next to me. We all help each other basically because we all sit together in one office and I really enjoyed that."
"But the computational side was really challenging, because I've never done this before. But seeing myself able to do it, at the end, was very relieving and a good experience for me. I know that I can overcome any challenges that I have, and I can do things that I didn't think I could do."
Has this summer impacted any of her career plans at all? "Definitely!" she reports. "This program gave me opportunity to study computational material science, and I have more of an idea of what I specifically want to do in the future." She also discovered a lot of great resources, such as Illinois' Material Science Program, which she intends to apply to for graduate school. "I'm looking into that." She intends to begin applying to grad schools, then adds: "But I don't know what I really want to do, because before coming here, I wasn't sure, because I'm a rising senior. So I need to figure things out now."
One thing she knows for sure, she had an awesome summer, citing the many positives. "I really thank this program for changing my life and giving me guidance to what I want to do in my future, and making this summer the best summer I've had so far in my life, and making a lot of good connections, and making lifelong friends."
Since it's the third and final year of the 3-year program, the INCLUSION REU leaders are planning to submit a proposal to NSF in hopes of continuing the REU. They are currently developing the proposal, and intend to keep many elements from the current INCLUSION REU program. However they hope to add some new elements. For instance, they plan to do it a bit differently next time in terms of the focus areas. While the REU will once again focus on open source software, the projects will be related to one of the current buzzwords in computer science: AI—machine learning and deep learning.
---
For more I-STEM articles about the INCLUSION REU, see:
Story and photographs by Elizabeth Innes, Communications Specialist, I-STEM Education Initiative.
More: Computer Science, REUs, REU: INCLUSION, Undergraduate STEM Outreach, 2019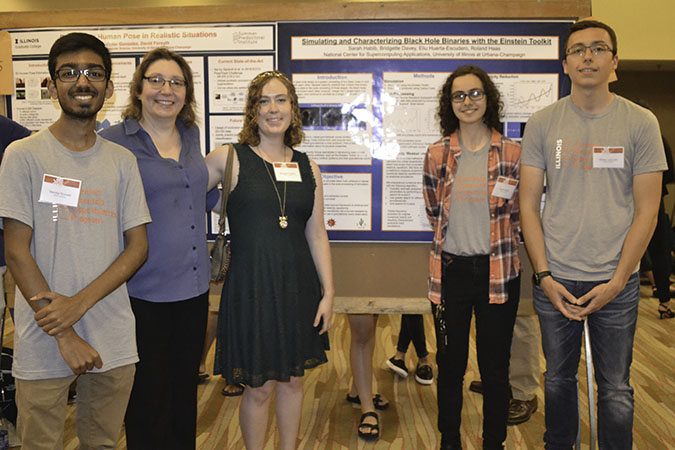 Olena Kindratenko (second from the left) and some of the INCLUSION REU participants at the 2019 Illinois Summer Research Symposium.