GLAM Seeks to Capture Girls' Imagination About Materials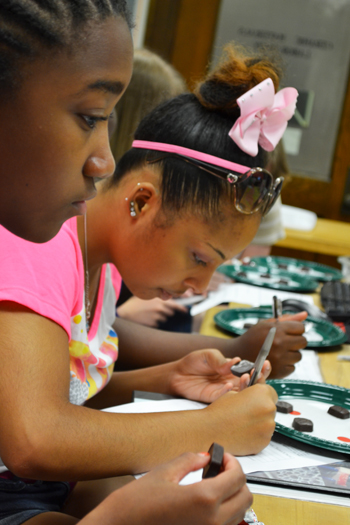 Two high school girls analyze chocolate during a session of the GLAM G.A.M.E.S. camp.
August 21, 2013
In its third year, the GLAM (Girls Learning About Materials) G.A.M.E.S. camp exposed 18 high school girls to a wide variety of materials, beginning with the perennial favorite of females of any age—chocolate.
Matt Sherburne, in his first year as director of GLAM, had a couple of reasons for choosing chocolate as the first material the girls would work with. "One, chocolate's fun. Who doesn't like chocolate?"
(In response to this reporter's comment intimating that we girls are notoriously weak when it comes to the stuff, Sherburne countered, "Hey, I like chocolate as much as the next person.")
Sherburne's strategy was to use chocolate as an intriguing yet tasty way to introduce his campers to the world of materials science. He hoped his use of one of the girls' favorite treats would tell them, "Look, you take the fundamental physics, math, and chemistry you've had, you apply it to the physical world of materials. You can apply it to anything, including food. Here's chocolate. Let's talk about that."
He hoped that the girls would reason, 'Oh, if this guy's telling me about the material science of chocolate, I can certainly apply it anywhere!" Thus, he figured, it would be a great way to open up the laboratory portion of the camp.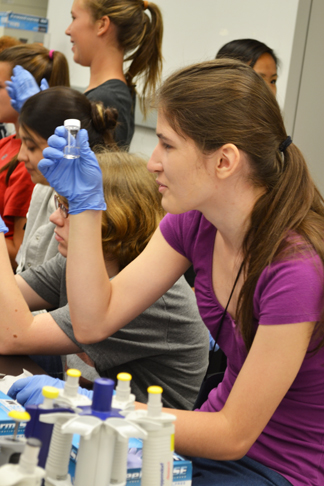 Camper examines biomaterials during a session on stem cells.
Contrary to the tendency to pigeonhole materials science as strictly dealing with metals, ceramics, or maybe wood, Sherburne explains that his field also addresses polymers, composites, electronics—even biological.
"Anything you look at, it's made of something," he proselytizes, "and that's a material."
Sponsored by the Materials Science and Engineering Department, GLAM exposed the girls to activities that ran the gamut of materials, from the chocolate laboratory, where girls tasted a material (chocolate that's been aged at different temperatures), to working with bio materials (stem cells and collagen), to making nanoparticles, to addressing both solar energy and sustainability by making a solar oven using a variety of materials, including cardboard and aluminum foil.
Another material the high schoolers worked with was polymers. They visited the MakerLab, a campus facility with 3-D printers available for students' use. There they did some 3D printing, including key chains in the shape of the state of Illinois emblazoned with "MakerLab." In addition, each girl received a bust of herself that the GLAM team made by scanning in photos of the girls then 3D printing them.
Did the girls delve into the intricacies of CAD as well? Given the amount of time it would take, and concerned that the girls might get bogged down, Sherburne says no.
"You would rather have them experience how things are done. Show them that you can take a CAD drawing and do something with it. Push the button and watch it print. You want them to get a flavor of what's going on, how this is interdisciplinary, and the cool aspects of it."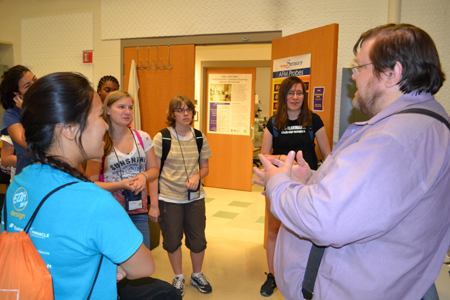 GLAM campers visit the MRL to experience microscopes scientists use to study a variety materials. They also got to see images they produce.
In addition, the campers were also exposed to instruments engineers use to look at materials, such as the AFM (Atomic Force Microscope), SEM, (Scanning Electron Microscope) and the TEM (Transmission Electron Microscope). Sherburne's goal for the camp: "to showcase what's fun about science and engineering, what you can do with it, how it helps to shape the world."
Sherburne also indicates that he scheduled the week to highlight a different aspect of materials each day: "We have a bio day; we have a solar day; we have a characterization day. There may be a day that one girl says, 'Oh, I don't like bio. I don't like playing with cells or collagen,'" he hypothesizes. "That's ok. So maybe, the energy day, she'll go, 'Oh, my god, batteries are so cool. Now I understand.' So hopefully, there'll be something throughout the week that should capture their imagination."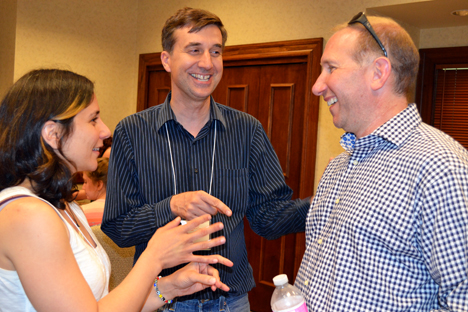 Clockwise from the left: Elif Ertekin, Joe Muskin, and Matt Sherburne enjoy the joint session GLAM and G-BAM campers did constructing solar ovens.
Although Sherburne is relatively new at Illinois (he began in Fall of 2012), he's not new to outreach. So, when he interviewed for the job here, he shared with Dallas Trinkle about his doing one-day outreach programs for middle school girls as a grad student at Berkeley. Trinkle, who founded GLAM two years ago as an outreach component of an NSF grant, approached Sherburne when he had only been on the job for two weeks, saying, "We need to meet."
Sherburne says Dallas "basically passed the torch to me. Came in one day, said, 'Here's a binder. You're running it.'"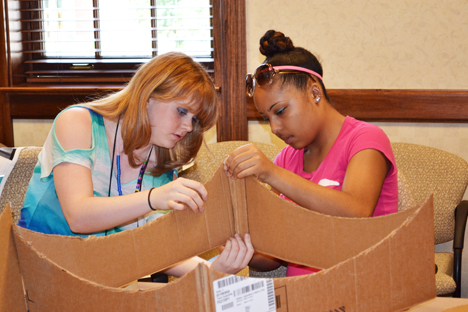 Two campers work on a hands-on project making a solar oven.
Besides the fact that he was handed the folder and asked to do this, why did Sherburne take on GLAM? "I like teaching," acknowledges Sherburne.
He's also aware that students will encounter their share of boring science classes taught by boring, uninspired teachers who turn kids off to the subject. He wants GLAM to do the opposite: to get them excited about science.
"Summer programs give you a chance for the young people to see the cool side of it. They're not sitting there going, "Ok, it's physics. I'm grinding through another problem. I've got a block on the plane. Here's the force, and here's the friction.' It allows you to show off fun things. If somebody just sits in class and grinds through stuff, by the time they get to college, they're going to be like, 'I don't want to do that.'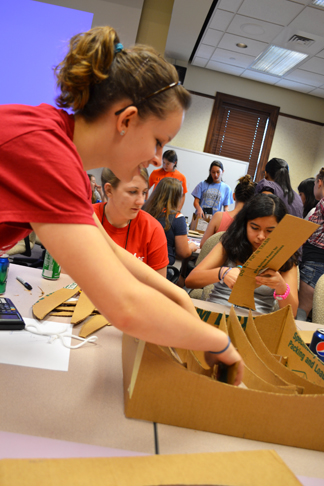 G.A.M.E.S. campers hard at work constructing their solar oven.
So his philosophy for the camp included employing lots of hands-on activities to address a wide range of fun, exciting subjects and materials: "The idea is to get them interested and keep them interested."
Kaitlin Tyler, a second year grad student in Materials Science and Engineering, who was an instructor for the camp hoped to not only expose the girls to the fun aspects of engineering, but to try to address the gender inequity in her field:
"Women are a minority in engineering. I think showing girls at a younger age that engineering is cool and a viable career option for them, regardless of their gender, will make them more likely to pursue engineering in college."
Tyler believes the camp had a positive impact on the girls. "I think the camp went extremely well. The girls got to see many different aspects of materials science, which can be challenging because it is a large and ever changing field. I think this camp showed the girls just how important this not-well-known field. Many of them seemed extremely interested and they learned a lot."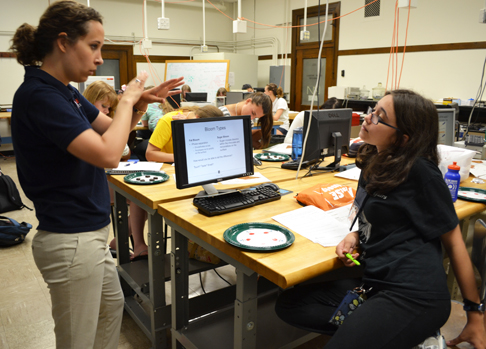 Kaitlin Tyler instructs one of the GLAM campers during the chocolate lab.
Does Tyler think any of the girls she worked with will end up in Materials Science? "There were quite a few girls who were extremely interested," she indicates. "Some of them came to camp already having a knowledge of materials, and all of the girls had at least one activity that they really enjoyed. Whether or not they end up in materials science, I still think that quite a few of them will join the STEM field."
Another instructor, Parul Koul, who just graduated with a B.S. in Materials Science & Engineering in May 2013 had time before starting her job as a Materials & Corrosion Engineer at ExxonMobil in Houston, Texas, to "come down to Champaign and help out."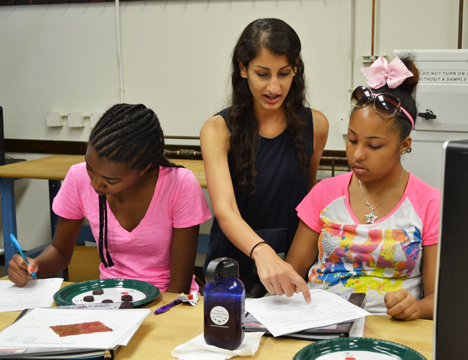 Parul Koul (center) works with a GLAM camper during the chocolate laboratory.
Koul "thought the camp would be a very personal way to give back to the College of Engineering." So she shared the skills and the knowledge she gained as a TA, and while organizing Engineering Open House for the department, and her "passion for STEM outreach which has been cultivated over the years." Koul says, "It was a great experience lecturing and helping the girls with labs that I myself worked on my during my undergraduate career."
Koul, who says attending an engineering camp herself as a youngster impacted her choice of engineering as a career, wanted to similarly impact the GLAM girls: "I knew I really liked Materials Science by attending a similar camp where exposure to engineering and specifically materials science is a simple but powerful tool in inspiring the next generation of engineers. So overall, a personally fulfilling experience: a full-circle."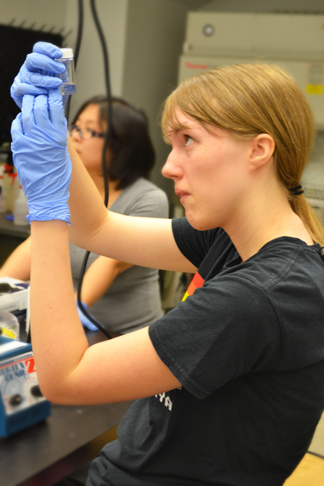 GLAM camper examines stem cells she is working with.
Koul agrees that the camp went really well. "We took a survey of the girls at the beginning and end to gauge their interest and knowledge over the week and the results were staggering. I think the biggest impact that we made was inspiring the girls realize their interest in math/science is not alone and show them how to apply those interests in future careers."
Does Koul remember singling out any of the girls, thinking, "This one or that one will end up in STEM/engineering"? Says Koul, "I remember thinking that most of the girls will be going into STEM/ engineering!
Koul believes that because STEM outreach is becoming embedded into the high school education system, "a lot of girls are aware of the link between their aptitude in math/science to potential STEM college degrees."
She also admits that the campers were ahead of where she was when she was their age: "The best part about the camp was when the girls showcased their knowledge of science/math/engineering in the classroom, because even looking back 6 years ago, I personally was not exposed to the concepts they already knew the basics of (e.g nanoparticles, tissue engineering, solar energy)."
Does Sherburne believe some of the girls end up choosing careers in Materials Science?
"Would I love to have all 18 of them get so enthusiastic about materials that they go on to major in Material Science?" he asks. "Sure."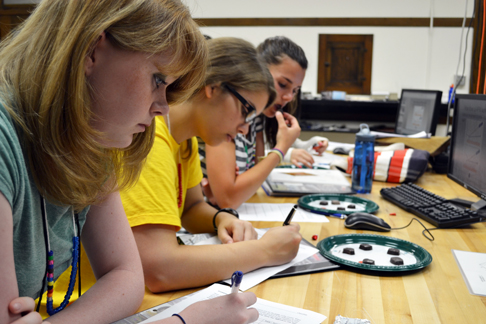 GLAM campers perform lab analyzing the material chocolate.
However, Sherburne admits that's not really reasonable. But he does want them to leave "not just thinking, 'Material Science is cool,' but thinking, 'Gee, science and engineering has a lot to offer me.' I just want them to have an appreciation of how materials affect things and go away with an impression of science and engineering in general as being fun and attainable."
Story and photos by Elizabeth Innes, Communications Specialist, I-STEM Education Initiative.
More: 8-12 Outreach, GAMES, GLAM, MatSE, Summer Camp, Women in STEM, 2013
For additional I-STEM articles about 2013 G.A.M.E.S. camp, see: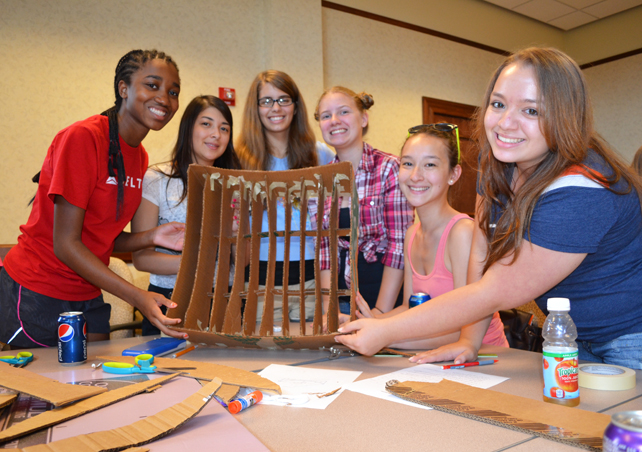 Group of campers from a joint session of GLAM and G-BAM display the framework for the solar oven they are collaborating on.