G-BAM Sends Campers This Message:
Girls Make Awesome Engineers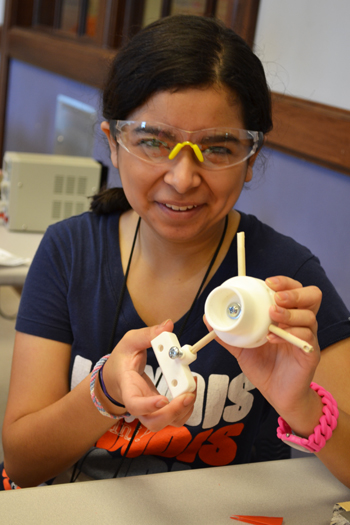 G-BAM camper displays the prototype she and her team designed for the wind turbine project.
August 22, 2013
"I've talked to some of our undergraduates, and you hear them say, 'Engineering's not like what I really thought it was. I somehow wound up here, and actually it's really cool now that I'm here.' I always think, 'Oh, if only we could have told them beforehand that it's going to be this fun.'" Matt West
During the first-ever G-BAM (Girls Building Awesome Machines) G.A.M.E.S. camp this summer (July 15-19), Associate Professor Matt West got his wish. He and Assistant Professor Elif Ertekin, who co-directed the camp, and numerous other excited Mechanical Science and Engineering faculty, graduate students, and undergrads got to tell 16 high school girls beforehand how much fun mechanical engineering is.
Since the overall theme of the camp was energy, the main overarching project for the camp was designing and building wind turbines, which culminated in an end-of-the-week competition to see whose wind turbine produced the most power. The girls worked on the projects every day over the course of the week.
The goal of G-BAM planners was to equip the girls to come to grips with hard problems and figure out how to solve them by offering a balance between guided options, while leaving some room for design creativity or flexibility.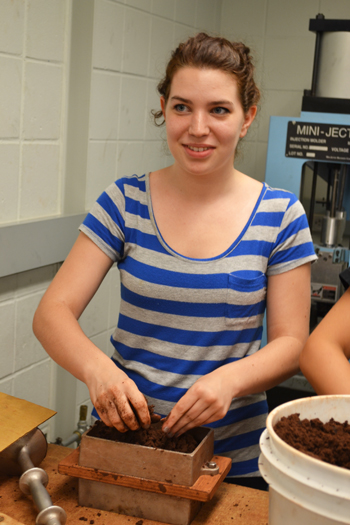 Camper participating in the sand-casting hands-on project fills a mold with sand. Once it's completed, her mold will be filled with liquid aluminum.
After learning how to use CAD to make their wind turbine designs, the girls then participated in a variety of activities introducing them to manufacturing technologies using machinery available in the department. For example, they experienced rapid prototyping, 3D printing, sandcasting (which involves casting liquid aluminum in sand molds), injection molding, thermal imaging, etc., then were to choose one of these technologies to manufacture their turbine blades.
According to West, "Part of the whole design aspect was to expose them to manufacturing technologies, and then give them the freedom to decide what they want to make their blades out of. How are they going to manufacture them?"
The campers also made nano particles, experienced the clean room, and learned about advanced microscopy using the SEM (Scanning Electron Microscope). During a field trip to John Deere, Caterpillar, and JUMP at the research park, they experienced some of the things engineers do in industry. While at Caterpiller, the campers participated in a hands-on project designing a fan for use in a cooling assembly for large equipment. Fans were tested based on air flow produced and stability, while remaining below a temperature threshold.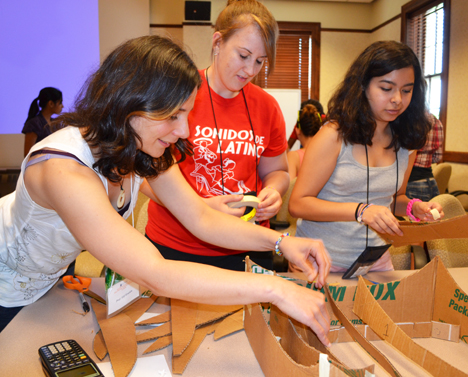 Elif Ertekin (left) lends a hand to a couple of campers during a hands-on project where the girls designed and constructed solar ovens.
Another energy-related project campers tackled was to design and assemble solar thermal ovens. The project required the girls to play with design aspects, for example, figure out what kind of reflector shape and area is optimal for focusing the energy of the sun to a point. The goal? To boil water.
"So we were hoping for a sunny day," Ertekin quips, (her aside no doubt prompted by the previous day's freak storm with high winds and dark-as-night gloom at midday).
According to West, these solar ovens are the type of devices that get used for cooking in third world countries, to reduce pollution from wood fires."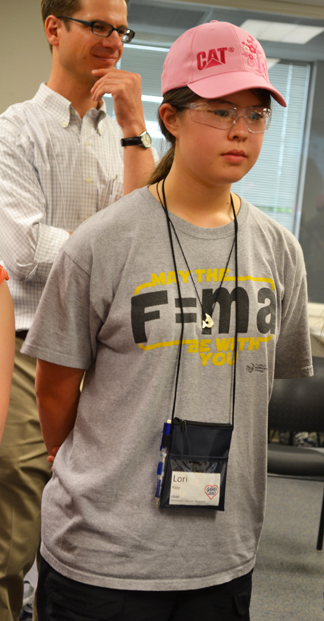 Matt West (left) and a G-BAM camper, sporting the pink CAT hat all the girls received, watch as her fan assembly design is tested. Her design, which employed plastic spoons as blades, won the competition by a hair.
"So, ostensibly," this reporter asks, "the campers, after coming up with a ground-breaking design, could go get a patent and make millions of dollars?"
"It would be awesome," West exclaims, then adds an even more important item to the list: "…or save the African continent."
Both Ertekin and West agree that, in addition to exposing the campers to some fun engineering projects, there were several messages that they hoped to get across.
First: this isn't your father's (or your mother's) mechanical engineering anymore.
Explains Ertekin: "The traditional picture of a mechanical engineer from 30 years ago is very different from today's mechanical engineers and what we do. So we're trying to expose everybody to some of these non-traditional things they may not have thought of as being a part of a mechanical engineering career."
According to West, some of the feedback they'd gotten from the engineering program was that they should be emphasizing things that appeal more to female students. And according to Ertekin, making a difference is important to students when choosing a career.
"So a lot of recent research suggests that students are particularly excited when they can see how what it is they're learning can play a role in helping society…can be of direct benefit to society. That's really inspirational for them."
Thus, their second message was this: If you want to choose a career where what you do matters, consider mechanical engineering.
According to West, mechanical engineering is about more than just cars and engines: "If you want to save the world," he admonishes, "actually mechanical engineers, surprisingly enough, have something to contribute to improving people's lives."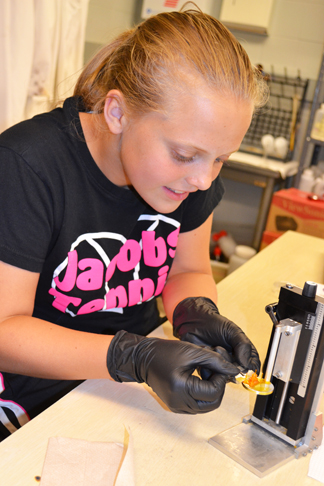 Camper examines the small figure she has just 3D printed.
Keeping this in mind, the camp included what West calls a "health impact strand."
For example, the girls participated in a prosthetics laboratory designed by grad student Laurie Rustom. This project was spun out of BUMP at the research park, a not-for-profit involved in the design of prosthetics for deployment in developing countries. Designed to be manufactured locally in developing countries, the prosthetics are robust and use readily available materials. In addition to the lab on campus, the girls visited BUMP to see what they're doing.
West and Ertekin agree that while it's great to be politically active and to care about things, in order to have an impact, someone has to design, then actually build something.
"There's a huge, huge role for mechanical engineers to really drive a lot of these." Elif indicates, then adds that the math and physics in engineering, "That's the tool box you need to be able to do really do these things."
So why did Ertekin and West devote one week of their summer to G-BAM?
"Good question," jokes West, then indicates that one of his goals was to recruit more women to their field. "I guess this is something that we certainly see when we deal with undergraduates all the time, that we're not getting as many women into undergraduate degrees as I think we should be."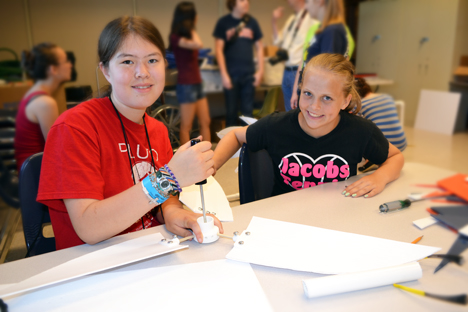 Two G-BAM campers construct their wind turbine.
"And I think the reason for that," Ertekin continues, "is that we, not just we as academics, but we as a society, historically haven't done a good job of explaining to the public in general what it is that engineers do...It is, at the end of the day, instilling a value in society for engineering, for research, for the societal benefits of these things. It's up to us, and we need to do a better job of it."
So another message that G-BAM planners hoped to get across was this: Engineering is a great career for women.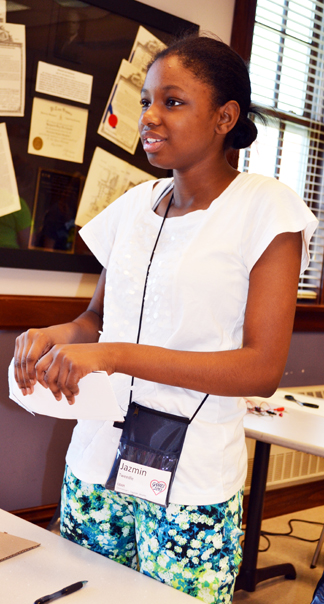 Camper works on her wind turbine project.
Ertekin and West admit that, for the 16 girls who attended, at least, they hoped to change the mindset that engineers should be men. For example, in response to the question, "Can women be engineers?" Joe Blow on the street would most likely say, "No! That's a man's job. They wear a hardhat."
According to Ertekin, that's because the public has a flawed perception of what engineers do.
"Also, Joe Blow's picture of what an engineer does is probably different, in fact, from what it is we do. So I think if society sees what engineers really are, like what kinds of pretty exciting activities we're involved in, that'll really help to change that picture."
Regarding the paradigm that women don't belong in engineering, West relates an anecdote about his younger sister:
"I was an undergraduate engineering student, and I really enjoyed it, and I told my younger sister, 'This is great. Maybe you should think about it.' She was good at math and physics, so she said, 'Yea, I'll do it.' And actually, my mother, who talks as if she's very progressive and thinks women should be very empowered, went, 'Oh, I don't think this is a very good idea. Really? Engineers? It's always guys.'"
His tale, however, had a story-book ending. "But my sister, none-the-less, persisted," he continues, "and she now works as a civil engineer, and is extremely happy in her job, and very glad she didn't go after being a nurse or something traditional. But I was kind of shocked that even my own mum…"
Ertekin suggests a solution to this dilemma: "Some of these ideas are kind of subconsciously instilled in people's minds, and I think early, continual, persistent exposure is the key to eliminating that."
Which is what the camp is hoping to do, as well as expose the girls to a really good group of role models. West indicates that G-BAM camp involved a huge group of female grad students, and undergraduates, and faculty.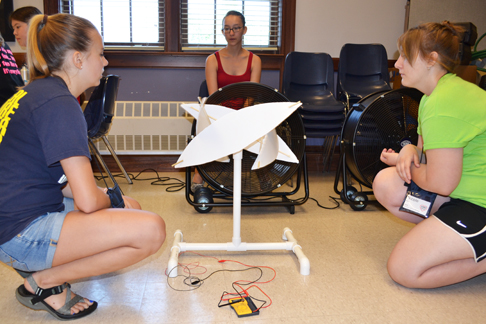 One team of campers tests their wind turbine design in front of a huge fan.
According to Ertekin, the idea of exposing the campers to females in engineering plays a dual purpose: "Not only do the camp participants get to see female role models featured through this activity, but our female undergraduate and graduate students get to see how they can play a role in outreach and in inspiring young students as well. So it goes both ways."
Their ultimate goal for G-BAM? To recruit some of these girls to Illinois. "No, I really hope we get some of these kids, and they can come and be undergraduates," concludes West.
Story by Elizabeth Innes, Communications Specialist, I-STEM Education Initiative.
Photos by Elizabeth Innes and Sneha Shruti, I-STEM Journalism Intern.
More: 8-12 Outreach, GAMES, GBAM, MechSE, Summer Camp, Women in STEM, 2013
For additional I-STEM articles about 2013 G.A.M.E.S. camp, see: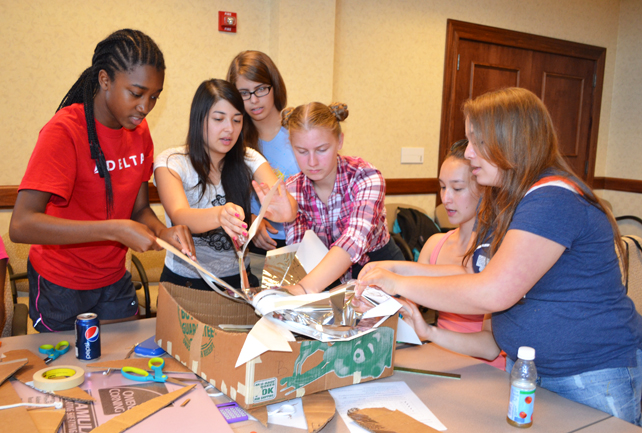 A team of campers from a joint session of G-BAM and GLAM G.A.M.E.S. camps assemble their solar oven.