First Lego League—More Than Just Robots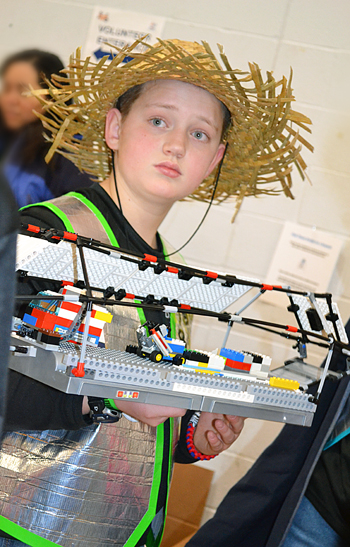 FLL contestant from Da Ex Bots holds some of his team's Lego equipment.
January 23, 2014
"Some people think that Lego League is just for nerds, but it's not. It's way more than robots." —Jessica Smith, First Lego League contestant.
With its carnival-like atmosphere more reminiscent of Mardis Gras than a STEM event, the recent First Lego League (FLL) Robotics Tournament held at the ARC on campus gave young robotics aficionados the opportunity to do more than just build and program robots. In addition to the fun of competition, camaraderie with one's teammates, and dressing alike or sporting wild and wacky costumes, hats, or paraphernalia), participants honed important life skills, such as public speaking, working on a team, and learning how to perform research.
On Saturday, January 18th, 48 teams comprised of around 2,000 students (plus their families) from across the state converged on campus to compete in the First Lego League (FLL) Robotics Tournament. With the growing popularity of the robotics competition for middle school students, FLL in Illinois has grown so large that the organization split the state into two tournaments, with the University hosting the Central Tournament this year for the first time.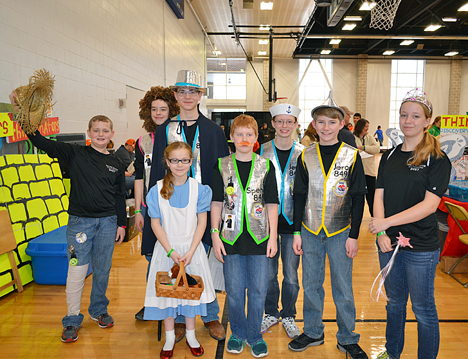 Team #8497, "Da Ex Bots" went with a Wizard of Oz theme for their costumes.
Helping to make the event a success was a raft of volunteers, many of whom seemed to have the same level of commitment to robotics as the participants and their families. For example, volunteer, Sravan Suryadevara, who started robotics in high school, was so excited about the sport that when he got to college, he wanted to keep going. So he participated all through his time at Illinois. In fact, Suryadevara, who just graduated from Illinois in May 2013 with a Bachelor's degree in computer science, loves robotics so much that he traveled down from Chicago to participate in the FLL tournament.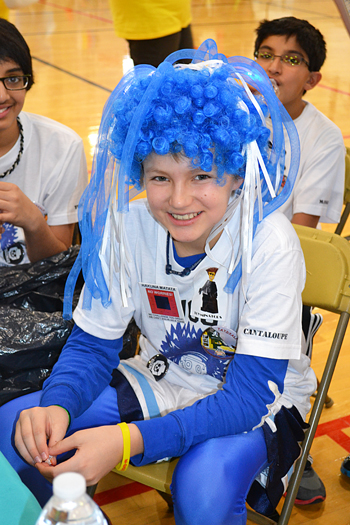 An FLL contestant waits to compete.
According to Suryadevara, First Lego League is built on three core components. The first is building and programming a robot to perform a challenge. In the fall every year, the year's theme is assigned; this year's was nature's fury. During the match, the robot must perform certain tasks to get points. The catch? It must do the tasks autonomously; contestants are not allowed to use controllers: they must write a computer program beforehand so that at the tournament, they push a button and the robot automatically does its thing.
The second aspect is research. Because this year's theme was nature's fury, students had to research natural disasters that could happen and come up with solutions. But these are just make-believe scenarios, right? Not necessarily. Suryadevara proudly explains that FLL has partnered with the U.S. Patent system and some of the 9–13-year-olds who participate have patents that are pending.
Why did Suryadevara give up his weekend to participate? He has a couple of goals: one is to get under-served kids interested in STEM.
"We've got students that are minorities or in low-income areas that might not even dream of going into STEM. So a lot of it is to get those students into STEM."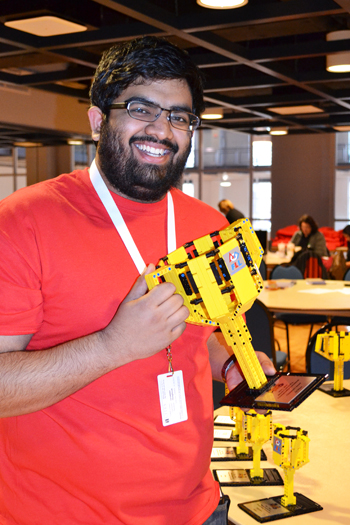 Sravan Suryadevara with all of the trophies he built for the FLL tournament.
His second goal is to foster kids who have already shown an interest to ensure that they end up in the STEM pipeline.
"For those students that might be already interested in STEM, to see if they really want to do it, and it builds those additional skills like teamwork, presenting in front of judges, those kinds of things, that you really need as an engineer, as I'm finding out as I'm working right now. And those are really important skills that this program offers over other programs."
What did Suryadevara do at the event? For one, he built all of the trophies (built of Legos, presumably).
Another volunteer, Matt Birkel, ECE senior in computer engineering, has been involved with robotics since he was the age of many of the participants.
Founder and president of iRobotics, Birkel started robotics in Lego League in junior high and continued throughout high school and college.
"So I've been basically doing robotics all year round since I was a 7th grader," he admits.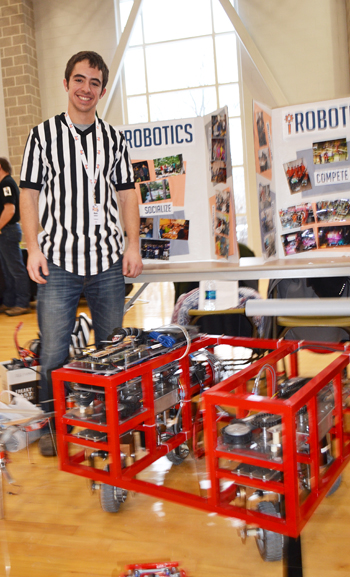 Head Referee Matt Birkel by iRobotics' booth; in front of him is one of the big robots the club competes.
Set to graduate in May of 2014, Birkel will be heading out into the real world; he starts his new job as an engineer with Caterpillar in July. So was robotics the hook that lured him into engineering? "Oh, absolutely!" he acknowledges.
Given the impact robotics has had on his life, his goal is to hopefully repeat that scenario in other young people's lives—to steer kids into STEM through robotics.
"Oh, definitely," he admits. "I think that's one of the biggest rewards of being involved in a group like iRobotics. It's fun to build your robot, and it's fun to go to competitions, but it's more than just that. We're out there doing community outreach, and we're volunteering at events like this to try and spread that excitement for technology to other kids, so they can have that opportunity when they go to college."
Helping to officiate at the event were both judges and referees. As head referee at the event, Birkel's role was to monitor the referees scoring the matches at the tables. He goes on to explain the role of both in helping to determine the competition's winners.
The competition has four aspects: one is how a team's robot performs in a 2 ½ minute match on a table, and scores points—determined by referees. Winners in the other three areas are determined by judges. While the winner is decided on the basis of the judged events, teams need to be in the top 40% of the table performance scores in order to be considered for advancement to the World Festival in St Louis.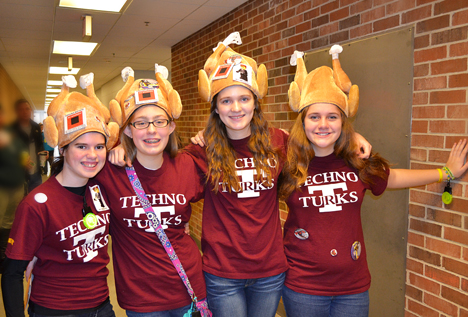 Several members of the Tremont TechnoTurks team proudly show off their stylish turkey bonnets.
Contributing to the event's carnival-like ambience was kids (and some adults) relishing getting to wear some not-so-run-of-the-mill stuff. For example, the eye-catching headgear worn by the team from Tremont were shaped like turkeys. Upon further inquiry, it appears that the Tremont TechnoTurks' mascot is not named for an ethnic people group living in Turkey, but for the bird that's usually the centerpiece of our Thanksgiving dinner.
Also, as one might expect, part of the draw for kids is the robots.
According to Tremont TechnoTurk Victoria Russell: "At first, when I heard about Lego League, I thought it was just with Legos. I didn't know it was with robots, and they do missions and stuff. And I like that."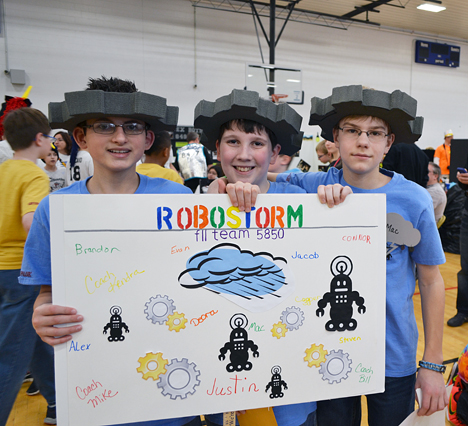 Several members of the Robostorm team sporting their very apropos headgear: head gears.
But for some of the youngsters, what intrigues them is being part of a team: "I just like getting to know everybody and working as a team," says Clarice Tucker, another member of the Tremont Turks. Tucker says she's learned a lot more than just robotics through FLL. "I have, especially going in front of people and presenting, and learning to accept others and to incorporate them into things."
Teammate Sophie Snow agrees that FLL is about teamwork: "I don't think that a lot of people realize what Lego League really is. It's a lot more than just robots and programming. It's learning to be cooperative and compassionate to all your other teammates and learning all about each other. I think it's great."
Fellow Turk Jessica Smith underscores the teamwork aspect: "Also learning to accept others' ideas, and not fighting over an idea, and trying to learn respect and responsibilities with it."
"Some people think that Lego League is just for Nerds," adds Smith, "but it's not. It's way more than robots. We've got our research stuff that is actually a lot of it."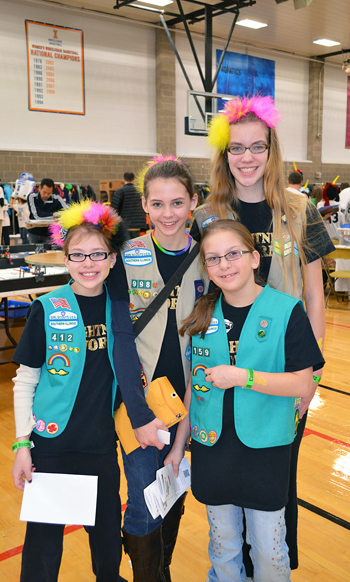 Girl scout team from Belleville, Illinois.
Another team, from Belleville, Illinois, was comprised of members of different girl scout troups. Although the team is only two years old, eighth grader Megan has been doing robotics since she was in fourth grade, and plans to keep doing it in high school. What appeals to her is the computer programming:
"I like working with the robotic programming 'cause I don't get to do it anywhere else."
She also has enjoyed mentoring the younger team members: "I've learned to help with the girls, because I've been in it and I know what I'm doing, to teach them, and then I'm learning while I'm doing it. So it's a lot of fun."
Suryadevara agrees about the importance of teamwork, calling it one of FLL's core values. "What makes this program different from a lot of other programs is encouraging the students to work as a team, and not only within themselves, but reaching out to new teams to help them out."
He goes on to explain that FLL follows a principle called Gracious Professionalism: "It's competing, but you're all working together toward one end goal. You might get a trophy, but you're solving nature's catastrophes, which is a big deal."
Story and photographs by Elizabeth Innes, Communications Specialist, I-STEM Education Initiative.
More: 6-8 Outreach, FIRST, STEM Pipeline, 2014
For more on robotics, see the following I-STEM articles:
TechnoTurks listen to the judge while competing at the FLL.