Local High Schoolers Learn About Bioengineering During BMES' Bioengineer Your Impact Outreach
November 30, 2017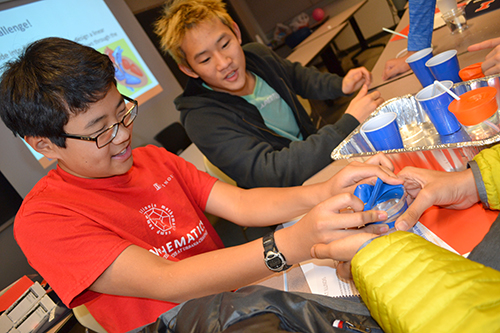 A group of "Bioengineer Your Impact" participants work together to design a linear module that shows how blood flows through the different chambers of the heart.
Excited about discovering what studying Bioengineering at Illinois might be like, as well as exploring career options in the field, 20 high school students visited campus on Saturday, November 11 to participate in the second annual Bioengineer Your Impact outreach, hosted by BMES, Illinois' chapter of the Biomedical Engineering Society. During the event, the high schoolers participated in several activities designed to show them how fun and exciting the field can be, including a panel of current Illinois Bioengineering students, talks by representatives from several local startup companies, and a challenging hands-on activity about the heart.
One highlight of the outreach was a student panel during which the young visitors eagerly fired questions at the Illinois students on the panel, who just as eagerly answered their questions, describing what it's like to be a student in Bioengineering, what they're specializing in, and what their career goals are. Because the students on the panel were preparing for careers in a wide range of areas, this gave the younger students a better idea of the range of diverse areas that comprise Bioengineering. Plus, the panelists also gave the high school students lots of unsolicited advice, such as what kinds of courses to take in preparation for college and how to make themselves (and their resumes) attractive to recruiters, both while applying to college and when job hunting.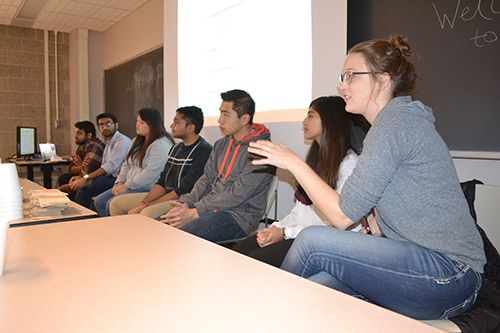 Above: Several
Illinois
students share during the student panel session.
Below: Bioengineering junior Noshin Nawar, responds to a question during the student panel.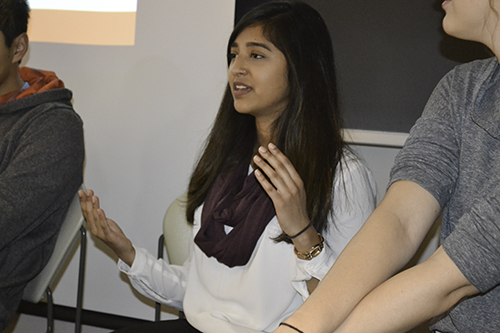 Joy Chen, the Bioengineering freshman who organized the event, believes the student panel was the most beneficial thing of the day, indicating that the high schoolers were "really able to talk to the Illinois students, and have the students answer their questions about bioengineering or what you can do with bioengineering. Because a lot of people don't know what you can do with it or what it incorporates. In reality, it incorporates a lot of different things."
"So all the students we chose here today," she continues, "were from various tracks and want to pursue different things after college. I feel like that gave all the students a well-rounded view of what bioengineering does encompass."
Also helping to clarify exactly what bioengineering is were several guest speakers from Illinois Research Park startup companies: Psyonic, Jump, and PhantomCor. Psyonic builds low-cost prostheses, so even people in third-world countries can have access to the technology. Jump is a simulation company that also works with the new medical school that is starting here at Illinois. PhantomCor is startup that started with an EOH (Engineering Open House) project. Chen goes on to explain that BMES participates in EOH every year, and one of their projects was designing a phantom heart. "What's really cool is seeing that project come to life into a start up," she says. "The people giving the talk were students here!"
Held at the Digital Computer Laboratory (DCL), home of Illinois' Bioengineering Department, Bioengineering Your Impact also included a tour of DCL labs. Plus, for the final activity of the day, students were divided into groups for a hands-on activity about the heart, where the students got an opportunity to practice teamwork while learning to think like bioengineers.
Chen reports that the goal of the outreach was "to reach out to high schoolers and teach them all about bioengineering."
To Chen's delight, a lot of kids at the event were from the local high school she attended, University Laboratory High School (Uni High). To be specific, Uni High is a bit more than just a local school; it's actually right next door—just to the east of the DCL. Chen found their participation in the event to be really exciting.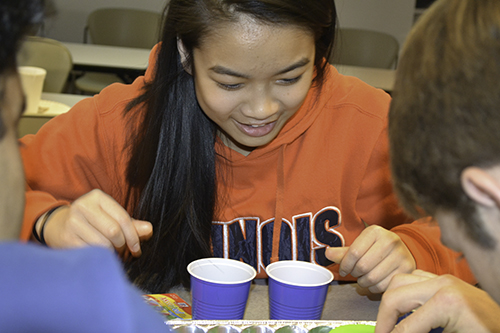 Above and below: Joy Chen helps a team of high school students complete their hands-on activity.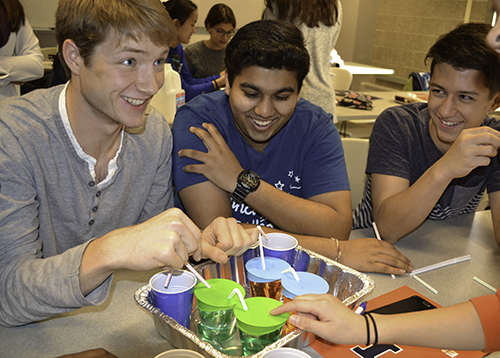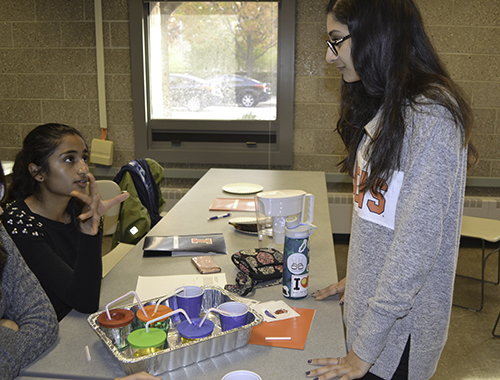 An
Illinois
Bioengineering freshman Sabeen Rahman (right) interacts with a "Bioengineer Your Impact" participant during the heart hands-on activity.
"I went to high school with them," she explains, "and now I can teach them about what I'm doing here in college... I used to be friends with a lot of these kids, and now I'm here in college with different experiences to share with them."
"I really love events like these where I get to interact with high schoolers coming into college and determining what they want to do," she adds.
---
For additional I-STEM web articles related to Biomedical Engineering and Bioengineering, see:
Story and photos by Elizabeth Innes, Communications Specialist, I-STEM Education Initiative
More: 8-12 Outreach, BioE, 2017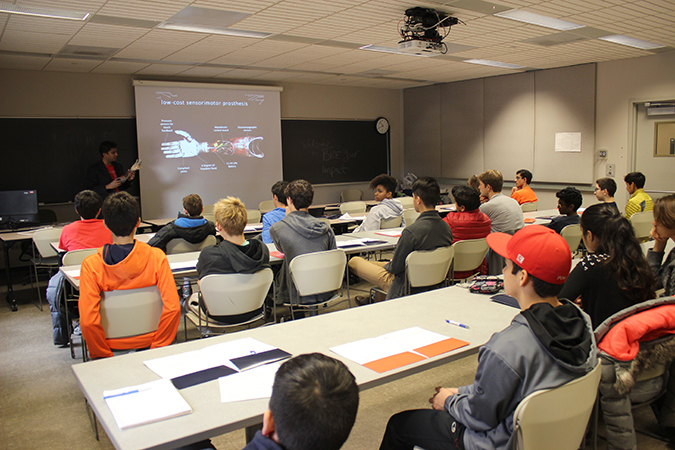 Aadeel Akhtar, Illinois grad student and cofounder of Psyonic, an Illinois Research Park startup company, speaks to students about applications of BioE in the real world. (Image courtesy of BMES.)