MechSE's Joe Muskin Enlightens Local Youngsters About 3D Printing During Champaign Public Library Event
August 17, 2018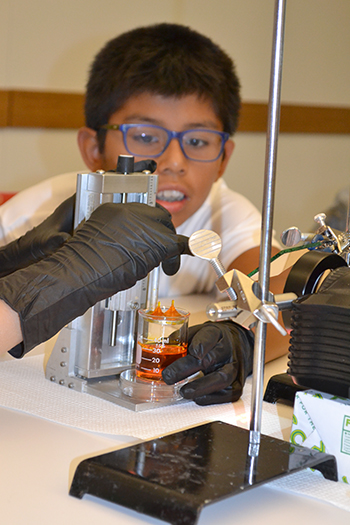 A youngster removes the Eifel Towers he and his partner 3D printed at the Champaign Public Library acitivty.
Does learning about STEM have to stop just because it's summer vacation? A number of local youth (and their moms) say, "No!" So on July 25, 20 teens (and preteens) showed up at the Champaign Public Library (CPL) for 3D Pringing 101 to learn about, then experiment with, Stereolithographic 3D printing. Courtesy of Mechanical Science and Engineering's Joe Muskin, the participants first learned a bit about the technology: they explored the equipment that's used, and learned how and why 3D printing works, including learning about the light spectrum. But even more fun was actually doing the printing itself; plus, they left the CPL armed with a couple of 3D printed objects they could whip out as proof when boasting about the activity to friends and family.
Stereolithographic 3D printing uses ultraviolet light to cure a resin comprised of photosensitive polymers layer by layer. After seeing a brief PowerPoint about the specifics, the participants worked in pairs to use a CAD (computer-aided design) software program on laptops, following step-by-step instructions to make miniature objects, such as Batmobiles or Eifel Towers, to name a few. As the participants slowly raised the build platform, the software would trigger a release of a concentrated beam of ultraviolet light for a specific time period to form each layer of the object.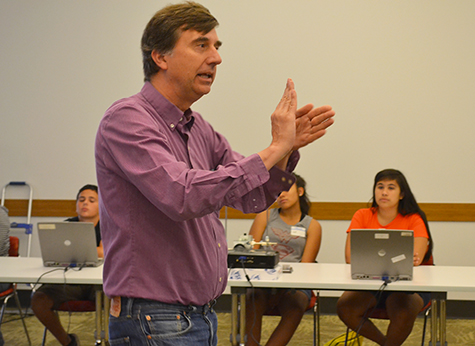 Joe Muskin explains 3D printing to the young participants.
Organized by Kathie Kading, the Teen Librarian, the 3D printing activity was one of several she and a team of colleagues came up with as they tried to identify different areas in which they thought teens might be interested. She then reached out to people in the community to implement the programs. And evidently Joe Muskin, MechSE's STEM Outreach guru (his official title is Education Coordinator), is one of their go-to guys.
"Joe is one of our people who always has a packed house, so we invite him back each year," Kading reports. Joe has done a number of different activities, including robotics, in addition to 3D printing, as well as other hands-on activities, which Kading says, "are always a hit!"
She continues, "People are looking for those STEAM programs, and so we've got the arts; we've got the sciences. And this year we added a business component, and that was yesterday. It was really well received too."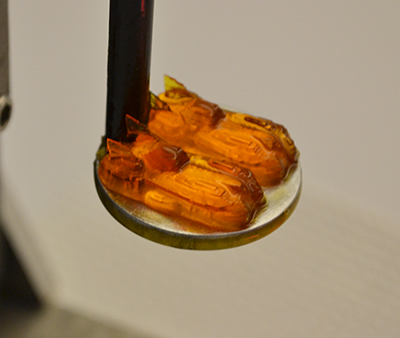 A pair of miniature Batmobiles a team of participants 3D printed at the Champaign Public Library acitivty.
She admits that she pretty much gives Joe free reign to choose what he wants to do. "For him, I'll leave it up to him, because he is just such a great presenter, and he does this throughout the community." However, she says that with other people, she often works collaboratively with them, "Because not everyone I seek out has had experience working with teens," she explains.
Kading explains why the library does these kinds of events, especially STEM-related events, for teens. During the school year, the library has drop-in programs where people can just come in and join. However, in the summer, parents have things more scheduled for their kids, so the library tries accommodate. So CPL still has a drop-in program on Tuesdays, but also provides summer programming for which parents much register because only a limited number of kids can be served. She explains the benefits of these types of events.
"Families are looking for this kind of thing, and ours are all free, and sometimes that's a component that makes a difference." For instance, many other local programs might cost $100 or more, so this kind of program provides STEM education opportunities for families with limited budgets, including some member of underserved populations. "This one kind of [levels] the playing field, I think, for everyone."
She says some kids might not be ready for programs of this type, so parents try out their program to see if their teen is ready to come to a program where they're not there supervising.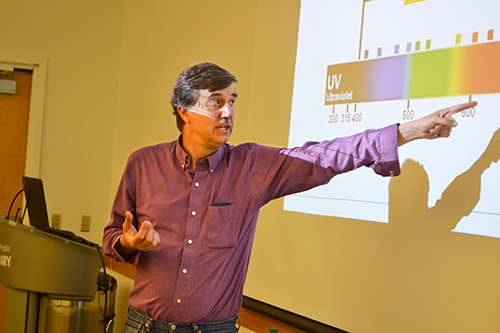 Muskin explains the visible light spectrum to the young participants.
However, she also says that kids come looking to gain expertise or become more knowledgeable about an area. She reports that several teens interested in starting a business who participated in their business event "actually came to hear 'What can I do to really get myself ahead?'"
Another benefit of her program is that kids can just explore, to determine, "Am I interested in science? Am I interested in the arts? Am I interested? What might I be interested in?" She says it allows parents to send them, then talk with them at home, asking, "Hey, what did you think about this?"
Kading appreciates having a world-class university in her back yard as a resource. "We absolutely love the university!" she gushes. "They really work with us. We have a lot of the clubs that come and then also staff from the university, and they just bring so much to the table."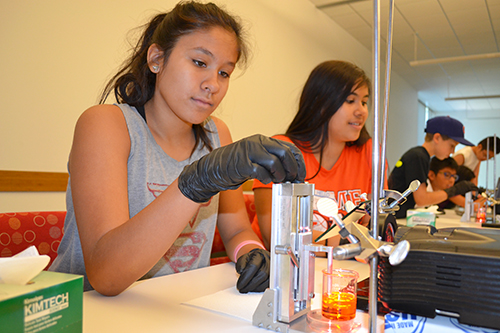 Areli Olayo (left), a local eighth grader adjusts the apparatus for the next level.
Why did the kids show up, other than that mom made them? One local youngster, Areli Olayo, a rising eighth grader whose favorite subject is math, wasn't quite sure about the benefits of coming to an event like this ("Uh, learning something I guess"); however, she enjoyed the activity. "I think it's really cool," she reports. An ideal elder sister, she indicates that when she finished 3D printing her Batmobile, she intended to: "Probably just give it to my little brother."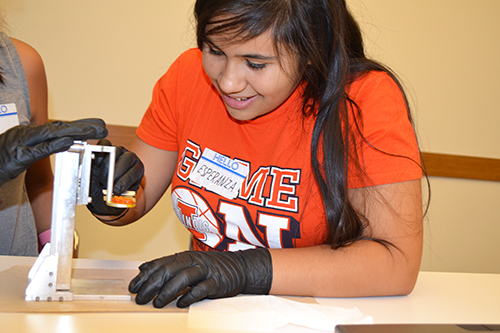 Esperanza removes the Batmobile she 3D printed using a razor blade.
Areli's older sister, Esperanza, who will be a freshman in high school this fall, also participated. Although their mom didn't tell them until the day before that they were coming to the library event, she admits, "So I was excited when I heard about it," she says, then explains why: "I've never done it before," she admits. "It always seemed cool, but I never thought I would actually get a chance to learn about it."
While Esperanza explains that her favorite subject in school is history, she qualifies, "I love science too!"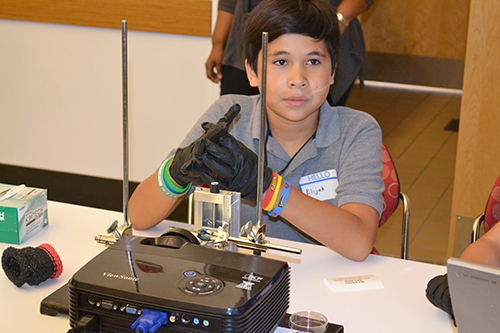 Olayo's third child, her son Elijah, listens to the instructions about how to do the 3D printing activity.
The girls' mother, Karen Olayo, explains why she brought her three kids to the activity.
"I am always looking for learning opportunities for my children," she acknowledges, "especially things that I don't know about…I want them to learn about technology and expand their own vision and imaginations for what they might do in the future someday."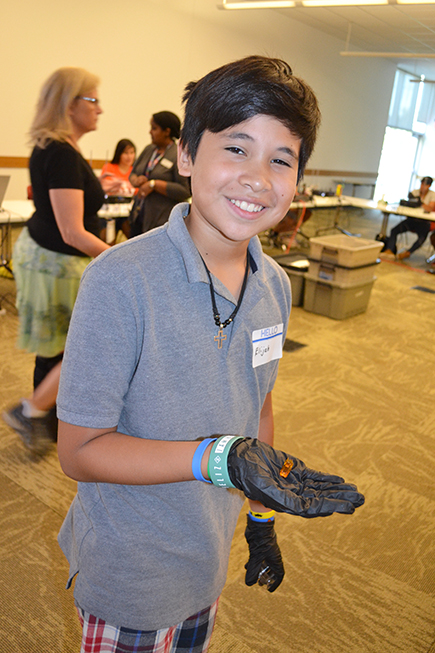 Elijah Olayo shows off the Batmobile he 3D printed.
She cites the benefit of exposing her youngsters to hands-on STEM activities, such as the 3D printing: "Kids need to be challenged to think outside the box," she acknowledges.
"Seeing and taking part in workshops like these, I believe, helps them to reach for higher goals and use their imagination better. It also gets them excited about science and opens their minds to a world of new possibilities."
Another benefit of the event? Olayo concurs with what Kading mentioned earlier: "Free also is REALLY nice," she admits.
And of course, she appreciates how much they enjoy events like this:
"It's just plain fun!" she adds. "I love when they come tell me how exciting it was to learn something new—especially when it's cutting-edge technology!"
---
Story and photographs by Elizabeth Innes, Communications Specialist, I-STEM Education Initiative.
More: Champaign-Urbana Community, Faculty Feature, MechSE, Undergrad, Undergrad Education Reform, 2018
For additional I-STEM articles highlighting some of Joe Muskin's STEM Education Outreach in campus, please see: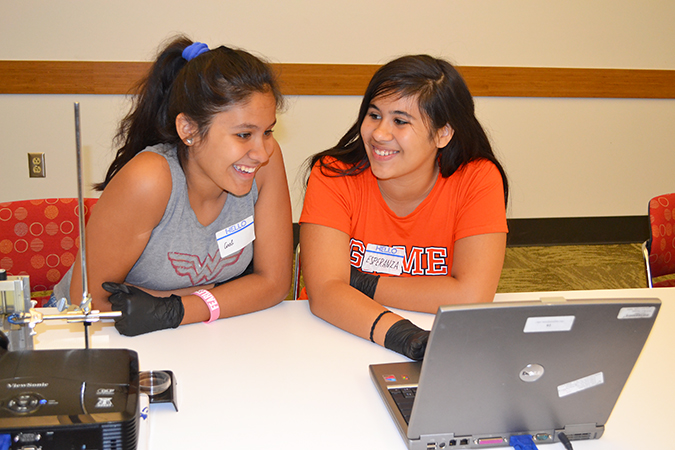 The two sisters discuss which object to print.