Current STEM Ed Highlights
I-MRSEC's Virtual REU to Expose Undergrads to Research, Provide Training in Needed Skills
May 29, 2020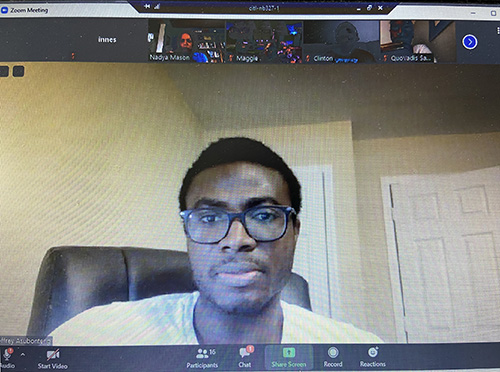 Jeffrey Ausubonteng, funded through NanoMFG, introduces himself to the other REU participants during the May 27th REU Orientation on Zoom.
Eleven undergraduate students are participating in the I-MRSEC (Illinois Materials Research Science and Engineering Center) virtual REU this summer from May 27th through July 31st, 2020. However, due to the COVID-19 pandemic, the REU isn't business as usual (in-person interactions with researchers while conducting research in one of Illinois' state-of-the-art labs). However, the students will still gain valuable experiences. They'lll still have face-to-face interactions with researchers (via Zoom?) while conducting research; they'll still be collecting and analyzing their data and presenting their results. And just like last year's program, they will still do networking, plus gain other useful information and skills related to research and preparing for a career in STEM…all done virtually!
---
Via ISUR, Engineering Undergrads Conduct Research, Present at Virtual Expo
May 8, 2020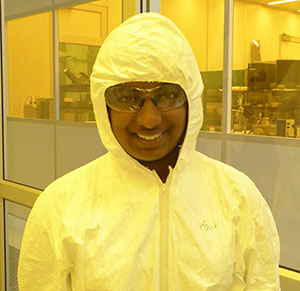 Darin Butz Scholar Nisha Kolagotla ready to conduct research in ECE's Clean Room.
As in years past, Grainger College of Engineering's Illinois Scholars Undergraduate Research (ISUR) Program provided support for students conducting research alongside Illinois researchers during summer 2019 and the 2019–2020 school year. However, unlike its predecessors, the virtual edition of ISUR's Research Expo 2020, held from April 24th­–May 1st lacked a crowded room full of brightly colored posters. Also missing weas the cacophony of voices simultaneously discussing research as students presented to visitors face to face. Due to COVID-19, this sort of venue was prohibited. However, just like its predecessors, the spring 2020 Expo gave undergraduate researchers a chance to share their research with interested peers, colleagues, and visitors. Each of this year's crop of students created a poster or PowerPoint, presented their research orally, and even "stood" ready to field visitors'questions…all facilitated virtually.
---
CISTEME365 Now Accepting New School Teams
Now in our second year, the Catalyzing Inclusive STEM Experience All Year Round (CISTEME365) program is seeking school-based teams of counselors and teachers interested in partnering with The University of Illinois' Grainger College of Engineering and the National Alliance for Partnerships in Equity to increase interest in STEM majors and careers among traditionally underrepresented populations in STEM fields.
The CISTEME365 initiative is currently accepUting applications for the 2020-2021 cohort, seeking schools interested in:
establishing a team of counselors and teachers who will form a united front and strategize together to broaden STEM participation
strengthening after-school or during-school informal STEM learning with a hands-on/minds-on curriculum and materials in electrical and computer engineering, and
gaining access to scholarships for multiple students to attend a week-long University of Illinois Summer STEM camp.
To learn more and submit applications, go to: https://cisteme365.engineering.illinois.edu/idea-teams/apply/
Feel free to contact us with any questions at wyse@illinois.edu.