Stories about...Bioengineering
October 27, 2017
The more you learn, the more you can do. – Carlos Renteria
This was the attitude Carlos Renteria's dad instilled into him growing up. And it appears to have worked. Currently a PhD student in Bioengineering (BioE) and conducting research in Professor Stephen Boppart's Biophotonics Imaging Lab, Renteria dreams of becoming a university professor to both teach and do research. And while he's worked hard to get to where he is today—studying for a Ph.D. at a top engineering school— Renteria says he owes a lot of it to his dad.
---
September 6, 2017
Besides being exposed to "cool science and engineering stuff," such as cutting-edge research like quantum dots, according to director Jenny Amos, the 32 high school girls who attended the 2017 Bioengineering (BioE) GAMES camp this past summer were also introduced to some of engineering's Grand Challenges. However, the main intent of the camp, according to Amos, was to encourage the girls to stay in STEM and, hopefully, recruit some of them into Bioengineering
---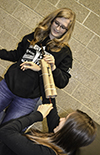 BMES Outreach Exposes High School Students to Career Possibilities in Bioengineering
October 25, 2016
What is a bioengineer? What do bioengineers do? This is what 20 high school students from around the state hoped to find out at "Bioengineer Your Impact" on Saturday, October 22, 2016. Hosted by BMES, the (Biomedical Engineering Society), a student organization for Bioengineering (BIOE) undergrads, it was the organization's first large outreach for high school students and was designed to pique the young visitors' interest in Bioengineering.
FULL STORY
---
Undergrads in Bioimaging REU Experience What Research, Graduate School Is Like
July 29, 2016
Ten undergraduate students from around the country participated in the NSF-funded Bioimaging Research Experience for Undergraduates (REU). Working alongside researchers in Illinois labs, they discovered the exciting world of bioimaging research, got a taste of what graduate school is like, and some might have discovered what they want to do for the rest of their lives.
---
Wendy Reyes Learns Life Skills in Bioimaging REU
July 29, 2016
When rising junior Wendy Reyes spent the summer doing research in Professor Michael Insana's Ultrasonic Imaging Lab as part of the 2016 Bioimaging REU, she learned a lot.She learned some research skills: how to train software to recognize cancer in the images of breast tissue.
---
Bioimaging REU's Matt Kavanaugh Experiences Cancer Research at Illinois
July 29, 2016
Matt Kavanaugh had originally applied to Illinois as an undergraduate, but finances prevented him from coming here. So he matriculated to the University of Kansas, where the rising junior is majoring in Chemical Engineering with a concentration in Biomedical. However, when searching for something productive to do over the summer, he came across the NSF-funded Bioimaging Research Experience for Undergraduates (REU) at Illinois.
---
G.A.M.E.S. Campers Learn about Bioengineering While Breaking Down Stereotypes
July 20, 2016
For one week this summer, 32 high school girls were exposed to the world of bioengineering (BioE) at the Bioengineering G.A.M.E.S. camp (July 10th–15th). They learned about many aspects of bioengineering research, such as cell culture, health disparity, biometrics and 3D printing, MRIs, ethnography, synthetic biology, and much more.
FULL STORY
---
Bioengineering Undergrads Build Biobots in New BIOE 306 Course
December 16, 2015
Biobots. The word smacks of scientific breakthroughs in the distant future, or the subject matter of some futuristic, sci-fi movie. But Illinois researchers are currently building and studying biobots as part of their research in this emerging field. However, they're not the only ones. This past semester, Illinois' Bioengineering department piloted a brand new course, BIOE 306, BioFabrication Lab, that teaches undergraduate students how to build them too. Developed as part of the NSF-funded EBICS (Emergent Behaviors of Integrated Cellular Systems) Science and Technology Center, the course distilled down cutting-edge EBICS research and initiated eight Bioengineering juniors and seniors into the mysteries of building with biology. In addition, the idea for this class was developed in part due to the Illinois Innovation Prize, which emphasized the need to teach the next generation of engineers and scientists how to "build with biology."
FULL STORY
---
G.A.M.E.S. Campers Experience Bioengineering—and Have Fun
September 24, 2013
The 30 high school girls who attended the 2013 version of the Bioengineering G.A.M.E.S. camp this past summer (July 15–19) were exposed to some cutting-edge research, such as how bioengineering is addressing the delivery of drugs in cancer patients, or microfluidics—how fluids can be constrained to nano-scale devices to study them. However, the main intent of camp co-directors Jenny Amos and Olivia Cangellaris wasn't to recruit the girls into their field. They simply wanted to expose campers to some fun engineering.
FULL STORY
---
Myong, BioE Undergrads Expose Middle Schoolers to DNA/Cell Measurement
October 31, 2012
On Wednesday afternoons, a number of Illinois bioengineering undergrads can be found at Jefferson Middle School teaching seventh and eighth graders about science. The brain child of Bioengineering professor Sua Myong, this year-long, after-school outreach program funded by the Center for the Physics of Living Cells meets once a week to expose students to techniques used to measure things in cell biology.
FULL STORY
---
B3 Summer Institute Provides Interdisciplinary Training
August 28, 2012
"So it's a good two-week, very intense, but very "get-your-feet-wet" sort of experience. The speaker list is phenomenal... You name the campus, and you've got all the big leagues from anywhere, from this campus and other campuses all over." Irfan Ahmad
Nicknamed B3SI by the planners, the two-week-long BioSensing BioActuation BioNanotechnology Summer Institute 2012, held at the Micro and Nanotechnology Laboratory (MNTL) from July 30–August 10, 2012, was intended to train participants at the intersection of biology and engineering and to foster networking with other researchers...
FULL STORY
---
BioE Students Shine in Senior Design
June 4, 2012
After several years of learning principles and how to apply what they had learned to come up with practical solutions for real-life problems, Bioengineering students were given the opportunity to do just that.
Sponsored by industry, university faculty, area medical clinics, and/or the community, Bioengineering seniors participating in this capstone design course over the past academic year completed projects that ranged from diagnosing cancer to designing a prothsesis that will enable below-elbow amputees to swim.
STORY
---