Top STEM Education Stories
Our vision for Illinois as a land-grant institution is to foster accessible, effective STEM teaching and learning—from preschool through graduate education—
at local, state, and national levels, thereby preparing a highly able citizenry and diverse STEM workforce to tackle pressing global challenges.
Current STEM Ed Highlights
June 28, 2016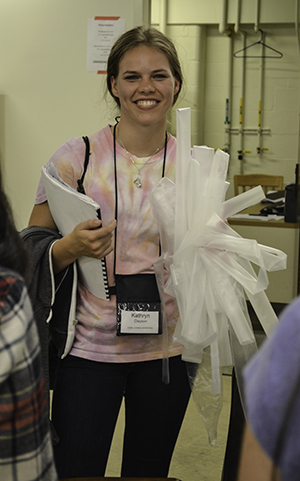 A ChBE GAMES camper with the polymer tubes her team made during the Polymer Extruder Experiment.
Twenty-four high school girls from all over the country converged on the Illinois campus the week of June 19th–25th for the Chemical and Biomolecular Engineering (ChBE) GAMES camp. During the 2016 edition, they not only learned about chemical and biomolecular engineering, but got to try their hand at it. After hearing about a variety of interesting aspects related to chemical engineering, they got to do fun, hands-on activities related to them—including some geared toward things that might appeal to girls—like foaming face wash and shower gel. Plus, during field trips, the girls got to see first-hand what a career in chemical engineering might be like.
---
June 23, 2016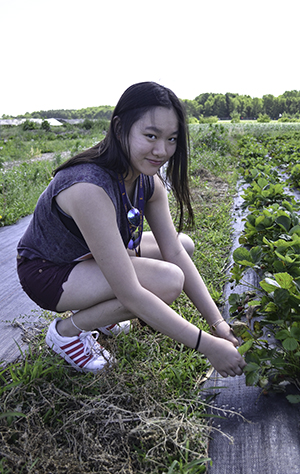 Sustainable Futures camper Stacey Chui, a rising senior at Stony Brooks School in New York enjoys an organic strawberry at the Student Sustainable Farm.
In its third year, the six-day 2016 Sustainable Futures camp from June 5th–10th, exposed ten high school students to sustainability, both in the classroom and in the real world via tours of local sustainability efforts. One key activity was students' final group projects, 21st Century Scenarios, which they presented on Friday to camp leaders and several parents. What drew the students to the camp? In addition to learning more about sustainability, several acknowledged that they hoped to discover if a career in sustainability might be right for them.