Top STEM Education Stories
Our vision for Illinois as a land-grant institution is to foster accessible, effective STEM teaching and learning—from preschool through graduate education—
at local, state, and national levels, thereby preparing a highly able citizenry and diverse STEM workforce to tackle pressing global challenges.
Current STEM Ed Highlights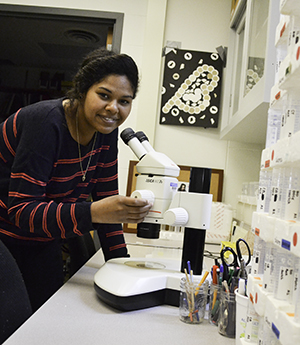 Lynette Strickland at work in her lab in Morrill Hall.
May 2, 2016
How did a little girl who had never been further than her home state of Texas and dreamed of being a veterinarian end up an Illinois researcher who also spends large blocks of time in Panama and is passionate about studying, in particular, colorful Chelymorpha, or tortoise beetles? Lynette Strickland, an Animal Biology Ph.D. student who works in the lab of Illinois researcher Carla Caceres, credits the NSF-funded VInTG (Vertically Integrated Training with Genomics) IGERT.
---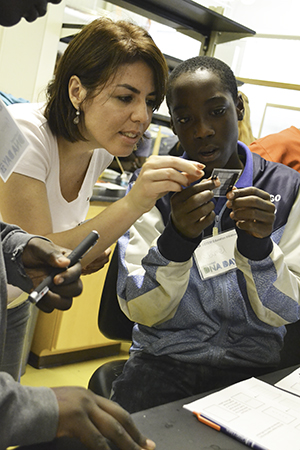 An Illinois Ph.D. student explains DNA diffraction to a local middle school student visiting campus for DNA Day.
May 3, 2016
A group of 29 local high school and middle school students from Urbana High School and several Champaign middle schools and high schools visited campus on Friday, April 29, to participate in "DNA Applications: Interdisciplinary Perspectives for STEM Careers." Hosted by the I-STEM Education Initiative as part of the NIH-sponsored National DNA Day activities, the event, introduced the students to DNA and exposed them to some of the DNA research done on campus.
To begin the day's activities, students received a brief Introduction to DNA by Caitlin Mearns Marlatt Davis, a Center for the Physics of Living Cells (CPLC) postdoc, who presented the historical discoveries of DNA, including an introduction to Rosalind Franklin, who played a crucial role in determining the structure of DNA using X-ray diffraction.