Top STEM Education Stories
Our vision for Illinois as a land-grant institution is to foster accessible, effective STEM teaching and learning—from preschool through graduate education—
at local, state, and national levels, thereby preparing a highly able citizenry and diverse STEM workforce to tackle pressing global challenges.
Current STEM Ed Highlights
Next Gen's STEAM Studio: A STEM Program With a Dab of Creativity
October 20, 2014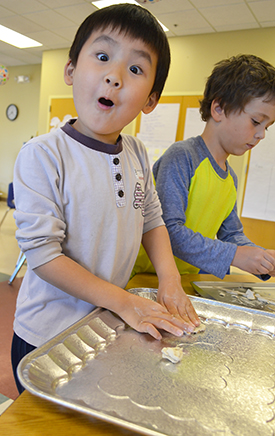 A student at Next Generation School's STEAM Studio uses clay and popsicle sticks to make a shelfstone while learning about speleothem during a unit on caves.
Most folks have now heard of STEM by now, right? It stands for Science, Technology, Engineering, and Math. Well, Next Generation School (Next Gen) has come up with a new after-school program—and its accompanying revision of the STEM acronym—STEAM. What does the "A"stand for? According to Angela Nelson, the program's director, while the main thrust of the program is still STEM, they've included an additional component: Art.
How do they incorporate art? Here's an example. Last month, while studying ornithology, the students did paintings. But while a painting of a bird might sound quite ordinary, these were not. Each student chose a local bird they wanted to concentrate on, did research to find out what the bird eats, then they got big pieces of paper and white paint and let it fly (or drop, rather), to create…"bird-poop" paintings!
---
MechSE's Gaurav Bahl Promotes Outreach and Undergrad Research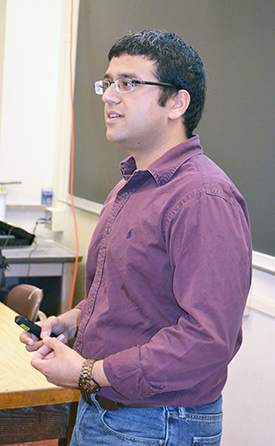 MechSE Assistant Professor Gaurav Bahl.
October 14, 2014
While MechSE Assistant Professor Gaurav Bahl is passionate about his research—opto-mechanics —he also believes university folk should get outside the four walls of their labs and impact the community. Plus, he's passionate about mentoring students, especially undergrads. So when he recently shared his expertise with some seniors at Uni High, he invited a couple of his students to tag along to share what they know and to experience outreach for themselves.