Top STEM Education Stories
Our vision for Illinois as a land-grant institution is to foster accessible, effective STEM teaching and learning—from preschool through graduate education—
at local, state, and national levels, thereby preparing a highly able citizenry and diverse STEM workforce to tackle pressing global challenges.
Current STEM Ed Highlights
Noyce Scholars: Taking Student-Centered Math to High-Needs Schools
Noyce Scholar Eileen Ryu enjoys interacting with a middle school student while playing a math-based card trick at iMATHS.
May 13, 2013
"Noyce is probably the best decision I've made professionally, and as far as my college career goes." Liz Denz
Liz Denz has wanted to teach math ever since her freshman year in high school. And Illinois' NSF-funded Noyce program, which provides scholarships for talented mathematics majors who want to become K-12 math teachers, is helping to make her dream come true.
---
4-H Robotics: Working to Make a STEM Career Down the Line Automatic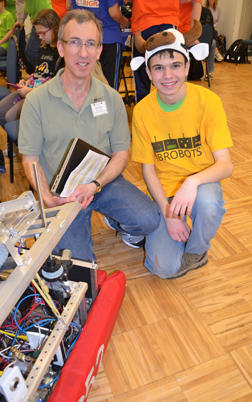 4-H Robotics Educator Bob Smith and a participant in the 2013 Robotics Competition pose by a robot.
May 13, 2013 – "My whole goal in this is to get more kids in STEM," 4-H Educator Bob Smith unashamedly acknowledges. In charge of 4-H Robotics for the state of Illinois, Smith provides training, expertise, and curricula for county-level 4-H club leaders and also oversees 4-H's state-wide robotics competition.
4H's Robotics program is part of an initiative begun in 2005 to emphasize STEM education...