Top STEM Education Stories
Our vision for Illinois as a land-grant institution is to foster accessible, effective STEM teaching and learning—from preschool through graduate education—
at local, state, and national levels, thereby preparing a highly able citizenry and diverse STEM workforce to tackle pressing global challenges.
Current STEM Ed Highlights
2014 G.A.M.E.S. Campers Discover That Engineering Is Not Just for Boys Anymore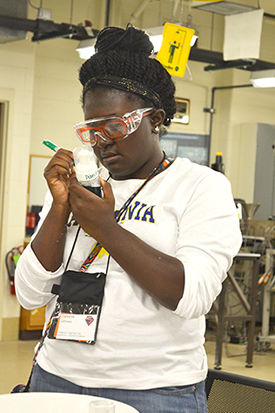 Chemical Engineering GAMES camper during a session where campers made bath bombs.
July 21, 2014
The week of July 14–18, 190 high school girls (a record number) converged on the engineering campus for the 2014 edition of G.A.M.E.S. (Girls' Adventures in Mathematics, Engineering, and Science) camp. Offering eight tracks, G.A.M.E.S. not only gave the campers an opportunity to delve into the mysteries of a specific engineering discipline, but also exposed them to female role models at all levels (undergraduate and graduate students, as well as practicing engineers). What's the goal of G.A.M.E.S.? To help girls to discover what Engineering at Illinois is all about, what a career in engineering would be like, and, ultimately, to gain the confidence that they, too, could be engineers.
---
Local Science Teachers Experience Research in NanoTechnology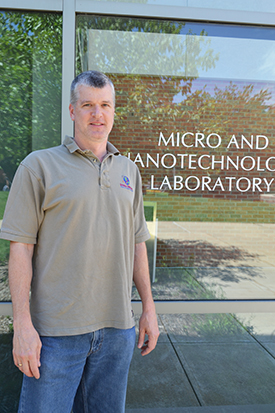 Local high school physics teacher, Dan Reed, experiences research on nanotechnology as part of the Nano@Illinois RET.
July 10, 2014
For the next three years, a number of area science teachers will have an opportunity to participate in the Nano@illinois RET, where they will not only learn about, but actually participate in, cutting edge research in nanotechnology and even adapt some of what they have learned for students in their classrooms.
Funded by the National Science Foundation through its Research Experience for Teachers (RET) program, Nano@illinois is providing research experiences for four local teachers during its first summer of operation...