Top STEM Education Stories
Our vision for Illinois as a land-grant institution is to foster accessible, effective STEM teaching and learning—from preschool through graduate education—
at local, state, and national levels, thereby preparing a highly able citizenry and diverse STEM workforce to tackle pressing global challenges.
Current STEM Ed Highlights
July 27, 2016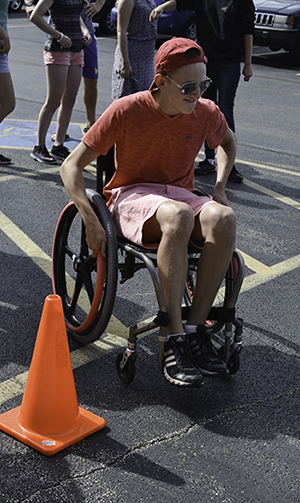 A WYSE camper competes in a relay at the Intelliwheels startup company in the Research Park. The relay was designed to allow students to experiences some of the challenges of operating a wheelchair.
Sahid Rosado is a STEM outreach force to be reckoned with on the University of Illinois campus. After starting out as just an instructor for an Environmental Engineering G.A.M.E.S. camp session a few years ago, she is now the Outreach Coordinator for the College of Engineering and is in the process of not just improving but revolutionizing Illinois' Engineering camps via the addition of middle school students as she seeks to grow the STEM pipeline to the University.
This summer, 342 students attended Engineering's 13 week-long camps: 8 G.A.M.E.S (Girl's Adventures in Mathematics, Engineering, and Science) and 5 WYSE (Worldwide Youth in Science and Engineering) camps. Rosado was in charge of them all...
---
July 26, 2016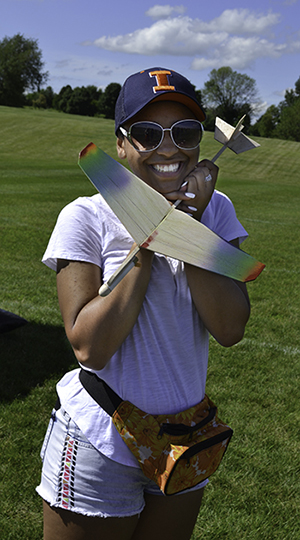 An AERO GAMES camper shows off her airplane.
From July 10th–16th, 30 girls from Illinois and a few other Midwestern states attended Aerospace G.A.M.E.S. (Girls' Adventures in Mathematics, Engineering, and Science) camp. Besides learning about the diversity of an aerospace engineering degree, they also had what was most likely another new experience for most of them—being with a large group of girls who have a similar interest in STEM. Plus, as the pièce de résistance, after spending the week learning about aeronautics, they designed, built, then got to actually launch a glider and a rocket. Based on the week's activities, the girls got a taste of what college life at Illinois is like, and many are considering Aerospace Engineering at Illinois. And if camp director Brian Woodard has his way, "Hopefully we can recruit them," he admits.