Top STEM Education Stories
Our vision for Illinois as a land-grant institution is to foster accessible, effective STEM teaching and learning—from preschool through graduate education—
at local, state, and national levels, thereby preparing a highly able citizenry and diverse STEM workforce to tackle pressing global challenges.
Current STEM Ed Highlights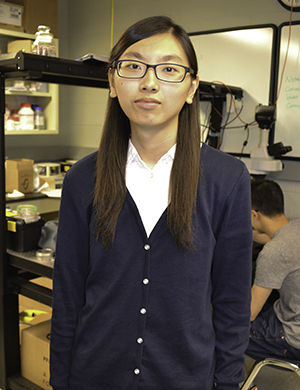 Sabrina Yin, a summer 2016 participant in the POETS REU.
August 23, 2016
Most REU (Research Experience for Undergraduates) participants have an opportunity to conduct research for 8–10 weeks during the summer. Their experience then culminates in a poster session—the highlight of the summer—which gives the undergrad the chance to hone his or her skills while creating a research poster and reporting results. However, POETS REU participant Sabrina Yin, a rising junior majoring in Mechanical Engineering at Illinois, is doing more than just a couple of months worth of research in the summer. Yin began working in researcher Nenad Miljkovic's Energy Transport Research Lab in March, participated in the REU this summer, and will continue her research in the lab this fall and beyond. "This research project that I'm working on will run for another two years approximately. So I'll be staying in the lab to help out with the research," she explains.
---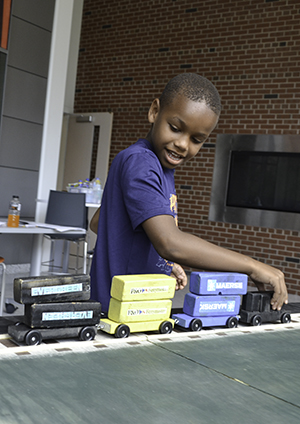 A STEAMvention student pulls a train loaded with "cargo" during the Intermodal Game.
August 22, 2016
Chris Barkan, a Professor in Civil and Environmental Engineering is passionate about trains. He knows about railroad technology and history—both in America and elsewhere in the world.  Here at Illinois, he leads RailTEC, the Rail Transportation and Engineering Center, a world-class railroad research and educational program studying ways to make trains safer, faster, and more efficient— environmentally, economically, and energy-wise. Barkan is also devoted to educating the next generation of railway engineering professionals. And to make sure that railroads (and RailTEC) have a steady supply of bright young students, he, along with his colleague, Tyler Dick, and their rail engineering students teamed up with Angela Nelson at Next Generation School's STEAM Studio to organize and host STEAMvention 2016, where they used the fascinating and fun aspects of railroads to attract youngsters to a journey on the STEM pipeline.