Top STEM Education Stories
Our vision for Illinois as a land-grant institution is to foster accessible, effective STEM teaching and learning—from preschool through graduate education—
at local, state, and national levels, thereby preparing a highly able citizenry and diverse STEM workforce to tackle pressing global challenges.
Current STEM Ed Highlights
Brady STEM Academy Provides Role Models for Local African-American Boys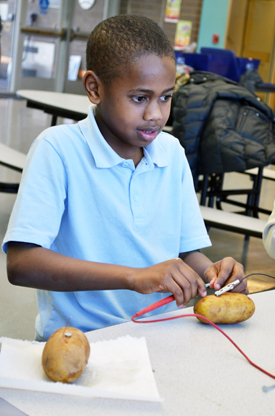 A BTW student makes a "potato battery" during the Brady STEM Academy after-school program.
March 5, 2014
A few outreach-minded folk in chemical engineering have begun a new after-school program, the St. Elmo Brady STEM Academy, hoping to make a difference in the lives of some local African-American boys. While programs providing hands-on STEM activities happen fairly frequently at Booker T. Washington STEM Academy (BTW), what sets this program apart is its emphasis on African-American role models— including the boys' own fathers.
---
Illinois Students Expose Youngsters to Engineering in BTW's After-School Club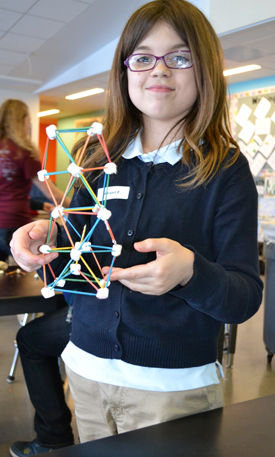 A BTW student proudly displays the earthquake-proof marshmallow and toothpick tower she designed and built during Engineering Club.
February 13, 2014
The after-school Engineering Club at Booker T. Washington STEM Academy (BTW) is a fun, exciting way to expose youngsters to STEM—specifically engineering—early in their school careers…and to introduce the idea that they too might go to college—just like the Illinois engineering students who run the club.
BTW's Engineering Club, run once a week last semester by members of Pi Tau Sigma, a mechanical engineering honor society, now provides twice the fun. Evidently it was so successful that many kids who wanted to participate had to be turned away. So this semester...