Top STEM Education Stories
Our vision for Illinois as a land-grant institution is to foster accessible, effective STEM teaching and learning—from preschool through graduate education—
at local, state, and national levels, thereby preparing a highly able citizenry and diverse STEM workforce to tackle pressing global challenges.
Current STEM Ed Highlights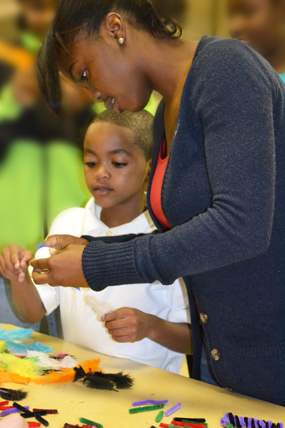 A Danville middle-school student helps her younger brother during a hands-on activity at a Science Night held at the South View Middle School.
Danville School Experiences a "Night at the Museum" Courtesy of Illinois Researchers
November 25, 2013
Growing up in Chicago, Julia Ossler went to museums a lot. "I remember just loving it, and I didn't want to leave." she reminisces. "My brother and sister would hate it because I kept them there all day." While Ossler wanted the kids at Danville's South View Middle School to have those same kinds of opportunities, obviously taking them all to Chicago museums wasn't feasible. So, as part of her Chancellor's Public Engagement project, she arranged a Science Night and took the "museum" to them.
---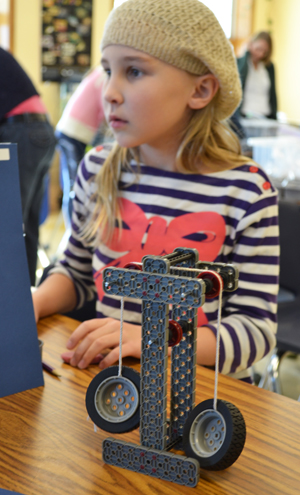 An NGS fourth grader works with a pulley she and her team members built during a PLTW unit.
Next Generation School Pilots Project Lead the Way Elementary Curriculum
November 20, 2013
When the Big Bad Wolf shows up at the Three Little Pigs' houses to huff, puff, and blow them in, some Next Generation School kindergarteners concerned about the porkers' plight might now be able to do something about it. With the engineering principles learned through LAUNCH, Project Lead the Way's (PLTW) pilot program for elementary students, kindergarteners attempted to construct houses able to stand up to gale force winds (or a box fan, at least), thus ensuring the swine's safety.
STEM Ed News
Holiday Magic Chemistry Demonstration Show
Three Shows!
Wed, 12/11/13, 7 pm
Sat, 12/14/13, 2pm
Sun, 12/15/13, 2pm
Where: 100 Noyes Lab
Free and open to the public
SOLD OUT!

Get Tickets