Top STEM Education Stories
Our vision for Illinois as a land-grant institution is to foster accessible, effective STEM teaching and learning—from preschool through graduate education—
at local, state, and national levels, thereby preparing a highly able citizenry and diverse STEM workforce to tackle pressing global challenges.
Current STEM Ed Highlights
April 25, 2018
Hannah Chait with her poster at the 2018 ISUR poster session.
Tasha Mamaril has her finger on the pulse of research for Engineering undergrads. As the Coordinator of Engineering's Undergraduate Research Office, she provides information to engineering students about what kinds of opportunities are available. Plus, she oversees two of Engineering's specific research programs for undergrads: MUSE (Mentoring Undergraduates in Science and Engineering) and the Illinois Scholars Undergraduate Research (ISUR) program, which provides scholarships for students addressing research related to the interests of the corporations which fund the program.
---
April 23, 2018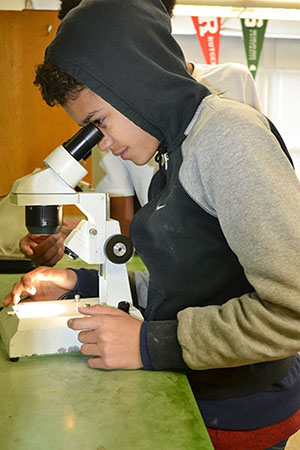 An eighth grader examines onion root through a microscope.
Helping to bring the material in science textbooks alive, and maybe even introduce some stuff not found in textbooks, eight MCB PhD students have been dropping by Jefferson Middle School during the spring 2018 semester to share their expertise with eighth graders. Slated to visit twice a month, from February through May, the Illinois students, members of the MCBees GSA (Graduate Student Association), were tasked with presenting various topics and leading some corresponding hands-on activities in Sammy Yoo and Elizabeth Wheatman's eighth-grade classrooms. Their goal? To foster interest in science and maybe even impart their own passion for research to the younger students.