Top STEM Education Stories
Our vision for Illinois as a land-grant institution is to foster accessible, effective STEM teaching and learning—from preschool through graduate education—
at local, state, and national levels, thereby preparing a highly able citizenry and diverse STEM workforce to tackle pressing global challenges.
Current STEM Ed Highlights
WIE Camp 2014: Creating Community for Female Engineering Students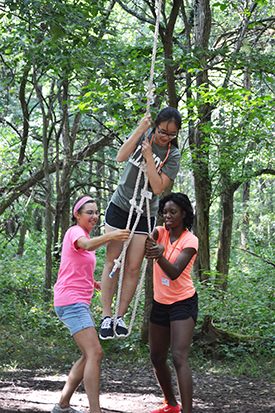 Incoming Engineering freshmen learn about teamwork during WIE Camp 2014.
August 26, 2014
Dean Susan Larson recalls that when she took over as the Director of Women in Engineering (WIE) in 2003, she thought, "The women need something to get started. They're a minority, but if they know one another, they'll be ok. They'll form a community; they'll make those connections." So, hoping to "bring them all together to get to know one another and get to know the campus and some of the instructors and advisors here," she started WIE Camp.
---
CEE Undergraduate Education: Shaping Multi-Disciplinary Problem Solvers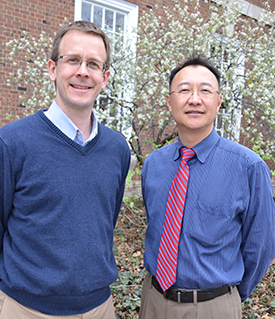 Jeffrey Roesler (left), CEE Professor and Co-creator of CEE 398 PBL and Liang Liu, CEE Associate Head and Director of Undergraduate Programs.
August 15, 2014
"Our agenda is to educate and help develop the next generation of civil engineers so that they are not only theoretically rigorously strong, but can also tackle big multidisciplinary issues in a way that they have deep understanding and are also capable of working with people from different disciplines to solve societal challenges." Liang Liu
Civil and Environmental Engineering (CEE) at Illinois is awfully good. But the fact that both the undergraduate and graduate programs are currently ranked #1 in the nation doesn't mean the folks at CEE are content to rest on their laurels...