Top STEM Education Stories
Our vision for Illinois as a land-grant institution is to foster accessible, effective STEM teaching and learning—from preschool through graduate education—
at local, state, and national levels, thereby preparing a highly able citizenry and diverse STEM workforce to tackle pressing global challenges.
Current STEM Ed Highlights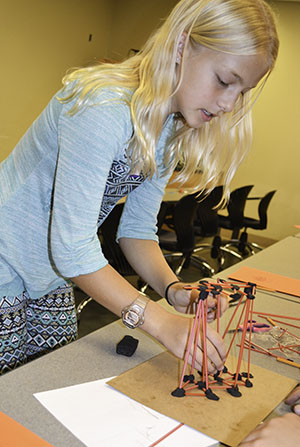 A middle school student participating in Engineering Round Robin builds a straw-and-modeling-clay structure during the "Seizmic Shakeup" activity.
October 17, 2016
SWE's (Society of Women Engineers) Engineering Round Robin, an outreach designed to expose girls to the different engineering disciplines, isn't just for high school girls any more. Of the 45 girls who converged on Illinois' Siebold Center on Saturday, October 8th, 20 were middle school students. Also different from past years was the interdisciplinary emphasis. Not only cutting across engineering disciplines, the program had a hint of STEAM (STEM + Art = STEAM). The goal? To show girls that they could become engineers and still be themselves.
---
"Sisters, sisters, there were never such devoted sisters" –  Irving Berlin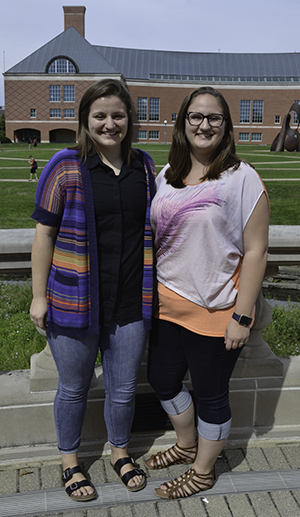 Abby and Grace Pakeltis
October 7, 2016
While the old Irving Berlin song, "Sisters, Sisters," may not exactly be the theme song of the two Pakeltis sisters, a couple of lines fit Grace and Abby to a T. One is the last part of the line:
"Two different faces,
But in tight places,
We think and we act as one."
For instance, both are studying Engineering at Illinois. Both went to GAMES camp, got hooked on their respective disciplines there, and thus ended up at Illinois. Both are heavily involved in leadership in the Illinois chapter of SWE (Society of Women Engineers). Both are passionate about and involved in outreach. Both hope to change the world through Engineering. Then there's this line: "Never had to have a chaperone, 'No, sir!' I'm here to keep my eye on her!" Who has been keeping her eye on whom over the last number of years? You be the judge.