Top STEM Education Stories
Our vision for Illinois as a land-grant institution is to foster accessible, effective STEM teaching and learning—from preschool through graduate education—
at local, state, and national levels, thereby preparing a highly able citizenry and diverse STEM workforce to tackle pressing global challenges.
Current STEM Ed Highlights
Next Generation School's Science and Engineering Fair: Every Student Is a Winner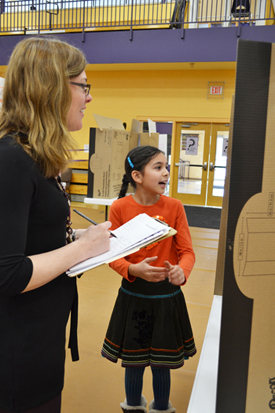 Psychology Professor Kara Federmeier evaluates an NGS student's presentation during the fair.
March 11, 2014
Compared to most science fairs, Next Generation School's Science and Engineering Fair is unique, in that no one student or team is designated the winner. After weeks researching and learning about a subject in depth, designing and conducting a research project, and finally making a poster presenting their results, during the February 21st fair, each student had the opportunity to present their research to a local expert for feedback—making all the students winners.
---
Brady STEM Academy Provides Role Models for Local African-American Boys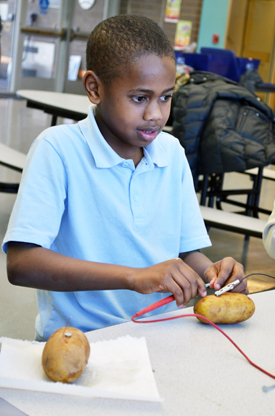 A BTW student makes a "potato battery" during the Brady STEM Academy after-school program.
March 5, 2014
A few outreach-minded folk in chemical engineering have begun a new after-school program, the St. Elmo Brady STEM Academy, hoping to make a difference in the lives of some local African-American boys. While programs providing hands-on STEM activities happen fairly frequently at Booker T. Washington STEM Academy (BTW), what sets this program apart is its emphasis on African-American role models— including the boys' own fathers.