Top STEM Education Stories
Our vision for Illinois as a land-grant institution is to foster accessible, effective STEM teaching and learning—from preschool through graduate education—
at local, state, and national levels, thereby preparing a highly able citizenry and diverse STEM workforce to tackle pressing global challenges.
Current STEM Ed Highlights
Burke Hopes to Cure Disease, "Hook" Students, Via Molecule-Making Machine
May 21, 2015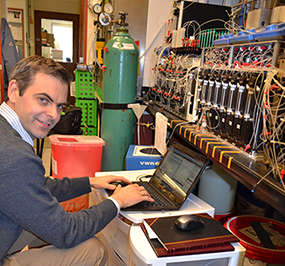 Chemistry Professor Marty Burke at his molecule synthesis machine.
Marty Burke's life-long dream was to become a doctor. Then one day, while chatting with a 22-year-old patient with cystic fibrosis whom he was helping to care for, he had an epiphany:
"We had this big conversation about her disease," recalls Burke, "and I was telling her—because I had just learned about it—down to the molecular level, exactly what was wrong with her. And she said to me, 'If you know exactly what's wrong with me, why can't you fix it?' It was one of those totally life-changing conversations."
---
Cena Y Ciencias: Supper and Science…and Role Models, Courtesy of SACNAS
May 18, 2015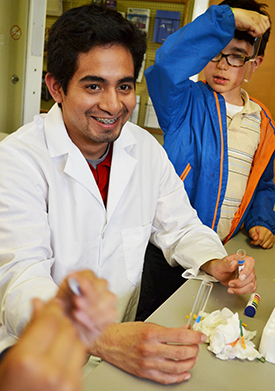 Left: Carlos Vega, an
Illinois
MCB undergrad and member of SACNAS, teaches Leal & Prairie School students about acids and bases during Cena y Ciencias.
The program, called Cena y Ciencias (it's Spanish for Supper and Science), meets on Monday nights once a month. For supper, there's pizza. The science is presented by Illinois graduate students who are all SACNAS members. For the April session, the science was a hands-on activity about acid-base reactions. Wearing the conventional garb of scientists—white lab coats—the grad students shared their passion for science with excited Leal and Prairie School students who clustered around them, eagerly learning about acids and bases while glibly chattering in Spanish.
---
STEM Ed News
3rd Annual Beginning Teacher STEM Conference
Who: Early-career K-12 STEM teachers
When: July 28– 29, 2015
Where: I Hotel
Cost: low-cost
Sponsorships: Seeking sponsors to offset cost For sponsorship info, email: intc@illinois.edu
CPDUs are available.

STEM Conference Flyer