Top STEM Education Stories
Our vision for Illinois as a land-grant institution is to foster accessible, effective STEM teaching and learning—from preschool through graduate education—
at local, state, and national levels, thereby preparing a highly able citizenry and diverse STEM workforce to tackle pressing global challenges.
Current STEM Ed Highlights
Two Illinois Students to Make Low-Cost Bionic Prosthetics More Accessible
April 30, 2015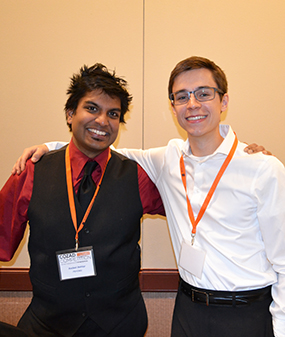 Illinois Neuroscience Ph.D. student Aadeel Akhtar (left) and MechSE junior Patrick Slade at last weekend's Cozad New Venture Competition.
Patrick Slade, a junior in MechSE, and Aadeel Akhtar, a Ph.D. student in Neuroscience, have the same tastes in a lot of things. For one, they both like to play guitar. They listen to the same kind of music. Members of the Bretl Robotics and Neuroscience Research Group, they both research bionic prostheses. And they both decided that someone should build more low-cost prostheses, so even people in third-world countries can have access to the technology. So in their spare time, they've started a company, PSYONIC. And they're on their way: Akhtar, Slade, and their fledgling company recently won the Cozad New Venture Competition held on Friday, April 24 at the Illini Union; the prize: $25,000 to begin their company and start building prostheses like the ones they've been designing—only better, and at a lower cost!
---
Leal Science Night Exposes Local Youngsters to STEM, Role Models
April 13, 2015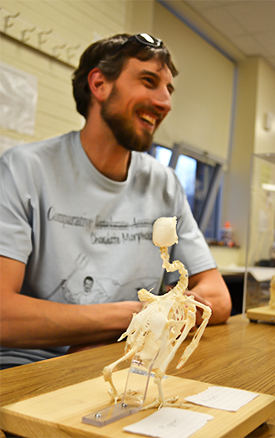 Daniel Urban, an Animal Biology graduate student interacts with a Leal Science Night visitor who stopped at the "Build a Bone Skeleton Jigsaw" station.
Instead of heading to the movies last Friday night, a number of local STEM students and professionals gathered at Urbana's Leal School to share their passion for their respective fields with local students and their parents at the school's annual Science Night.
Presenting at the April 10th event were a number University student groups and staff. For example, two undergraduate student outreach groups, Physics Van and Chemistry's REACT group, shared activities with the visitors. In addition, MechSE undergraduate student Patrick Slade was on hand to demonstrate bionic prosthetics.