Top STEM Education Stories
Our vision for Illinois as a land-grant institution is to foster accessible, effective STEM teaching and learning—from preschool through graduate education—
at local, state, and national levels, thereby preparing a highly able citizenry and diverse STEM workforce to tackle pressing global challenges.
Current STEM Ed Highlights
Grand Opening of Orpheum's Air Maze Celebrates Fluid Mechanics, Rheology
February 2, 2015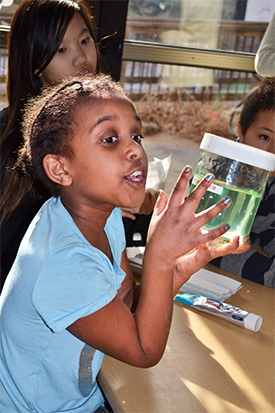 A local second grader discoveres the unique qualities of a funny fluid during a hands-on activity at the Orpheum.
On Wednesday, January 28th, a group of 16 second graders from Urbana's Martin Luther King School took a field trip to the Orpheum Children's Science Museum to experience the unveiling of the museum's new air maze, plus do some other engineering-related activities, including learn about funny fluids and fluid mechanics.
Now open for business, the air maze was designed and built by University Laboratory High School's senior engineering class. Their teacher, Sharlene Denos, tackled the air maze so her class could learn engineering by doing it, plus contribute something to the community—the Orpheum in particular: "It's a real-world project: they're learning about engineering by actually being engineers," she concedes.
---
Gulyash, MechSE Machine Shop Solve Problems, Save Money…and Recruit
January 20, 2015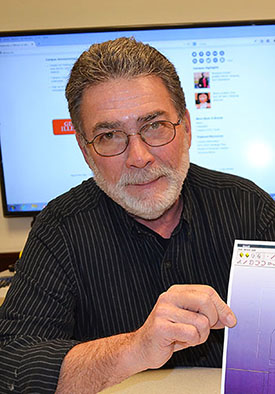 Clifford Gulyash, MechSE Machine Shop Supervisor
"What I have is a lifetime of solving problems by building anything and everything that's been given to me." – Clifford Gulyash
Clifford Gulyash, who heads up MechSE's Machine Shop, doesn't have an engineering degree. "What I do have is a basic understanding of how to make things," he modestly explains. And he's been making things since he was a six-year-old.
He shares an anecdote about his early proclivity for making things: "I started building as soon as I could pick up a hammer, and when I was five or six, I built my first go-cart, put a sail on it, and ended up getting into trouble going down the street. That's a true story."
STEM Ed News
This 8-week summer research experience for high school students from Chicago and Champaign-Urbana will provide hands-on, full-time immersion into cancer research under the supervision of an established researcher. More detailed info and an application are available at the researcHStart website.
Dates: 6/22/15–8/14/15.
Application deadline: 3/15/15.