Top STEM Education Stories
Our vision for Illinois as a land-grant institution is to foster accessible, effective STEM teaching and learning—from preschool through graduate education—
at local, state, and national levels, thereby preparing a highly able citizenry and diverse STEM workforce to tackle pressing global challenges.
Current STEM Ed Highlights
October 17, 2018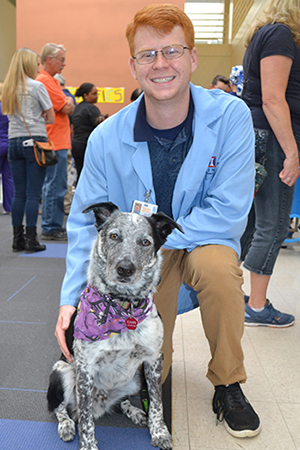 Bennett Lamczek with his border collie, Kahn.
Animal lovers of all ages flocked to the College of Veterinary Medicine on Sunday, October 7, to experience the biggest and best petting zoo around…the annual Vet Med Open House. The event featured myriads of activities ranging from seeing and touching animals, to learning how to care for them, to getting one's favorite animal painted on one's face. Most exhibits were staffed by VetMed students who were proud to share with the visitors what goes on in the College, what it's like to be a student at Illinois, and some of what they've been learning as they study to become veterinarians. For the numerous youngsters who showed up with parents in tow, the students hoped to not only inform them and give them a good time, but possibly recruit some future veterinarians into the field..
---
October 15, 2018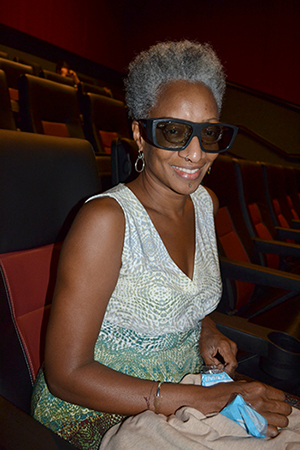 Cynthia Oliver, Associate Vice Chancellor for Research in the Humanities, Arts, and Related Fields, dons her 3D glasses in preparation for watching
A Beautiful Planet
.
The Inaugural Roger Ebert Symposium, Empathy for the Universe: Storytelling and Data Visualization, not only sought to create empathy for the entire universe, but zeroed in on our little corner of it, Planet Earth. The October 1st symposium targeted media currently at the forefront of science communication: interactive storytelling, data visualization, and, of course, video and cinema. Treating participants to a taste of the premium movie-going experience, IMAX 3D, the highlight of the day featured a screening of the IMAX release, A Beautiful Planet.