Top STEM Education Stories
Our vision for Illinois as a land-grant institution is to foster accessible, effective STEM teaching and learning—from preschool through graduate education—
at local, state, and national levels, thereby preparing a highly able citizenry and diverse STEM workforce to tackle pressing global challenges.
Current STEM Ed Highlights
SungWoo Nam Creates Virtual Lab, Promotes Undergraduate Research
November 19, 2014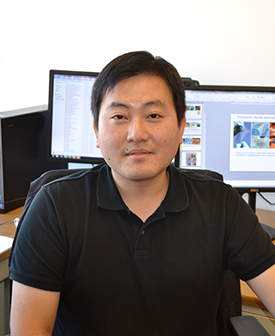 MechSE Assistant Professor SungWoo Nam.
SungWoo Nam, an Assistant Professor in Mechanical Science and Engineering, appreciates the little things—the really little things—like on the nanoscale or the atomic level. However, when it comes to STEM education, he likes to work with students across the entire spectrum: graduate students, undergraduates, and even high school students. But his passion is exposing a sometimes overlooked group—college sophomores—to the wonders and the rewards of research, like his own research on nanoscale devices and materials, particularly graphene.
---
Open House Showcases MechSE for Prospective and Current Students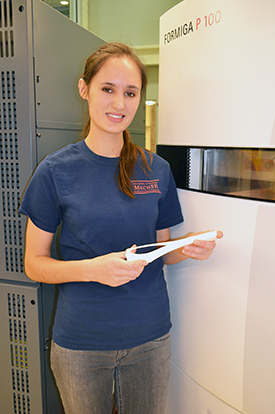 MechSE student shows an example of the kind of rapid prototyping the Formiga P 100 behind her can do.
October 23, 2014
On Friday, October 17, 2014, Illinois' Department of Mechanical Science and Engineering (MechSE) held its 3rd MechSE High School Visit Day/Open House so prospective high school students, plus new MechSE students (both freshmen and transfers), and their family members, could discover what Mechanical Engineering at Illinois is all about.
Sort of a mini-EOH (Engineering Open House), the event, held at the Mechanical Engineering Lab (MEL) gave visitors the chance to visit exhibits and lab demonstrations that showcase some of the exciting things that go on in the department, as well as meet some MechSE students, staff, and even some faculty.