Top STEM Education Stories
Our vision for Illinois as a land-grant institution is to foster accessible, effective STEM teaching and learning—from preschool through graduate education—
at local, state, and national levels, thereby preparing a highly able citizenry and diverse STEM workforce to tackle pressing global challenges.
Current STEM Ed Highlights
June 19, 2018
"My overall philosophy is that the museum is here really as an educational resource for the community. So that's what you elevate. That's what you focus on, and that's what we raise the bar on." – Doug Brauer, Orpheum Children's Science Museum Executive Director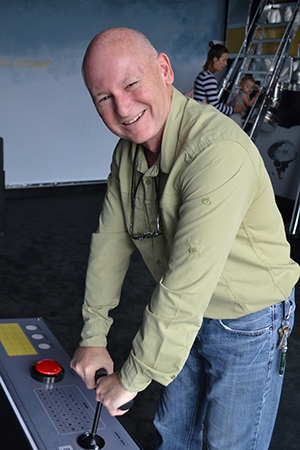 Doug Brauer, Executive Director of the Orpheum Children's Science Museum, prepares to "launch" Orphy's rocket in the new "Orphy's Escape to Space exhibit.
Kids who dream of exploring "a galaxy far, far away," who are intrigued with "launching" rockets, or who long to do astronaut stuff like mining asteroid rocks or climbing into a lunar lander, might want to visit the Orpheum Children's Science Museum's new Astronomy Kids' Corner. With some help from Busey Bank and a number of Mechanical Science and Engineering (MechSE) seniors who designed two space-related exhibits, the Orpheum in downtown Champaign launched the first stage of its new astronomy exhibit at a grand opening on Thursday, June 7th. The exhibit is part of Executive Director Doug Brauer's efforts to expand the museum's role as an educational resource for the community.
---
June 13, 2018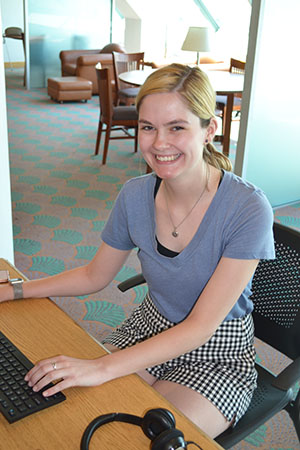 Suzanne Peterson, rising senior at Illinois in Aerospace Engineering.
Most undergraduates rarely get an opportunity to participate in an immersive experience relating to their future career paths as early as high school. But rising senior Suzanne Peterson is a 5-time veteran of the University of Illinois G.A.M.E.S. camp, having first attended when it was still open to middle school students. Girls' Adventures in Mathematics, Engineering, and Science (G.A.M.E.S.) is an annual, week-long event which allows high school girls to explore scientific ideas through demonstrations and activities. This year, Peterson will be on the other side of the event as a lab assistant who teaches several classes and sessions. Her own experiences at these camps as a young girl opened up the possibility of studying engineering, and she wants to pay it forward, saying, "I'm really passionate about outreach, and I would like to be [an inspiration] for somebody else."