During SWE's Round Robin, Girls of All Ages Become More Well-Rounded in Engineering Disciplines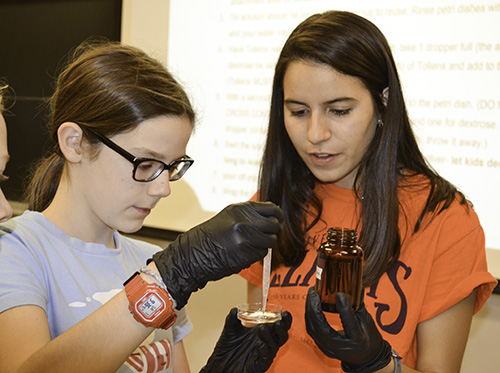 A Round Robin participant does a chemical engineering hands-on activity with the help of an
Illinois
Chemical Engineering student.
November 2, 2017
On Saturday, October 7th, about 50 girls from all over the state of Illinois converged on Loomis Lab for Engineering Round Robin. Hosted by the Society of Women Engineers (SWE), the outreach program, with its appropos Robin (and Batman) theme, was designed to expose young women to different engineering disciplines. According to Katherine Kiang, a SWE Outreach Coordinator, they also hoped to "provide them some perspective on what it's like to do engineering as a career." Designed for girls in grades 6 through 9, the program was primarily targeting younger girls in order to expose them and get them interested at an early age; however, older high school girls were also welcome.
The day-long event, which went from 9:00 am to 3:00 pm, kicked off with a welcome presentation immediately followed by half hour rotations throughout different classrooms, where the girls were split up into groups to learn about different engineering disciplines.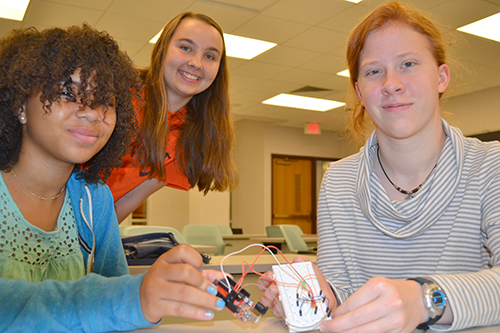 Two SWE Round Robin participants and a SWE member show off the LED light circuit they built during the Electrical and Computer Engineering rotation.
The disciplines included bioengineering, chemical engineering, computer engineering/computer science, and civil and environmental engineering. The bioengineering and chemical engineering rotations also included some materials engineering in order to give the girls as much exposure as possible.
The afternoon consisted of a student panel where Illinois students answered questions from the girls or their parents about anything, followed by the main event of the day, a Batman-and-Robin-themed Rube Goldberg Challenge, which was designed to mostly emphasize mechanical engineering.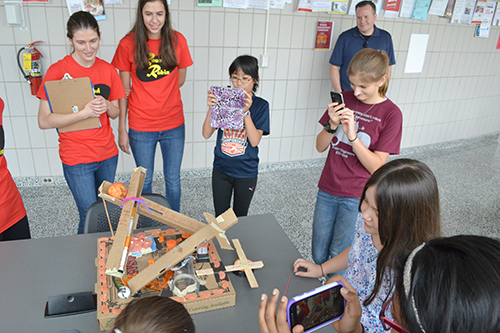 Above: SWE Outreach Leaders looks on as particpants record a successful test of their completed project.
Below: A team of Round Robin participants pose by their Rube Goldberg machine.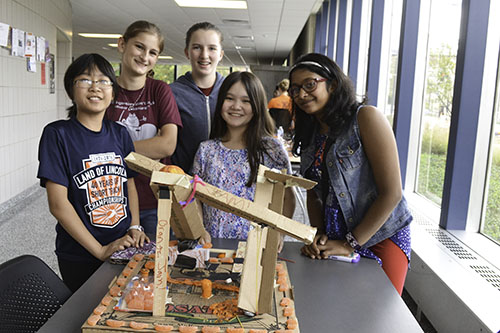 Rube Goldberg was a famous cartoonist known for his depictions of complicated inventions that accomplish a simple task, and in the engineering world, a Rube Goldberg machine usually uses a variety of simple machines to create a chain reaction to accomplish a specific task. In this case, the girls were to create simple machines using any materials they could find to create a machine that set off a buzzer, which served as the bat signal. Once all the teams were finished with their machines, the event concluded with an informal walk-around where the girls demonstrated how their their inventions worked to the outreach leadership, parents, and other visitors.
Kiang exaplains why they chose the Rube Goldberg challenge. She calls it "a really good way to utilize a lot of different skills. It's a good way to build teamwork and collaboration, and we also think it's really fun."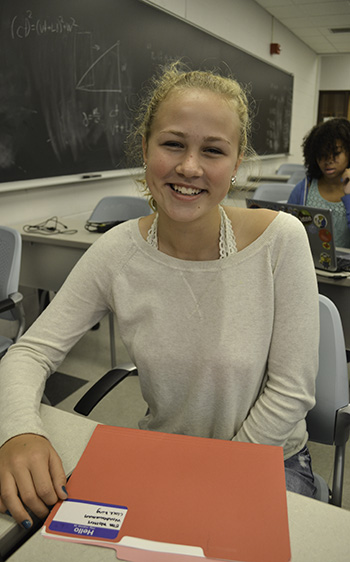 Local high school freshman Ella Wolters.
Waking up early to spend an entire Saturday doing something centered around academics might not initially sound the most appealing to young girls. For example, Ella Wolters, a local high school freshman, admits that she only came because her mom told her, "Ella, you have to go to this," then acknowledges, "My mom is Angie Wolters. That's kind of why I'm here." (Angie Wolters is currently the Director of Women in Engineering at Illinois, and over the years, has been involved in a number of egineering programs and outreach events, including GAMES camp.)
During the event, though, Ella's eyes were opened and she was glad she had participated: "So, yea, she wanted me to come," she confesses. "At first, I was kind of opposed, but now I'm like, 'This is cool!'" While she has never officially attended GAMES camp, Ella has come with her mom on occasion, and says, "It kind of got me interested a little bit." And like all kids who have pushed back against the career their parents are encouraging, she admits to doing so too. "Like I said, I was kind of against it because she pushes it so hard. But I understand why now," she admits, proving that mom is always right. However, while mom Angie majored in Civil Engineering, Ella's little rebellion is that she's most interested in Bioengineering at present.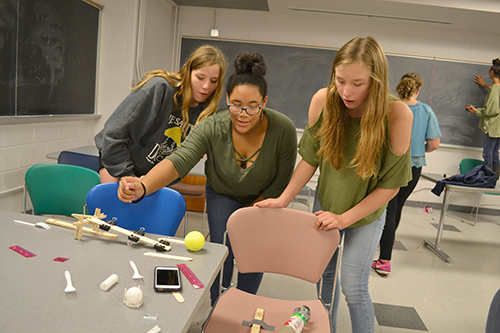 Above: SWE Round Robin participants wait with bated breath to see if their Rube Goldberg machine is successful.
Below: The moment a team of participants realized that they had finally completed their challenge.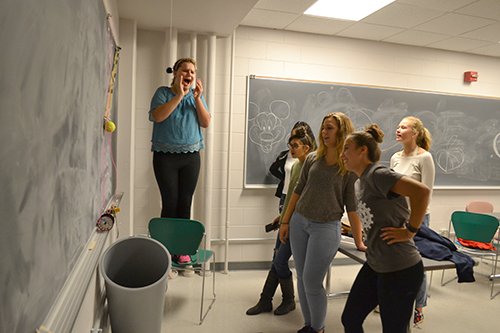 But not all girls are like Ella, and have parents who understand the importance of exposing their daughters to STEM fields early. That's why, for the first time, the small parent session SWE hosted at the end of the day was divided into two sessions: one for parents of high school girls, which was pre-college oriented; another, for parents of the younger girls, was to show them how they can support and encourage their daughters to beat the stereotypes against women in STEM fields. Kiang explains why this is so important.
"They [parents] might not know about the bigger picture skills emphasized at our events, like teamwork and problem-solving skills. I think that's what makes someone more of an engineer than just being good at math and science… An engineering mindset is unique, but it can be difficult for parents to understand if they don't already have that background."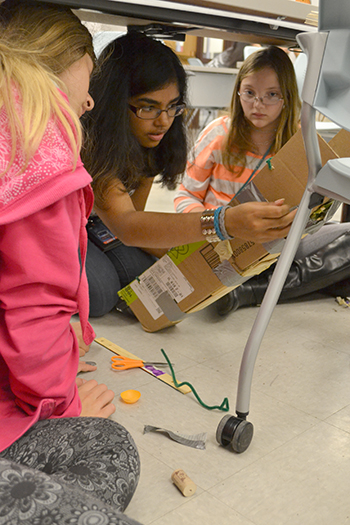 SWE Round Robin participants on the floor and underneath a table work together to complete their Rube Goldberg machine, which begins on top of a table and ends beneath it.
Kiang is incredibly passionate about doing these events, and hopes the girls can take away a lot in order to make changes in the STEM fields for women: "I think it's really important to encourage girls to consider math, science, engineering, because it's very true that we have an innate bias against it in society. It's getting better, but it's not a problem that's going to be fixed overnight."
Kiang reports that she also does the event because she enjoys teaching. "It's a lot of fun for me as well. I almost became an education major, so I really enjoy working with younger kids and teaching them whatever it is, and seeing that progression at different ages."
The progression Kiang is referring to, which she also finds rewarding, is running into students she's worked with who end up at Illinois. "Sometimes we have some girls that come to our high school event, and a year or two later they'll be here at U of I, maybe even in SWE. Seeing that impact is really rewarding. It kind of reminds you of why you do engineering."
She also says it's fun to ditch studies for a bit. "It's a good way to take your mind off of school for that one afternoon, even if for a couple hours. Especially for the younger girls, who might just realize something and think that it's so cool."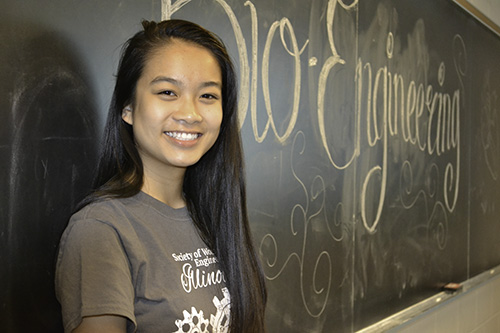 Bioengineering freshman Joy Chen, who helped teach the bioengineering rotation.
A perfect example of the impact of outreach programs like Round Robin was Joy Chen, an Illinois freshman in bioengineering. From the local area, Chen went to many of the events hosted by SWE when she was in middle school and high school, and acknowledges that those events are what originally got her interested in engineering.
"Being able to teach these girls all about engineering the way that I got interested in engineering is really amazing," she says.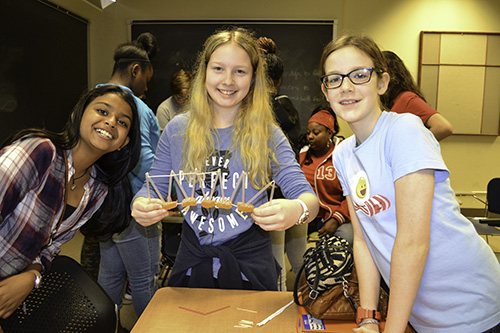 SWE Round Robin participants show off the bridge they built during the Civil Engineering rotation.
One participant for whom the day helped in her decision making was Alyssa Sinclair, a rising junior at Warren Township High School in Gurney, Illinois. Sinclair says she's been in an engineering program at her school since her freshman year.
"I've been really interested, but I wasn't sure what field I wanted to specifically go into. So I figured this camp would be good to see all the different types of engineering.
Sinclair reports that in the Materials Science workshop, she learned how different materials are used to create many different objects, and how different materials can have different properties that would be best suited to different types of products. She reports that she likes industrial "because "I really enjoy computer-aided design, and there's a lot of that in that specific field."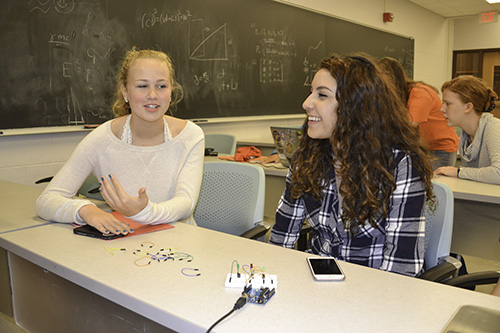 Natalie Alvarado (right) chats with Ella Wolters after completing their LED light during the Electrical and Computer Engineering rotation.
Natalie Alvarado, a senior at Wood Park High School, reports, "I'm really interested in engineering, but I kind of want to figure out what type I'm interested in, so I want to get more information on the different types that there are." Regarding the electrical engineering activity, she admits, "I like it! It's cool."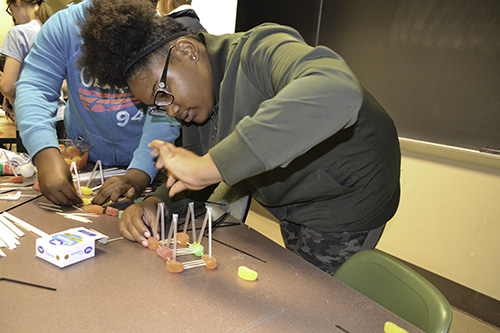 Urbana Middle School 7th grader Simone Gilbert works on her team's gumdrop-toothpick-straw bridge during the Civil Engineering activity.
Also pretty much sold on engineering was Simone Gilbert, a 7th grader at Urbana Middle School. Gilbert, who has done two other SWE activities, came to Round Robin "to learn more about engineering." The seventh grader thought the activities were fun and has decided that she wants to be an engineer, preferably in civil engineering.
---
Story by: Patrick Pavilonis, I-STEM Undergradute Student Worker and a junior studying Math and Science Education, with Elizabeth Innes, Communications Specialist, I-STEM Education Initiative
Photographs by: Elizabeth Innes.
More: 6-8 Outreach, 8-12 Outreach, Engineering, Society of Women Engineers, Women in STEM, 2017
For additional I-STEM web articles about SWE and its outreach events, see: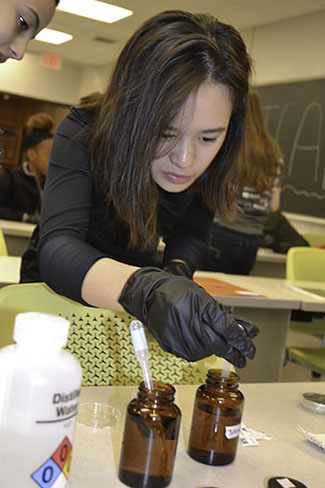 A Round Robin participant does a chemical engineering hands-on activity.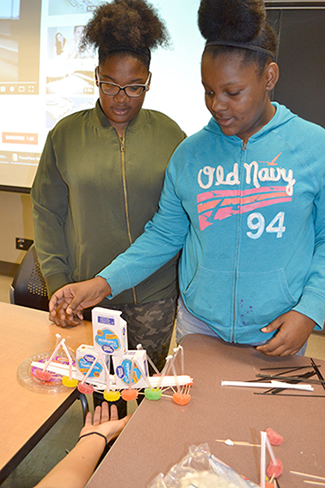 Seventh grader Simone Gilbert (left) and another participant test the strength of their bridge made during the Civil Engineering rotation.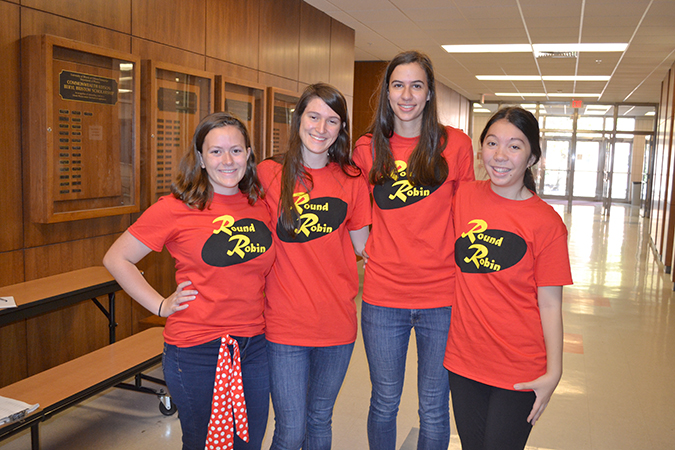 Leaders of the SWE Round Robin outreach event (left to right): Megan Fox, Jennifer Zupancic, Anna Busza, Katherine Kiang.