Stories about... Material Science and Engineering
March 15, 2018
"The more that people understand the scientific basis of the world and of their lives and of what people are doing and researching and care about, the more we care about each other and the more we support each other." – Nadya Mason
Begun in September 2017, I-MRSEC (Illinois Materials Research Science and Engineering Center), a new NSF-funded center, seeks to create a community around multidisciplinary materials science research, recruiting and educating the next generation of researchers, including diverse students, and informing the general public through outreach. Funded through NSF's Division of Materials, the Center will receive $16 million over the six years of the grant, with the possibility of being renewed.
---
September 28, 2017
From wacky wires (memory metal) that reshape themselves when immersed in boiling water, to playing with ooy-gooey non-Newtonian fluids, to molding polymers, the 19 high school girls who participated in GLAM (Girls Learn About Materials) GAMES camp from Sunday, June 18th through Saturday, June 24th this past summer learned about a variety of materials. After hearing a mini-lecture about a given material, the girls then got to do fun, hands-on activities about the subject. Many of the participants, who were exploring materials science in order to make college/career decisions, not only learned some things about materials and what materials engineers do, they were exposed to women in materials engineering who served as role models.
---
July 7, 2017
From playing with Oobleck, the non-Newtonian fluid made famous by Dr. Seuss (which turned out to be quite messy), to making (and tasting!) chocolate ice cream frozen with liquid nitrogen, 20 local middle school girls not only had fun at the first-ever Mid-GLAM camp held June 26–July 1. According to the camp's co-directors, Materials Science and Engineering Assistant Professors Cecelia Leal and Robert Maass, the plan was that as the girls had fun learning some things about materials science, their participation in the camp might also pique their interest in science or even plant the seed that they too could be materials scientists..
FULL STORY
---
Pakeltis Sisters Hope to Increase the Number of Women—Change the World Through Engineering
October 7, 2016
While the old Irving Berlin song, "Sisters, Sisters," may not exactly be the theme song of the two Pakeltis sisters, a couple of lines fit Grace and Abby to a T. One is the last phrase of: "Two different faces, But in tight places, We think and we act as one." For instance, they're both studying Engineering at Illinois. Grace, the oldest, is a senior in Materials Science Engineering (MatSE), while sophomore Abby is in Mechanical Science & Engineering (MechSE).
FULL STORY
---
September 15, 2016
Devon Goszkowicz, a junior in Engineering, didn't attend any STEM camps or outreach activities when she was little. However, one very important person in her life—her father—was an engineer. And now, here she is at Illinois, studying to become one too. And though she didn't attend any STEM camps or outreach activities herself when little, she currently participates in several that expose girls of all ages and backgrounds to engineering. She's hoping to not just expose them to STEM, but to help them reach their potential, and to possibly even influence them to become engineers themselves.
---
Girls Learn About Materials Science at the 2016 GLAM G.A.M.E.S. Camp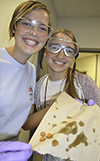 August 9, 2016
As its name implies, during the 2016 edition of GLAM (Girls Learning About Materials) G.A.M.E.S. camp, 19 high school girls did just that. From July 10th–16th, the girls learned about a wide variety of materials, ranging from polymers, to biomaterials, to a material that's a favorite of girls everywhere— chocolate. Plus, and probably more importantly, the girls were exposed to numerous female role models in materials engineering.
FULL STORY
---
GLAM Seeks to Capture Girls' Imagination About Materials
August 21, 2013
In its third year, the GLAM (Girls Learning About Materials) G.A.M.E.S. camp exposed 18 high school girls to a wide variety of materials, beginning with the perennial favorite of females of any age—chocolate.
FULL STORY
---