Stories about... ChicTech
ChicTech Seeks to Increase the # of Women in Computer Science—and Is Succeeding!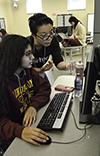 November 16, 2016
Computer Science is only for guys who are nerdy geeks and who sit glued to their computers 24/7! This is one of the myths about computer science (CS) that the fall 2016 ChicTech outreach set about to dispel, while showing 61 visiting high school girls (up from 50 last year) that CS is cool. Held November 12–13, the event, hosted by Illinois' Women in Computer Science (WCS), was designed to show girls that they too can do CS, that it's lots of fun, what it's like to be a CS student at Illinois, and what a CS career might be like.
FULL STORY
---
ChicTech Seeks to Foster High School Girls' Interest in Computer Science
December 8, 2015
Why would a number of Illinois' female Computer Science (CS) students devote an entire weekend in early November hosting a group of high school girls as part of the 2015 ChicTech Retreat? Dedicated to increasing the number of women in their field, these CS students hoped many of the girls, who share their affinity for computer-related technology, might some day end up choosing CS as a career as a result of the experience.
---
ChicTech: A Pipeline for Women in Computer Science
April 25, 2014
"This is the first time that I'm hearing her say, 'Yes, I'm considering computer science as a legitimate career field.'" –Kim Late, mother of 2014 ChicTech participant.
Based on this remark a mother made about her daughter during the ChicTech retreat's final activity, the outreach may be having the impact for which its organizers are striving: to recruit girls into Computer Science...
FULL STORY
---